Please note that the below article has been updated with a newer version about Invisalign Comprehensive treatment.
Invisalign's "invisible braces" system uses removable clear aligner trays so you can straighten your teeth in a discreet way. Invisalign Full is the original, comprehensive system from Invisalign, suitable for treating a wide range of teeth alignment problems.
Here you can read about the benefits and drawbacks of Invisalign Full, including what to expect if you do choose this option. We'll also look at how much Invisalign Full costs in the UK so you can decide whether it's the right type of brace for you or your teen.
How does Invisalign Full work?
Invisalign braces are completely different to the traditional metal style of braces. Instead, they use a series of clear plastic aligners to gradually shift the teeth into the correct position.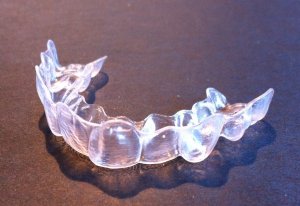 Each aligner is carefully shaped to apply pressure to certain teeth as treatment progresses. Usually, you'll need to switch to a new aligner every two weeks to keep your teeth moving into place.
Invisalign braces use state-of-the-art technology including mouth scanners and 3D printing to create an accurate treatment plan. Even before your treatment begins, you'll be able to see a computer-generated image of how your teeth should look at the end.
In fact, you can get an idea of what your new smile could look like right now, using Invisalign's smart SmileView tool. Just upload a selfie to see your results!
What is Invisalign Full?
Comprehensive treatment with Invisalign Full may take anywhere between 12 and 24 months. During this time, you'll need to visit your dentist every 4-8 weeks to check how your teeth are responding. and to order your next sets of aligners.
Your dentist may fit small attachments to some of your teeth as part of your treatment. These help the braces adjust your teeth faster and more efficiently. According to some people's Invisalign reviews, the attachments are the most noticeable part of the braces.
The video below shows one patient's experience with Invisalign Full treatment that lasted 15 months:
Not everyone is a suitable candidate for Invisalign treatment but around 90% of orthodontic patients can benefit from this aligner system. Are you one of that 90%? Find out with Invisalign's free Smile Assessment tool. It just takes two minutes to fill in some details about how your teeth look right now.
If you're ready to go ahead with a consultation, it's easy to find your nearest Invisalign provider and book an appointment online. Or, if you are undecided and still wondering whether Invisalign would work for you, read our article: Does Invisalign work?
Benefits of using clear aligner braces
The biggest advantage for many Invisalign patients is that these braces are much more discreet than traditional metal braces. Most casual observers won't notice you are wearing braces at all.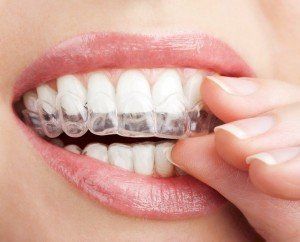 The aligners are also removable, which can be useful for people who have a big event or meeting to attend. You may just want to remove your braces for a minute while someone takes a photo. You can't do that when you have metal brackets glued to your teeth!
Aligners still need to be kept in for 20-22 hours per day for successful treatment. They must be removed for cleaning, eating, and drinking anything except water. It's simple to clean the trays with a toothbrush, and you're free to brush and floss your teeth as you normally would.
Finally, many wearers find removable braces more comfortable than traditional braces. Metal wires and brackets have the tendency to cause mouth sores, especially when they are first fitted. Periodic adjustments can also leave teeth sore for a few days.
Invisalign treatment is a suitable solution for 90% of orthodontic cases. However, keep in mind that another type of brace may be needed for:
Moving teeth vertically
Rotating teeth
Correcting severe malocculsions
Patients who lack the willpower to keep aligners in for the required 20-22 hours per day
Fortunately, there is an easy way to check whether Invisalign is right for you. Take your free Smile Assessment to find out in under two minutes if Invisalign braces could help improve your smile.
Here is a summary of the advantages and disadvantages of using Invisalign Full to straighten your smile:
Other types of Invisalign braces
Invisalign has several other treatment systems to suit different types of patient. These include:
Teen: Similar to Full but with certain features to encourage teenagers to complete their treatment
Lite: For mild to moderate cases, this treatment takes about seven months
Express: Aimed at treating milder cases of misalignment, this system uses fewer over the course of about three months
You should speak to your dentist to find out which type of invisible brace is best for you. And whichever type of brace you're considering, you can use Invisalign's SmileView tool right now to see what you'll look like with straighter teeth.
How much does Invisalign Full cost in the UK?
As with any private dental work, you'll find varying prices for invisible braces wherever you look. As a rough guide, though, you'll pay between £2,500 and £5,500 for Invisalign Full braces in the UK.
It's important to note that if you're in the UK, Invisalign braces are not available on the NHS. Under-18s can often get metal braces on the NHS, but they are only offered to adults in very rare cases. So if you have chosen to have orthodontic treatment as an adult, you will almost certainly need to pay for it privately.
The cost quoted to you will depend on the complexity of your treatment, since more work means a longer treatment course and therefore more aligners.
Please do keep in mind that individual quotes will vary — you can call 866-383-0748 to find an Invisalign dentist near you who can give you a detailed price quote.
It's a good idea to get quotes from several dentists in your area, finding an Invisalign dentist near you shouldn't be hard. But, it might be worth travelling a little further from home if you save several hundred pounds overall.
Alternatives to Invisalign
There may be other reasons why Invisalign Full isn't right for you or your teen. Perhaps your teeth are too badly misaligned, or you're worried that your child will be tempted to keep their braces out for too long.
Other types of inconspicuous braces include clear braces (with brackets made from a clear material) and lingual braces (hidden behind the teeth). Our full article on adult orthodontics has more information about what other types of braces cost.
Find the right clear aligners for you
Are at-home clear aligners a good option for you? Learn more about our top picks.
Free scans
Free scans at 17 UK SmileShop locations
Nighttime aligners available
Lifetime Smile Guarantee™
£1,639 or £69.43/month + free teeth whitening
SmileDirectClub has been offering aligner treatment at home for over 8 years, making them one of the most experienced companies in this market.
Treatment takes 4-6 months on average, or 10 months for nighttime-only aligners. Their UK-based customer care is available 24/7 should you need to reach out at any time.
There are several ways you can get started:
Every aligner package comes with free bright on™ teeth whitening, so you can whiten your teeth while you straighten them!

Best value
Free retainers and whitening
Nighttime aligners available
0% interest finance options
£1,395 £1,295 or £83.33/month
NewSmile is a Canadian company that brought its clear aligners to the UK market in 2022. NewSmile aligners are made from the clearest material and the company offers excellent service at the best price.
They don't have any physical locations, so you'll need to purchase an aligner kit to get started. One of their Impression Specialists will guide you through the process on a video call when you're ready.
NewSmile aligners are very affordable, costing just £1,395 (currently discounted to £1,295). But even better, this price includes whitening foam to use in your aligners, plus your first set of retainers!
Choose their daytime package for treatment in 4-6 months, or nighttime aligners for a more discreet treatment that takes 8-10 months. Both options come with 0% interest payment plans available.
Whichever option suits you, we hope the dental information we provide helps you make a confident decision!
Conclusion
Invisalign Full is an excellent solution for adults who want straighter teeth without the 'train tracks' usually associated with braces. As long as you have the willpower to keep your aligners in, you'll benefit from the convenience of being able to remove them to eat and brush your teeth.
Many adults are surprised to find that Invisalign costs are comparable to other orthodontic solutions. These braces can treat the majority of orthodontic cases so why not check now to see if you're eligible?
If you're considering one of the more affordable aligner options, make sure you consult with your dentist before starting any new treatments.
Still undecided? Check out some Invisalign before and after results to see some other people's transformations.
Sign up to receive the latest news and offers from Dentaly.org