If you only need minor tooth movements, or you've had orthodontic treatment in the past and need a slight correction, then Invisalign Express could work for you. This is just one of the treatment options available from the Invisalign aligner system, each one designed for different levels of orthodontic treatment.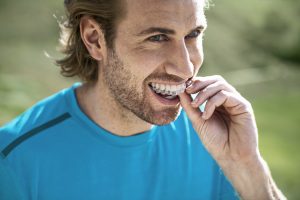 This article will focus on Invisalign's Express package, the fastest treatment available, and answer the following questions:
What is Invisalign Express?
Who is it suitable for?
How much does Invisalign Express cost in the UK?
What other options are available?
How does Invisalign Express compare to Lite?
Invisalign Express is a speedy and non-invasive way to get a more confident smile. If you find out that you are eligible for this treatment, there are certain pros and cons you'll want to take into account before deciding if it's right for you.
So let's take a look at what exactly Invisalign Express is, and who is eligible for this aligner treatment.
What is Invisalign Express?
Invisalign aligners are a series of removable clear plastic trays that are custom made to your teeth. They fit snugly to apply pressure and gradually align and straighten your teeth.
These clear aligners are virtually unnoticeable when worn, and very convenient as you can remove them when necessary. However, you do need to wear them for 20-22 hours per day so it's best to only remove them when you are eating or drinking, when cleaning them, or when absolutely necessary like in a business meeting.
Invisalign Express is Invisalign's clear aligner system for people who only need very minor tooth movements, like closing small gaps or making cosmetic adjustments. Treatment is very short and generally only lasts between 3 to 6 months. This is because Express is only for minor orthodontic cases with no complex tooth movements needed.
How does Invisalign Express work?
If you think that Invisalign Express sounds like the right aligner system for you, the best way to find out for sure is to consult an Invisalign provider near you. They will be able to assess your teeth and bite to see which Invisalign option is best for you.
When you attend your initial appointment, your dentist or orthodontist will use Invisalign's iTero digital scanning system to get a 3D image of your teeth. Using this image, they will be able to check your eligibility and decide the best course of treatment for you.
You will also be able to see a preview of your full treatment and the projected end results. This treatment plan will give you an idea of how long treatment will take and how many sets of aligners you will need.
Once you decide to go ahead with Invisalign Express treatment, it works like this:
You will receive and begin wearing your aligners.
During your treatment, you will have regular check-ups as well as online monitoring via the app.
Your dentist will advise when you should change to each new set of aligners (roughly every 2 weeks).
Once your treatment is complete you will need to wear an Invisalign Vivera retainer to maintain your smile.
To begin your treatment with Invisalign Express, you first need to see if you are eligible.
Who is Invisalign Express suitable for?
This Invisalign aligner system is not suitable for everyone. Those with moderate to severe orthodontic issues may need to consider other options, which we will discuss later on in this article.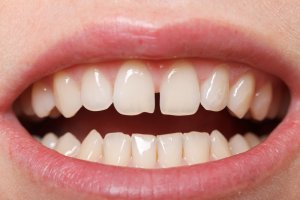 Invisalign Express is best suited to patients who only need very mild orthodontic corrections. For instance, if you previously had orthodontic treatment but your teeth have started to relapse because you stopped wearing a retainer, then Invisalign Express may be a good solution.
If you haven't had orthodontic treatment in the past, but you only need small corrections for purely aesthetic reasons, then you may still be eligible for the Express system. Those that only need their bottom or top teeth treated may be eligible for single-arch Invisalign Express depending on their individual case.
Some mild issues that are treatable with the Express package include:
Gaps
Overcrowding
Crooked teeth
The only way to know for sure if you will be eligible for Invisalign Express is to book an appointment with your nearest provider to find out more.
How much does Invisalign Express cost in the UK?
Prices for every type of private dental treatment in the UK will differ from dentist to dentist. Depending on the practice you choose, the average Invisalign Express cost is between £2,000 and £3,000.
If you want to get the best price, it may be worth shopping around and getting a few quotes from your nearest providers. In some cases, you might have to travel a little further afield to get the best price.
The final cost of your treatment will depend on your individual case, the number of aligners you need, and your length of treatment.
However, keep in mind that individual quotes for Invisalign will vary.
What other Invisalign packages are available?
Invisalign Express is just one of the treatment options with Invisalign clear aligners. Invisalign Lite and Comprehensive are available for moderate and complex cases, while Invisalign First is designed for children aged 6-10.
All are similar in that they use the same removable clear aligners. The difference between them is the types of orthodontic cases they can treat and the treatment length.
The following table summarises the different options available from Invisalign and their costs.
| | | | |
| --- | --- | --- | --- |
| Type of Invisalign treatment | | | |
| | | | |
| | | | |
| | | | Moderate and complex cases |
Invisalign Express vs Lite
The Invisalign treatment packages that have the shortest treatment times, and cost the least, are Express and Lite. Both of these packages are for people with less severe orthodontic cases.
When it comes to Invisalign Express vs Lite, Express is for those with mild issues and Lite for those with mild to moderate orthodontic cases. Treatment with Express will need fewer sets of aligners than Lite and also take a shorter time to complete.
As mentioned above, Express treatment can take anywhere from three to six months and cost between £2,000 and £3,000. Invisalign Lite treatment, on the other hand, may take between 6 and 8 months and costs roughly £2,500 to £4,000.
It is, however, important to note that you will not be given the choice between them. Your Invisalign dentist or orthodontist will assess your teeth and make a decision on which treatment option is best suited to your particular case.
Express Invisalign Reviews
Express treatment with Invisalign aligners may seem too good to be true, but let's see what the reviews have to say. The following review is from Megan, whose partner Brandon, after having braces as a child, found that he was having pain from one of his teeth shifting positions. On Megan's blog, you can see Brandon's Invisalign Express before and after pictures and read about his full experience.
Megan wanted to write about her partner's treatment to show that Invisalign treatment isn't just for people with moderate to severe orthodontic issues; just about anyone can benefit.
After about 10 trays or so, Brandon finished his treatment. He has now upgraded to the retainers, which he will wear all the time for 3-6 months (I did 3 months in mine!) and after that, wear them every night to sleep. The retainers look just like the clear aligners, by the way.

-Megan Stokes
Alternatives to Invisalign Express
SmileDirectClub is a very popular at-home aligner brand in the UK. Priced at £1,639, it's a cheaper alternative to some Invisalign options and includes support from Customer Care and Dental teams through email, chat, and video call. You can also pay in monthly installments of £69.43. With this option, the total cost works out at £1,805.19 (excluding the impression kit and retainers).
NewSmile is another clear aligner brand available in the UK. You can purchase an aligner kit to get started and their daytime treatment lasts around 4 to 6 months. At £1,195 or £99.58 per month, you'll find them competitively priced with Invisalign Express if you need treatment on both arches.
Conclusion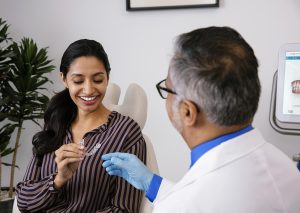 Invisalign Express is one of several aligner treatment options from Align Technology. It is for people who have very mild orthodontic issues and who want treatment for purely aesthetic purposes.
If you have had braces in the past and didn't always wear your retainer after treatment, or you only have a slight gap or minor crooked tooth then you may be eligible for treatment with Invisalign Express.
Express is the cheapest of their aligner packages; however, it may not be the best option for you if you have more severe orthodontic issues.
The best way to find out is to book an appointment with your nearest Invisalign provider to discuss it with them further. They will do a 3D scan of your teeth, show you your projected treatment, and give you an idea of how long your treatment will take.
In the meantime, you can find out if you are eligible for any of Invisalign's treatment options by taking their free Smile Assessment. Just fill in a few details and find out if you are a good candidate.
Keep in mind that before you opt for any at-home treatment, visit your dentist for a general check-up to ensure there aren't any untreated cavities or gum disease before wearing aligners. Your dentist can also assess your overall suitability for any aligner treatment.
Sign up to receive the latest news and offers from Dentaly.org