Are you thinking of using the HiSmile teeth whitening kit to brighten your smile? Chances are you've seen it plastered all over social media, endorsed by celebrities. Perhaps you've already read some HiSmile reviews and are still undecided. Well, we're here to help with a comprehensive examination of the HiSmile kit. And it's not a #ad for the product, we promise.
Read on to get answers to these questions and more:
We aim to take the confusion out of choosing the right solutions for a smile you love.
Our top pick for teeth whitening
We've chosen Smile Avenue as the best whitening kit in the UK for 2021. Here's how it compares to HiSmile:
Made in the USA
24-30 treatment applications included (4 x more than HiSmile)
Mouthpiece with built-in LEDs for better coverage
Affordable refills available
Remineralizing formula, safe for sensitive teeth
30 day money-back guarantee
10% off and free shipping with code DENTA10
Read our Smile Avenue review for more details or check out the kit and use promo code DENTA10 for 10% off at checkout!
HiSmile teeth whitening kit overview
HiSmile is an Australian company which was founded in 2014. Their teeth whitening kit and other products have gained great success across the globe, significantly helped by their strong social media marketing strategy.
One of the unique selling points of the HiSmile kit when it first hit the market was its 10-minute treatment time. Other kits are now available offering the same thing, although many alternatives still require 20-45 minutes of treatment per day. HiSmile guarantees at least two shades of whitening with a six-day treatment, meaning a total whitening time of just one hour. That's clearly appealing for anyone with a busy daily schedule.
HiSmile has a 4.5 star rating on Trustpilot at the time of writing, which is quite impressive, and their customer service gets a special mention. However, it seems that the majority of their 5,000+ reviews are the result of a 'Free Starter Set for you and a friend' marketing promotion which began in late 2019. Customers who leave a HiSmile review here during the promotion are entered into a monthly prize draw. So, interpret that as you will.
Over on Amazon, you'll find an 'unavailable' product listing with a 2.5 star rating. In fact, the only place you can currently buy a HiSmile kit in the UK is direct from their website.
You can't deny that there are thousands of positive HiSmile reviews out there, but you may also be wary of a product that is known for its paid celebrity endorsements.
You can read our detailed HiSmile review below, but here's a quick summary:
The HiSmile teeth whitening kit produces visible results for most people and comes with a money-back guarantee for anyone who doesn't achieve two shades of whitening (provided you follow their instructions). The gel formula protects against sensitivity and refills are easy to purchase. However, the kit doesn't present great value for money when compared to others on the market that offer similar results.
Our overall rating: ★★★☆☆ (3/5 stars)
HiSmile reviews and features
Kit contents ★★★☆☆ (3/5 stars)
Here's what you get when you purchase a HiSmile whitening kit:
Fixed-shape mouth tray
Attachable LED light with 10-minute timer
9ml of whitening gel (3 x 3ml syringes)
Instructions (on the bottom of the box)
Colour chart to measure results
It's nicely packaged in a sleek white box, but it feels a bit light on contents compared to some of its competitors – especially the quantity of gel you receive.
Other products available to purchase from HiSmile include:
Gel refills
Toothpaste
Whitening pen
Mouthwash
Breath spray
They also offer a subscription service, whereby you can have the gel refills, toothpaste or whitening pen automatically shipped to you every one, two or three months. There's a 15% saving on the regular price, and you can cancel any time. This could be useful if you want to top up your whitening results regularly without having to remember to order the products.
The following HiSmile review from a dentist shows what the kit contains and exactly how it works. The video is from February 2019 but note that the ingredients have changed since then.
Ingredients ★★★★☆ (4/5 stars)
What's in HiSmile whitening gel? Here's the full ingredient list:
Sorbitol, Water, Phthalimidoperoxycaproic acid, Propylene Glycol, Glycerin, Potassium Nitrate, Polyethylene Glycol-8, Hydroxyapatite, Sodium Carboxymethyl Cellulose, Hydroxyethyl Cellulose, Xanthan Gum, Peppermint Essence, Saccharin Sodium, Methylparaben, Sodium Bicarbonate, Aloe Leaf Extract, Chamomile Extract, Pomegranate Seed Extract, Propylparaben.
The key ingredients for the whitening process are:
Phthalimidoperoxycaproic acid (PAP): Recently added following a change in formula, this is the main bleaching agent which gets to work on the discoloured molecules in your teeth.
Hydroxyapatite: A mineral naturally present in bones and tooth enamel which helps remineralise the tooth surface.
Potassium Nitrate: An ingredient used in dentistry, especially toothpastes, to prevent sensitivity. It works by blocking access to the nerves.
Are these ingredients safe for teeth whitening? The kit is manufactured in China and meets all regulations for this type of product in the UK. However, we always recommend using products which are made in a country which itself has strict regulations, such as the US or Europe.
HiSmile say that users will not experience any sensitivity at all with this formula. It's a bold claim, since some people have much more sensitive teeth than others.
Reviews reveal a mixed bag of feedback on the sensitivity issue. A few reviewers mention that they have experienced some sensitivity, especially when eating, but for most people it wasn't enough to make them cut their treatment short. Others who were expecting sensitivity have had a completely pain-free process.
Ease of use ★★★★★ (5/5 stars)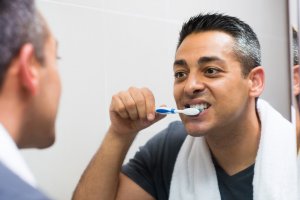 This kit is certainly easy to use. With a fixed shape mouth tray, there's no fiddly moulding required. Just attach the light, insert the gel, and it's ready to go. The instructions are really clear, and you use about half a syringe of gel each time – 1/4 on the top and 1/4 on the bottom of the tray.
The short treatment time of just 10 minutes a day is definitely a benefit, too; many other kits on the market take 20-45 minutes. Although the mouthpiece is hands-free, so you can walk around and get on with other stuff while you're whitening your teeth, it still stops you from going out or having a conversation with anyone.
Some people also find they drool a lot while using these kits, so the shorter the treatment time, the better. Even if 10 minutes feels like too long for you, you only have to keep it up for six days.
HiSmile recommends using the kit after brushing your teeth at night. Rinse your mouth with water afterwards to remove any leftover gel, and for best results, don't eat anything until the next morning.
Results ★★★☆☆ (3/5 stars)
HiSmile used to promote teeth "up to 8 shades lighter" but they are now focusing on a more realistic promise of two shades (perhaps their competitors iWhite should do the same). You measure this using the colour chart provided in the kit. The more stained your teeth are to begin with, the more noticeable your results are likely to be.
Do be wary of HiSmile 'before and after' photos posted to social media where the two images are taken in different lights. Look at the lips and skin as well as the teeth to judge whether the tone of the photo enhances the results. For example, the teeth in the image here are certainly whiter, but so is the person's face.
No whitening kit will produce the same results as laser whitening at a dentist, but you should get slightly whiter teeth if you use this kit as instructed.
Here's a selection of comments from HiSmile reviews on Trustpilot:
"I have used the starter kit for 6 days in a row like the website said to, I haven't seen a big change but there is a change!"

"Was highly sceptical of this product before purchasing, but after using the hi smile kit around a week I am definitely noticing some great results."

"The kit has only helped a tiny bit, not as good as I hoped, going off the pictures I thought would make my teeth a lot whiter as it shows however hasn't, but it is easy to use and pain free."

"So far so good! only been using for a couple days but i can already see a difference."
Some people find that they needed to continue for another six days, using refills, to achieve the results they want. The company recommends using the kit once every two weeks to maintain results.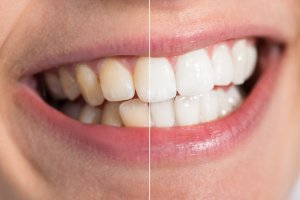 HiSmile does offer a 30-day money back guarantee if your teeth haven't improved by at least two shades after six days' consecutive use. To be eligible for this, you must take before and after photos (timestamped) and email these, along with evidence you have used the kit, to their customer service department.
Make sure you take a 'before' photo so that, in the event you're not satisfied, you'll be able to make a claim.
Price ★★☆☆☆ (2/5 stars)
The HiSmile kit costs £59.99 in the UK, which is towards the top end for whitening kits. Granted, it's still cheaper than a visit to the dentist for professional whitening, but then you're paying for much better results, too.
Given that you only get enough gel for six days of treatment, and refills work out at over £3 per application, the kit doesn't present great value for money – even if you are seeing good results.
Delivery within the UK costs £3.99 (standard) or £7.99 (express), although it's free if you spend over a certain amount.
HiSmile discount codes are often available, so it's worth checking for promos before you buy.
If you change your mind after purchasing, HiSmile offers a 30-day returns policy, but will only refund products which are unopened, unused, and still in sealed packaging. Minus any postage costs. Plus, you must email for pre-approval of the return, package it correctly, and return it at your own cost with a tracked delivery service.
Alternatives to HiSmile in the UK
There's a ton of teeth whitening kits out there, and it seems like the choice is changing all the time. So if you haven't been won over by HiSmile reviews, what are your other options?
Smile Avenue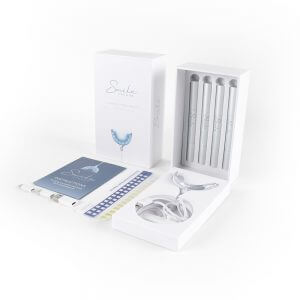 Our top pick for 2021 is the Smile Avenue whitening kit. It's around the same price as HiSmile, but contains enough gel for 24-30 applications, which is 4-5 times as many as HiSmile's kit provides. Refills cost less than half as much per application as HiSmile, so overall it represents much better value.
Smile Avenue's gel is manufactured in the USA and uses all the same active ingredients as HiSmile. The mouthpiece has built-in LEDs which give better coverage than the external attachment, and you apply the gel directly to your teeth using a brush pen, which makes it last longer and reduces the risk of any gel leaking onto your gums.
All in all, if you're interested in HiSmile we'd recommend you take a look at Smile Avenue as your results will be similar but you'll get a lot more for your money. Smile Avenue also have a money-back guarantee if you aren't happy for any reason.
You can read more about this kit in our full review of Smile Avenue or click below to see more details on their website. Enter code DENTA10 at checkout and you'll get 10% off along with free shipping!
This kit is also available to buy on Amazon, where you can read more user reviews.
Snow whitening systems
You can also consider a professional whitening system like Snow. This American brand has been taking the world by storm recently, and for good reason. Although it's more expensive than HiSmile and Smile Avenue, you get enough gel for a whole year's worth of treatment – and Snow use some pretty cool technology too. Plus, when you look at the cost of refills, Snow's treatment comes out the cheapest (especially if you buy multiple refills at once).
So, although Snow takes a bit more up-front investment, it's a good value option if you're looking for a way to keep your teeth whiter over a sustained period of time, not just as a one-off. All of Snow's electronic components come with a 5-year warranty, so it's really made to last.
Snow's original whitening kit has a mouthpiece with built-in LEDs, like Smile Avenue. The big difference is that you paint the whitening serum directly onto your teeth using a brush. This means you use a lot less per application, you know you're getting even coverage on each tooth, and it's not going to squirt out of the mouth tray and damage your gums.
They also have a cutting-edge wireless kit (pictured) with a self-sanitizing docking station. The mouthpiece is waterproof so you can even whiten your teeth while you shower. You can read more about these kits in our full Snow teeth whitening review, or visit their website to check out their full product range.
Here's a table comparing HiSmile with these other kits we recommend, so you can clearly see the difference:
Check out our main article on teeth whitening kits to learn more about what to look for when choosing the right product for you.
Conclusion
So, does HiSmile actually work? Yes, for most people, but set yourself realistic expectations about the results. They guarantee two shades brighter, and if that's ok with you, by all means give it a go.
Their specially formulated gel is supposed to be very gentle on teeth, but some users still experience sensitivity.
The main downside of HiSmile is the price per application. It's quite expensive compared to others that deliver similar results, like Smile Avenue, even though it's made in China. The gel refills aren't cheap either, so be prepared to keep paying this price if you want to maintain your whiter smile. For a kit with a year's worth of treatments and more affordable refills, Snow is a good choice.
We do like they fact that the company offers a selection of oral care products and encourages users to follow good habits for oral health – not just whiter teeth. That's definitely something we can get behind.