It's no secret that dental treatment can be incredibly expensive. If you don't have insurance – or even if you do – you can be left with a huge bill. A dental payment plan for dentures, braces, veneers, implants or other dental work helps spread the cost of your treatment to make it more affordable.
But did you know there are different types of payment plan in the UK, and different ways to arrange payment with your dentist? Here we explain how dental payment plans work and what to be aware of before you sign up for one.
Armed with this information, you can confidently search for a dentist with payment plans near your without worrying about paying over the odds. You may want to combine a payment plan with other dental financing to lower the cost even further.
Dental payment plans vs. other ways to pay for treatment
Let's first look at the different ways you can pay for your dental care.
1. Dental insurance
If you have dental insurance or a dental discount plan, either privately or through your employer, first check to see if there are any restrictions on which dentist(s) you may visit. Even if you have a plan which lets you visit any dentist you choose, you will probably receive preferential rates from approved dentists within your insurance provider's network.
While services like checkups and cleanings are often included for free, for any other treatment you'll probably receive a percentage discount or pay a reduced fee. The discount can be anywhere from 10% to 80% of the total treatment cost, depending on the level of insurance you have.
Some UK dental insurance plans only cover treatment with an NHS dentist. Boots, Dencover and WPA dental all offer insurance that covers NHS care to some extent, as well as certain other benefits. But with this type of insurance, any elective treatment must be paid for at the dentist's private rates.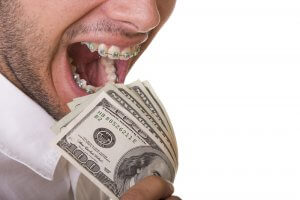 With private treatment insurance plans, any discounts are usually subject to an annual limit, and there is often a separate lifetime limit in place for orthodontics. This means you may still have significant out-of-pocket costs for treatments like:
Dental implants
Braces
Oral surgery
Dentures
Root canal work
Wisdom teeth extractions
In this case, you may still want to pay monthly at the dentist for the portion not covered by your insurance.
Also keep in mind that insurance usually won't cover any purely cosmetic work like veneers or teeth whitening.
If you're worried you can't afford the dental treatment you need because you don't have insurance, did you know that many dental plans offer immediate cover for preventive, diagnostic, and basic restorative services? You might have to wait 6-12 months for more complex work such as root canals and wisdom teeth extractions to be covered, but it's worth checking your options.
We have a full article on dental insurance plans in the UK if you want to know more about this topic.
2. Pay your dentist directly
Your dentist may well offer you a discount if you can pay in full up-front for your treatment. This might be around 5-10% – you'll be in a better position to negotiate if you have a good history with your dentist.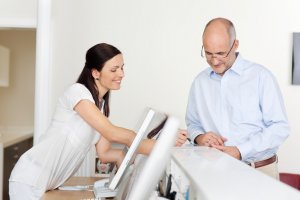 Why would your dentist offer this discount?
Firstly, they save money on admin and they get the full amount straight away. Secondly, as we explain in more detail below, they can actually lose money if you opt for a third-party payment plan.
Paying in cash may get you a better discount since the dentist won't have any processing fees from your card provider.
Even if you can't afford to pay in full, your dentist may be willing to arrange an in-house payment plan. You might, for example, pay one third of the treatment cost up-front with the balance spread over the next six months. Again, this is more likely to be an option if you're a long-term patient with a good history.
In the UK, any dentist may offer an interest-free payment plan of up to 12 months. If they wish to charge interest or extend the term beyond 12 months, they must first register with the Financial Conduct Authority (FCA), which regulates third-party credit providers.
You might consider taking out a dental loan to help you with the funds you need to pay this way.
3. Get financing with a dental payment plan
The third option is to arrange a formal dental payment plan with a third-party finance company. Many dentists have arrangements in place with a particular company, but you may be able to arrange your own finance separately if you wish.
Note that a dental payment plan is different to a dental discount plan (often called just a 'dental plan'). Payment plans are not a type of insurance; just a way to spread the cost of your treatment to make it more affordable. You borrow the money you need for your treatment and then make monthly repayments.
Dental implant payment plans and veneers payment plans can be particularly helpful due to the high cost of these treatments, which are not available on the NHS.
Keep reading for some important things to consider before you look at payment plans for dental work.
Why it's worth asking your dentist first
You might expect that your dentist receives commission on any third party finance arranged through them. In fact, the opposite is true – they usually have to pay a fee to the provider. This can be anywhere from 5% to 15% of the total plan value, which is no small amount.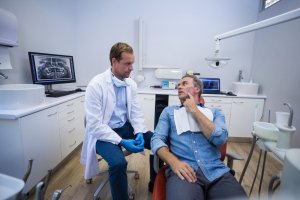 The reason why dentists are willing to pay this fee is because it helps attract more patients and keep them fully booked. They receive the full payment for your treatment (minus the fee) within a few days rather than waiting months for it. And if you default on your payments, it's not their problem.
But you can also see why they might be willing to arrange a monthly payment plan directly with you – it could save them some money.
A few things to bear in mind before asking your dentist for an arrangement where you make payments on your dental work:
You'll stand a better chance of your dentist agreeing to this if it's not your first time visiting them
You'll still have to pay a chunk up-front; probably a third or half of the total fee
Expect the payment term to be shorter than with a third party (maybe just a few months)
You may still receive a discount on any amount you can pay up-front in cash
Ultimately, there is no harm in asking your dentist for a discount and/or a few extra months to make your payments.
Dental payment plans: things to consider
The companies that provide dental finance need to make money somehow. Some might be happy with just the fee from the dentist, but most will try to make a profit from you as well.
Before you choose a plan provider, check the terms and conditions for the following things:
Interest rates
One obvious way for the dental payment plan provider to make money is through interest. Although some offer 0% interest, at least for a fixed term, others charge rates that may be even higher than a dental loan or credit card.
Always check the rate you're being offered and compare it to your other options, such as a personal loan or credit card. Of course, if you do use a credit card, make sure you still make the regular monthly payments to avoid your bill growing even bigger.
If you find a 0% interest payment plan in the UK, check how soon you have to complete your repayments. There might be a fixed term of one or two years, after which the interest rate shoots up. Do everything possible to clear your debt while it's still interest-free.
Plans that charge interest may offer a longer term, meaning lower monthly payments, but always look at how much you'll pay back in total.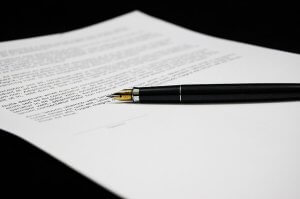 Administration or application fees
Does the finance company charge a fixed fee for arranging your dental payment plan? These can be hidden away in the monthly repayments so be sure to check.
Early repayment penalties
What if you realise you have the means to repay your loan early? This could save you some money on interest, which is why finance providers often don't allow it, or at least charge a penalty fee. A payment plan without this penalty will give you the freedom to complete your repayments earlier than planned, if you wish.
Late payment penalties
You can expect to be charged a fee if you fall behind on your payment schedule. Some companies may be more lenient than others, though; check the terms of your plan so you're aware of any penalties.
Credit checks
If you have a poor credit history, you'll need to look specifically for dental payment plans for bad credit.
The simplest solution is probably to use a plan provider that doesn't do credit checks, such as Smile. These plans are usually arranged directly with your dentist and give you instant approval. This means you can begin your treatment straight away.
Finding a dentist with payment plans near you
A lot of dentists offer payment plans in the UK, so you can begin by asking your normal clinic what pay monthly dental options are available.
However, there are several reasons why you may have to broaden your search:
Your usual clinic doesn't offer dental payment plans
You aren't eligible for their finance for some reason
You aren't happy with the terms of the payment plan they offer
If any of these are the case, you could simply ask around other nearby dentists until you find one that suits your needs. You could also research different payment plan providers in the UK and then search for dentists near you that work with your chosen provider.
Dental implant payment plans
Because of the high cost of teeth implants (and some other cosmetic treatments like veneers), it's very common for dentists to offer payment plans for implants. This means you don't have to pay thousands of pounds up-front, but can still access the treatment as soon as you need it.
If you're due to get teeth implants, you'll probably find that your dentist has finance options available.
Orthodontists with monthly payments
Unlike many dental treatments which are over in one or two visits, orthodontic work usually takes 1-2 years. You won't be expected to pay the full treatment cost up front; you'll probably be asked to pay a certain amount up-front and the remainder in pay-as-you-go instalments.
You may receive a fixed price for your treatment or you may pay per appointment, in which case the cost will increase the longer your treatment takes. The exact details will depend on the type of braces you choose.
In the video below, one patient who is about to get braces talks about how she chose her orthodontist and the monthly payment plan they offered.
She explains that she opted for metal braces over Invisalign because the payment plan was more flexible. The clinic charged £900 for the braces to be fitted, but she was able to split this into four monthly payments of £225 instead of having to pay the full amount up-front. In addition, she has to pay £70 every 4-6 weeks when she visits for adjustments.
If you want to get pay monthly braces, the type of dental payment plan offered may influence your choice of clinic and even the type of braces you get. It's certainly worth exploring a few options before deciding what to do – see our guide to braces for adults and teens for more details.
Can you get payment plans for NHS treatment?
NHS dental fees are designed to make oral health care accessible to everyone. Certain people are entitled to free treatment, while others can get help via the NHS Low Income Scheme. Any NHS fees you do have to pay should be paid in full at the time of treatment, so you won't find a dentist offering NHS dental payment plans.
Other ways to save on dental payments
You may feel like you can't afford the dentist, but dental payment plans and insurance aren't the only way to make dental work more affordable. Here are some other tips for cutting the cost of your dentist bill, or at least making it easier to manage:
Shop around dentists near you: Treatment costs can vary considerably from one dentist to another. Fees depend on their location, experience, and business overheads, amongst other things. In addition, certain dentists may have special arrangements with manufacturers and be able to offer particular brands of cheap braces, implants, veneers, etc.
Plan your treatment carefully: If you need a lot of dental work, ask your dentist about a treatment plan that will help spread the cost. This might mean doing the most urgent procedures first and then waiting a few months before completing less essential work.
Consider travelling abroad: Depending on the work you need, you might save a lot by visiting a dentist overseas. Dental implants, for example, can cost 50-70% less in other countries. Hungary and Poland are two of the best-known destinations for dental tourism, while Spain and Turkey offer the chance for a holiday too. Patients wanting veneers or any kind of extensive treatment plan should also consider getting the work done abroad.
Take good care of your teeth: It might sound obvious, but really the best way to cut your dental bills is to keep your mouth and teeth healthy. This means brushing and flossing properly as well as having regular checkups. If your dentist has the chance to spot problems early on, treatment will be a lot cheaper than if you leave it to develop into something more serious. You'll also reduce your chances of needing expensive implants or dentures later in life.
If you think a payment plan will help make your dental care more affordable, your next step is to search for a dentist with payment plans near you. Remember to ask about the plan conditions so you can find a deal that suits you.
Sign up to receive the latest news and offers from Dentaly.org