If you need full mouth dental implants to replace lost teeth, you'll almost certainly be looking at ways to save money on your treatment. All-on-4 implants offer a more cost-effective solution as they require fewer implants in the jaw than traditional methods.
They are a type of same-day implant, which is why they are sometimes called 'teeth in a day'.
In this article we'll answer questions you might have about getting All-on-4 dental implants such as:
What are All-on-4 dental implants?
How much does the All-on-4 procedure cost in the UK?
Can I get All-on-4 full mouth implants on the NHS?
What does the procedure involve?
Are All-on-4 implants safe?
We hope this information helps you decide whether this is the right restorative dental treatment for you.
How much do All-on-4 dental implants cost?
The All-on-4 dental implants UK price can range from roughly £7,000 to £14,000. The final price may be affected by the number of implants needed and the material chosen for the permanent dentures.
What are All-on-4 implants?
The All-on-4 technique, a registered trademark of Nobel Biocare, is an efficient method for replacing teeth that utilises fewer implants compared to traditional methods. The replacement teeth, which are typically a fixed bridge, are attached to the implants and are not removable like traditional dentures. This technique has the following three characteristics: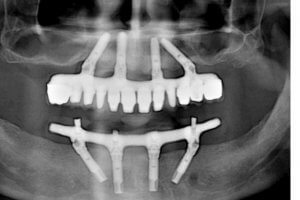 1. As few as four implants per jaw
Whereas a full mouth of implants using traditional methods would require 8-10 implants per jaw, the All-on-4 technique uses just four. Sometimes five or six are needed on the upper jaw due to lower bone density.
2. Angled rear implants for optimum strength
Rather than being inserted vertically, the rear implants are at a 30-45 degree angle. This means even patients who have suffered bone loss should be eligible for All-on-4 without having to go through the costly and lengthy process of a dental bone graft.
3. The ability to be implanted and fitted in a day
This last trait has earned them the nickname 'teeth in a day', 'smile in a day' or 'same day teeth'. This is a drastic improvement on traditional implant procedures which can take six months or more to complete with an extensive recovery time at each step of the progress.
The following animation shows how All-on-4 treatment works to provide a full set of replacement teeth:
This is not the only system for people who want an immediate full arch restoration. For instance, the Straumann Pro Arch system offers similar benefits.
But we will use the term 'All-on-4' in this article, since it is the term most people use to talk about this type of teeth implant.
Who can get All-on-4 implants?
Candidates for the All-on-4 dental procedure might have multiple missing teeth or only enough remaining jawbone to support the implant, but not enough bone to support traditional dental implants.
Additionally, candidates should be in good overall health and have healthy gums. However, the best way to determine whether All-on-4 dental implants are right for you is to consult with a dental implant specialist or an oral and maxillofacial surgeon. They can evaluate your individual case and determine if you are a suitable candidate for the procedure.
Each patient's situation is different and so the best way to know whether you're a suitable candidate for this treatment is to visit a dentist. If you are missing all or most of your teeth and need a cheaper alternative to traditional implants, you can certainly ask your dentist about All-on-4.
Ask a dentist: Who should get All-on-4 implants?
All-on-4 is an excellent treatment for patients who:
Have neglected their teeth for a long time
Have teeth that cannot be restored
This is also a good treatment for those who are self-conscious of how their teeth look and want a better alternative to a denture.
These patients can come to the dental office with their natural, unrestorable teeth and have an All-on-4 implant treatment done in an hour or so. They will walk out with a brand new set of teeth and a fantastic smile.
This treatment's only downfall is that the patient is getting between 4 to 6 implants in their jaw, with a fixed prosthesis on it. Oral hygiene is not as easy as getting a single implant and crown on every missing tooth.
Dr. Reshad, Sutton Place Dental Associates
The fitting procedure
Initial consultation
Your first step in the procedure will be a consultation with your chosen dentist. During this consultation, they will examine your mouth and do a CBCT scan.
This scan lets them assess your suitability for implants. They can check your existing jaw bone density to determine precisely where the implants should be inserted.
Your dentist should also discuss alternative treatment options with you before you commit to anything.
If you are a suitable candidate and decide to go ahead, the next step will be dental impressions. These are sent to a lab where your new dental restoration is designed to fit and look just like natural teeth.
Some dentists now have mouth scanning technology which lets them map out your existing teeth without taking impressions using putty.
Your dentist may also take some x-rays to help with planning your treatment.
All on 4 dental implant surgery
If you need to have teeth extracted before your implants are inserted, this can usually be done on the same day.
Your dentist or oral surgeon may offer you a sedative to help you relax during the procedure. Then they will anaesthetise you so you don't feel any pain.
If you would prefer to have a general anaesthetic for your All-on-4 treatment, ask your dentist about this at your initial consultation.
After any remaining teeth are extracted your mouth will be thoroughly cleaned to remove any damaged tissue and bacteria.
The dentist drills two or more holes at the front of your jaw to hold the front implants. Two holes at the rear – one on each side – are angled to offer greater support to the rear of the bridge.
Once the implants are placed, your mouth is cleaned again and any incisions are stitched up. It's common for dentists to use dissolvable stitches which disappear after a week or two.
Either the same day or the following day you'll be fitted with your new set of teeth. At this stage it's a temporary overdenture which is then replaced a few months later. This is often made from resin – a lighter but less durable material – which puts less pressure on your implants while they heal.
Read more about what it's like getting dental implants.
All on 4 implant aftercare
Patients usually experience some bruising, swelling and general discomfort in the days after their same-day implant surgery. You'll probably want to take a couple of days off work to recover fully and get used to your new teeth.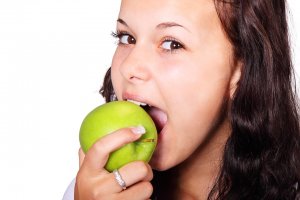 Your dentist will advise you on the type of foods you can and cannot eat in the months after your treatment.
For the first few months, you'll probably have to stick to very soft foods so you don't disturb the process of the implants fusing with your bone. You might also be advised to avoid things like smoking and heavy exercise for a while.
These implants are cleaned just like your normal teeth – by brushing twice a day. Your dentist will also show you how to floss with special tools. You might want to invest in a water flosser with special attachments designed to clean around implants. You can read more in our article about how to clean all-on-4 dental implants.
Final checks and fitting
6-9 months after surgery your implants should be ready to support a permanent overdenture. This is usually made from porcelain or some other durable and high-quality material.
If you look after your new set of teeth carefully, they should last for ten years or longer.
You'll need to return to your dentist for regular checkups and maintenance. Check whether these visits are included in your treatment cost or whether you'll have to pay for them separately.

Where can I get All-on-4 dental implants in the UK?
You can get All-on-4 dental implants in the UK from dental implant specialists and oral and maxillofacial surgeons. Consult with them to find the right one for you.
In some very rare cases, you may be eligible for full mouth dental implants on the NHS. For this to happen you would need to meet these conditions:
Prosthetic teeth are deemed medically necessary (probably true if you have lost all your teeth through trauma or cancer)
You're unable to wear conventional dentures for some reason
Your local NHS Trust provides funding for All-on-4
Your dentist provides these implants
All in all, the chances are pretty slim. More often than not, where a full set of replacement teeth is required, only dentures will be available on the NHS.
As mentioned above, the alternative is to find a dentist who offers All-on-4 treatment privately. You may need to look around, since not all dentists are trained to fit implants and not all those trained in implantology will offer All-on-4.
You can get started by browsing some of the best affordable dentists in your area – just choose your city from the list below:
Once you have chosen a dentist, they will discuss 'teeth in a day' treatment with you and create a treatment plan. If they feel a different treatment would be more appropriate for you they will recommend an alternative solution.
How much do All-on-4 dental implants cost in the UK?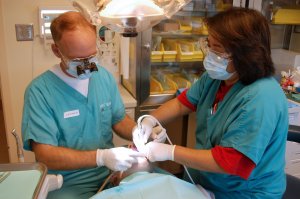 The cost of All-on-4 implants in the UK varies depending on factors such as location, practitioner experience and additional procedures. You'll need to get a personalised quote from your dentist. Below we give a rough estimate and suggest ways to find cheaper All-on-4 treatment.
How much do full mouth dental implants cost on the NHS?
If you're eligible for denture implants on the NHS (which, as explained above, is unlikely) you'll pay the band 3 charge, which in England is £282.80. This covers the entire course of treatment.
If you're eligible for free NHS dental care then you will get your full mouth dental implants on the NHS for free too – but again, very few people are actually eligible for these.
It's most likely that you'll need to pay for private treatment with a dentist of your choice.
What do All-on-4 implants cost privately?
As mentioned above, All-on-4 costs from around £7,000 to £14,000 per jaw with a UK dentist. The price depends on the number of implants you need and the material you choose for your permanent All-on-4 dentures.
As with any private dental work, it's a good idea to shop around and get quotes from several All-on-4 clinics in your area. Prices can vary considerably from one to another.
However, you shouldn't get implants based on price alone. It's more important to find a trained professional who has experience carrying out the procedure you require.
How can I save on 'teeth in a day' costs?
If you find that All-on-4 costs too much with a UK dentist, you might consider visiting a dentist abroad. Thousands of British patients travel overseas every year to save money on dental care – and perhaps enjoy a holiday at the same time.
The cheapest countries for All-on-4 have prices up to 70% lower than in the UK.
When you get dental implants in Turkey, for example, you can travel to Istanbul to soak up the culture or visit a coastal town like Izmir and get All-on-4 implants for around £4,000 – £5,000 per jaw.
Dentists in Hungary are also known for their excellent value and high-quality care. Or some Brits might feel more comfortable with a dental trip to Spain.
If you're interested in getting All-on-4 or other dental work in any of these locations, you can request a free quote right now. Dentaly Go has hand-picked some of the best clinics in these countries, and one of their International Patient Coordinators will talk you through the different options and help arrange a quote.
Our cheap dental implants guide has more information about how to make treatment more affordable. You can also read our article on the cheapest place for All-on-4 dental implants for more information.
Alternative ways to replace a full set of teeth
If you need to replace all your teeth in one jaw or both, there are two main alternatives to All-on-4: dentures and traditional full jaw dental implants. Below you can see the main advantages and disadvantages of each of these options:
All-on-4 vs. dentures
The traditional way to replace a full jaw of teeth is with removable dentures. Also known as "false teeth", these consist of a gum-coloured acrylic base and teeth made from resin or porcelain.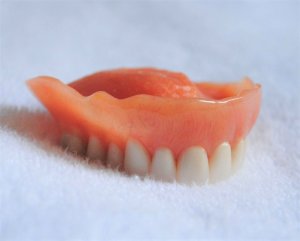 Dentures fit over the gums and stay in place either with suction alone, or with a dental adhesive. Properly fitting dentures shouldn't require any adhesive.
However, the supporting bone shrinks over time as there are no teeth for it to hold in place, and this change of shape will cause dentures to become loose.
This means they need to be replaced regularly to avoid discomfort and problems eating.
Removable dentures are custom-made to precisely fit the patient's mouth. The upper denture covers the roof of the mouth and the lower one is a horseshoe shape to allow room for the tongue.
They must be removed to allow the gums to rest and also for dentures cleaning, usually overnight (hence the cliché of false teeth in a glass on the bedside table).
In contrast, All-on-4 implants are fixed in place and should act just like natural teeth in terms of appearance, chewing and comfort. There is no risk of them slipping out of place while the wearer is talking or eating.
Although the prosthetic teeth are fixed to an artificial gum, this covers only a small area of the real gum when compared to dentures. The join is hidden far enough behind the lips that it won't be visible when you smile.
Dentures offer a clear cost benefit over any kind of implants but they do need to be replaced every five years on average.
All-on-4 vs. regular implants
The conventional way to replace a full jaw of teeth with implants would be with a combination of single-tooth implants and implant-supported dental bridges.
Bridges allow several 'teeth' to be supported by one implant at each end instead of one implant per tooth. This technique usually requires 8-10 implants per jaw for a full set of new teeth.
Our full dental implant guide explains more about the procedure for traditional implants.
While both techniques involve drilling sockets in the jaw bone, All-on-4 requires fewer implants. This makes the process quicker, easier and more comfortable for the patient. It can also make the cost of full-mouth dental implants considerably lower because of the reduction in time and materials required.
If you have low bone density or mass, mini dental implants might also be an option.
Aside from the lower cost, a big advantage of All-on-4 is the reduced treatment time. Dentures can be affixed as soon as the implants have been placed (same-day dental implants), rather than the patient having to wait six months or more for healing as is the case with traditional implants.
Usually, temporary dentures are placed on the day of surgery and permanent ones are added a few months later.
The following table shows the key differences between dentures, regular implants and All-on-4:
| | | | |
| --- | --- | --- | --- |
| | | | |
| | Attached to 4-6 titanium implants in the jaw bone | Attached to 8-10 titanium implants in the jaw bone | Rest on the gums; may require adhesive |
| | Suitable for patients with bone loss | | Suitable for most patients |
| | Fixed in place; act like natural teeth; few eating restrictions once healed | Fixed in place; act like natural teeth; few eating restrictions once healed | Can move when you chew; certain foods must be avoided |
| | | | Will need to be replaced as the gums change shape (every 5 years on average) |
| | Implants help maintain the bone | Implants help maintain the bone | Continued bone loss is inevitable, causing the denture to loosen |
| | Artificial gums with minimal contact | Crowns attached directly to existing gums | Acrylic plate covers much of the gums and roof of the mouth |
| | Like natural teeth; gum join hidden behind lips | Like natural teeth; no artificial gum | Like natural teeth; loss of bone may cause face to sag over time |
| | Cleaned like normal teeth | Cleaned like normal teeth | Must be removed for cleaning (usually overnight) |
| | | | Often available on the NHS; £400 - £2,500 privately |
Advantages and disadvantages of All-on-4
We can summarise the advantages and disadvantages of All-on-4 compared to other full mouth replacement teeth options as follows:
Advantages
All-on-4 dental implants offer many benefits over conventional implants and removable dentures. These include:
Shorter treatment and recovery time
Implants placed on the same day as extraction
Comfortable and stable structure to support crowns and bridges
Fixed in place – no need to remove for cleaning
Don't slip or fall out
Suitable for patients with jaw bone loss
Big saving on the cost of full dental implants using traditional techniques
Disadvantages
Of course, there are also some drawbacks to this type of full mouth implant:
Results may not be as good as with traditional implants
Some people report problems with spitting or hissing while speaking
Some dentists see it as a 'short cut' to replacing teeth properly
Not a fully customised solution
A single implant failing can cause problems with the whole jaw
The artificial gum bridge may feel bulky in your mouth
Not usually available on the NHS (whereas dentures are)
You should take all of this into consideration when deciding the best way to replace your teeth.
Possible All-on-4 problems
As we mentioned before, every patient is different. In order to determine the best treatment plan, a dentist must have a broad understanding of each patient's unique circumstances, including factors that might have implications for certain treatments.
Ask a dentist: What are some common problems with All-on-4?
Before undergoing All-on-4 treatment, the patient should understand possible complications and discuss any concerns with their dentist. Some common All-on-4 problems include:
Parafunction: Habits such as teeth grinding, clenching, and irregular chewing may influence treatment decisions. When all natural teeth are replaced, natural teeth sensation reduces and patients are less aware when their teeth are under pressure. In patients where parafunctions are present, a bar-supported overdenture may be preferable.
Speech issues: It can take some time to adapt to having a bulky new prosthesis in the mouth. Most patients can retrain their speech after a few weeks but for some the problem may linger.
Infection: Even when no natural teeth remain, food can get stuck underneath the denture and cause infection and gum disease. Therefore, patients must follow a stringent cleaning routine.
Implant failure: Any type of implant can fail for various reasons, including poor management of systemic diseases like diabetes. Good oral hygiene and proper aftercare help minimise the risk, so follow your dentist's instructions carefully.
– Dr Eyad Tariq
All-on-4 reviews and studies
You might be wondering "Are All-on-4 dental implants safe?" or "How long do they last?". As this is a relatively new technology, existing studies have only looked as far as the 10-year survival rate.
The results are promising, with 99.2% of prostheses lasting longer than 10 years and 94.8% of implants themselves.
Another study looked at the Straumann Pro Arch concept and found a 97.7% success rate after 55 months. Those implants that did fail were able to be replaced, and the overall prosthesis survival rate was 100%.
There is every reason to believe that these implants can last 15 years, 20 years or longer – provided you follow your dentist's instructions for taking care of them.
There are plenty of All-on-4 before and after photos and videos to be found online. Many patients record their journeys as they get full jaw dental implants. Here you can view one user's review of his experience a few months after having his implants fitted:
Remember, if you're looking for a way to make All-on-4 implants more affordable, consider visiting a dentist overseas. Even with the cost of your trip factored in, this can be a much cheaper option than paying full price back home.
Get a free quote for All-on-4 abroad
Conclusion
Anyone who is missing all their teeth, or who needs to have most of their teeth removed, might consider this system. The cost of All-on-4 is a big advantage compared to traditional implants, as is the fact that the temporary dentures can be placed the same day.
But with even the cheapest All-on-4 implants in the UK costing £7,000 per jaw or more, they are still a big investment.
Travelling abroad is one way to access cheaper dental care, but if the cost is still too high, dentures are a more affordable way to replace a full mouth of teeth. Patients should carefully weigh up the pros and cons before going ahead with any treatment, whether in the UK or another country.

FAQs
Can you really get teeth in a day?
Same-day teeth implants have earned the name 'teeth in a day' because it's possible to fit temporary dentures over the implants on the same day they are placed.
However, these still need to be replaced with permanent overdentures a few months later, so the process is not technically done in a single day.
What do same-day implants cost in the UK?
The cost of All-on-4 and other immediate load implants varies according to the exact treatment you need. As a general rule, you can expect to pay at least £12,000 for a full mouth of same-day implants.
Can you get All-on-4 dental implants on the NHS?
In theory, yes, but it's highly unlikely due to the restrictive eligibility criteria. You'll probably need to investigate other ways to make your treatment more affordable.
How can I get cheap All-on-4 implants?
One way to save on this expensive procedure is to get your implants overseas. In some countries, you can get teeth in a day for just a few thousand pounds, a drastic saving on the price in the UK.
I want all my teeth removed and replaced. What should I do?
The first step would be to speak to your dentist. If your teeth are in such a bad condition that the best option is to have them all removed and replaced, then All-on-4 may be a good solution.
Sign up to receive the latest news and offers from Dentaly.org