Crowded teeth can occur at any age, resulting in teeth which are misaligned to some degree. This can affect oral health as well as appearance, so dentists may recommend correcting crowded teeth in children. Cosmetic dentistry for crowded or overlapping teeth is also common among adults; treatment options include veneers, Invisalign aligners, and other types of dental braces.
Before you make the decision about how to go about fixing your crowded teeth, you can read this guide we've put together about the options for both children and adults. We will share with you:
Causes of crowded teeth
Problems that result from overcrowded teeth
Ways to fix your crowded teeth
Answers to some common questions about overcrowding
Both the upper and lower teeth can require straightening if they are crowded, but treatment is often relatively simple. Read on for all the information you'll need if you have crowded bottom or top teeth.
There are pros and cons to clear home aligner treatment, but if you have mild teeth crowding they could be a good treatment option. Here are our top picks, if you're looking for clear aligners:
Find the right clear aligners for you
Complex cases
Treats up to 90% of Cases
Up to 40% cheaper than Invisalign
Buy now, pay later in interest-free instalments.
Rated 4.9/5 on Trustpilot
As seen on 5, BBC, 4, DailyExpress, TheMail
Get 5% OFF with our discount code DENTALY5OFF and FREE Whitening and Retainers worth £790
Smile White offers a hybrid model for clear aligner treatment. You have 3 in-office appointments, so your dentist can ensure in person that your treatment is going as planned.
That means that, unlike other clear aligners, Smile White can treat even the more complex cases of bite misalignment.
To get started:
Every treatment comes with free teeth whitening, so you can whiten your teeth while you straighten them!

Best value
Free retainers and whitening
Nighttime aligners available
0% interest finance options
£1,395 £1,295 or £83.33/month
NewSmile is a Canadian company that brought its clear aligners to the UK market in 2022. NewSmile aligners are made from the clearest material and the company offers excellent service at the best price.
They don't have any physical locations, so you'll need to purchase an aligner kit to get started. One of their Impression Specialists will guide you through the process on a video call when you're ready.
NewSmile aligners are very affordable, costing just £1,395 (currently discounted to £1,295). But even better, this price includes whitening foam to use in your aligners, plus your first set of retainers!
Choose their daytime package for treatment in 4-6 months, or nighttime aligners for a more discreet treatment that takes 8-10 months. Both options come with 0% interest payment plans available.
Overlapping and crowded teeth causes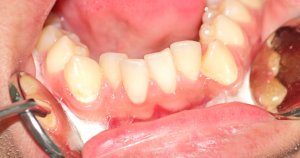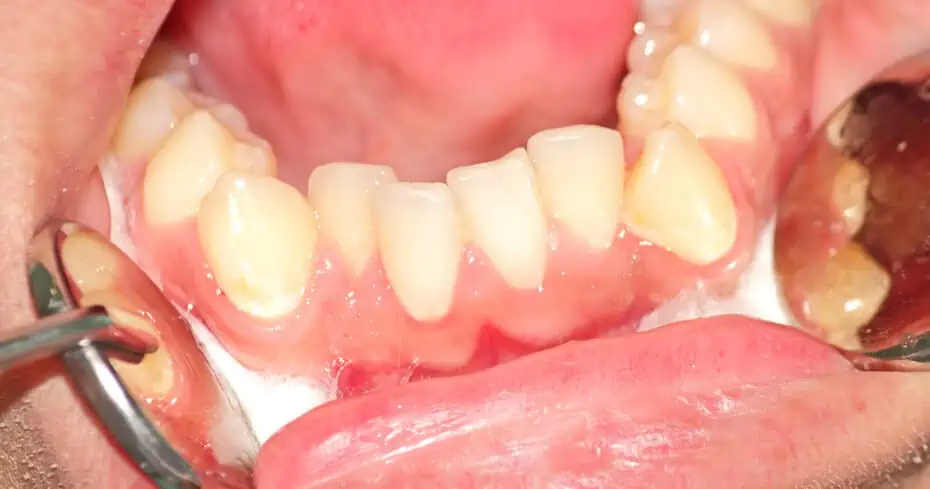 There are quite a few reasons that people encounter crowded teeth problems. Some of the most common are:
Thumb and dummy sucking
An underdeveloped jaw bone
Different sized teeth
Irregular eruption of permanent teeth
Cleft lip and palate issues
Having extra teeth
Getting older
Most of these issues can be spotted in children; however, overcrowded teeth problems tend to get worse with age. As we grow older our faces are constantly changing, including the jaw. The teeth, especially the lower teeth, are likely to move around and start to become crooked or even overlap, so it's common for adults to want to fix crowded bottom teeth.
One thing that does not cause overcrowding is the eruption of wisdom teeth. Although third molars can cause many problems as they come through, research has shown that they don't exert enough force on the other teeth to alter their position.
Do crowded teeth cause problems?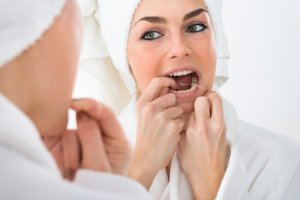 If your teeth feel crowded, overlap, or look out of line, this can lead to problems. A significant problem is difficulty cleaning between teeth, leading to increased plaque build-up. Other problems include:
Accelerated tooth decay
Gum disease, or gingivitis
Unusual wear patterns on your teeth
Speech problems
Low self esteem
These oral hygiene problems combined with the unhappiness you might feel about not having straight teeth may well lead you to seek treatment for crowded teeth.
Ask a dentist: Is it bad to have crowded teeth?
Crowded teeth are not just a cosmetic issue. They create challenges for proper oral hygiene and can make it hard to brush and floss properly. As a result, crowded teeth make it easier for plaque, tartar, and harmful bacteria to accumulate in your mouth. Eventually, this can lead to tooth decay and gum disease.
Crowded teeth can also get worse over time. Though it varies from case to case, almost all cases of crowded teeth will worsen with age leading to more oral health complications as you get older. Poor oral hygiene can also lead to general health complications over time, like a weakened immune system and heart disease. Furthermore, straight teeth improve appearance and self-esteem.
Dr. Shane S. Porter
Fixing crowded teeth
There is a range of options for fixing crowded top teeth, bottom teeth, or both. Which one is suitable for you will depend on the severity of the crowding and how much you are willing to spend to fix your teeth.
The NHS provides free treatment with braces to fix crowded teeth in children, provided the overcrowding is severe enough for the treatment to be deemed medically necessary. Where only minor crowding is present, however, private treatment may be the only option. You can read more about the NHS eligibility criteria in our guide to braces for children.
Because the NHS doesn't cover cosmetic dentistry, crowded teeth treatment for adults will usually need to be done privately. There may be some exceptions for the most severe cases which weren't treated in childhood, for whatever reason.
Let's go through the various treatment options for teeth overcrowding in adults and children, along with the pros and cons of each. You'll find information about costs in the table a little further down.
Braces
The first thing that probably comes to mind when you think about fixing crowded teeth is braces. It's true that this is the most common treatment, particularly for more severe overcrowding cases where the teeth overlap, but there are different types of braces to consider.
Fixed braces are metal or ceramic brackets that are bonded to your teeth and connected by a metal wire. They work by putting pressure on your teeth to slowly and gently move them around your mouth. The benefit of ceramic braces is that they are clear or tooth-coloured, making them much less noticeable. People with crowded teeth might need to have separators placed between certain teeth to make space for their braces to be fitted.
Children receiving free NHS treatment will only be offered metal braces; any other styles must be paid for privately.
Does Invisalign work for crowded teeth?
It's also possible to treat crowded teeth with Invisalign aligners or other invisible braces like SmileDirectClub. These systems use a series of clear plastic aligners, usually changed every two weeks, to move your teeth in small increments.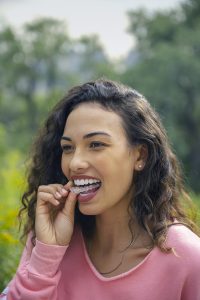 For more moderate cases of overcrowding, invisible braces treatment might take 18 months or more.
Because aligner braces are clear and are made to fit perfectly over your teeth, no matter how long you need them for, most people won't notice them.
These braces work for about 90% of orthodontic cases, but the other 10% might need fixed braces instead. To learn more, read our article: does Invisalign work?
And, to find out whether you're a suitable candidate for Invisalign aligners, you can take a free online Smile Assessment. You'll get your answer as soon as you submit your details – it only takes a couple of minutes.
Retainers
Sometimes dentists can fix crowded teeth without braces, using retainers. A removable or fixed (lingual) retainer are both options for mild crowding of the teeth.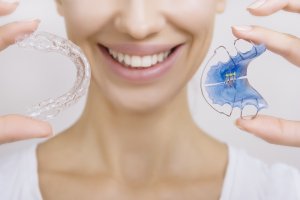 Some benefits of retainer treatment for overcrowded teeth are:
This is a much cheaper option than braces
Lingual retainers are less obvious since they sit behind your teeth
Fewer dentist visits may be needed
It might be worth asking if a retainer-only course of treatment is possible for you or your child. Read our retainer guide for more information about the options.
Veneers for crowded teeth
Veneers can fix crowded teeth, provided the overcrowding and crookedness aren't too severe. To have a veneer fitted your dentist will shave away some of the enamel on your existing tooth and apply a composite or porcelain cover. A detailed description of the process and different options can be found in our guide to dental veneers.
Veneers don't actually straighten your teeth; they just make them appear straighter by covering up the crooked parts. From an aesthetic perspective, this works really well, but it doesn't solve the underlying problems that come from having overcrowded teeth. Your other teeth may start crowding because the pressures moving your teeth are still present.
Since veneers for crowded teeth are purely cosmetic, they won't be covered by the NHS. Also, they aren't a suitable solution for children with crowded teeth, who will usually be directed to braces.
Crowns
Another possible crowded teeth treatment for adults is having crowns fitted. This involves removing a lot of the tooth structure and fitting a metal or porcelain cap over the top. We have more dental crown information on another page.
Although crowns can be effective at making your crowded top teeth or bottom teeth look straight again, they are not always the best option. Fitting a crown involves removing a lot of healthy tooth, and a lot of dentists would advise against having this procedure for purely cosmetic reasons.
If you do think this is an option you want to explore, speak with your dentist.
Summary of treatment options
Here is a summary of the treatments we've covered for fixing crowded teeth, including costs:
| | | | | |
| --- | --- | --- | --- | --- |
| | | | | |
| | | Additional cleaning and flossing whilst wearing | 12-24 months depending on severity | Long term fix, must wear a retainer after |
| | | Additional cleaning and flossing whilst wearing | 12-24 months depending on severity | Long term fix, must wear a retainer after |
| | | Daily cleaning of aligner and teeth after each removal | 6-24 months, depending on severity | Long term fix, must wear a retainer after |
| | Composite: £100 - £400; Porcelain: £400 - £1000 | Continue normal oral health routine | One or two dentist visits, depending on type | Cosmetic fix, lasts 5-20 years depending on type |
| Crowns per tooth (depending on material) | | Continue normal oral health routine | One or two dentist visits, depending on type | Significant loss of healthy teeth, lasts 5-15 years |
| | £50 - 350 (£62.10 if covered by the NHS) | After initial healing, none | Usually one dentist visit, may be followed by braces | Permanent loss of the tooth, more room in your mouth for braces to move teeth |
Conclusion
As we get older, it's natural for our teeth to become a bit wonky, especially in the lower jaw. Braces, retainers and veneers are all possible treatments if you want to restore your smile.
In children, overcrowding and overlapping teeth can be treated reasonably easily too. Make sure that your child wears their retainer after treatment so that crowding is less likely to re-occur as they get older.
Invisible braces like the Invisalign system are a popular option for people who want to straighten their teeth without it being obvious to those around them. Remember, you can take a free Smile Assessment to quickly check whether you or your child are eligible for Invisalign treatment. Or, check where your nearest provider is and book an appointment to get a personalised treatment plan.
If you decide not to correct your crowded teeth, you'll need to pay special attention to your oral hygiene in order to minimise your risk of tooth decay. A water flosser may help you keep the irregular spaces between your teeth clean.
FAQs
Do I need teeth removed for crowded teeth treatments?
It depends on your personal situation. Some people are born with extra teeth – a condition called hyperdontia – and in this case the extra teeth will need to be extracted. Sometimes dentists may want to extract normal teeth (including wisdom teeth) to make room for movement with braces.
Not all dentists approve of removing healthy teeth. Remember that you're entitled to a second opinion if you or your child are recommended to have teeth removed as part of crowded teeth treatment. A less severe way to make space before applying braces is to file the teeth down slightly, but this isn't always an option.
Here, Dr Loh shares a case where he didn't need to extract teeth to get great results:
How do braces work on crowded teeth?
Braces attach to your teeth, applying pressure on them and pulling them into the right position. Invisalign aligners work in much the same way – they move your teeth into the desired position.
The main difference when using Invisalign for crowded front teeth, as opposed to metal braces, is that they can't easily be seen, and you can remove them for eating and cleaning. The timescale for treating crowded teeth with braces usually ranges from 6-24 months.
How long does Invisalign take for crowded teeth?
One of the big plus points of using Invisalign for crowded teeth is how quick treatment can be. Mildly crowded teeth can often be treated with Invisalign, which can take as little as 6-8 months. The severity of your misalignment will determine the exact duration of your treatment.
What are the best braces for treating overcrowding?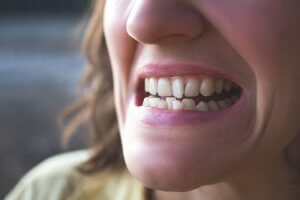 When it comes to clear aligners or braces for treating overcrowding, it's all going to come down to the severity of your condition. If you don't want it to be obvious that you're wearing braces, invisible aligners could be the best choice for you. If you are more concerned with cost than appearance, or if your teeth are severely crowded, metal braces may be a better option.
To see whether you're a suitable candidate for Invisalign treatment, it's quick and easy to take an online Smile Assessment.
How do I fix crowded teeth at home?
Please, don't try! There is no way that you'll be able to fix crowded teeth yourself. But if you don't want to visit a dentist for braces, consider an at-home aligner solution. You receive everything in the post so it's very convenient and ideal for anyone who has a fear of the dentist.
If it's the cost that's stopping you, know that there are ways to make dentistry more affordable. We have put together a useful guide to dental finance that could help you explore your options.
What will my teeth look like after treatment?
There are two ways that you can try to understand what your teeth will look like after treatment. First, you can use Invisalign's SmileView tool which lets you preview your new smile for free in under a minute. Then, you can ask your dentist to see pictures of previous patients' crowded teeth before and after treatment. This should give you a general idea of how your smile will improve.
Your dentist may also be able to do a computer simulation with before and after views of your overcrowded teeth. If you opt for Invisalign aligners, you will automatically receive a simulation of your smile transformation.
This video has some examples of teeth treated with the Invisalign system, including before and after pictures and information about treatment times:
Why are my bottom teeth crowding after braces treatment?
Braces for crowded teeth, or any other problem, aren't a permanent fix for every dental issue. Even if you have had braces as a teenager, your teeth might start becoming crowded again later. It is a part of the natural ageing process, just as your skin develops wrinkles!
However, if you notice a change in your teeth very soon after your braces treatment has finished then visit your dentist. They may need to make adjustments to your retainers or offer further treatment.
How can you fix crowded teeth without braces?
Braces are usually the best and most efficient way to straighten overcrowded teeth. But that doesn't mean having metal glued to your teeth; clear aligners and clear braces are both just as effective. The material used makes them much harder to notice.
Sign up to receive the latest news and offers from Dentaly.org