If you want to whiten your teeth at home, one of your options is an iWhite instant teeth whitening kit. This company sells a range of kits and other whitening products in the UK. But are iWhite teeth whitening kits any good? This iWhite review will help you get to the bottom of things.
Read on to get answers to these questions and more:
Does iWhite work?
What different products are in the iWhite teeth whitening range?
Are they safe to use?
Where can you buy iWhite in the UK?
How does this brand compare to other whitening kits?
We hope this review helps you decide on the best way to get a smile you love.
Best Teeth Whitening Kits 2023

Designed & developed by UK dentists

Includes 2 FREE visits at your local SmileWhite dentist

3 Year Guaranteed Results

Use code DENTALY5OFF to save an additional 5%!

"Best Professional Teeth Whitening with long-lasting results."

24-30 days of treatment included

Reusable components and affordable refills available

Ingredients to remineralize teeth and prevent sensitivity

30 day money-back guarantee

Free shipping and 10% off with code DENTA10

"Best affordable At-Home Whitening Kit."
iWhite instant teeth whitening overview
iWhite is a well-established brand in the teeth whitening market, having been in operation for over a decade. iWhite stain removal products are now sold in more than 50 countries. The brand is owned by Sylphar, a Belgian company responsible for research, manufacturing and marketing of the products.
The iWhite product range in the UK includes:
So, iWhite definitely has all aspects of tooth whitening covered, including some you'd probably never thought of. They all come with the slogan "instant teeth whitening" plastered on the packaging, which might be a stretch for some of these items.
A selection of these products used to be available in a bundle named the 'iWhite Instant Teeth Whitening Advanced Kit'. Although it's still available on Amazon, it's no longer advertised on the company website and has been discontinued at some other retailers. The iWhite Advanced Kit doesn't get great reviews, so we'd recommend just choosing the products you really want and purchasing them separately.
But anyway, we're here to focus on iWhite's teeth whitening kits with this review – all three of them. We'll explain what the difference is between each one and whether they're worth your time and money.
iWhite teeth whitening kit features
Before we get into our full iWhite teeth whitening kit review, we're going to explain what the differences are between each of the three kits, how they work, and who they are best suited to.
The kit contents and instructions for use are basically the same for all three. They also all come with the claim of instant results up to eight shades whiter. It's just the ingredients in the gel which differ, making the kits suitable for different purposes:
The original kit offers instant whitening results in an easy-to-use kit.
The iWhite 2 is listed on their website as part of the 'sensitive' range, but no further explanation is given. It contains ingredients that help protect and remineralise the tooth surface, which may be where this claim comes from.
iWhite Dark Stains is designed to target stains from tea, coffee, wine and tobacco using "Dark Pigment Adsorption Technology" (aka activated charcoal).
Here's an overview of the three kits:
| | | | |
| --- | --- | --- | --- |
| | iWhite Instant Teeth Whitening Kit | | |
| Main whitening ingredient | Phthalimido-peroxy-caproic Acid (PAP) | Phthalimido-peroxy-caproic Acid (PAP) | Phthalimido-peroxy-caproic Acid (PAP) |
| | | Calciofluorocomplex (fluoride) and hydroxyapatite to strengthen/remineralise enamel | Charcoal powder to absorb stains |
| | | | |
| | | | |
| | May appear instantly, better if used for 5 days consecutively | May appear instantly, better if used for 5 days consecutively | May appear instantly, better if used for 5 days consecutively |
| | | | |
Now, let's look in more detail about what you get with these kits, how you use them, and – most importantly – do they actually work or are you better off spending your money elsewhere?
iWhite review – Our overall rating: ★★★☆☆ (3/5 stars)
Kit contents ★★☆☆☆ (2/5 stars)
This is what you receive with any of the three iWhite kits:
10 soft mouth trays pre-filled with whitening gel
And that's it. You don't even get a shade guide to measure your progress, which can make it hard to tell if you've come anywhere close to 8 shades of whitening. You use two trays per treatment – one for the top teeth and one for the bottom – meaning five treatments in total.
Unfortunately, iWhite's teeth whitening kits feel quite wasteful, both environmentally and financially. Here's why:
It doesn't feel great to be throwing away two plastic trays with every treatment.
There are no refills available, unlike other styles of kit where you dispense your own gel from a syringe.
Five treatments per kit is a lot less than some competitors, which include 10 or more.
So although the simple contents might be all you need to get results, they don't compare that well to other kits on the market, especially if you want to continue whitening your teeth regularly.
To add to this, a number of users report that one or more of the trays had dried up when they came to use it. "I successfully used this product once and then found that 3 trays were filled with gel that had gone hard!" says one person in their iWhite 2 review, with another complaining "Arrived today and 3 out of the 5 gels trays are all dried up and crumbling and unable to use such a waste of money".
Our #1 recommended teeth whitening kit
Ingredients ★★★☆☆ (3/5 stars)
The main whitening ingredient, Phthalimidoperoxycaproic acid (PAP), is used in several popular whitening kits as an alternative to hydrogen peroxide. Both Hismile and Smile Avenue use this as their main ingredient, but their kits also include remineralizing hydroxyapatite. This is important because there are some indications that the PAP formula in iWhite has the potential to soften enamel. On the plus side, it's proven to have a whitening effect from the first use.
iWhite claim on their website that "Since the iWhite teeth whitening products are hydrogen peroxide-free, damage and/or sensitivity of the teeth and/or gums will not occur". Although it seems the sensitivity claim is true for most people, some do still experience this problem. One reviewer of the Dark Stains kit says it made their teeth "so sensitive I can't bite down on food anymore".
iWhite's teeth whitening kits are labelled as being made in Belgium. Sylphar manufactures its products internationally and it's unclear whether all of the individual components are manufactured in Belgium or whether the kit is just compiled there. iWhite didn't reply to our request to clarify this.
In any case, iWhite's products are ISO certified and conform to the relevant regulations for sale in Europe, which is a good sign of quality and safety.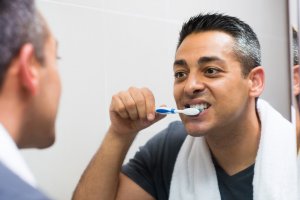 Ease of use ★★★★★ (5/5 stars)
There's no doubt that iWhite's teeth whitening kits are easy to use. Their fixed-shape mouth trays don't require any moulding, there's no LED light to worry about, and the pre-measured gels mean there should be no room for error.
You keep the trays in for 20 minutes per treatment, which isn't too much of an inconvenience. You won't be able to talk much with the trays in, and you might find yourself dribbling a lot – but the same goes for most other tray-based kits.
Note that some people do find the trays quite shallow and difficult to keep in. They are only designed to whiten the front six teeth, which are the most visible.
It's best to brush your teeth straight before whitening them and avoid eating or drinking for a while afterwards. Using the kit right before bedtime is ideal, or you might want to do it in the morning for an extra burst of brightness during the day.
Results ★★★☆☆ (3/5 stars)
iWhite products carry the promise of "instant teeth whitening" and results of up to 8 shades lighter. Now, we can say with some confidence that you're not going to get this from a mouthwash. But what about the kits?
Let's look at this study which was carried out in 2017 by the Journal of Applied Oral Science to assess the effectiveness of iWhite Instant. These were the results recorded immediately after treatment:
39% of teeth improved by 4 shades
17% of teeth improved by 3 shades
3% of teeth improved by 7 shades
41% of teeth showed no improvement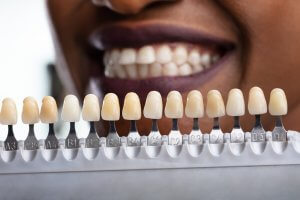 Those are the results per tooth, so 2 in 5 teeth had no whitening effect at all. Looking at the results per person:
5% had an average improvement of 5 shades
30% had an average improvement of 3 shades
50% had an average improvement of 2 shades
15% had an average improvement of 1 shade
So, everyone experienced at least one shade of whitening after a single use, but the average is just over two shades. It's worth noting that in the same study, the whitening effect remained almost the same 24 hours after treatment.
That's what the science says, but how about real users? Their results seem equally mixed. Here's a selection of reviews from the most popular kit, the iWhite Instant2:
"Works better than the iwhite original kit"

"Don't waste your money. Does not change your teeth at all!!!"

"Easy to use but my teeth are sensitive"

"Great product, quick and easy to use and see results instantly"
And here's an iWhite review video where a guy named Chris documents his experience using the iWhite Instant Teeth Whitening Kit:
You can use the iWhite kit for five consecutive days to get the best results, or spread the treatments out a bit if you occasionally want whiter teeth for a special event. Do keep an eye on the expiry date of the gel, though, if not using them all at once.
No whitening kit will give the same results as laser teeth whitening with a dentist, but using iWhite Instant teeth whitening kits as instructed should still whiten your teeth to some degree. If you drop your expectations from 8 shades to 2, you may not be so disappointed with the results.
Alternatives to iWhite in the UK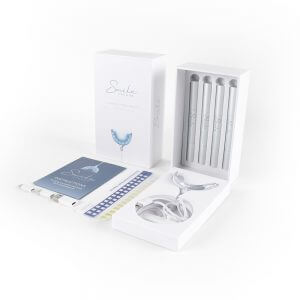 If you've been doing your research, you've no doubt noticed all the other teeth-whitening kits out there. The selection available in the UK is huge and constantly changing. If you haven't been convinced by iWhite reviews, what's a better alternative?
Our top choice for 2021 is the Smile Avenue whitening kit. It costs a little more than iWhite but comes with enough gel for 24-30 days of treatment (as opposed to iWhite's 5 days). You can buy gel refills for Smile Avenue which work out at about £1.42 per treatment so, overall, it's much more cost-effective. Plus, you can get 10% off this kit right now using code DENTA10 at checkout!
Smile Avenue's gel is manufactured in the USA, and as we mentioned above, it uses the same whitening ingredient as iWhite but with other ingredients to help strengthen enamel and prevent sensitivity. This kit comes with a 30-day money-back guarantee to ensure complete satisfaction. Read more about this kit in our full review of Smile Avenue or click below to read more details on their website:
If you really want to give your smile a long-lasting makeover, consider a Snow Teeth Whitening system. These are made in the USA and come with enough whitening serum for a year's worth of professional-looking results.
Our article reviewing some of the best teeth whitening kits has more information about how to choose the right product for you.
Our top pick for teeth whitening at-home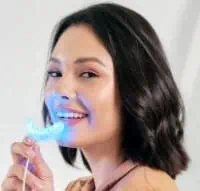 We've chosen Smile Avenue as the best whitening kit in the UK for 2023. Here's why it beats iWhite:
Made in the USA
24-30 days of treatment included
Reusable components and affordable refills available
Ingredients to remineralize teeth and prevent sensitivity
30 day money-back guarantee
Free shipping and 10% off with code DENTA10
Read our Smile Avenue review for more details or visit their website to purchase and use promo code DENTA10 for 10% off at checkout!
Conclusion
Does iWhite work? In general, yes, their kits do give some degree of instant whitening. Very few people are going to get the eight shades whiter that's mentioned in their marketing, though.
If you'd be happy with two to three shades of whitening and are willing to overlook the amount of waste these kits produce, you can go ahead and view the full iWhite range on Amazon. Don't forget, iWhite toothpaste, mouthwash and toothbrushes are available for those who really want to buy into the brand.
Our top pick is still Smile Avenue because it delivers good results and is made in the US. It's also one of the more affordable products for people who want to whiten their teeth regularly.
Sign up to receive the latest news and offers from Dentaly.org