Teeth whitening has become very popular in the UK, but not everybody wants the expense and inconvenience of visits to the dentist. Teeth whitening kits are a more affordable way to get your teeth several shades whiter. However, there are so many kits on the market, how do you know which is best for you?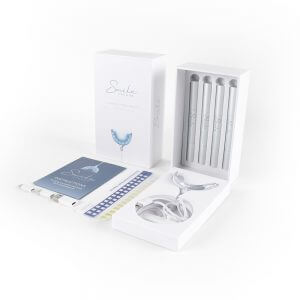 In this article, we are going to introduce and review a popular whitening product in the UK: Smile Avenue Professional Teeth Whitening Kit. We'll explain:
What's in the Smile Avenue teeth whitening kit?
What ingredients does the gel contain?
Is it safe?
Is it easy to use?
What kind of results can you expect?
Where can you purchase the kit and refills?
You can also read reviews of Smile Avenue's whitening kit from other users to help you decide if this is the right product for you. Should you decide to buy it, you can get free shipping and 10% off with our code DENTA10.
Introducing the Smile Avenue whitening kit
This teeth whitening kit from Smile Avenue has already earned a good reputation in France and is now gaining popularity in the UK. It contains everything you need to whiten your teeth by three shades or more from the convenience of your own home. Even if you have never used an at-home whitening kit before, you should find it very easy to get good results with this kit.
The main highlights of the Smile Avenue kit are:
Made in the US with high-quality ingredients
Conforms to the relevant EU regulations
Gentle whitening gel formula
Includes four whitening pens (24-30 treatments)
Easy to use
Visible results in a few days
Convenient treatment: 16 minutes per day for 10-14 days
Great value
100% money-back guarantee
Our overall rating: ★★★★★ (5/5 stars)
Smile Avenue teeth whitening kit reviews and features
Below we explain what makes this our choice for the best teeth whitening kit for 2023.
Kit contents ★★★★★ (5/5 stars)
Smile Avenue's teeth whitening kit contains everything you need for a professional whitening experience at home:
4 syringes of whitening gel (enough for 24-30 applications)
A fixed-shape mouth tray with built-in LEDs
Adaptors to fit USB, USB Type-C and lightning (iPhone) sockets
A shade guide so you can check your progress
Instruction guide with whitening tips
Many kits on the market only contain enough gel for one week of treatment, whereas this kit's generous allowance means you'll get at least two full courses of treatment out of it. Alternatively, you can do one full treatment followed by weekly top-up treatments lasting for around three months.
Once your initial supply is finished, you can buy gel refills which work out at less than £1.50 per treatment. So this kit is an affordable way to keep your teeth brighter over a longer period of time, too.
Smile Avenue's whitening kit features an innovative mouth tray design. Rather than attaching an exterior LED light, this design has built-in LEDs to achieve better coverage. The way you apply the gel, by 'painting' it onto your teeth rather than squeezing it into the tray, is also a modern design that helps ensure even coverage and minimises leakage.
Best Teeth Whitening Kits 2023

Designed & developed by UK dentists

Includes 2 FREE visits at your local SmileWhite dentist

3 Year Guaranteed Results

Use code DENTALY5OFF to save an additional 5%!

"Best Professional Teeth Whitening with long-lasting results."

24-30 days of treatment included

Reusable components and affordable refills available

Ingredients to remineralize teeth and prevent sensitivity

30 day money-back guarantee

Free shipping and 10% off with code DENTA10

"Best affordable At-Home Whitening Kit."
Ingredients ★★★★☆ (4/5 stars)
When you're comparing teeth whitening kits, it's important to check the ingredients used in the gel and the country of origin. A poorly formulated gel can cause tooth sensitivity and gum irritation. Some gels are produced in countries that have sub-standard quality control and regulations in place, but Smile Avenue's kit is manufactured in the US and conforms to EU regulations for cosmetic products.
Here is the ingredient list for the whitening gel:
Sorbitol, Aqua, Phthalimidoperoxycaproic Acid (PAP), Propylene Glycol, Glycerin, Potassium Nitrate, PEG-8, Hydroxyapatite, Cellulose Gum, Hydroxyethyl Cellulose, Xanthan Gum, Saccharin Sodium, Menthol, Methylparaben, Aloe Barbadensis Leaf Juice, Chamomilla Recutita (Matricaria) leaf Extract, Punica Granatum Seed Oil, Sodium Bicarbonate, Propylparaben
What does all of that mean?
The active ingredient, PAP, is a gentler alternative to hydrogen peroxide for teeth whitening. Hydrogen peroxide is the main ingredient used by dentists for professional whitening, but it often causes sensitive teeth after whitening. PAP has also been proven to show instant whitening results.
Another important ingredient is hydroxyapatite, a remineralizing ingredient used in sensitive toothpastes like BioMin. This helps to strengthen your enamel as you whiten your teeth, protecting against sensitivity or enamel damage.
It's reassuring to know Smile Avenue's gel has been formulated to maximise results without harming enamel and gums.
Ease of use ★★★★★ (5/5 stars)
We would give this six stars if we could, because it's so easy to use. Some whitening kits come with a thermoforming mouth tray, which you have to place in boiling water and then mould to the shape of your teeth before using it. With this kit, the one-size-fits-all mouth tray is ready to use straight away.
It's also great that you paint the gel directly onto your teeth rather than guessing how much to squirt into the mouthpiece as you do with many other kits. Because you just apply a thin layer to your teeth, there is no risk of the gel squirting out and damaging your gums.
There are six simple steps to use this product: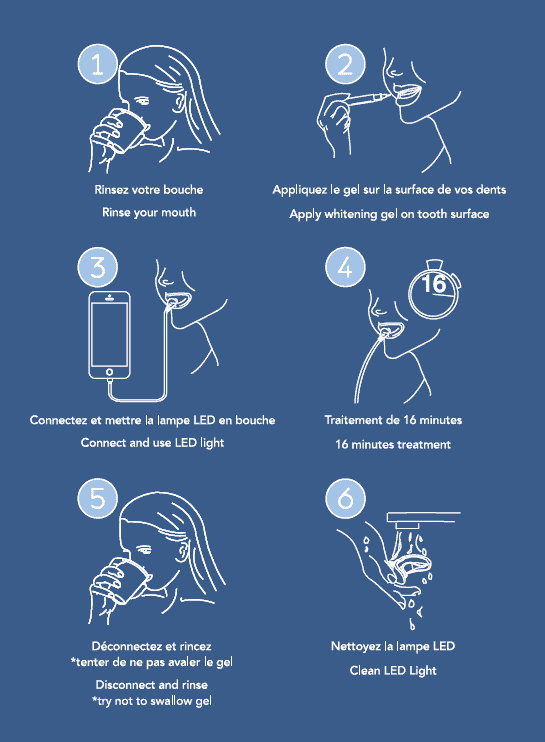 "Application quite simple by following the instructions as indicated on the box. Good value for money when compared to the dentist!"

"It's really easy to use… the last kit I had you had to mould the trays to your teeth and I couldn't get it right. This one you just put the gel in the trays, clip on the light and you're ready to go."

-Smile Avenue reviews
The LED mouth tray plugs into your phone or laptop for power, so you can continue working, browsing or streaming while during the 16 minute application (bonus: no batteries to replace). It's so easy to fit this into your normal day. We found it best to use after eating and brushing our teeth at night, so we didn't eat or drink anything after the whitening.
You should continue using the kit for 10-14 days. There is enough gel for 15 applications, so if you have some left over, you can keep it to 'top up' your white smile another time.
Results ★★★★★ (5/5 stars)
We only had to use this kit for a few days to see noticeable results, which was a nice surprise! Using the shade guide included with the kit, we measured 3 shades of whitening by the end of the treatment.
It's effective at removing stains from yellow teeth from things like tea, coffee and tobacco. Many reviewers on Amazon.fr and Amazon.co.uk mention similar delight with their quick results:
"I hesitated before investing in this type of product but I am not disappointed with the result. As a former smoker, I noticed a slight yellowing on my teeth that concerned me. I have not completed the recommended 14 days of treatment yet but I already feel that the improvement is visible."

"Just 20 minutes a day and already after 4 days I saw a difference. My teeth are whiter, brighter. Thank you for the simplicity of use and especially the effectiveness of the product much cheaper than a whitening session at the dentist."

"I am quite a heavy coffee drinker so teeth stain very quick and from now on planning to use this kit as it is a great price for what you get."

"Distinct changes after about a week to 10 days."

-Smile Avenue reviews
You can purchase Smile Avenue directly from their website where you'll get free shipping and an extra 10% off when you use code DENTA10. This discount applies to your entire order, so you might want to grab a couple of refills while you're there.
Alternatives to this kit
We think Smile Avenue is a great choice if you want a high-quality teeth whitening kit around this price. For a more premium whitening kit that gives professional-looking results for up to a year, consider Snow. Their proprietary technology makes their kits completely different to most others on the market.
Snow's gel combines hydrogen and carbamide peroxide, two of the ingredients commonly used in professional teeth whitening gels. In just 9 minutes a day, you can whiten your teeth, and they even have a wireless version that you can use in the shower for the ultimate convenience.
Read more in our full review of Snow whitening or visit their website to get the best price now.
Hismile's whitening kit is a very similar alternative to Smile Avenue as it uses PAP rather than hydrogen peroxide to whiten teeth. They cost about the same, but Hismile has 3-6 treatment courses, so you get a little more for your money.
You can read our full HiSmile review to see how it compares to Smile Avenue, but in short, it uses similar active ingredients as Smile Avenue but with added nano-hydroxyapatite instead of regular hydroxyapatite to remineralise damaged enamel. The difference is that nano-hydroxyapatite has a greater effect on teeth than regular hydroxyapatite.
iWhite is another well-known brand, but as you can read in our iWhite review, their kits are quite wasteful environmentally and financially. Plus, you're extremely unlikely to get the 'up to 8 shades of whitening' they shout about so much.
We've also written reviews on GlamWhite and Billion Dollar Smile. You can check them out for more details, but overall, we believe Smile Avenue gives the best value for money and results.
Our #1 recommended teeth whitening kit
Conclusion
Smile Avenue teeth whitening kit is our top pick for 2023 because it gives great results for an affordable price but, more importantly, it comes with the reassurance of high-quality, strictly regulated ingredients. Not only does it protect against sensitivity, it actively works to remineralise your teeth, so you don't risk damaging your enamel.
The generous four pens of whitening gel mean you can get at least two treatment courses from the kit – maybe even more.
If you want a kit that you can reuse at a later date without having to buy the whole bundle again, you'll be happy to know Smile Avenue gel refills are available to buy here.
You can purchase this kit with complete peace of mind because it comes with a 100% money-back guarantee if you're not satisfied. Plus, Smile Avenue's customer service team is on hand to answer any questions you have or help with any issues.
Don't forget to use code DENTA10 at the checkout to get an extra 10% off everything on their website:
Sign up to receive the latest news and offers from Dentaly.org