It's an aim for many of us to get whiter teeth, and Mr Blanc teeth whitening strips offer to do that without using peroxide. You can also pick up an LED whitening kit and a range of tooth polishes/pastes from this company. But are they any good?
Well, that's what we're going to look at in this Mr Blanc teeth whitening review.
Whitening strips are just one of many options out there if you want to give your teeth a little brightness boost. So to arm you with all the information you need to decide if Mr Blanc whitening strips are right for you, were going to cover:
How do I use Mr Blanc teeth whitening strips?
Do they really work?
What other products do Mr Blanc make?
What do Mr Blanc teeth whitening strip reviews say?
What are the alternatives to teeth whitening strips?
Let's get started!
Why not try Crest Whitestrips?
Crest Whitening Strips provide a relatively simple and inexpensive method to whiten teeth at home, at a fraction of the cost of in-office whitening. Crest White strips are not as easily sourced in the UK as they are in the US.
However we've got you covered!
Looking for guaranteed results then we recommend this well known brand.
Get your Crest Whitestrips exclusively here
What are Mr Blanc teeth whitening strips?
You have lots of options when it comes to whitening your teeth, but they can broadly be divided into two categories: professional whitening treatments from a dentist and home whitening solutions. Mr Blanc strips are the latter, and they tend to be a popular choice for people who can't afford to spend hundreds of pounds on a dental visit.
The product has been available in the UK since 2015. With a long history of sales and reviews, Mr Blanc teeth whitening strips are well established.
The kit that you buy comes with 14 sets of strips. Each set has two strips – one for the top and bottom rows of your teeth. The strips are loaded with a gel that's been designed to make your teeth whiter.
According to the company website, 81% of users see a difference of at least three shades. There isn't a shade guide included in the box for comparison, though. Mr Blanc teeth whitening strips are also suitable for people with sensitive teeth since they don't contain peroxide, unlike products such as Crest 3D White.
How do I use Mr Blanc strips?
It shouldn't be too complicated to use your Mr Blanc whitening strips. Each box has a fortnight's worth of strips, each pair individually wrapped. Here's what to do, step-by-step:
Brush your teeth well
Use a towel to dry off the front of your teeth
Peel the backing off the strip, leaving the whitening gel on the strip
Take the larger strip and push the centre onto your top, front teeth, then fit the sides over the rest of your teeth
Do the exact same for your bottom teeth, with the smaller strip
Leave the Mr Blanc whitening strips on for 30 minutes
Peel them off your teeth and brush off any residue, or rinse with mouthwash
Take extra care when you peel off the backing from the strips. In some Mr Blanc teeth whitening reviews, buyers report that the gel can come off the strip when you peel it off.
If you've used similar things to whiten your teeth before, you might have been put off by the strange after taste you can experience. Not to worry, because with Mr Blanc, you get a minty fresh after-taste instead.
How do Mr Blanc teeth whitening strips work?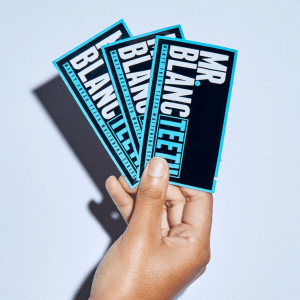 As with any teeth whitening system, Mr Blanc uses a range of chemicals to remove stains and lighten your tooth colour. There are seven ingredients listed for Mr Blanc whitening strips:
Glycerin: A colourless and odourless liquid that has a sweet taste to it. This gives the gel its sticky consistency so it stays on your teeth.
Water: It won't do anything to whiten your teeth, but it gets the gel to the right consistency.
Cellulose gum: Made from plant fibres, it's another ingredient that's used to get a sticky or thick consistency in gels.
Sodium chlorite: When mixed with acid, like in your saliva, this chemical can whiten your teeth, although it may damage also cause damage to your enamel.
EDTA: A chemical that can help the other ingredients penetrate your tooth enamel.
Citric acid: Since sodium chlorite needs acid to work effectively, citric acid is used to make it work faster.
DL menthol: Gives the flavour for the claim of Mr Blanc being minty fresh teeth whitening strips.
The resulting gel will stick to your teeth so the whitening chemicals can get to work. As you apply the strips and gently push them down, they'll mould to all the edges and curves of your teeth.
Mr Blanc teeth whitening strips review
Before you go and order your Mr Blanc kit, it's good to know what people have said about it. One recent reviewer on Amazon wrote:
"This is the 3rd order, value for money, especially when you're getting a 2-week supply. And they do work, it took about 2 weeks, but my teeth definitely looked whiter and my husband also noticed."
Another recent purchaser left this review of Mr Blanc teeth whitening strips:
"These strips work really well if you want to whiten your teeth temporarily. So easy to use and they don't taste awful either. Only issue is that they're a bit overpriced."
However, there are a few reviews that are negative. Quite a few buyers have complained that the gel doesn't stick to the strip and other say that they didn't actually notice any difference to how white their teeth were.
Rhi from Love 30 made this video review of Mr Blanc teeth whitening strips, which is useful if you want to know what it's like to use them:
In short, she likes using the strips but finds they really work and she will continue to use them. You can check out part 2 of her video here if you want to see how her teeth looked after just one use of these strips.
Other products from Mr Blanc
Along with using your whitening strips, Mr Blanc teeth bamboo charcoal whitening polish can help to reduce stains on your teeth. You still need to use normal toothpaste twice a day – this is only a polish that can help with extra stain removal.
When you look at Trustpilot for Mr Blanc whitening polish reviews, there are some issues mentioned with delivery and customer service. But in terms of whether it works, there are plenty of positive comments.
Mr Blanc teeth whitening kit is another option, but it contains the same potentially damaging ingredient as their strips (sodium chlorite). We'd recommend using a different teeth whitening kit for stronger and safer results.
What are the other choices for teeth whitening?
If you really like the idea of whitening strips, by all means, give Mr Blanc a go or check out our other recommendations for the best teeth whitening strips.
Another option is to try teeth whitening strips that contain hydrogen peroxide, like Spotlight Whitening Strips or Crest 3D Whitestrips.
However, we think that on balance you'll get better results from a whitening kit with a bleaching gel. A couple of our top picks available in the UK are Smile White and Snow. You can compare these to Mr Blanc whitening strips in the table below:
| | | | |
| --- | --- | --- | --- |
| | Mr Blanc teeth whitening strips | Smile White Pro whitening kit | |
| | Strips that mould to your teeth | | Whitening gel in a light-activated tray |
| | | Carbamide and Hydrogen Peroxide | |
| | | | |
| Number of treatments included | | 3 weeks worth ( +2 top up gels) | |
| | | | |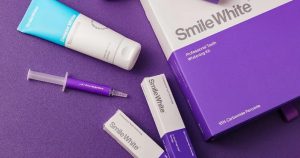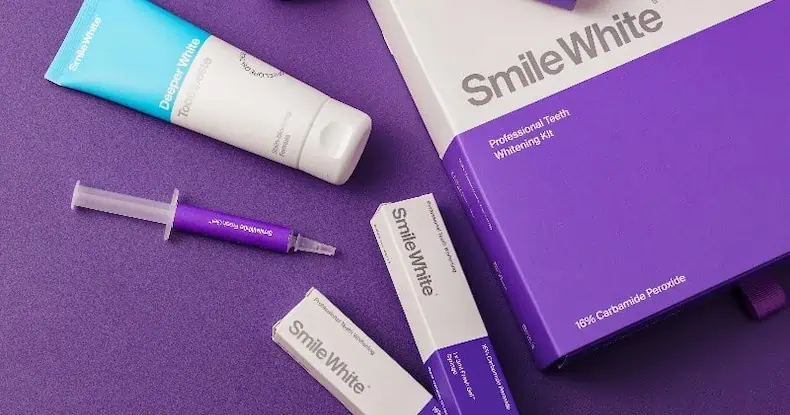 As you can see, if you plan to whiten your teeth regularly then it works out more cost-effective to get a kit, like this one from Smile White, which comes with extra refill gels for when you need them. You're also getting the highest strength ingredients that can be used in whitening strips in the UK, so you're likely to see better results, faster. But at the same time, their gel is designed not to cause sensitivity.
Smile White Pro Whitening provides custom whitening with bespoke trays and two in-office visits with a partnering cosmetic dentist. The fact that your treatment is supervised by a licensed dentist means that this system allows you to get safe professional whitening at home.
Smile White Pro changes the game by offering a kit developed and delivered by dentists, with results that last for up to 3 years.
Conclusion
Mr Blanc teeth whitening strips have been around for a while and have plenty of positive reviews on sites like Amazon, averaging over 4 stars. Take the advice from these and be careful when you remove the backing from your strips so the gel stays in place.
For less than £2 per treatment, these strips are not bad value for money for a small aesthetic improvement to your smile, but a whitening kit might work out cheaper in the long run. Without a shade guide included in the box, Mr Blanc's claim that most users see a three-shade improvement may be a little shaky.
It's also worth considering the active ingredient – sodium chlorite. Although it's perfectly legal to use in cosmetic dental products in the UK, it's a little controversial and may not work as well as peroxide-based products.
Overall, you're likely to see an improvement in the whiteness of your teeth with Mr Blanc. If you want something that's stronger with more long-term results consider our #1 whitening kit Smile White, or alternatively a light-activated system like Snow.
Sign up to receive the latest news and offers from Dentaly.org