Do Spotlight Teeth Whitening Strips work? There are plenty of options out there if you are considering whitening your teeth at home, but finding the right one for you can get confusing. One of the many options that you may have heard about is Spotlight Oral Care's teeth whitening strips. But, why are they so popular and, most importantly, do they work?
This article will discuss all there is to know about Spotlight Oral Care's Whitening Strips including the following topics:
Do Spotlight Whitening Strips work?
What is the Spotlight teeth whitening system?
How much do Spotlight teeth whitening strips cost?
How do you use Spotlight dental strips?
Spotlight teeth whitening reviews
With so many different teeth whitening strips out there it can be hard to know which products work, and which to avoid. Spotlight Oral Care's teeth whitening strips have become quite popular recently, so let's take a good look at them and see if they live up to the 'hype'.
Why not try Crest Whitestrips?
Crest Whitening Strips provide a relatively simple and inexpensive method to whiten teeth at home, at a fraction of the cost of in-office whitening. Crest White strips are not as easily sourced in the UK as they are in the US.
However we've got you covered!
Looking for guaranteed results then we recommend this well known brand.
Get your Crest Whitestrips exclusively here
What are teeth whitening strips?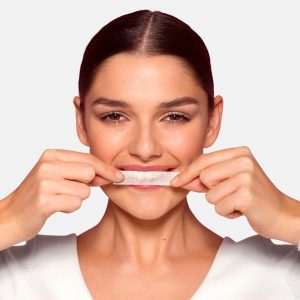 Teeth-whitening strips are flexible, see-through strips that you wear to whiten yellow, grey or stained teeth. Each strip has a coating of whitening gel on one side which you apply directly to your teeth.
The whitening gel used in whitening strips is different from product to product and between brands. The active ingredient in Spotlight Oral Care's strips is hydrogen peroxide, which is possibly the most effective whitening agent out there.
Spotlight's teeth whitening products are all in accordance with European law, which states that the ingredient hydrogen peroxide shouldn't exceed 0.1%. This means that they are less likely to cause teeth sensitivity and can be legally sold over the counter in the UK.
Spotlight Oral Care white strips are one of our best-rated whitening strips with hydrogen peroxide in the UK. And, although there are other whitening strips available in the UK, not many use hydrogen peroxide as the active ingredient. Crest White Strips have a higher percentage of peroxide than can be sold over the counter by retailers in UK stores, however they are available online if you know where to look.
Do Spotlight teeth whitening strips work?
Yes, Spotlight Whitening Strips used in conjunction with the whitening toothpaste over the course of 14-days gradually remove stains and whiten teeth. Results may be noticeable sooner. They are an easy to use at-home whitening solution, that will leave you feeling confident with your pearly whites.
Spotlight Oral Care is a brand developed by dentists with the aim of providing patients with safe and effective dental products that work. Their ethos is to provide products that not only work but, are also cruelly free, vegan-friendly and eco-friendly.
What is the Spotlight teeth whitening system?
The Spotlight Teeth whitening system contains a full 14-day course of whitening strips and a complimentary tube of whitening toothpaste.
There are other Spotlight whitening products that you can also add to your daily routine that aren't included in the whitening system.
These products include:
Mouthwash for Whitening Teeth
Dental Floss for Whitening Teeth
Teeth Whitening Pen
Let's take a look at some of the other whitening products now.
Mouthwash for whitening teeth
The Spotlight Mouthwash for Whitening Teeth works like any other mouthwash, except its active ingredients are hydrogen peroxide and active seaweed particles. Spotlight recommends using this mouthwash twice a day to 'rejuvenate oral tissues' and whiten teeth.
Dental floss for whitening teeth
Spotlight Dental Floss for Whitening Teeth is similar to every other dental floss you may have heard about, except it contains hydrogen peroxide. The hydrogen peroxide helps to whiten areas between your teeth that you may not be able to reach by using the whitening strips.
Like any dental floss, you use it to clean away food particles and plaque from between teeth where your toothpaste can't reach.
Spotlight Teeth White Pen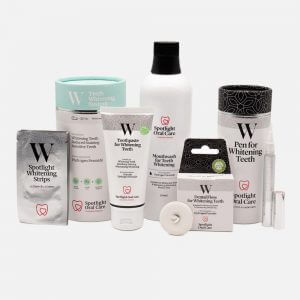 The teeth whitening pen is a simple-to-use pen-shaped tool with a brush on one end. The pen itself contains a whitening gel that you can paint onto your teeth in hard-to-reach areas between the teeth and along the gumline. The Spotlight Teeth White Pen only uses a small amount of the gel to remove stains effectively, leaving your teeth nice and white.
Spotlight Whitening Essentials Bundle
For the best possible results, you may want to get all of the Spotlight teeth whitening products. And, instead of buying them one by one, you can purchase them all in a handy bundle.
The Spotlight Whitening Essentials bundle is for anyone who is fully committed to whitening their teeth and includes:
Spotlight White Strips
Toothpaste for Whitening Teeth
Mouthwash for Whitening Teeth
Dental Floss for Whitening Teeth
Teeth White Pen
Our #1 recommended teeth whitening kit
How do you use Spotlight whitening strips?
If you have never used whitening strips before, you may be wondering how to use Spotlight Whitening Strips. They are very similar to other brands and are simple and easy to use. The following steps from the Spotlight Oral Care webpage explain how to use their strips:
Open the packet and identify the bottom and top strips
Dry your teeth
Place the shorter strip on the bottom teeth and the long strip on the top teeth
Fold the excess over the back of the teeth
Leave the strips in place for 1 hour
Remove and rinse the excess gel from your teeth
Repeat every day for 14 days
Use the whitening toothpaste alongside the strips for the best results
How much do Spotlight white strips cost?
Spotlight Oral Care's teeth whitening system costs £39.95, and The Whitening Essentials Bundle is priced at £72.90. This is slightly more expensive than other brands of white strips. However, prices may change due to discounts and product promotions, so make sure you check the website regularly for offers.
Spotlight teeth whitening strips reviews
Laura reviews the Spotlight teeth whitening system, which includes the 14-day course of whitening strips and complimentary whitening toothpaste.
Straight away she explains that her review is unbiased and that this is not a sponsored video. She claims she bought the strips herself and will not be using any 'trickery' when she reveals her final results.
The review starts with her first impressions, cleaning her teeth with the whitening toothpaste and then putting on her first whitening strip. She says that the toothpaste tastes nice, but the white strips have a bad taste to them.
The next part of the video is when Laura has finished the 14-day course. At the start of the video, before she uses the whitening strips, Laura says that her teeth aren't badly stained or yellow. After using the strips she says that she can see that her teeth are a shade lighter, but not significantly whiter.
This review of the Spotlight Whitening System is by Rya, a YouTube vlogger. She has a series of reviews on Spotlight whitening strips. The first review includes her first impressions and her next review on her results after using the strips for a while.
Her overall thoughts are that Spotlight Whitening Strips work and that they definitely lightened her teeth over time. However, if you already have streaky enamel, then you may end up with patchy teeth.
She does feel that an hour is an unreasonable amount of time to wear the strips. This is why she didn't actually use the strips every day, in fact, it was closer to every other day.
Rya finishes the review by talking about the whitening toothpaste, which she loved and felt worked very well in conjunction with the strips.
Alternative teeth whitening strips
If you aren't sure about Spotlight Oral Care's Teeth Whitening System some alternatives that are available to try are Crest, Hismile and Snow.
Crest 3D White strips are the most searched for brand of teeth whitening strips in the UK, even though finding a place to buy them seems to be a hard task. But you're in luck, we have done the hunting for you.
Hismile is an Australian company that has become popular worldwide for its non-peroxide whitening products over the past few years.
Snow, on the other hand, is based in the US and uses hydrogen peroxide in their whitening strips for effective whitening at home. Let's take a closer look at these alternative whitening strips.
Crest Whitestrips
Crest 3D White strips are the most searched for brand of teeth whitening strips in the UK. They have a hydrogen peroxide level higher than that allowed in the UK, which is why you cant buy them over the counter.
But don't worry these results proven strips have been approved by the American Dental Association, so you can feel confident knowing that the professional community stands behind this product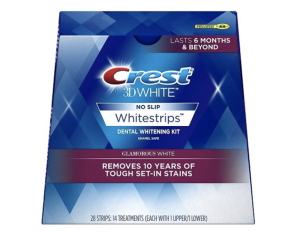 These strips are thin, usually transparent, and made from a plastic called polyethylene. Each strip is coated on one side with a gel that contains a whitening agent, usually hydrogen peroxide.
There are generally two strips included that are safe for one-time use: one for the top teeth, and one for the bottom teeth. These strips are flexible and conform to the shape of your teeth, keeping the whitening gel in place.
Crest White strips are not as easily sourced in the UK as they are in the US. This is because of the quantity of hydrogen peroxide in the ingredients creating a greater risk of enamel and dentin damage, increased tooth sensitivity or even pain when using the whitestrips. However, these side effects are not exclusive to the crest white strips and a potential side effects of most whitening products.
Hismile's PAP+ Whitening Strips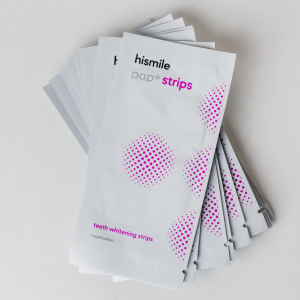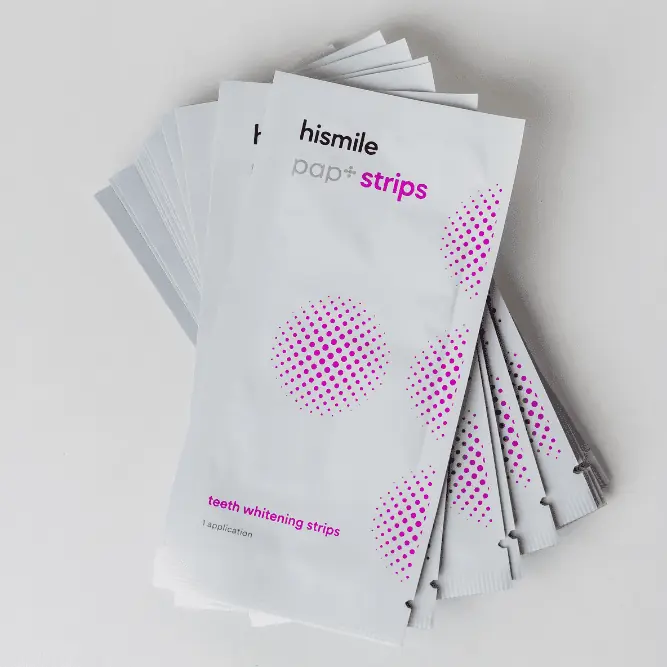 Hismile's Whitening Strips are just like any other type of whitening strips except they are non-peroxide and work to strengthen and desensitise your teeth as you use them.
The whitening gel in these strips is Hismile's specially designed PAP+ formula which includes the following ingredients:
Phthalimidoperoxycaproic acid (PAP) – the active whitening ingredient that is clinically proven to be just as effective as hydrogen peroxide at whitening teeth
Nano-hydroxyapatite – remineralises and strengthens enamel as you whiten
Potassium citrate – desensitises your teeth and treats any pre-existing sensitivity
To use these strips, simply dry your teeth and apply the long strip to your top teeth and the shorter strip to your bottom teeth. Leave for 30 minutes for the treatment to work, then remove and rinse your mouth with water. They are quick and convenient to use on the go, even if you're rushing about with a million things to do.
Snow's Magic Strips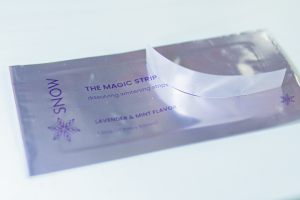 Snow's Magic Strips have hydrogen peroxide as the main whitening ingredient, and like their name suggests they are pretty magical. They work just like any other whitening strips with one difference, as you use them they dissolve.
This means that you are not left with the gooey mess at the end of your treatment like with so many other brands of whitening strips. Whitening your teeth on the go, in the gym or even at work becomes even easier with these strips.
In each box, you get 28 strips, which works out to 14 whitening treatments. To use them, simply dry your teeth and apply the longer strip to your top teeth and the shorter strip to your bottom teeth. They will dissolve during the 15 minute treatment time leaving you with no residue to clean up.
90% of people find their teeth are whiter after just one treatment with these whitening strips, according to Snow.
Conclusion
The Spotlight Oral Care whitening system is a 14-day course of whitening strips and a complimentary tube of the Spotlight Toothpaste for Whitening Teeth.
Like other Spotlight Oral Care products, the whitening strips are eco-friendly, cruelty-free, vegan friendly. And, the amount of hydrogen peroxide in the ingredients doesn't exceed the European standard for whitening products, making it a safe and effective product.
If we take a look at the Spotlight Teeth Whitening Strips reviews, many people say that the strips work. Although they found that the strips left some residue, their teeth were a shade lighter after the 14-day course.
FAQs
What do Spotlight teeth whitening reviews say?
The majority of Spotlight whitening strip reviewers agree that the strips do work and that they have noticed their teeth are a shade whiter after using them. They also say that the strips stay in place for the full hour.
The negatives mentioned are mainly that the strips leave a residue when removed and that they don't taste great.
What is Spotlight whitening toothpaste like?
Spotlight Toothpaste for Whitening Teeth works best when used with the whitening strips. It also helps to keep teeth white after finishing the 14-day course of strips. Many people have found that the toothpaste doesn't leave a bad aftertaste or cause foaming like other toothpaste.
Sign up to receive the latest news and offers from Dentaly.org