Crest whitening strips are a really popular and effective product, but you've probably noticed that most UK outlets don't sell them. It is, however, still possible to buy them in the UK if you know where to look, and we are here to help!
Teeth-whitening strips are a relatively simple and convenient way to remove surface stains, and Crest makes some of the best teeth whitening strips around. So it's pretty unfortunate that they are not so easy to find in the UK.
Read along with us as we take a deep dive into the ins and outs of Crest Whitestrips and investigate everything you need to know about their products and teeth whitening, including:
What are Crest whitening strips?
Are Crest whitening strips safe?
What are the ingredients in Crest 3D White Strips?
Do Crest whitening strips work?
Where to buy Crest whitening strips in the UK?
What are the best alternatives?
What are reviewers saying?
Those teeth aren't getting any whiter, so let's get started!
Our take: ★★★★✩
Crest Whitening Strips provide a relatively simple and inexpensive method to whiten teeth at home, at a fraction of the cost of in-office whitening. Crest White strips are not as easily sourced in the UK as they are in the US.
However we've got you covered!
Get your Crest Whitestrips exclusively here
Why do our teeth stain?
First of all, if your teeth aren't perfectly white, it's normal! Some people may naturally have pearly whites, but it's perfectly healthy for the rest of us to have teeth tinged with yellow or grey.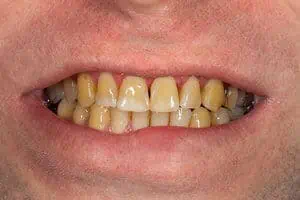 Tooth enamel is a thin blueish-white layer and it's translucent, so some of the colour from the dentin beneath shows through. Since dentin is dark yellow, it can give teeth an off-white or yellow appearance. So, your teeth may naturally be more yellow than white.
However, your tooth colour could also be caused by staining. Staining can generally be divided into three main categories:
Extrinsic: staining caused by food, drink or tobacco that only affects the tooth's enamel
Intrinsic: discolouration inside of the tooth, not just on the surface
Age-related: enamel gradually wears away with age, exposing more of the yellow dentin underneath
So, now that we have discussed what causes the stains on our teeth, let's get stuck into how to whiten them!
What are Crest Whitestrips?
While we recommend a whitening kit like Smile White, some people prefer to opt for the whitening strip option by a well-known brand like Crest.
Crest 3D White strips are the most searched for brand of teeth whitening strips in the UK, even though finding a place to buy them seems to be a hard task. But you're in luck, we have done the hunting for you.
These strips are thin, usually transparent, and made from a plastic called polyethylene. Each strip is coated on one side with a gel that contains a whitening agent, usually hydrogen peroxide.
There are generally two strips included that are safe for one-time use: one for the top teeth, and one for the bottom teeth. These strips are flexible and conform to the shape of your teeth, keeping the whitening gel in place.
How do Crest Whitestrips work?
Whitestrips use polyvinylpyrrolidone to make the strips stick to your teeth and stay in place. Polyvinylpyrrolidone is quite a mouthful and may sound suspicious, but don't fret. The Environmental Working Group rates it as a safe adhesive that doesn't bioaccumulate or disrupt hormones.
Crest teeth whitening strips also contain carbomer to add more staying power to the gel. This ingredient is safe in the small quantities used in the strips, however, adhesives like this can cause irritation to gums in the case of overexposure.
The whitening ingredient in this brand, and indeed in many whitening solutions, is hydrogen peroxide. Hydrogen peroxide is effective in eliminating surface stains, and it can also lessen the yellow appearance of the dentin.
Unfortunately, hydrogen peroxide can also have a negative effect on your health. Your oral microbiome comprises bacteria, some of it very beneficial to your oral and overall health, and hydrogen peroxide kills the beneficial bacteria.
Crest whitening strips ingredients
We've gone over a couple of the Crest whitening strips ingredients, so let's have a look at the rest. According to the Crest website their products contain the following:
Water: To prevent teeth dehydration
Glycerin: To thicken the gel and helps it adhere to your teeth
Hydrogen peroxide: To whiten the teeth
Carbomer: To make the gel adhesive
Polyvinylpyrrolidone: Which makes the gel adhesive
PEG: To thicken the gel and make it stick
Acrylates copolymer: Thickens gel and keeps strip in place
Sodium hydroxide: Which makes the pH neutral
Sodium saccharin: To make the strips taste better
Pyrophosphate: To protect against tartar (only in Crest 3D White Whitestrips Stain Shield)
How to use Crest whitening strips
Top tip: Don't brush your teeth before applying the strips, this will enable the whitening strips to stick to your teeth better.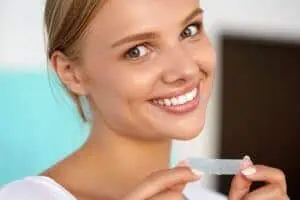 Apply the strips: To apply, peel off the liner from the back of the whitening strip, and then place the gel side of the strip along the front of your teeth, lining it up with your gum line. Press the strip against your teeth and fold the extra width of the strip behind your teeth. Follow this procedure for both upper and lower arches.
Usage frequency: Make sure to read the instructions on the product that you are using. Some should only be worn once a day, while others require two uses per day.
Application time: Always follow the instructions on your specific white strips. The recommended time frame can range from 5 minutes to 45 minutes. The time usually depends on the concentration of the whitening formula. Wearing them for more time than directed won't result in whiter teeth, and may cause damage.
Treatment time: Wear your strips for the directed treatment time. Make sure to check the instructions, as some treatments last just a week, while others can last for a month.
Which are the best Crest whitening strips?
Crest offers seemingly infinite options when it comes to whitening your teeth with Whitestrips. The following are some of the most popular Crest Whitestrips avaliable in the UK:
Glamorous White 3D Whitestrips
Professional Effects 3D Whitestrips
Vivid White 3D Whitestrips
Crest Professional Whitestrips with LED Accelerator
Crest 3D Supreme Professional Exclusive
There are many options to choose from, so to help you get a feel for what different Crest Whitestrips products have to offer, take a look at the table below.
| | | | | |
| --- | --- | --- | --- | --- |
| | Glam White 3D Whitestrips | Vivid White 3D Whitestrips | Professional Effects 3D Whitestrips | Professional white strips + light |
| | 14 sets (1 upper, 1 lower) | 10 sets (1 upper, 1 lower) | 20 sets (1 upper, 1 lower) | 19 sets ( 1 upper, 1 lower) |
| | | | | |
| | | | | |
| | | | | |
| | Whitens 25x better than leading whitening toothpastes | Removes 10 years of stains | Whitening equivalent to a $500 in-office laser treatment | You can see results after just one treatment |
Where can you buy Crest whitening strips in the UK?
If you do a quick search on the Internet, you will find that only a couple UK sellers provide a variety of Crest White Strips.
So if you want to whiten your teeth with this proven brand, you can grab your strips exclusively here.
Can you buy Crest whitening strips on Amazon in the UK?
No, sites such as Amazon don't sell Crest whitening strips in the UK, but you can find them here, or you can explore the alternative brands that Amazon has to offer.
Crest whitening strips UK review
Jen Garside reviews Crest 3D Professional Effects
"The strips promise visible effects in just three days, and I wasn't disappointed. After five strips, I was extremely pleased with the effects."
In this Glamour article, Jen's aim was to review teeth whitening products with hydrogen peroxide as the main ingredient. She reviews Crest 3D Professional Effects Whitestrips first and found she was incredibly pleased with the results. Jen explains that she has always struggled with keeping her teeth the right shade of ivory, and has even gone as far as to apply more fake tan to her skin to make her teeth appear whiter!
In her review, Jen starts with applying the strips. She says they are easy enough to apply, you just need to be careful to avoid your gums so that you don't cause unnecessary irritation. Telling the strips apart is also a simple matter of the longer one being for the upper teeth and the shorted strip for the lower teeth.
Jen was very happy with the effects, saying that after just 5 days she could see a difference already.
Jen's review of Crest 3D Professional Effects
Jen also reviews Crest 3D Whitestrips 1 Hour Express Treatment and found that they were great for use before a big event, such as a wedding. But, because they were uncomfortable and left her with a dry mouth, she would save the rest of the box, and only use them for very special occasions.
Crest whitening strips USA review
SimplyPop's Crest Whitestrips Luxe reviews
Shawn has a beautiful smile, but his teeth are a touch yellow, which is the issue he wants to address. He takes us through a three-month journey of his experience:
Shawn opted for the Crest Whitestrips Luxe, which also came with a whitening express treatment as well. He says he really likes them because they work really well, but, cautions his viewers to be careful with coffee, wine, and general oral hygiene. This is because, as Shawn reminds us in his review, teeth whitening is not just a quick fix, you have to be dedicated to taking care of your smile.
You can watch the rest of his review in the video below:
Do Crest whitening strips cause any problems?
There's always at least some risk of causing harm to your teeth or gums with any whitening treatment, and Crest White Strips are no exception.
Damage to gums
Crest Whitening Strips contain ingredients such as hydrogen peroxide, sodium hydroxide, and PVP, which have the potential to cause damage if misused. In the UK, these strips are not widely available due to the high concentration of hydrogen peroxide. So, it is important to use these products as directed to minimise the potential for harm.
Damage to teeth
A study by Experimental Biology found that hydrogen peroxide, a key ingredient in these and other over-the-counter whitening options, can harm the dentin that resides under your tooth's enamel. The results found that one of the major proteins in dentin was breaking down with the use of strips, and that collagen actually disappeared.
Additionally, whitening products may cause damage to the tooth's enamel, which can result in tooth sensitivity and pain, as well as increase the risk of cavities.
Uneven whitening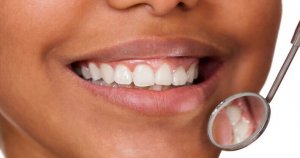 Crest 3D whitening strips can only do so much when it comes to whitening your teeth, they are only able to whiten the surfaces that they completely cover and adhere to. It can be difficult to ensure full coverage with flat strips, especially as in the hard-to-reach areas between your teeth.
It can also be hard to fully cover the contours where your teeth meet your gums without causing damage to your gums. The result is sometimes a white centre with yellow or grey edges.
Disrupting your oral microbiome
Hydrogen peroxide, the main whitening agent in these strips, also kills bacteria. That might sound like a good thing, but there is a lot of bacteria in our mouths that we need to stay healthy. Without a proper balance of these beneficial bacteria, you have a higher chance of infections and cavities, as well as bad breath and other general health problems.
Best alternatives to Crest Whitestrips in the UK
In the past, it wasn't always easy to source Crest whitening products in the UK, and although they are easier to find now, there are plenty of other alternatives to check out. Let's get started with some alternative whitening strips.
Snow's Magic Strips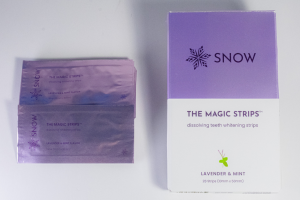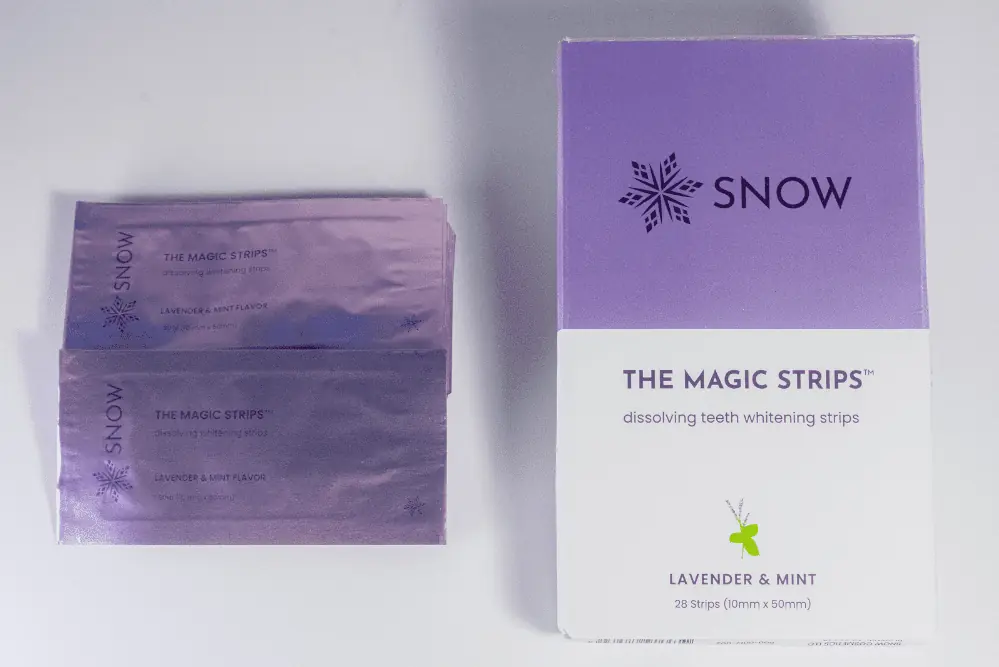 Snow is well known for its popular whitening kit, but have you heard about the whitening strips? Snow's whitening strips are officially called The Magic Strips, and they definitely live up to their name. According to Snow, 90% of customers get a whiter smile after just one use.
These whitening strips use Snow's new P3 Technology and take only 15 minutes per treatment, unlike other brands that take 30 minutes. They have a lavender and mint flavour, so they taste pretty good too.
The Magic Strips contain hydrogen peroxide, and they dissolve right onto your teeth. Other brands are usually the peel-off type, which leaves a gooey mess on your teeth. The full ingredients include the following:
Pectin, PVP, glycerin, hydrogen peroxide, water, peppermint aroma, pentasodium triphosphate, sodium hexametaphosphate, polysorbate 80, natural lavender aroma, sucralose, limonene, and linalool.
There are 28 treatments in a box of Snow Magic Strips (14 for top teeth and 14 for bottom teeth), and they cost $49, or roughly £35 which equals $1.75. or just £1.27 per treatment.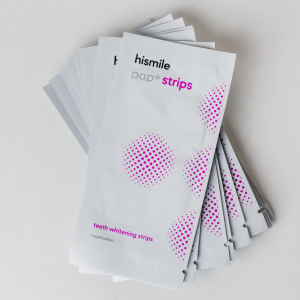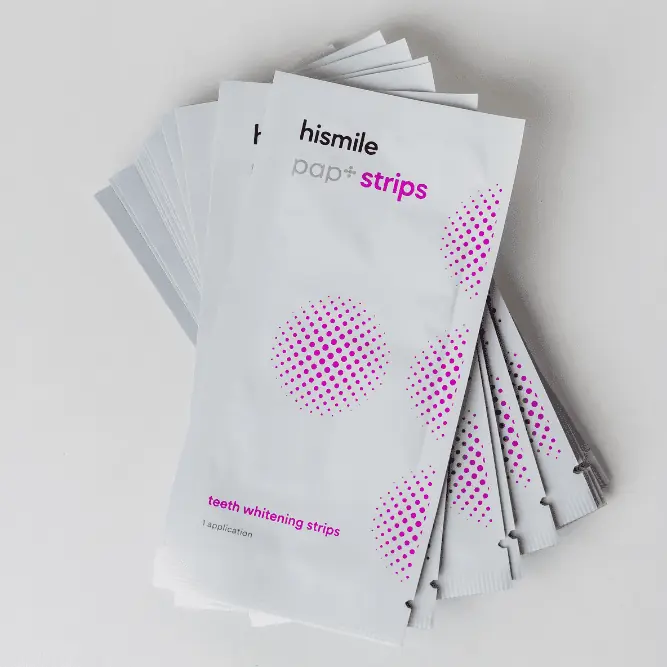 Hismile's PAP+ Whitening Strips
Hismile's PAP+ Whitening Strips are peroxide free and instead contain Phthalimidoperoxycaproic acid (PAP) as the active ingredient. Hismile's PAP+ formula is specifically formulated to not only safely whiten your teeth, but address pre-existing sensitivity and remineralise your enamel.
The PAP+ formula whitens teeth without causing irritation or sensitivity to your gums and teeth like other types of whitening strips. It also contains potassium citrate to help desensitise teeth and nano-hydroxyapatite to remineralise them.
To use these strips, make sure your teeth are dry, to begin with, and then apply the long strip to your top teeth and the shorter strip to your bottom teeth. Leave the strips on your teeth for 30 minutes while you do other tasks, or sit and relax while you wait. Then remove the strips, rinse your mouth with water and make sure you don't swallow any of the residues in the process.
Mr Blanc Teeth
Mr Blanc Minty Fresh Teeth Whitening Strips confidently claim their non-peroxide product is safe and effective. Let's have a look at what they say.
The first point they make is that the strips will noticeably whiten teeth without causing any teeth sensitivity. They state that their product will achieve a "clinically proven average of 3 shades whiter in 14 days".
Minty freshness and no weird aftertaste is another positive feature. However, the taste does not seem to be a point that is mentioned very often in the Amazon reviews. People seem to mention the quality, rather than the taste, more often than not.
If you would like to know more about Mr Blanc Teeth, read our full review.
Pro Teeth Whitening Co Charcoal Whitening Strips
These activated charcoal teeth whitening strips have quite a unique feature in that, they are black in colour. Don't let that put you off, activated charcoal is used in quite a number of teeth whitening products.
Pro Teeth Whitening Co Charcoal whitening strips were formulated by dentists, and are made from 100% naturally derived ingredients including coconut oil and cellulose gum. They are made and packaged in the UK and Pro Teeth Whitening Co guarantees quality in every batch. They have no added hydrogen peroxide or fluoride and claim to not cause gum irritation or damage to teeth enamel.
In each box, you get 28 strips (14 day supply) that will remove tough stains from the usual culprits, including coffee, tea, wine etc.
They are easy to apply, and nicely fit the contours of the teeth. But, make sure you brush your teeth afterwards to make sure you don't leave any black gel on your teeth!
So, now that we have had a brief chat about the Crest whitening strips alternatives, let's take a closer look and compare and contrast them to in the table below:
Product Summary
Let's take a closer look at these alternatives, and compare and contrast them in the table below.
| | | | | |
| --- | --- | --- | --- | --- |
| | | | | |
| | | Phthalimidoperoxycaproic Acid (PAP) | Sodium chlorite, citric acid | Sodium chlorite, coconut oil, activated charcoal |
| | | | | |
| | | | | |
| Approx. cost per treatment | | | | |
| | | | | |
Best alternatives to teeth whitening strips
Teeth whitening strips are not the only method for whitening teeth. There is a wide variety of alternatives at different price points, to choose from, some options include:
Laser teeth whitening at the dentist
LED whitening (e.g. Philips Zoom)
Professional bleaching kits
At-home whitening kits
Treatments combining in-office and at-home whitening (e.g. Enlighten)
If you want the best result possible when it comes to whitening your teeth, we recommend that you get your teeth whitened in practice by a dentist.
If you are looking for a less expensive option, that still provides good results then we recommend an at-home whitening kit.
Let's look at some of our favourites:
Smile White whitening kit
Smile White is a UK-based oral care company that provides professional treatments you can use at home. Smile White partners with dentists all across the country to help patients get the treatment they need at an affordable price and without the inconvenience of multiple in-office visits.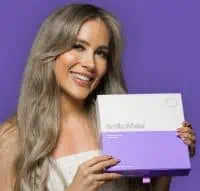 To whiten teeth, the Smile White formula uses a combination of 16% carbamide peroxide and hydrogen peroxide. It has gone through rigorous testing and been found to cause absolutely no damage to gums or dental bone structure.
Smile White Pro Whitening provides custom whitening with bespoke trays and two in-office visits with a partnering cosmetic dentist. The fact that your treatment is supervised by a licensed dentist means that this system allows you to get safe professional whitening at home.
Smile White Pro changes the game by offering a kit developed and delivered by dentists, with results that last for up to 3 years.
You can read our full review on Smile White's whitening kit to discover why this is our number 1 choice for home whitening kits.
Smile Avenue whitening kit
The Smile Avenue whitening kit is a safe and effective alternative to Crest whitening strips in the UK. It can be sold and bought in the UK because the active ingredient is Phthalimidoperoxycaproic Acid (PAP) rather than hydrogen peroxide. PAP is not banned for use in products in the UK, and it's proven to be effective at whitening teeth.
Smile Avenue claims to be great for sensitive teeth, as it is more gentle than other teeth whitening kits. One of its main ingredients, Hydroxyapatite, works to remineralise your enamel. This is a great feature as other whitening treatments can make teeth feel more sensitive, and even damage the teeth.
The LED technology utilised in this home whitening kit helps to speed up the treatment timescale. The kit comes with four pens of gel that will last 24-30 days of treatment. When you need to buy more pens, the refills are at affordable prices.
If you're not happy with your purchase, Smile Avenue will give you a full refund with their 30-day money-back guarantee. And, they offer free shipping, and if you use discount code DENTA10 you get 10% off your entire purchase!
If you would like to know more about this product you can read our full review of Smile Avenue.
Conclusion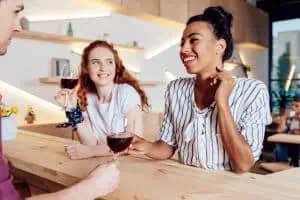 As you can see from these Crest 3D white strips reviews, Whitestrips are an effective method to whiten stained teeth. They provide a relatively simple way to whiten your teeth from home, and for a fraction of the price of professional, in-office whitening.
Crest White strips are not as easily sourced in the UK as they are in the US. This is because of the quantity of hydrogen peroxide in the ingredients creating a greater risk of enamel and dentin damage, increased tooth sensitivity or even pain when using the whitestrips. However, these side effects are not exclusive to the crest white strips and a potential side effects of most whitening products.
However, this being said, the American Dental Association has given Luxe Whitestrips their Seal of Acceptance, so you can feel confident knowing that the professional community stands behind this product.
White strips alone won't be able to provide the same level of whitening that you would get at the dentist's office, which is why we recommend Smile White's whitening kit. Smile White is an at-home kit that uses a professional-strength whitening gel to drastically whiten teeth with results that last for more than 3 years. You can read more about Smile White to find out if it's a good option for you.
Best Teeth Whitening Kits 2023

Designed & developed by UK dentists

Includes 2 FREE visits at your local SmileWhite dentist

3 Year Guaranteed Results

Use code DENTALY5OFF to save an additional 5%!

"Best Professional Teeth Whitening with long-lasting results."

24-30 days of treatment included

Reusable components and affordable refills available

Ingredients to remineralize teeth and prevent sensitivity

30 day money-back guarantee

Free shipping and 10% off with code DENTA10

"Best affordable At-Home Whitening Kit."
FAQs
Can you buy Crest Whitestrips in the UK?
It is difficult to find Crest Whitestrips in the UK. However, you can still find them for sale if you search online. It is possible to find most of Crest's whitening strips products on HomeTeethWhitening.com
Do Crest White strips work after one use?
You won't see any noticeable results after one use unless you use the Express whitening strips. These work in just an hour to remove surface stains for a noticeably whiter smile. Standard treatments will gradually produce results, and to get full results, you should stick with the entire treatment course.
How often do you use Whitestrips?
Whitestrips are meant to be used once per day, every day. You can potentially use an Express whitening strip to supplement this, but, make sure to follow the manufacturer's instructions. If you skip days, you may not see the same results as you would if you were consistent with the whitening treatment.
Sign up to receive the latest news and offers from Dentaly.org