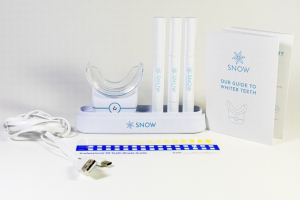 The Snow Wireless teeth whitening kit is one of the most beloved at-home tooth whitening kits on the market today. But what makes it so great?
From an easy-to-use interface to a sleek, waterproof design, and not to mention fast and effective teeth whitening, there's plenty to love about this product.
If you'd like to know more about the Snow Wireless kit, in this article we'll discuss:
Snow Wireless kit features
Differences between the Snow Wireless and Original kit
How to use the kit for best results
If you're crunched for time, take a look at the table below for an overview of this innovative kit:
Otherwise, keep reading! We hope this information helps you decide if this is the best at-home whitening kit for you. And if you want to find out more about Snow, read our full guide here.
What is Snow teeth whitening?
Snow is a home tooth whitening system that uses LED light technology to accelerate the teeth whitening process. It is designed to eliminate deep stains that have developed over years, especially those made by drinking coffee and wine, and smoking.
Snow whitening stands out from other brands because the products are free from harmful chemicals, and are totally cruelty-free — never tested on animals.
In short: Why choose Snow?
The quick version is that Snow is leading the way in teeth whitening kits.
Join over half a million happy customers, achieving lasting results in just 9 minutes a day. Snow's unique gum-safe application system and a year's worth of treatments per kit make it convenient and effective. Made in the USA, Snow guarantees satisfaction or your money back.
Check Snow's best offers here
About the wireless Snow teeth whitening kit
If you're familiar with the Snow Original whitening kit, the Snow Wireless kit has all of the same great features, plus the added benefit of being wireless, making it easier for you to take with you on the go.
The wireless kit features an LED mouthpiece that activates and enhances the effects of the Snow whitening serum, for stronger results that last longer. It also features two coloured lights, blue for whitening, and red for gum health.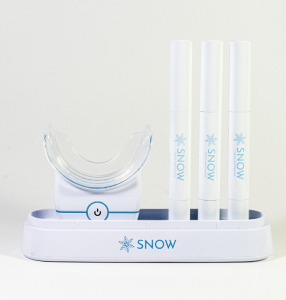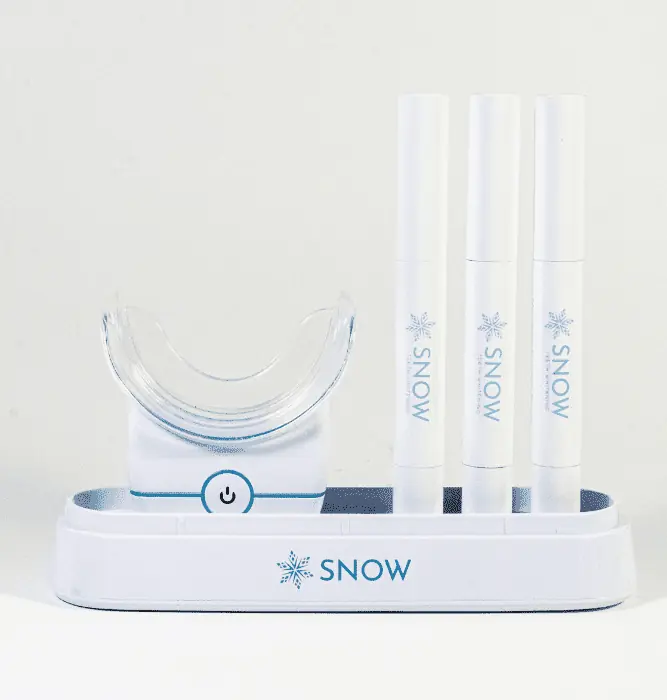 The wireless kit includes:
LED mouthpiece: When placed in your mouth after applying the whitening gel to your teeth, the LED mouthpiece enhances the serum effects. The blue light helps whiten, and the red light supports healthy gums
2 whitening wands: The standard whitening wands are filled with Snow's high-strength whitening serum, featuring carbamide peroxide to safely and effectively whiten teeth
1 extra strength whitening serum: Twice as strong as the standard serum, the extra strength serum removes the deepest stains without causing sensitivity
This kit also comes in a portable charging case, which features a UV light that automatically sanitises the mouthpiece when stored.
The primary features of the Snow Wireless kit are:
Wireless: Since the mouthpiece doesn't need to be connected while in use, you can easily go about your day while you whiten your teeth.
Cordless charging: Wireless means no wires whatsoever — to charge your mouthpiece, just place it in the carrying case and it will charge automatically.
Red and blue: The mouthpiece delivers both red and blue light. The red light supports gum health and the blue light whitens teeth.
Self-sanitising: The carrying case features an integrated UV light that automatically comes on and sanitises the mouthpiece when it's stored.
Water-resistant: This kit really can go anywhere with you — even in the shower!
Travel-friendly: Keep your whitening treatment going even when you're on the go. It's fully portable, compact and easy to take with you anywhere
This kit also comes with a 5-year warranty, so you get at least 5 years of LED-powered whitening. And when you run out of whitening gel for touchups, you can simply order refills.
Cost of the Snow Wireless kit
The Snow Wireless kit costs $299 (roughly £252.50), although there are often discounts available. This is about $100 (£84) more than the cost of the Original kit. You also have the option to pay for the Wireless kit in 4 instalments of $74.75 (£63).
Money-back guarantee
If you're convinced that Snow is for you, don't wait any longer to seize this great opportunity to whiten your teeth safely and effectively.
Snow's kits come with a 30-day money-back guarantee if you're not happy with your results, but their 99% satisfaction rate suggests you will be!
How to use Snow teeth whitening wireless
According to the Snow teeth whitening wireless instructions, there are just 4 easy steps to whiten your teeth:
Brush: Brush your teeth for 2 minutes in gentle circular motions. Then floss and rinse as you normally would.
Apply serum: Take off the cap on the wand, and then twist the other end until a bit of serum comes out. Paint each of the teeth that you want to whiten.
Whiten: Connect the LED light to your device and place the mouthpiece in your mouth. Keep it in with the light on for 10 to 30 minutes, depending on how much whitening you want.
Rinse: After whitening, take the mouthpiece out and rinse your mouth and the light.
The full whitening treatment lasts for 21 days, and then you can use it twice per week afterwards for touchups.
After whitening, you should wait for an hour to an hour and a half before eating or drinking.
The video below is made by Snow and shows how to use the Wireless kit:
Tips for using the wireless kit
Cleaning your wireless kit
To clean your wireless mouthpiece, separate it from the LED light after use, and rinse it with water. You can also use some gentle hand soap. After cleaning, dry it off and put it back in its carrying case, where it will be automatically sanitised by the built-in UV light.
Applying the serum
To correctly apply the Snow whitening serum, you can think of it as painting your nails. Start at the base of each tooth and brush downwards or upwards depending on whether you are applying the serum to your top or bottom teeth.
There's no exact amount of serum to apply to each tooth. Just try to make sure that you use enough to fully coat each tooth, without the serum dripping or clumping.
Managing saliva
It's normal to experience excess saliva in your mouth while using the mouthpiece, simply because you aren't swallowing as much as you would be if your mouth were empty.
If you find yourself in this situation, just take your mouthpiece out, spit, and then put it back in and continue whitening.
Leaking serum
The serum comes in an airtight wand to keep it fresh. This means that when you use it for the first time, it will take a while to get it to come out, which you do by twisting the bottom of the wand.
Snow recommends that you twist slowly until the serum begins to come out, in order to avoid excess serum coming out and leaking. If this happens to you, you can simply wipe the brush with a clean tissue to remove the leaking serum.
Snow teeth whitening wired vs wireless
What's the difference between the Snow Original kit and the Snow Wireless kit?
The main difference is of course that the Wireless kit functions without wires, including cordless charging, while the Original kit needs to be plugged into your mobile device.
Also, the Wireless kit is water-resistant and can be used in the shower, and the Wireless kit features dual-light therapy, with a blue LED light that whitens teeth, and a red light that supports healthy gums.
However, these kits have more in common than not. Both include over 75 treatments per kit, they erase stains from smoking, coffee and wine, and they are safe to use for sensitive teeth whitening.
Snow wireless teeth whitening kit limited edition
Snow often has limited edition teeth whitening kits available, in fact, chances are, they've got one right now! Limited edition kits may come in different colours, or have a different design that makes them even more fun to use.
You can check out Snow right now to see what kind of limited editions they currently have on offer.
Snow wireless teeth whitening reviews
Now that you know how the Snow Wireless teeth whitening kit works, let's have a look at what some real reviewers have to say:
"The new wireless kit is so convenient! I use it while showering. Just what I needed to be more consistent."

Tamara
"Took a little time to get results but now I'm seeing it. Looking forward to seeing how much whiter my teeth get!"

Tina
"We were kind of skeptical at 1st because we tried other products similar but this one worked! It didn't hurt my teeth and really worked! I recommend this to all friends!"

Stacie
Save money on professional whitening with Snow!
97% saw real results after a SINGLE USE
100% saw results after their full treatment
No sensitivity
30-day money-back guarantee
75+ treatments per box!
Conclusion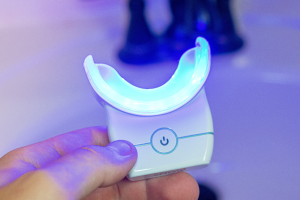 The Snow Wireless whitening kit features everything we love about the Snow Original kit — it's fast and effective when it comes to noticeably whitening teeth. It also comes with the same whitening serum and extra strength serum for when you need a bit extra.
The Wireless kit goes above and beyond with a sleek, wireless design that lets you whiten on the go. Plus, cordless charging means you can simply put it in the carrying case and it will charge automatically.
Furthermore, the LED device features two lights: the blue LED light whitens teeth, while the red light supports gum health. The charging case also has a built-in UV light that automatically sanitises the mouthpiece while it's being stored.
Order your Snow Wireless whitening kit now and quickly get lasting results.
FAQs
How do you use the Snow Wireless teeth whitening kit?
There are a few simple steps to using the Snow Wireless kit to get whiter teeth. First, brush your teeth for 2 minutes, floss, and rinse. Next, connect the LED light to your mouthpiece.
Then place the mouthpiece in your mouth and whiten your teeth for 10 to 30 minutes. Once the time is up, rinse your mouth and avoid eating or drinking from an hour to an hour and a half.
Is the Snow Wireless kit waterproof?
The Snow Wireless kit is water-resistant. That means that you can take it into the shower with you, just don't submerge it in water for extended periods of time.
Sign up to receive the latest news and offers from Dentaly.org