Having white teeth is a basic standard of beauty these days, and advances in the cosmetic sciences have made it possible for you to get professional-level results at home. And choosing the right teeth whitening kit could mean the difference between a sparkling white smile and enamel damage.
That's why we want you to know about the Snow Wireless teeth whitening kit — the ultimate teeth whitening kit that uses a combination of carbamide and hydrogen peroxide to whiten teeth and without sensitivity.
If you'd like to know more about the Snow teeth whitening wireless kit, in this article, we'll discuss:
Snow wireless kit features
Snow wireless kit ingredients
How to use the kit for best results
Keep reading to find out if this is the best at-home whitening kit for you. And if you want to find out more about all of Snow's products, read our full guide here.
The #1 Peroxide Whitening Kit
What makes Snow the ultimate whitening kit?
• Whiter teeth after ONE use
• NO sensitivity
• Long-lasting RESULTS
• 75+ treatments per kit
• 90% CHEAPER than in-office whitening
Find out more!
What is the Snow teeth whitening wireless kit?
The Snow wireless kit is an at-home teeth whitening kit with a wireless LED mouthpiece and a whitening serum that whitens with the active ingredient hydrogen peroxide.
The LED light may speed up the effects of the Snow whitening serum, plus it also features two colored lights, blue for whitening and red for gum health.
The Snow teeth whitening wireless kit includes: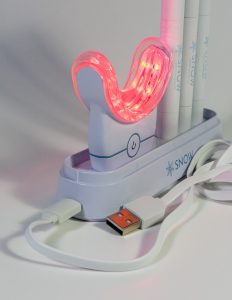 LED mouthpiece: When placed in your mouth after applying the whitening gel to your teeth, the blue LED light may accelerate the serum effects, and the red light may support healthy gums.
2 whitening wands: The standard whitening wands are filled with Snow's high-strength whitening serum, featuring carbamide peroxide to safely and effectively whiten teeth.
1 extra strength whitening serum: Twice as strong as the standard serum, the extra strength serum removes the deepest stains, and doesn't cause sensitivity in the majority of users.
This kit also comes in a portable charging case, which features a UV light that automatically sanitizes the mouthpiece when stored.
Snow is developed by orthodontists and made in the US, plus it's designed for whitening sensitive teeth. That's thanks to its gentle formula, which whitens gradually, and contains hydrogen and carbamide peroxide.
Studies show that peroxide causes only mild sensitivity (if any at all) in concentrations under 10% for hydrogen peroxide and under 35% for carbamide peroxide, which is considered safe for at-home teeth whitening.
Here's a summary of the Snow teeth whitening wireless kit's main features:
Real results after a single use

Absolutely no sensitivity
Snow teeth whitening wireless cost
The Snow wireless teeth whitening kit costs $299, although discounts are often available. This is about $100 more than the cost of the original kit. You also have the option to pay for the wireless kit in installments.
How to use the Snow teeth whitening wireless kit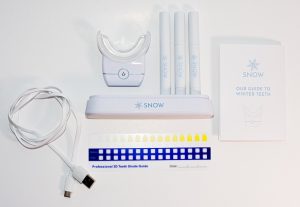 According to the Snow teeth whitening wireless instructions, there are just four easy steps to whiten your teeth:
Brush: Brush your teeth for 2 minutes in gentle circular motions. Then floss and rinse as you normally would.
Apply serum: Take off the cap on the wand, and then twist the other end until a bit of serum comes out. Paint each of the teeth that you want to whiten.
Whiten: Connect the LED light to your device and place the mouthpiece in your mouth. Keep it in with the light on for 10 to 30 minutes, depending on how much whitening you want.
Rinse: After whitening, take the mouthpiece out and rinse your mouth and the light.
The full whitening treatment lasts for 21 days, and then you can use it twice weekly for touchups.
After whitening, you should wait an hour to an hour and a half before eating or drinking.
The video below is made by Snow and shows how to use the Snow wireless kit:
Tips for using the Snow wireless kit
Cleaning your wireless kit
To clean your wireless mouthpiece, separate it from the LED light after use, and rinse it with water. You can also use some gentle hand soap. After cleaning, dry it off and put it back in its carrying case, where the built-in UV light will automatically sanitize it.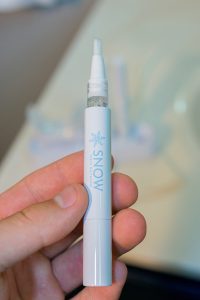 Applying the serum
To correctly apply the Snow whitening serum, you can think of it as painting your nails. Start at the base of each tooth and brush downwards or upwards, depending on whether you apply the serum to your top or bottom teeth.
There's no exact amount of serum to apply to each tooth. Just try to ensure that you use enough to fully coat each tooth without the serum dripping or clumping, and avoid getting it on your gum tissue.
Please note that while the mouthpiece is water resistant, the serum isn't, so if you are in the shower, try not to let the water come into contact with the serum.
Managing saliva
It's normal to experience excess saliva in your mouth while using the mouthpiece simply because you aren't swallowing as much as you would be if your mouth were empty.
If you find yourself in this situation, just take your mouthpiece out, spit, and then put it back in and continue whitening.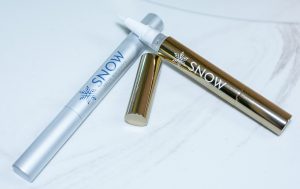 Leaking serum
The serum comes in an airtight wand to keep it fresh. This means that when you use it for the first time, it will take a while to get it to come out, which you do by twisting the bottom of the wand.
Snow recommends that you twist slowly until the serum begins to come out to avoid excess serum leaking. If this happens to you, you can simply wipe the brush with a clean tissue to remove the leaking serum.
Snow wireless teeth whitening kit reviews
Like any product, Snow receives positive and negative reviews, but certainly many more positive reviews.
In the following YouTube review, Rhyalle shows us her results after using Snow for 90 days — but not consistently.
Her teeth started out a bit yellow and are now as white as the whitest level on the shade guide. It's not clear if it's recommended to use Snow for 90 days in a row, as the Snow whitening challenge is just 21 days (with repeated uses as needed).
On the Snow website, the wireless kit has an average of 4.9 stars, with 99% of reviewers saying they would recommend the Snow wireless kit to a friend:
Love its ease and convenience of use. Used it every day for the 1st 30 days until it got the whiteness I wanted and now, I just use it maybe once weekly or biweekly to keep my beautiful smile bright. I would totally recommend this product to anyone.

Mozinna
The negative reviews have to do with the wireless kit not working:
I think it is a great tool when it works. However, the device keeps turning on and off when it is charging so it takes quite a while to charge and won't hold the charge. Wish I would have gotten the one that plugs directly into the phone to power.

Patrick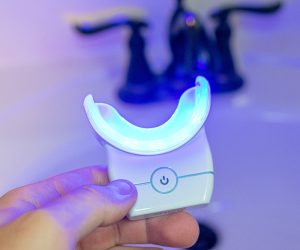 From the Better Business Bureau, Snow receives 4.4 out of 5 stars, with one happy customer saying:
"I am impressed with their professional, friendly, prompt and generous customer service! To be honest, I hesitated to order my whitening kit (wireless) as there are many skeptic teeth whitening products but I am very happy that I tried it as the product does work and also the level of the customer service is exceptional – thank you!"

Mina
However, there are complaints as well, many to do with poor customer service and orders arriving much later than expected, and some mention sensitivity and irritation after use:
"Yes it makes my teeth white but after using it for a few days it hurts my teeth and it became sensitive."

Anne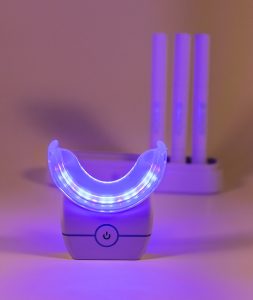 On Trustpilot, Snow has an average of 4.8 stars, with positive reviews like:
"This is my second purchase. I bought the wired mouth piece first and loved the results but got tired of sitting in one place so i recently bought the wireless mouth piece and love it even more!"

Dionna
And again, the negative reviews are mostly about a delay in delivery time, and sensitivity:
"This product has made my teeth very slightly whiter, but I have had to stop using because of the agony I'm feeling in all of my teeth today. This pain is unbearable. Those people who say there is no sensitivity, clearly don't have sensitive teeth."

Bex
Is the Snow wireless teeth whitening kit worth it?
Yes — if you don't mind paying a bit more than other brands, the Snow wireless teeth whitening kit is worth the cost. Most people find that it whitens their teeth by multiple shades. And the fact that it has no wire makes it easy to whiten and multitask.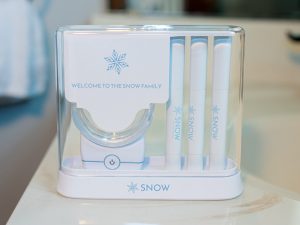 There are some potential cons to the Snow wireless whitening kit, the first being that there are mixed studies on whether or not LED lights actually have that much of an effect on the whitening process. And keep in mind that these lights don't whiten teeth — if they do have an effect, it's to speed up the whitening process.
You can find studies that support LED effectiveness, but you can also find some that don't.
Red LED light technology with an intensity of at least 405nm can suppress the formation of dental plaque, which would help improve gum health, as Snow says, but it's not clear if Snow's red light has the necessary intensity.
In short — this kit is convenient and more affordable than professional whitening. It will whiten teeth because of its whitening serum, which contains hydrogen and carbamide peroxide. However, the dual-light LED may or may not accelerate whitening and support gum health.

Conclusion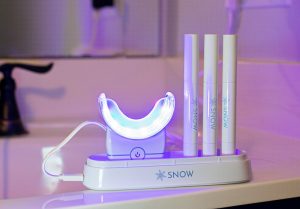 The Snow Wireless whitening kit features everything we love about the original Snow kit — it's fast and effective for noticeably whitening teeth. It also comes with the same whitening serum and extra strength serum for when you need a bit extra.
The wireless kit goes above and beyond with a sleek, wireless design that lets you whiten on the go. Plus, cordless charging means you can simply put it in the carrying case, and it will charge automatically.
The LED device features two lights: the blue LED light may accelerate whitening, while the red light may support gum health. The charging case also has a built-in UV light that automatically sanitizes the mouthpiece while it's being stored.
Right now, the Snow Wireless Kit is at the lowest price it's ever been so you'll save a ton of money. Just make sure to click the link below for the best savings.
Order your Snow Wireless whitening kit now and quickly get lasting results.
FAQs
How do you use the Snow wireless teeth whitening kit?
There are a few simple steps to using the Snow wireless kit to get whiter teeth. First, brush your teeth for 2 minutes, floss, and rinse. Next, connect the LED light to your mouthpiece.
Then place the mouthpiece in your mouth and whiten from 9 to 30 minutes. Once the time is up, rinse your mouth and avoid eating or drinking for at least an hour to an hour and a half.
Is the Snow teeth whitening wireless kit waterproof?
The Snow Wireless kit is water-resistant. That means that you can take it into the shower with you, no problem, but don't submerge it in water for extended periods. The water resistance applies to the mouthpiece but not the whitening gel.
Can you swallow while using Snow whitening?
Yes, you can swallow while using Snow whitening, although it may be a bit uncomfortable with the mouthpiece in your mouth. The whitening gel isn't harmful if accidentally swallowed in small amounts.
Sign up to receive the latest news and offers from Dentaly.org