A good water flosser will help you keep your mouth healthy, clean and pain-free, just like regular floss, but without so much hassle. Want to know which is the best water flosser for you? You're in the right place.
Many people are put off by using conventional string dental floss for a variety of reasons:
It hurts their gums
It gets stuck in their teeth
They find it too difficult to use
It takes too long
You don't know how to floss your teeth properly
Fortunately, water jet flossers (also known as oral irrigators) address all of these issues by making the process quicker, easier, and gentler on teeth. In this article, you'll discover how these devices work and the different features they come with. We also have some information on the water flosser vs string floss debate so you can decide which is the best buy for you.
We compare features and reviews of some of the water flossers that are the best to buy in the US for 2023, so you can decide which water flosser is best for you.
Below we will go into a more detailed review of the best oral irrigator on the market, but if you are short on time check out the following table for quick reference:
Best cordless water flosser

cariPRO Cordless Water Flosser

Best compact water flosser

3 modes — pulse, normal, soft

Antibacterial plastic nozzle

Philips Power Flosser 7000

Best water flosser for braces

Best budget water flosser

Wide mouth reservoir for easy cleaning

Compact and travel-friendly design
What is a water flosser?
A water flosser is a handheld device that sprays small streams of water in steady pulses. Just like traditional floss, a water flosser provides a way to clean between and around your teeth. Water flossers have earned the ADA Seal of Acceptance for being a safe and efficient way to remove dental plaque, and around 13% of Americans use one.
There are numerous reasons to use a water flosser which you can read all about in our guide to the top Waterpik benefits. You can also find out about Waterpiks for gum disease.
Can an oral irrigator replace regular floss?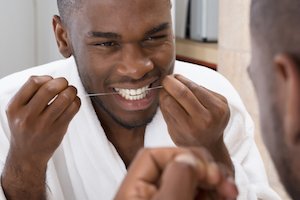 Many dentists recommend using a water flosser in addition to traditional floss, because dental floss actually scrapes plaque off teeth while a water flosser simply rinses.
Not what you wanted to hear?
Well, a dental water flosser vs floss may still be more effective for people who:
Have dexterity problems which make it difficult to use normal floss
Have very sensitive gums and find traditional dental floss painful to use
Are wearing braces
Have dental bridges, crowns or implants
Just really dislike string floss and are never going to use it!
The video below shows water flosser reviews by a dentist, and gives his view on a water flosser vs. string floss:
If you're serious about good oral hygiene, you could use string floss to loosen any food particles and then rinse your teeth with an electric flosser. But if you can't use string floss for whatever reason (or just don't want to), a water flosser is definitely better than not flossing at all! Another option for you if you can't use floss is an interdental cleaner, which you can read about here.
Your dentist may also recommend you use hydrogen peroxide with your water flosser — but only occasionally and heavily diluted. We also have a guide that answers the question: Can you put mouthwash in a Waterpik?
| | | |
| --- | --- | --- |
| | | |
| | Cheap; scrapes plaque off teeth | Quick and easy to use; gentle on gums |
| | Fiddly and time-consuming; may damage sensitive gums | Expensive; uses electricity; may not be as effective |
Features to consider
Once you decide to purchase a water jet flosser, you still have to work out which brand and model will suit you best. This choice can be quite overwhelming, particularly if it is your first time purchasing one. Here are some of the main things you should consider: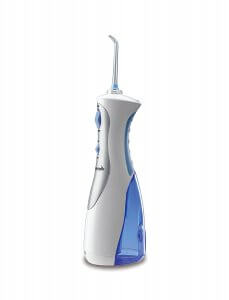 Mains operated or rechargeable: You may be used to having a cordless electric toothbrush, but some water flossers are connected to a base that holds the water reservoir. This unit is quite large, so it doesn't make for the best travel water flosser. On the plus side, the larger reservoir means less frequent re-filling, while the flosser itself is more powerful than a cordless water flosser.
Budget: You can spend up to $100 on a top-of-the-range flosser, but some lesser-known brands have basic models for around $30.
Settings: Some water flossers have just one or two power settings while others have up to 10. Few people will make use of all 10, but it's good to have options – especially if more than one person in your household will be using the device.
Tips: As well as the standard water jet tips, some of the top-rated water pick models come with special tips for different purposes. These include tips for cleaning teeth implants and cleaning your tongue. Additionally, the best water flosser for braces will come with a special orthodontic tip.
Best electric toothbrush and water flosser combo compatibility: If you're short on bathroom shelf space or plug sockets, there are a couple of options. Firstly, you could buy a cordless water flosser that is compatible with the charging base you already have for your cordless toothbrush. Secondly, you could purchase an all-in-one unit which incorporates both a toothbrush and flosser.
Water flosser reviews: It may seem obvious, but the consumer is, after all, the person with real, first-hand experience.
Electric water flosser reviews
Best rechargeable water flosser/cordless water flosser review
First, let's take a look at the best cordless water flossers available. Many people prefer cordless because they're portable, and they don't require you to have a power outlet right next to your bathroom sink. Plus, they take up considerably less space on your bathroom countertop.
Below this summary table of cordless water flosser reviews, you'll find more information and product reviews of each one, so you can choose the best portable water flosser for you.
1 standard +
1 brush +
1 perio +
1 orthodontic

1 standard + 1 Quad Stream +

2 standard + 1 implants + 1 orthodontic

Cost of standard replacement tip

Waterproof, rapid charging,
ergonomic
universal charging

3 modes, collapsible design, antibacterial plastic tips

Quad Stream technology covers more surface area and cleans faster and more effectively; 3 intensity settings

Waterproof, ADA accepted, fast charging

Waterproof, washable, neat storage
cariPRO Cordless Water Flosser
The cariPRO water flosser is our top pick for best portable water flosser, and is from oral health care specialists Smile Brilliant. It is designed for those who don't take their oral hygiene lightly. The package comes with:
1 cariPRO Cordless Water Flosser
4 specialty floss tips (standard, ortho, restorations and gum health)
1 universal USB & wall charger
2 year limited warranty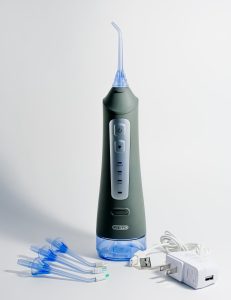 And that's not all! The reservoir holds 155ml of water for 45 seconds of continuous flossing per fill. The jet pressure ranges from 44 to 75 psi for a stream that won't hurt your gums but will effectively remove all particles.
Three floss modes — normal, soft and pulse — let you customize your flossing experience and a 28-day battery life on a single charge optimize convenience, especially when traveling.
This flosser also has a sleek non-slip ergonomic design with a soft-touch grip and is waterproof, so you can use it in the shower. It's also got an auto-interval timer so you know exactly how long to floss every time.
Still not convinced? This water flosser comes with a 60 day trial. That means that if after three months you aren't in love with your water flosser, you can return it for a full refund.
You can get your cariPRO Cordless Water Flosser by clicking the button below. Right now, this flosser is being offered for a discounted price.
Snow Water Flosser
The Snow Water Flosser is ideal if you are looking for a compact flosser that stores easily, or one that you can take with you on your travels. That's because it has a collapsible design, allowing it to be much smaller and lightweight than other models when not in use.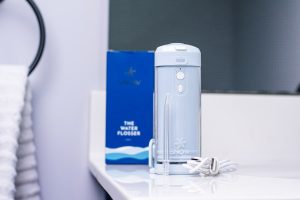 It also features tips made from antibacterial plastic, and three modes — soft, normal and pulse.
This water flosser can also be used in conjunction with a separate whitening additive, to compliment your teeth whitening routine.
Your purchase comes with:
Snow Water Flosser
Anti-bacterial plastic tip
Charging dock
5 year warranty
Get your Snow Water Flosser and check for discounts while you're there.
Philips Cordless Power Flosser 3000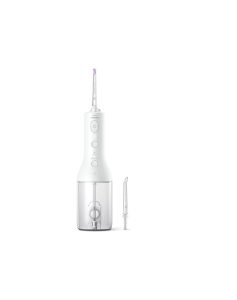 This cordless water flosser removes up to 99.9% of plaque and features a Quad Stream tip that separates the water stream into 4 jets, covering more area between teeth and along the gum line.
It also features 2 cleaning modes and 3 intensities plus a large water reservoir that lets you floss for 60 seconds. With consistent use, you'll see improved gum health in just two weeks.
The Philips Cordless also has:
A slim, ergonomic design
An easy-click nozzle attachment
Fast cleaning ability
2 cleaning modes — clean and deep clean+
And it's been shown to be up to 150% more effective than traditional floss in improving the health of gums.
Waterpik WP-560 Cordless Advanced Water Flosser
The Waterpik Cordless Advanced Water Flosser has several features which make it a good option, including:
Waterproof design
2 classic and two specialized tips for plaque and orthodontics
Rapid 4-hour charge
3 pressure settings
Travel water flosser bag
45-second reservoir capacity
At almost double the price of the other cordless models we mention here, though, you'll need to decide whether these features are worth the extra money. The fact that it's waterproof is certainly handy if you find flossing over the sink too messy and want to use it in the shower. Cheaper models also don't have the special tips for use with braces and implants.
With a sentiment echoed among many users that declare this as the best water flosser that is cordless, one reviewer says:
"Great for travel. Not as powerful as a home unit, but gets the job done on a long trip"
The power isn't the same as the corded version, but if you want a cordless model, this does the job and has some of the best features.
You can read more about this and some of the other best Waterpik cordless models in our full guide, including the Waterpik Sonic Fusion flossing toothbrush. And check out our Waterpik Complete Care 5.0 review or our review of the Waterpik WP-100 Ultra water flosser to learn more about the offerings of this brand.
Bitvae C2 Water Flosser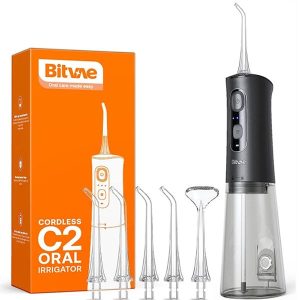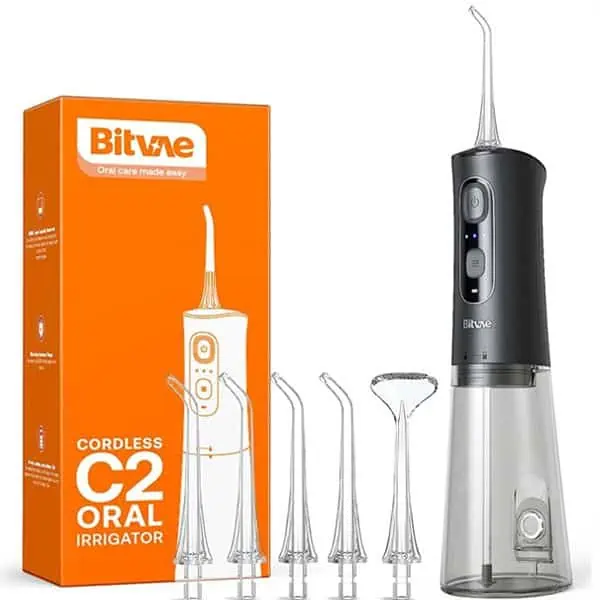 The Bitvae C2 Oral Irrigator has a 260ml reservoir that holds enough water for a 60-second clean, without needing to refill or pour out any remaining water.
The battery lasts for a whopping 40 days on just a single charge, and it has a cordless design — both of which make it ideal for taking with you on the go.
One of the most outstanding features of this flosser is the wide mouth on the reservoir, which makes it easy to clean on the inside, a feature that most flossers lack but which is essential for hygiene.
People seem generally happy with the performance of the Bitvae water flosser, even saying that the jet is quite powerful:
"This product is very powerful. I use it on the first setting out of the three and it packs a punch. A friend recommended it after I was telling them I was interested in purchasing one and it works well , better than what I expected I've even recommended it to several people."
Find out more in our full Bitvae water flosser review.
Countertop water flosser review
Moving on to a comparison of top-rated water pick countertop models, i.e. those that need to be plugged in to operate. In the table below, you can view a summary of the water flossers we have selected as the best oral irrigators on the market in this category.
Following this, you'll find more detailed descriptions and useful information gathered from real reviews of these water flossers.
| | | | | |
| --- | --- | --- | --- | --- |
| | | | | |
| | | | | |
| | 1 standard + 2 specialist | 3 standard + 4 specialist | 4 standard + 8 specialist | 3 standard + 4 specialist |
| Cost of standard replacement tip | | | | |
| | | | | |
| | | | | |
| | LED display, pulse wave technology, whisper quiet, quad stream technology | Tip storage in unit pause button on handle | Waterproof water pressure control on handle | UV sterilizer on/off control on handle waterproof |
| | | | | |
Philips Power Flosser 7000
The Power Flosser 7000 is a countertop model that features 4 different cleaning modes and 10 intensities for a seriously customized flossing experience.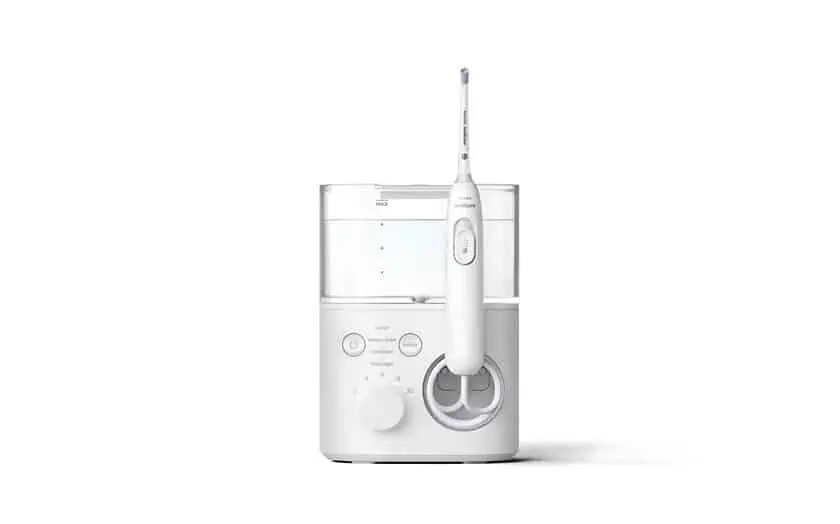 The modes are:
Clean: A super cleaning mode for everyday use
Deep Clean+: For an even deeper, more invigorating clean
Massage: Give your gums a stimulating massage
Sensitive: Perfect if you're just starting out or if you have sensitive teeth and gums
This flosser also features the Quad Stream tip that Philips is known for — it breaks the water stream up into four separate streams, covering more surface area of the teeth, and along the gum line so you can cover more ground with less effort.
Pulse wave technology means that gentle pulses of water guide you as you go from tooth to tooth for a more thorough cleaning experience.
The overall health benefits of this flosser are that it is up to 180% more effective than regular floss in improving gum health, and up to 3x more effective and removes up to 99.9% more plaque than regular floss.
Philips also has an air flosser which you can read more about in our air flosser review. And for related products, check out our Waterpik vs Airfloss guide.
Waterpik WP-660 Aquarius
The Waterpik WP-660 Aquarius Water Flosser is the newest of the many Waterpik models to hit the market. It has a new compact and contemporary design. It is easy to use with a water on/off switch on the handle, and finger-tip pressure control.
This water flosser has 10 different water pressure settings, the highest offering 1,400 pulses per minute. Having this many options can be useful if several people with different needs and preferences are using the same device. The reservoir holds enough water for 90+ seconds of use, depending on the setting you use.
It's well-equipped with seven different tips. You get three classic jet tips and a toothbrush tip, a Plaque Seeker tip, and a tip for periodontal pockets. It is also a good water flosser for braces, as it has a special braces tip.
One reviewer comments on how they used to avoid flossing until they started using the Waterpik:
"I literally hated flossing and would find myself avoiding to floss even though I needed it very much. My gums were red, swollen, and inflamed because I was in the early stages of periodontal disease. I started using the Waterpik flosser, and instantly like this way of flossing much better!"
It's one of the more expensive water flossers of this type, but it's also well-equipped and it comes from a trusted name with a generous 3-year warranty. Read our full review here, and find out how to use it to remove tonsil stones in our guide here.
As mentioned above, this Waterpik model incorporates an electric toothbrush as well as a flosser. If you have limited space or don't want the hassle of charging two separate devices, this could be a good choice for you.
H2ofloss HF-9 Whisper
A product that many reviewers recommend as an alternative to the Waterpik is the h2ofloss HF-9 Whisper. At around half the price, it presents great value for money while still providing an effective cleaning experience.
Not only is the unit price very competitive, but replacement tips also cost around half the price of most other brands — so you'll be saving money in the long run too.
Its 1,200 pulses per minute is lower than some other water flossers, but many reviewers say they never needed to use it on the highest of the six pressure settings anyways.
The water flosser is waterproof with a quieter motor than most brands and the reservoir holds enough water for 150+ seconds of use, which should be more than enough for one person to floss without needing to refill it.
You get 12 tips included with your purchase, including four color-coded standard tips and additional ones for cleaning your tongue, periodontal pockets, and braces. There are even two types of nasal tips!
A handful of negative reviews mention problems with leaking, but any issues like this are covered by the two-year guarantee. Overall, people rate it as a good product for a good price with one customer saying:
"The variety of tips is a big plus, particularly the periodontal tip, which allows me to flush out the deeper pockets in my gums. This flosser is not just a good deal for the price, it's an excellent device!"
THZY
The THZY Oral Irrigator emits water at 1,250 – 1,700 pulses per minute with ten different speed settings. It comes well-equipped with three standard tips as well as four others including a tongue cleaner and ones for use with braces, implants, bridges, and crowns.
You can buy a full set of seven replacement tips but not, it seems, just individual types. This is fine if you use them all equally but could turn out to be expensive in the long run if you need to replace one tip sooner than others.
The feature that makes this flosser different is its built-in UV sterilizer. After flossing, you place the tips in the holder at the side and the sterilizer runs for a set time to help keep the nozzles clean.
Reviewers comment on its convenient design, including suction cups, to stop the unit from slipping during use. It seems many people choose this flosser over the Waterpik because of its comparative value for money and the fact that it is still well-equipped with different tips.
One user says:
"Wow, this water flosser does an awesome job! I have a permanent brace on the back of my bottom teeth and this cleans it extremely well. I also love the UV sterilizer, which is why I chose this over the comparable WaterPik model"
What toothbrush should I use with my water flosser?
Many people find that their oral health improves significantly when they use an electric toothbrush. If you'd like to give an electric toothbrush a try, you can't go wrong with the CariPRO Ultrasonic.
This toothbrush is a mid-range priced option that offers everything you need to optimize your oral health:
40,000 vibrations/minute
5 cleaning modes—clean, white, massage, gum care, sensitive
Auto 2-minute timer and 30-second quadrant reminder
Waterproof design
DuPoint bristles, cut and angled for superior cleaning
30-day battery life
Find out more about this effective and affordable electric toothbrush in our CariPRO toothbrush review.
Summary of US portable and countertop water flosser reviews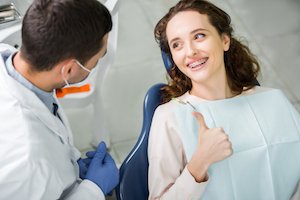 Despite Waterpik being the name that dominates the market, there are plenty of other lesser-known brands offering efficient and affordable products, and consumer reports for the best dental water flosser are all over the board.
In choosing the best water jet flosser for you, you'll need to decide which features you're willing to pay more for and which are not necessary. Also think about the amount of space you have available in your bathroom, as some take up a lot more space than others.
Ok, but what's the best one?
When it comes to cordless water flossers, the cariPRO Cordless Water Flosser offers the best features if you're willing to pay a bit extra. In the countertop flosser market, however, there are several other brands offering similar (or better) features for a lower price. In this case, it could be worth giving a lesser-known brand a try, especially because many have great oral irrigator reviews.
We didn't feature the Oral-B water flosser in this article, but it's also a good option and you can read more about it in our review here.
We recommend you speak to your dentist if you're unsure whether an electric flosser is right for you. Water flosser reviews by dentists are a sure way to get a professional opinion.
Ask yours for their opinions on oral irrigators, and they may also recommend the best water flossers for your teeth. For more proper flossing tips, you can check out our article on whether you should floss before or after brushing, and whether you should use a Waterpik before or after brushing.
Sign up to receive the latest news and offers from Dentaly.org