Is the Oral-B water flosser a good purchase, or are there better alternatives? Find out in this Oral-B water flosser review.
We will answer this and everything else you need to know about this product, including:
How does the Oral-B water flosser work?
Oral-B water flosser pros and cons
How effective is it in terms of daily oral hygiene?
If you're considering adding the Oral-B water flosser to your oral care routine, read our in-depth review to learn all you need to know to make an informed decision.
Also check out our article about the best water flossers, if you want to know what other options are out there.
What is the Oral-B water flosser?
Until recently Oral-B had just one water flosser — a rechargeable, handheld model. But now they've released a countertop model too.
Both models of Oral-B water flossers are home dental care devices that utilize a pulsing stream of high-pressure water to remove dental plaque and food particles from between teeth and below the gum line.
How does the Oral-B water flosser work?
For both models, after you fill the reservoir with water and the flosser is turned on, the pump draws the water out and directs it into the user's mouth via a tip at the top of the flosser.
The water jet produces a high-pressure stream that breaks up plaque and germs and removes them from the teeth and gums. For many people, flossing with a stream of water feels gentler and more comfortable than flossing with traditional floss.
The following Oral-B promotional video gives you a short overview of what the device looks like:
How to use the Oral-B water flosser
Follow these instructions once the battery has been charged and the nozzle has been attached.
Step 1: Fill the water tank: Open the reservoir and pour water into the compartment until it is slightly less than full. Close the reservoir and make sure it is well secured.
Step 2: Prepare: Put the flosser's tip in your mouth and lean over the sink. Close your lips just enough to avoid splashing while allowing water to flow freely from your mouth into the sink.
Step 3: Flossing: To start the water flow, press the power button. Water should be aimed towards the gumline at a 90-degree angle. Follow the gumline and pause between teeth for a few seconds. The intensity of the water flow can be adjusted via a button on the handle.
What's included with the Oral-B water flosser?
Charger
2 nozzles — 1x Aquafloss, 1x precision jet tip
Oral-B water flosser key features
Cordless water flosser: It has a rechargeable battery and charging station for a portable deep clean.
Oxyjet technology: Its Oxyjet technology uses water mixed with air microbubbles to help remove plaque bacteria and promote healthier gums.
3 intensity modes: For the right cleaning pressure, you can choose from three intensity modes: intense, medium, or sensitive.
3 flossing streams: there are three flossing streams to choose from — Multi-jet (all-around cleaning), Focused (targeted cleaning), and Rotational (gum massaging).
Oral-B water flosser review (handheld model)
Let's continue our Oral-B water flosser review and see how it rates in terms of design, functionality, charging, battery life, reservoir capacity, and price.
Design – ★★★★☆ (4/5 stars)
The first impression of this cordless device may be that it is fairly large and bulky. However, it must be big enough to contain the water tank and the pump that draws the water.
The majority of the device is made of plastic, with a soft-touch rubber grip around the buttons. The top button, which has a blue backlit light when switched on, activates a continuous water flow.
A smaller 'on-demand' button is beneath this. It is printed with a dotted circle but is not lit. For bursts or shorter jets, you utilize this on-demand button. Hold the button down for as long as you want the water flow to go on. It provides a smoother level of control than the default power button.
The different intensity levels, or modes, are below this button. You have three intensities with this Oral-B water flosser:
Underneath this is another button to change the intensity modes.
On the top of the device is an eject button, which is made of a soft-touch rubber, just like the power button. You use this button to change the nozzle.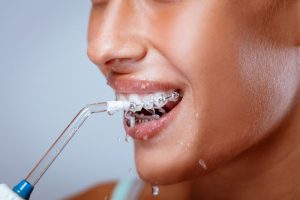 Functionality and flossing modes – ★★★☆☆ (3/5 stars)
The top of the Oxyjet/Aquafloss nozzle on the Oral-B water flosser is a little bigger than on the Waterpik Cordless Advanced or the cariPRO water flosser (our top water flosser pick, which we'll talk more about below).
Its larger size makes it a bit more difficult to position it correctly in your mouth.
The other included nozzle is more similar to the jet tips that come with other manufacturers.
However, these are your only two possibilities. You don't have the same variety as you would with a Waterpik water flosser or a cariPRO water flosser.
But, there are also some unique features to the Aquafloss nozzle of the Oral-B water flosser. It has a gray slider that may be moved to control the water flow. For a focused stream, place it at the top, and for a rotating stream, place it at the bottom.
Air is injected into the water flow in the rotational stream. It generates a spiraling motion in the water as it passes through the nozzle, giving it a unique cleaning effect. The rotating stream seems to be better for general cleaning, while the focused jet appears to be better for cleaning specific gaps precisely.
To recap, the Oral-B water flosser technically provides you with three different flossing streams.
Type 1: Jet stream (with the precision jet nozzle)
Type 2: Focused (with the Oxyjet/Aquafloss nozzle slider at the top)
Type 3: Rotational (with the Oxyjet/Aquafloss nozzle slider at the bottom)
Because you can combine these three types of flossing streams with three intensity modes, you actually have nine different modes with the Oral-B water flosser. However, other models like the cariPRO water flosser still give you more possibilities.
Water tank – ★★★☆☆ (3/5 stars)
The water tank has a 150 mL capacity, which gives you around 40-45 seconds of water flossing. This is a typical amount for water flossers.
It is your choice whether to fill the water tank with cold or warm water, mouthwash, or a mixture. Warm water might make your gums feel a bit more comfortable, while a mixture with mouthwash can add some freshness.
To fill the tank, you must first open the hinged door. But you can also remove the tank for refilling or cleaning.
To do so, you'll need to unclip a little plastic clip at the unit's base. This clip seems to be very fragile, though, according to one customer.
The Water Tank knob broke on day one, that was it! As I was traveling abroad with it, I could not just replace it and was stuck with this cheap user-unfriendly product, waste of money.

Mark
This next Oral-B water flosser review describes discontentment with the size of the water tank, but overall approval of the device:
Don't like that you have to refill 2-3 times for one cleaning. Still gets the job done.

Joseph
Charger and battery life – ★★★☆☆ (3/5 stars)
The Oral-B water flosser has a NiMH battery built-in. The rechargeable battery is not user-removable. Oral-B does not specify the running time on the box or in the instruction manual.
When the battery is low and has to be recharged, the power icon/button will blink red. If you set it on the charging stand, a pulsing white light will show you that it's charging. That light will stop pulsating after it is completely charged. It might take up to 12 hours to fully charge the Oral-B water flosser.
Since there's just a NiMH battery built-in, instead of a higher quality lithium-ion battery, we expected a lot of bad reviews about the battery life. But to our surprise, you don't find many customers complaining in their Oral-B water flosser reviews about battery issues.
It's a decent product. Great for traveling. Extremely easy to use. Battery life is meh, it doesn't hold a charge for more than three days/six uses (twice a day: Morning and Night). I would only recommend this product if you travel a lot.

Gaven
Price – ★★★☆☆ (3/5 stars)
The Oral-B water flosser has a suggested retail price of $99. This is similar to other devices such as the Waterpik WP-560 or the cariPRO water flosser. As a premium brand, Oral-B may be able to justify the price, but when considering the features and the performance, we think the price is too high. However, you might be able to get it at a discount.
Reliability – ★★★☆☆ (3/5 stars)
The fact that a two-year guarantee is included can give you peace of mind with the Oral-B water flosser. They have a network in place to handle support difficulties because they are a well-established brand.
The two-year warranty seems to be a decent deal, but bear in mind that the guarantee might be voided in a variety of scenarios. Normal wear and tear, accidents, inappropriate usage, failure to take adequate care of the device, including damages by charging it too long, and a few other factors are not covered by the guarantee.
You can read more about the warranty terms of the Oral-B water flosser on the official Oral-B website.
Additional features – ★★☆☆☆ (2/5 stars)
It's convenient that two alternative nozzles are included. A travel pouch or case, on the other hand, would have been a nice addition. It's a real surprise that such a feature hasn't been added, especially considering the minimal cost.
Oral health benefits – ★★★☆☆ (3/5 stars)
What you also have to take into consideration is whether the water flosser actually gets the job done and effectively cleans your teeth. The product seems to be overall okay. However, there are many customers claiming in their Oral-B water flosser reviews that it's not powerful enough.
The problem is that it just doesn't have the power to clean between teeth as you would hope from a machine that claims to floss. Even on the most powerful setting it just kinda sprays water around and doesn't clean any more than you could from swishing water between your teeth. There are also some other minor annoyances like needing to be held vertical and the small water tank.

Webb
I don't feel like it's meant for someone that uses a water flosser daily and is used to the higher pressure. I recommend it to a beginner though.

Bette
Keep in mind that a cordless water flosser that runs with a battery might never be as powerful as a countertop water flosser. However, there are cordless water flossers like the cariPRO, which are more powerful and have more features than the Oral-B water flosser.
Review summary: Oral-B water flosser pros and cons
Have a look at the table below for a summary of the advantages and disadvantages of the Oral-B water flosser.
Various water streams: You can adjust the water flow to a more direct jet or a larger spinning radius.


On-demand button: Hold the button down for as long as you want the water stream to last.


Good for travel: While it lacks a bit of functionality for everyday use at home, it may be a good device for travel.

Modes and intensity levels: There isn't much of a difference in intensity settings.


Small water reservoir: The water tank is small and empties quickly.

Slow charging: It takes 12–14 hours to fully charge the unit.

Oral-B Water Flosser Advanced review (countertop model)
The Oral-B Advanced uses the same Oxyjet Technology that the handheld model uses to clean deep below the gumline with a stream of water infused with microbubbles of air to get rid of plaque and bacteria.
It also has the on-demand button for more control, and a selection of streams for tailored cleaning.
Here's where it differs from the cordless model:
Reservoir size: One of the great advantages of a countertop model is that you don't have to stop mid-floss to refill the reservoir. This one holds 700ml of water.
Flossing modes: You can choose from 5 flossing modes to find the best pressure for your gums
Nozzles: It comes with 3 aquafloss nozzles and 3 precision jet nozzles
All-in-all, you're getting the same benefits with the countertop model as you would with the portable model, but with a larger reservoir and more flossing modes. So if you've got the counter space and you want to personalize your flossing experience a bit more, then this may be the model for you.
Alternatives
While the Oral-B water flosser will get the job done, you may want to consider some alternatives. One of the most well-known brands of water flossers is the Waterpik water flosser.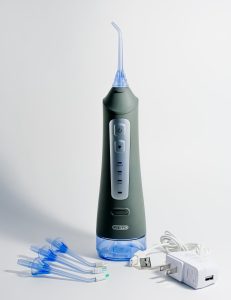 That being said, the flosser at the top of our charts is the cariPRO water flosser, as it provides you with better value for money.
The cariPRO is made by professional oral care brand Smile Brilliant and features:
3 flossing modes
4 flossing tips
28-day battery life on a single charge
Waterproof design
Rapid charging
2-year warranty
We have a full article on the cariPRO water flosser where you can read all its benefits in detail, and you can check out the comparison with the Oral-B water flosser in the following table.
cariPRO Cordless water flosser


Two nozzles with three different types of streams


Three flossing modes (intense, medium, sensitive)

Soft-touch, non-slip handle

Lower quality battery (NiMH)


3 flossing modes (normal, soft, and pulse)

Ergonomic slim design with graphite gray soft-touch grip

4 premium floss tips (standard, ortho, brush, and pocket tip)

Auto-interval smart timer

Details correct at time of writing; check marketplace for current price and policy details.
Conclusion
Oral-B is a good brand, and the Oral-B Water Flosser can help you take better care of your teeth when added to your oral hygiene routine. But remember that water flossing shouldn't be a substitute for regular flossing.
This water flosser has basic features and is a good option for those who don't want any frills or extras.
There are a wide variety of water flossers on the market, and our top pick is the cariPRO Cordless Water Flosser, which has a 28-day battery life, comes with 4 different tips, and is compact and portable.
FAQ
Does Oral-B make a water flosser?
Yes, Oral-B makes a water flosser model. However, unlike other brands, they only make a portable version and not a countertop water flosser, which limits the choice.
Which is better: Oral-B or Waterpik?
Even though Oral-B is a well-known brand, Waterpik provides a greater selection of water flossers. If you are looking for innovative premium products, Waterpik might be a good choice.
Can you use mouthwash with Oral-B flosser?
Yes, mouthwash may be used in an Oral-B water flosser. Pure mouthwash, on the other hand, is not suggested and may be costly. It's enough to mix a few drops of mouthwash into some warm water.
Sign up to receive the latest news and offers from Dentaly.org