If you aren't a fan of flossing your teeth, you may want to consider air flossers for optimal oral hygiene. These electronic devices use focused streams of air to clean between teeth.
In this article, we'll go into what an air flosser is and answer the following questions so you can find the best air flosser for your needs:
Are air flossers any good?
How do you use an air flosser?
Is an air flosser better than a water flosser?
What is the best air flosser?
What do air flosser reviews say?
You don't have to rely on traditional floss to help maintain your oral hygiene, but it's good to understand the pros and cons of each alternative.
The following table is a summary of the best air flossers in the US, but you can read on for more detail:
Philips Sonicare Airfloss Ultra

Cordless: 2-week battery life on a full charge

Large, easy-fill reservoir

Works with antimicrobial mouthwash (included)

Oclean Cordless Air Flosser

Water and air flosser

Oxyjet technology

Number of settings: 6

Cordless: Yes

145 ml reservoir
What is an air flosser?
We all know what flossing is — the action of cleaning between your teeth and around your gums where your toothbrush can't reach. An electric air flosser is a device that helps you do this with air; more specifically, by using a stream of air and droplets of water.
The stream of air and water disrupts the biofilm on your teeth and removes bacteria and food particles. This helps to prevent plaque and tartar build-up, as well as prevent tooth decay and periodontal disease.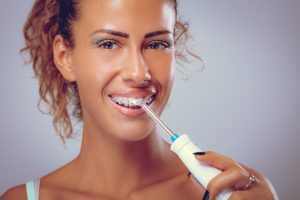 Now, you may be thinking that sounds just like a water flosser. We will get on to the differences between the two types of flossers later on, but for now, you just need to know that the amount of water that an air flosser uses is minuscule in comparison to a water flosser.
Before we compare air and water flossers, let's find out if they are any good compared to traditional floss.
Are air flossers any good compared to regular floss?
The first question we should ask is, are air flossers are any good? Yes, they do disrupt the biofilm on your teeth and gums and help to remove bacteria and food particles from hard-to-reach areas.
However, this study found that when compared to regular floss and brushing, air flossers remove far less of the surface coating on the teeth. This is not really surprising, as regular old brushing and flossing are very efficient.
But, while regular floss may be more efficient, that does not mean people want to use it. In fact, some would rather not floss at all than have to use regular floss on their teeth. And those with fixed braces or crowns may also struggle and need other options.
That's where air flossers and water flossers come in. They provide an alternative, and air flossers even more so than water flossers for those with sensitive teeth.
They may remove less than regular floss, but for those that can't or won't use floss, it's certainly better than nothing when it comes to removing plaque and bacteria. Combined with brushing your teeth, some dentists say that should be enough to maintain your oral health.
So, when it comes to alternatives to regular floss, what's best? Air or water flosser?
How do air flossers compare with water flossers?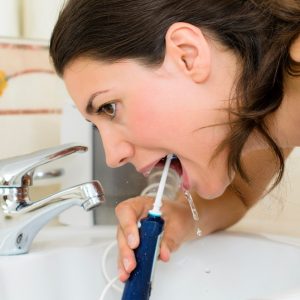 Water and air flossers are very similar, and they are both devices used to get between your teeth and clean where your brush can't. They look pretty similar as well. The main difference is that water flossers usually have a bigger handle or attached water tank.
This leads us to the main difference between the two flossers, which is that water flossers rely on a stream of pressurized water to clean between your teeth, and air flossers use a stream of air and small micro water drops.
Because of their different ways of flossing, they have slightly different-looking heads. While most water flossers heads have a thin nozzle to shoot water, air flossers typically have a round head.
So, which is better — AirFloss or Waterpik? If we look at this study comparing the Sonicare AirFloss to the Waterpik, the water flosser is more effective at both gingivitis and plaque removal.
But that doesn't mean you should buy a water flosser instead of an air flosser. Air flossers have their advantages — let's take a look.
Air flosser advantages and disadvantages
Although air flossers may not be proven to be as effective as water flossers, they do have their advantages.
Advantages
Less messy, as they use less water
Easy to use
Don't take up as much space as water flossers
Good for sensitive teeth
Cordless
Good for those with fixed braces or crowns
Disadvantages
Don't remove as much plaque or food particles as other flossing methods
Less effective than a water flosser
Expensive
How to use an air flosser
The air flossers that are on the market are cordless and hose-free and work by shooting bursts of air mixed with droplets of water along the gum line and between teeth. To use it, take the following steps.
Add lukewarm water or mouthwash to the water reservoir on the device
Put the nozzle in your mouth and position it below the gum line and between the teeth
Press the button to activate and it will give three bursts of air
Move the nozzle along the gumline and repeat until you have finished cleaning your full mouth
The whole process will take under 60 seconds to clean your mouth (or less, depending on the model)
The following video shows you how an air flosser works, and how it's used.
What is the best air flosser in the US?
One of the best air picks for teeth on the market today is the Philips sonic air flosser. Their range of air flossers uses a stream of air with water droplets to floss between your teeth and gums. Let's have a look at their top models now:
Philips Sonicare AirFloss Ultra
The Sonicare AirFloss Ultra is our top pick for the best air flosser in the US. The Airfloss Ultra is the latest edition from Philips in their AirFloss range.
It looks very much like a water flosser, but with a round nozzle head instead of the usual straight nozzle. This sleek-looking air flosser comes in two different colors and boasts the latest features including:
Triple burst technology
60 second clean
Cordless
Manufacturer's 2-year guarantee
Philips claims that it can remove 99.9% of plaque when used in conjunction with a manual toothbrush and antibacterial mouthwash. And it can increase gum health in two weeks according to their studies!
Oclean Cordless Air Flosser
The Oclean Air Flosser is a mid-range option that uses compressed air power and water to clean between teeth without damaging gums.
The spray forms an umbrella shape for an extra gentle effect, and the air power can be increased to 33% for removing deeply hidden food particles and stains between teeth.
It requires much less water than a water flosser because the air is doing the majority of the work. This means it is much more portable and easier to take with you on the go.
It also has 9 potential cleaning modes, with 3 built-in default flossing modes: manual deep cleaning, manual standard cleaning, and automatic cleaning. You can customize your modes by using the Oclean Pro app.
The main features of this air dental flosser can be summed up as:
3 default modes
Additional modes available for download
Compact and portable
Cordless
Oral-B Aquacare 6 Pro-Expert
The Oral-B Aquacare is actually more of a water flosser, but we have included it because of its Oxyjet technology. This water air flosser actually utilizes micro air bubbles in its flossing action.
The Oral-B air flosser still relies on a stream of pressurized water to disrupt the biofilm on your teeth, but the cleaning action is boosted by these microbubbles. This water flosser also includes the following features:
Removable water reservoir
Two intensities: regular or sensitive
Two streams: focused or rotational
Six cleaning modes
Cordless
If you are interested in seeing more water flossers, you can read our full guide here, or keep reading to find out what air flosser reviews say.
Air flossers reviews
In the following video, Katie The Hygienist talks about why she likes the Philips AirFloss (although she reviews an older version which has since been discontinued) and also why she dislikes it.
The next review is of the newest model of the Philips Sonicare, which we reviewed earlier on in this article.
She has sensitive gums and she doesn't like flossing. When she started using the flosser, she found that her gums didn't bleed or hurt. Flossing only takes her 60 seconds with the Philips AirFloss and is a lot easier.
You can watch her full review below.
Conclusion
Electric air tooth flossers are still a relatively new concept, and there are very few on the market. In fact, Philips is the only brand to have a range of air flossers on the market. Try their new AirFloss Ultra, which is an upgrade from their older model.
The Oclean is another air flosser that, like Philips, uses some water to support the cleaning action of the air stream. It's a good option for those who like tech because it comes with the Oclean app as well.
Oral-B comes close by utilizing Oxyjet technology and incorporating microbubbles into their stream of pressurized water. But their Aquacare Pro-Expert water flosser is still very much a water flosser.
Overall, nothing beats traditional flossing, but if you need something slightly easier to use, then air flossers may be the solution for you.
Sign up to receive the latest news and offers from Dentaly.org