With so many options available, it can be hard to know which is the best dental insurance plan for you and your family. That's why we've compiled this guide to explain what types of insurance are available in the US and what you should consider when choosing a plan.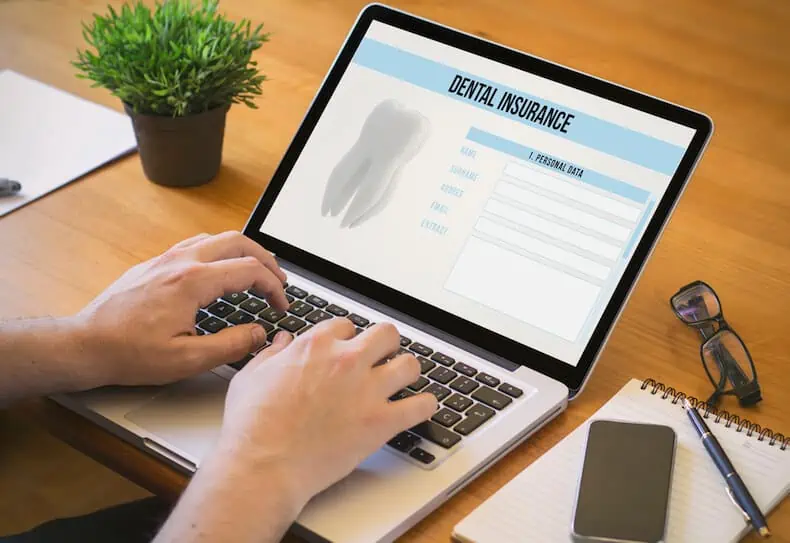 Find out which providers are best when it comes to:
Affordable dental insurance
Policies for families, seniors and individuals
PPO and DHMO
Discount plans
Best dental insurance plans
We'll also go over which treatments are covered by the different insurance plans, from routine cleanings to dental implants and more!
Dental insurance made easy
Is dental insurance worth it?
The short answer is: Yes, especially preventive care plans, and if you can't afford one, you should try to find a discount plan.
The long answer is: The cost of dental care has increased by 20% over the past decade, and almost a third of uninsured Americans say they have avoided getting the treatment they needed for financial reasons.
Despite the high cost of dental care, around 74 million Americans don't have dental insurance through an employer, group program, or public program. Are you one of them? If so, it's understandable.
But as a consequence of not having insurance on a national level is that 41% of adults have medical and dental debt — as was found in a recent survey by the Kaiser Family Foundation.
Even though an insurance plan can help spread the cost and protect against any unexpected bills, plans can cost a lot and provide little coverage for the most expensive procedures.
That being said, it's worth the effort to compare dental insurance plans and at least sign up for a low-cost dental plan that covers preventive care, if nothing else, so you don't have to pay for more expensive restorative procedures down the road.
All in all, the best dental insurance plans for you, will be the plan that you can afford, and that provides at least basic coverage, and coverage for some of the procedures you may need in the future.
Explanation of terms
It's easy to get lost when talking about insurance if you don't understand some of the basic terminology. So before we dive into the best dental insurance plans, let's go over that now:
Annual maximum benefit limit: An annual maximum is the total amount your dental insurance provider will pay for dental care within a 12-month period. Under your dental plan, you will be responsible for covering costs that exceed the limit. The most affordable dental insurance plans will have a lower annual maximum.
Annual deductible: Dental insurance policies with an annual deductible require you to pay a fixed amount before any reimbursement is given. Some insurers waive the deductible for routine diagnostic and preventive treatment.
Copay: This is a set rate that you will pay for dentist visits, prescriptions and other services under your family or individual dental insurance plan.
Waiting periods: This is the period of time you must wait after you purchase your insurance, before your coverage kicks in.
Coinsurance: This is the percentage of your care cost that you are responsible for paying, after you've met your deductible and paid your copay.
Types of dental insurance plan
First of all, how does dental insurance work?
Dental insurance plans can be divided into three main types which we'll talk more about now:
Dental indemnity insurance plans
Indemnity dental insurance lets you see whatever dentists you want, as there is no network. That means you don't need to choose your primary care dentist, and you might not need referrals to see specialists.
When you compare dental insurance plans, you'll notice that indemnity plans normally have an annual deductible and coinsurance. The deductible means that you will pay out of pocket for services until you reach the deductible. Once you meet the deductible, your dental insurance plan will share the costs with you for covered services—that's the coinsurance.
This type of plan typically costs more than the other types of dental insurance, but it may be the best dental insurance plan for you if you want more freedom and fewer restrictions and requirements.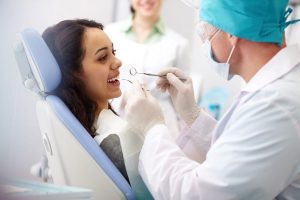 DHMO (Dental Health Maintenance Organization)
Also known as a Dental HMO, this type of plan offers coverage through a particular network of dentists. Members benefit from discounted rates for their treatment, and some services, like cleanings, exams and x-rays are usually covered 100%. DHMO networks are typically quite small and there is no cover if you are treated by a dentist from outside the network.
As you compare dental insurance plans, you'll find the lowest premiums with this type of plan, often with the added benefit of no annual limits or deductibles. Some plans come with little or no waiting period, even for major dental work, so they can be a popular last-minute purchase for people facing otherwise unaffordable treatment.
PPO (Preferred Provider Organization)
PPO dental insurance plans are similar to DHMO, but usually with a wider network of approved dentists. These plans may provide some level of coverage for treatment with dentists outside the network, too. However, you can expect to receive a smaller discount if you use a non-approved dentist. These plans also typically cover 100% of in-network preventive care like cleanings, exams, and x-rays.
With a PPO, you do have to pay higher premiums, and you'll have higher deductibles and coinsurance than with a DHMO plan.
Comparison of insurance types
In the table below, we compare dental insurance plans based on type:
| | | | |
| --- | --- | --- | --- |
| | | | |
| | High annual caps for a broad range of treatments; see any dentist | High premiums and annual deductibles; usually only for groups | People who want high limits and less restrictive coverage |
| | Offer a % discount without deductibles or paperwork; low cost premium; some preventive care may be included | Restricted network of providers | People who need affordable dental insurance and are happy to stick to an approved provider network |
| | Offer a % discount without deductibles or paperwork; more flexible and broader benefits than DHMO; can see any dentist | Higher premiums than DHMO; lower discounts for out-of-network dentists | People who need the flexibility to see any dentist for a range of treatments |
Choosing the best dental plans
The best dental insurance plan for you will depend a lot on the products available in your state and the work you need to have done. If you already know what treatment you need, it can be well worth taking the time to work out exactly how much you'll have to pay with different insurance plans.
In this detailed case study from Policygenius, a patient needing basic preventive care, a filling, and an extraction could get their annual expenses down from $1,488 to $420 with one particular insurer. A patient requiring a root canal and porcelain crown saved almost nothing with that same insurer, but could more than halve their expenses with a discount plan.
To find out more about dental discount plans, read our article here.
Best dental insurance plans in the US
There are many plans to choose from, and it can be difficult to get the details of each plan straight to choose the best dental insurance plan for you.
You can find good dental insurance with no deductible, or plans that include orthodontic treatment or dental implant insurance. Some plans even cover up to 50% of major restorative services. You can find out more in our guide to the best dental insurance for major dental work.
If you want to get started right away comparing dental insurance plans, you can go to DentalInsurance.com. Simply enter your zip code and date of birth, and this online marketplace will let you browse a wide range of plans available in your state. You can also call 888-626-0057 to speak to one of their helpful licensed agents.
If you're looking for options with coverage for orthodontic work or implants, it's quick and easy to search the different options and check prices.
Now let's take a look at some of the top dental insurance companies you might be considering. The following list of dental insurance companies gives the main benefits of each plan so you can more easily see what sets them apart from one another.
Aetna dental
Humana dental insurance

Humana is one of the top dental insurance companies in the country in terms of size, offering both individual dental insurance plans and group dental insurance plans. They have special Humana Extend plans (Humana Extend 2500 and 5000) and then they have three PPO plans and a DHMO.
The Extend plans are designed to prevent problems before they happen and provide coverage if they do. Both plans offer extensive preventive dental services including:
2 oral exams per year
2 cleanings per year
2 fluoride treatments per year
1 comprehensive oral exam every 3 years
1 perio exam every 3 years
1 panoramic x-ray every 5 years
Highlights for the 2500 plan include:
$1,000 annual maximum for implants per person
$2,500 annual maximum per person in general
The Humana 5000 plan offers even greater benefits:
$2,000 annual maximum for implants per person
$5,000 annual maximum per person in general
And both offer $100 teeth whitening allowance per year.
Furthermore, with these Humana plans, the waiting periods can be waived for customers who have prior dental coverage.
And now on to their standard plans:
The first PPO that they provide is the Humana Dental Loyalty Plus plan. With this plan, there are no copays, waiting periods and an annual maximum that increases over three years. For the first year it's $1,000, for the second year it's $1,250 and for the third year and after, it's $1,500. This plan has a one-time deductible of $150 per person or $450 per family. Once you meet that deductible, you never have to pay another one.
The second PPO is their Preventive Plus insurance plan, where basic services are provided and you don't have to choose a primary care dentist for you or your family. You can choose any dentist, whether in or out of network, although your costs will be higher if you choose an out-of-network dentist. With Humana's PPO, you have access to a network of more than 70,000 dentists. Members may also receive discounts from in-network providers, for services that aren't covered by your PPO, including restorative and orthodontic treatment.
Humana's third PPO option is the Humana Complete Dental plan. This plan covers 50% of major services, 80% of basic services and 100% of preventive services. There is a one-time deductible of $50 per person and $150 per family.
Humana also offers a DHMO plan, called their Humana Dental Value plan with 100% coverage of preventive services and no deductible. With this plan, non-emergency office visits cost just $15.
NCD by Nationwide
NCD offers two exceptional full-coverage plans with no waiting periods (if you have prior coverage — even partial!) the 3000 and the 5000. These plans offer high plan maximums and low deductibles, plus a wide range of coverage.
All preventive services are covered 100%, and basic services and care like panoramic x-rays, sealants, amalgams, and extractions are covered 80% with no waiting period.
Major restorative treatment like implants, dentures, crowns, and oral surgery are covered 50% and as mentioned above, there is no waiting period if you have prior coverage. If you don't have prior coverage, you can still get coverage for these services, but the waiting period is 12 months.
These plans have a high annual maximum of $3,000. but with the 5000 plan, you can buy up and get an additional $2,000 for a total annual maximum of $5,000.

Aetna offers an affordable dental plan — a PPO plan — for both individuals and families called Aetna Dental Direct. This plan covers 100% preventative treatment with no out of pocket costs.
And if you are switching from another dental plan there's no waiting period before your coverage kicks in. Aetna may be one of the top dental insurance companies if you are looking for individual dental insurance plans.
Other components include:
Annual deductible: $50 (individuals); $150 (family)
Annual benefit maximum: $1,500
PPO network of over 372,000 providers
Option to enroll in a dental and vision insurance plan
If you get Aetna dental through your employer, in addition to a PPO you may also have the option of a Dental Maintenance Organization (DMO) which is a lower-cost benefits plan, or a Dental Indemnity Plan for greater freedom.
Delta dental insurance / AARP

One of the biggest names in the market, Delta Dental, offers both DHMO and PPO plans. Under-50s can purchase directly through Delta, while Delta dental insurance plans for seniors are offered through AARP dental insurance. You can read more about the best dental insurance for seniors here, or Medicare supplemental dental insurance.
The PPO plans include Delta Dental PPO and Delta Dental Plus Premier. With the standard PPO you get low out-of-pocket costs as long as you get care from within the network. With. the Plus PPO, you can visit your Delta Dental Premier dentist even if they aren't in the PPO network, and receive covered benefits.
The DeltaCare USA, a DHMO-style plan, offers immediate dental insurance coverage with no annual maximum and no deductible. You pay an annual fee for coverage, then any treatment you need is provided at a pre-determined, discounted rate. This includes treatment for pre-existing conditions, dentures, crowns, and up to 24 months of orthodontic braces — you can read more in our article about Delta Dental and braces.
You're limited to visiting just one dentist, which you must choose in advance from Delta's extensive approved network.
Finally, Delta also offers their Delta Dental Premier plan, which is a fee-for-service benefits program. Delta pays participating dentists directly for the covered services, and members can go to any licensed dentists but will save more if they choose a Delta Dental Premier dentist.
Cigna dental insurance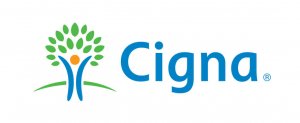 Cigna has three levels of dental PPO plans. The most basic plan covers just preventive care and costs from $19 per month. You may get preferential rates on other treatment just from being a Cigna member, but there is no guarantee of this. There is no deductible, and no maximum benefit, although there are limits on the frequency of each treatment type.
The Cigna Dental 1000 Plan costs from $30 per month and after a 6-month waiting period you receive an 80% discount on basic restorative work. Major restorative work comes with a 50% discount after 12 months. A $1,000 annual benefit and $50 deductible applies for individuals and a $150 deductible for families.
If you upgrade to the Cigna Dental 1500 plan, from $35 per month, the annual benefit increases to $1,500. The plan also covers orthodontic work after a 1-year waiting period, at a rate of 50% up to a $1,000 lifetime limit.
With all of these plans, you may choose to visit any dentist. However, the stated discounts only apply to network dentists. If you visit a dentist outside of the network, a Maximum Allowable Charge (the most Cigna will pay for out-of-network care) is applied to calculate your discount.
Guardian dental insurance

There are two levels of PPO cover available from Guardian: Gold and Silver. Benefits of paying the higher premium for Gold include free preventive care and more extensive benefits such as orthodontic cover for under-19s up to $1,000. There's also no waiting for preventive, or basic services.
Even the Silver level of cover gives dental implant insurance, although a lifetime maximum of $700 applies.
Both levels have a tiered annual limit which increases in the third year to a maximum of $1,000 for Silver and $1,500 for Gold.
Refreshingly, Guardian provides a clear list of limitations and exclusions up-front. This makes it much easier to know whether you're looking at dental insurance that covers everything you need. For example, purely cosmetic work is excluded, as is orthodontic treatment(unless it's specified in the plan).
In the table below you can view more information about selected PPO plans from the providers mentioned to compare dental insurance plans:
| | | | |
| --- | --- | --- | --- |
| | | | |
| | High annual caps for a broad range of treatments; see any dentist | High premiums and annual deductibles; usually only for groups | People who want high limits and less restrictive coverage |
| | Offer a % discount without deductibles or paperwork; low cost premium; some preventive care may be included | Restricted network of providers | People who need affordable dental insurance and are happy to stick to an approved provider network |
| | Offer a % discount without deductibles or paperwork; more flexible and broader benefits than DHMO; can see any dentist | Higher premiums than DHMO; lower discounts for out-of-network dentists | People who need the flexibility to see any dentist for a range of treatments |
Other types of cheap dental plans
Often lumped in with insurance plans are payment plans and discount plans (also called savings plans). While these are not dental insurance plans, you may find that either a savings plans for a payment plan works better for you.
Discount/Savings plans
Another way to lower the cost of dental care is with a dental savings plan. For a fixed annual fee you receive a certain discount off the standard price of dental treatment.
Discounts for these affordable dental plans from around 10-50% depending on the type of treatment. The annual fee often includes free dental checkups and cleanings. This preventive care is a good way to protect against and identify any potential problems before they become more costly.
Because there is a simple discount structure without annual limits and deductibles, this usually means there is no tedious paperwork to complete and you receive the discount straight away.
Some dentists will allow you to combine a dental discount plan with your insurance to minimize your out-of-pocket costs if you exceed your annual maximum. However, this is entirely at their discretion, and some dentists won't let you apply both types of insurance to the same procedure.
If you're considering 'doubling up' your coverage in this way, first check that your dentist is in both insurance networks and is willing to accept both policies at once.
Payment plans
If you can't find an affordable dental insurance plans, you may want to consider a payment plan. A payment plan is simply a way to pay for an expensive dental procedure in stages, or installments. If you get a $5,000 implant procedure, instead of paying $5,000 all at once, you can make a plan with your dentist to pay $200 per month for two years. This is a simplification of the process, as there may be other factors. Some dentists offer a discount if you can pay a larger sum upfront, and some plans have interest, which can make your procedure more expensive in the long term.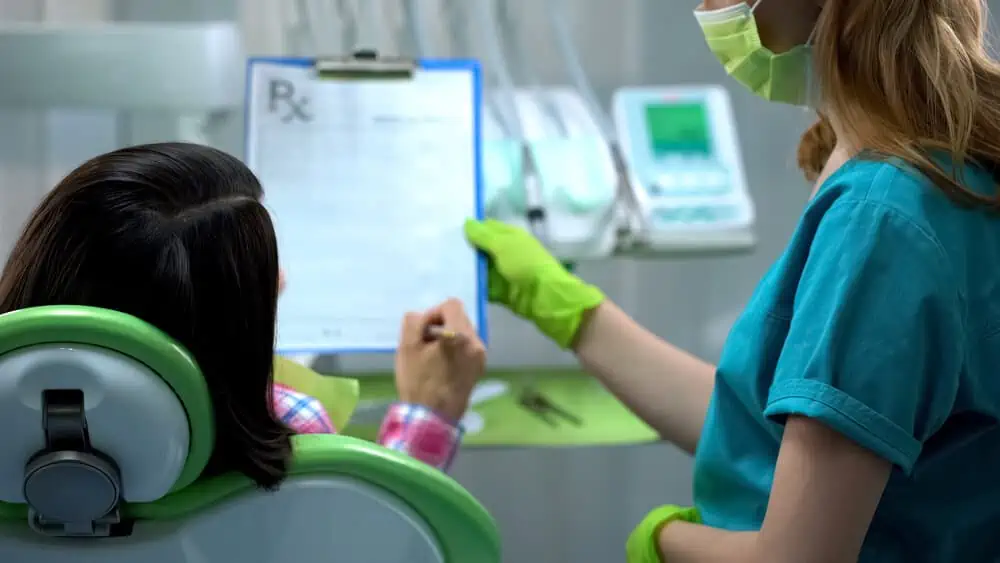 This can be an appealing alternative for people who don't like the idea of paying for insurance they may never use. However, be aware that you will be responsible for the full cost of any treatment you need.
We have an article on payment plans for dental care with more information on how they work and things to consider before you sign up for one. You can also find out about other options for paying for a cheap dentist without insurance here.
How to get dental insurance
There are two routes you can go to sign up for dental insurance:
Choose a health and dental insurance plan: You can search for these plans through the Affordable Care Act on the online insurance Marketplace, but you can only do so during the enrollment period, unless you have a major life event that could affect your insurance eligibility like losing a job, changing income, or moving.
Purchase a stand-alone dental plan: If you already have health insurance and you're looking for a separate dental insurance plan, or a supplemental dental insurance plan, you can search for these through the government's online marketplace, or you can go directly to insurance companies' websites and enroll there.
To find your dental insurance plan or dental discount plan, head to Dentalinsurance.com. It's fast, easy and free to browse plans in your area without giving up any sensitive information. You can also enroll right on the spot if you find a plan that works for you.
Before you sign up
It can be hard to compare dental insurance plans and discount plans since there are so many variables to consider. Most providers offer different levels of dental cover and you'll need to decide which things are must-haves for you and your family. If you're looking specifically for a family plan, check out our full article about family dental insurance as well.
Even the most comprehensive dental insurance will have some exclusions. To complicate the matter, insurance companies are often not upfront with the full details of their policy. You may have to do some digging to find out what you are signing up for.
Here we have listed some of the factors you'll need to think about when selecting the best dental insurance coverage for you.
Whether you have existing cover: Your employer may provide this, or it may even come with a credit card or another insurance product you have. If you discover you are already covered, next you need to check the policy limits. Is the level of cover enough for your needs? If not, you may still want to go down the route of taking out an individual policy.
Read the fine print: When taking out insurance with a specific treatment in mind, always read the fine print to check if and when you'll be covered. This is especially important with any pre-existing conditions. But whatever your situation, take the time to understand exactly what your insurer will and won't pay out for, and what your out-of-pocket costs will be.
Claims procedure: Insurance claims processes are notoriously lengthy and tiresome. If your plan doesn't involve an up-front discount on your treatment, you'll more than likely have to pay the full amount up-front and then claim back whatever your insurance allows for. Check what this process involves and your insurer's processing times.
Existing conditions: Another way insurers protect themselves is by excluding treatment of any conditions you had when you took the policy out. In order to check this, they may require you to have a checkup before your policy starts. Alternatively, they may state that any problems identified at your first checkup won't be covered.
Accident & emergency cover: If you suffered dental trauma in an accident and needed emergency treatment, what would your insurance cover? Would you have the freedom to visit any dentist out-of-hours?
Dental implant insurance: Although dental implants are not usually covered as standard, many insurers will allow you to add this on as an extra. Since implants are so expensive, expect this coverage to come with lots of conditions and a fairly high premium.
In the video below, you can watch a summary of some things you shouuld consider before choosing a plan and a carrier. The video is provided by Delta Dental, but the considerations can be applied to every company.
What's the best dental insurance in my state?
Insurance options vary based on where you live. We have individual articles about dental plans available in each state. Choose your state from the dropdown list to find out more.
Conclusion
Dental insurance as it is today isn't the perfect solution for most American households, but one thing is for sure: It's way better than nothing. We encourage you to enroll in a plan now so that you aren't bombarded with unexpected fees in the future.
And remember, if you can't find an insurance plan that works for you, you can also consider dental discount plans, which are typically more affordable and still provide great discounts, especially for preventive care.
FAQs
Can you get supplemental dental insurance?
Most insurance companies allow you to sign on to one of their plans as a supplement to insurance that you already have that may not cover the procedures you need. In some cases, you may be able to get a discount plan to supplement your insurance plan, but you'll need to discuss this with your insurance provider.
Is there Medicare dental insurance?
Normal Medicare doesn't cover dental, but you may have the option to enroll in a sort of Medicare supplemental dental insurance, in the form of a Medicare Advantage Plan (Medicare Part C). These plans are offered through private dental insurance companies that are approved by Medicare. Not all Medicare Advantage Plans cover dental.
If you are enrolled in Medicare and don't have dental coverage, you should also enroll in a dental insurance plan, or consider enrolling in a dental discount plan. The best dental insurance for seniors on Medicare may be offered by any of the insurance companies we go over in this article. One of those is Delta Dental through which AARP offers dental insurance plans for seniors.
How much does dental insurance cost?
The average dental insurance cost is between $200 and $400 per year per individual, with an annual deductible between $50 and $200, and the annual maximum benefit between $500 to $2,000.
What is the cost of dental insurance?
Affordable dental plans are easy to find — dental insurance costs anywhere from $300 to $700 per year for the average plan. This is much less than standard health insurance. Standard insurance can have monthly premiums of $200 for basic coverage. But keep in mind that many plans have yearly maximums of around $1,000 and deductibles of $1,000 as well.
What is the best dental insurance?
The best dental insurance is a plan that covers your specific needs. It doesn't really matter which company you choose, you need to consider what dental expenses you may have in the future. Do you just want routine preventive care?
Then the best plan for you might be one will a low annual fee, and no deductible. However, if you think you might need major restorative services, your plan may be one that costs more, but has a higher annual maximum to cover more expensive treatments.
Does health insurance cover dental?
Health insurance plans don't automatically cover dental. However, if you're looking for health plans on the ACA marketplace, you can find some plans that offer dental as well. Another option is to buy a stand alone dental insurance plan.
Is there dental insurance for college students?
Your school may offer a limited insurance plan, but some providers have plans for low-income individuals. You may also want to consider dental discount plans. Read our full article on dental insurance for college students.
Sign up to receive the latest news and offers from Dentaly.org