Are you looking for the best dental insurance in Illinois? With so many choices, determining which dental insurance plan is best for you can be difficult. How can you know which dental plans are worth the extra cost?
We've combed through the top dental insurance plans available and put together this resource to help you find the best dental insurance plans in Illinois for you.
The following are included in this resource guide:
What should you look for in a dental insurance policy?
Review of Delta Dental Illinois and other providers.
We hope that this information assists you in determining the ideal dental insurance plans in Illinois for your specific requirements.
Find the best dental insurance in Illinois
Dentalinsurance.com allows you compare dental insurance plans in Illinois in one convenient location. This online marketplace makes finding a plan a breeze.
Simply enter your zip code and date of birth to see plan availability, or call 888-626-0057 to speak with one of their experts.
What to look for in an Illinois dental insurance policy
Waiting period
You're looking for dental insurance plans in Illinois with no waiting period, right? Who wants to wait a year for treatment, especially if there is a sense of urgency? With most dental insurance plans, the no waiting period only applies to preventive procedures like cleaning, x-rays, and exams.
Coverage
Preventative services are covered by many plans, so check to see whether the one you pick covers them. However, if you want more significant procedures such as implants or orthodontics, you should select a plan that covers these costs, as they may be rather pricey.
Cost
When it comes to dental plans in Illinois, many consumers prioritize price as a deciding factor. Yet, the entire cost of the dental plan is made up of several distinct things. You have to take into account the monthly or yearly premium, the copayment, the deductible, and the annual maximum benefit of the dental insurance plan.
Individual dental insurance
Individual dental insurance can assist in covering all or part of the cost of various dental operations, ranging from routine cleanings to significant procedures like oral surgery. The individual dental insurance and employer-sponsored dental insurance differ mostly in how they are obtained.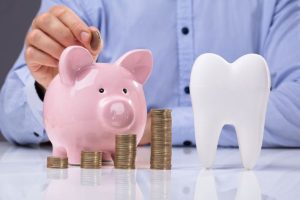 Dental insurance for seniors
Dental insurance for seniors is similar to dental insurance for younger people, with the exception that it concentrates on the coverage that seniors are more likely to require. Aetna and Cigna provide plans that are recommended as dental insurance in Illinois for seniors.
Dental and vision insurance
Many health care providers offer vision and dental insurance to encourage consumers to get all their insurance in one place. Delta Dental and Humana are insurance providers who offer dental and vision insurance in Illinois.
Best private dental insurance providers in Illinois
Delta Dental insurance
Let's start with one of the most well-known providers of dental insurance in the state:
Delta Dental is one of the state's largest dentist networks. You may see any dentist you like if you pick one of their PPO plans, but many network dentists offer reduced rates, so you can save even more money.
Delta Dental Insurance Illinois offers five individual PPO plans.
Bronze Plan
Silver Plan
Platinum 1500 Plan
Platinum 2000 Plan
Platinum 2500 Plan
The most significant variation between the plans is in the co-insurance levels (the proportion paid by Delta Dental of Illinois for certain covered procedures).
When it comes to Delta Dental Illinois coverage, each plan has a varied number of treatments covered. The cheapest "Bronze" plan covers preventive care at 100%. For coverage on fillings, crowns, and root canals, you have to buy a higher plan.
Preventive services have no waiting period. Some major treatments have a 6-month waiting period. But if you had eligible dental coverage prior to enrolling, you may be exempt from waiting periods.
Cigna dental insurance
Cigna dental insurance in Illinois offers 3 different plans:
Cigna Dental Preventive: This dental insurance plan covers preventive in-network treatment with no deductible. Preventive treatments are procedures like cleanings, checkups, and x-rays. If you want restorative procedures and orthodontics covered, you will have to upgrade to a higher Cigna dental insurance plan.
Cigna Dental 1000: Preventive care coverage is the same as with the basic plan. Restorative procedures are covered up to $1,000 per year after the deductible and coinsurance.
Cigna Dental 1500: The dental coverage is similar to Cigna Dental 1000, but with a $1,500 maximum reimbursement for restorative procedures. Orthodontia is covered up to $1,000 on this dental insurance plan.
Guardian dental insurance
The Guardian dental insurance in Illinois offers 3 PPO plans and 1 DHMO plan. If you are looking for affordable dental insurance in Illinois, then a DHMO plan might be right for you. The Guardian DHMO plan has lower monthly costs than the PPO. The PPO allows you to choose your dentist more freely, but it comes at a higher monthly fee.
Aetna dental insurance
Aetna Dental offers two plans in Illinois. A direct plan, which works like a dental health insurance policy, covers your preventive care with no out-of-pocket expenses.
In addition, Aetna Dental Illinois offers a Dental Discount Plan. You can save between 15 and 50% off most services.
Great variety for every budget; Large network

Increasing annual maximums

Great savings plan; Large network

Information is accurate as of time of publishing
Conclusion
It can be tough to determine which dental plan offers the advantages that are most beneficial to you. Make sure you understand what you're signing up for by reading the fine print.
Finally, if your dental insurance covers preventive care (or comes with a low co-payment), take advantage of it! Regular dental examinations and cleanings will keep your teeth in good shape.
Dentalinsurance.com will assist you in finding the best dental insurance plan for your needs. Compare top dental insurance plans in Illinois by entering your ZIP code and date of birth. Click the button below to get started.
If you want to read about the best insurance option in any other state, please select from the list below.
Sign up to receive the latest news and offers from Dentaly.org