Looking for Snow Teeth Whitening reviews? Snow whitening kits are a popular and effective way to whiten teeth at home.
In this article, we take a detailed look at the science and reviews behind this product. We also answer the following questions:
What exactly is the Snow system?
Does Snow Teeth Whitening work?
How much does it cost?
Will it make your teeth white?
Is Snow Teeth Whitening safe?
Keep reading to find out all you need to know to make an informed decision!
In short: Why choose Snow?
Nearly 1 million happy customers
90% of users get a whiter smile after a single use
Lasting results from just 9 minutes a day
Brush-on application system to protect your gums
Kits contain a year's worth of treatments
Made in the USA
Satisfaction guaranteed – or your money back!
Snow — Is it safe and does it work?
Yes, Snow is safe, and yes, it works. But let's have a look at the details.
Does Snow Teeth Whitening work?
Yes, the Snow Teeth Whitening system does whiten teeth when used following the instructions. That's because the whitening gel contains hydrogen and carbamide peroxide, the most common active whitening ingredients.
You probably won't get results that are as noticeable as you would from an in-office procedure from the dentist, but most people who use Snow do notice a difference in the color of their teeth.
Is Snow Teeth Whitening safe?
Snow is safe, but keep in mind that it uses peroxide to whiten teeth, which may cause sensitivity and shouldn't be ingested. That being said, this kit is made with sensitive teeth in mind. And aside from peroxides, there are no harsh chemicals used in the whitening formula.
How does Snow Teeth Whitening work?
The Snow whitening serum contains hydrogen and carbamide dioxide. To use Snow, you brush the serum onto your teeth, then insert an LED mouthpiece while you whiten for 10 to 30 minutes.
You should use the whitening kit for 21 days to achieve best results.
Snow works thanks to the hydrogen and carbamide peroxide in the whitening gel. The LED mouthpiece may speed up the whitening process, but it won't actually make teeth whiter.
Snow Teeth Whitening kits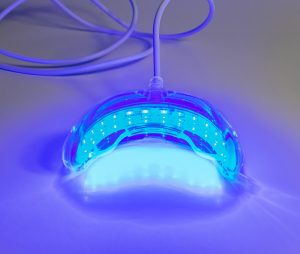 Snow uses activating LED light technology, which has been demonstrated in some cases to accelerate the whitening process – although it should be noted that there are other studies that don't show the same results.
It works in as little as nine minutes per day. It targets all sorts of stains, from coffee, wine, tea, tobacco, and really anything else you can think of.
But it's not just about getting whiter teeth. When you buy Snow teeth whitening, you're:
Buying local: The product was developed in California. Each kit is made in the US and ships from Arizona.
Using fewer chemicals: Keeping in mind that peroxides can cause sensitivity, the Snow whitening system is safe to use, and is designed for all types of teeth, making it good teeth whitening for sensitive teeth.
Taking a stand against animal testing: Snow whitening products are never tested on animals.
With Snow Teeth Whitening, you have two kits to choose from: the Original kit and the Snow Wireless Kit. Both receive positive reviews, but let's have a look at the differences between these two systems so you can decide which one is best for you personally.
Original Kit
This is the original Snow Whitening system that rocketed the Snow name to the top of whitening kit brands around the world.
You'll see results from using it for as little as nine minutes a day, although you can use it for up to 30 minutes twice daily for stronger results.
When you order the Original Kit, you will receive: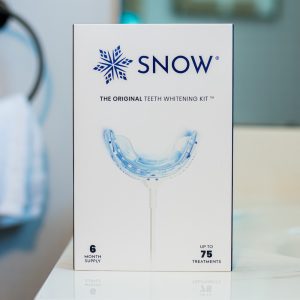 1 mouthpiece with patent-pending LED technology
3 silver (standard) whitening wands with advanced whitening serum to erase stains
1 gold (extra-strength) whitening serum wand
75 treatments at just $1.60/treatment
1 teeth whitening progress tracker
Wire for connecting to iPhones, USB, and other smartphones
An app which lets you control just how much you whiten your teeth (although one review we include mentions that it didn't work)
30-day money-back guarantee if you're not happy with the results
5-year warranty
What makes Snow teeth whitener different?
Apart from the app and the fact that it lasts a whole year, one of the best things about Snow is that you brush the whitening serum directly onto your teeth. This has several benefits over other whitening kits where you apply the gel to a mouth tray:
You get completely even coverage
It's less messy
The gel lasts longer because you're only using what you really need
There's no risk of excess gel squirting out onto your gums and causing irritation or sensitivity
The original kit is the most popular, normally sold for $199. But right now, it's discounted by $50, so you can get it for just $149. Click through to get your Original Kit at this special rate.
So, if you're ready to whiten your teeth from the comfort of your home and for an affordable price, the Original Kit is a great option.
It comes with everything you need to get that white smile you've always dreamed of, with results lasting more than a year with continued use.
Not in the US? No problem! Snow whitening kits ship to wherever you are around the world. So don't let borders stop you from getting whiter teeth.
Wireless Kit—2nd Generation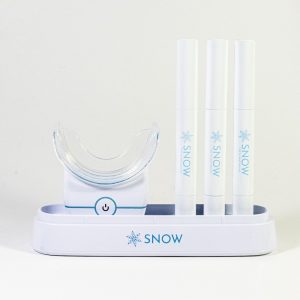 The Snow Wireless Kit has a re-engineered, ultra-sleek design and more whitening power than ever.
As the name suggests, the Wireless Kit is, well, wireless. It includes all of the same great features as the Original Kit, plus the following that add extra convenience and reassurance to your whitening:
Water-resistant – Save time during your morning routine, and whiten while you shower.
Dual-light therapy – The mouthpiece uses blue LED light to whiten teeth, and red LED technology, which Snow says will support gum health, although it's not clear if the Snow red light is the same used in studies that show that red light LED can improve oral health.
Cordless charging – Just place your mouthpiece in its carrying case when you're finished whitening to charge.
Self-sanitizing – An automatic UV light sanitizes your mouthpiece while it's charging.
Portable – The new design is sleek and fully portable, so you can whiten wherever you go.
It also comes with:
2 silver (standard) whitening wands
1 gold (extra strength) whitening wand
The 2nd Generation Wireless Kit is yours for $299. Included in the price is a 5-year warranty—that means you get at least five years of whitening by purchasing this kit—just order refills of the whitening gel when you need a touchup.
So, if the idea of whitening your teeth while you check your email wasn't convenient enough for you, with the Wireless kit you may be able to reduce bacteria in your mouth, get a whiter smile faster, and take a shower all at the same time. Find out more in our Snow wireless teeth whitening kit review.
Snow refills
One of the things we really love about Snow is that, unlike some other whitening kits, with Snow, you can purchase whitening serum refills.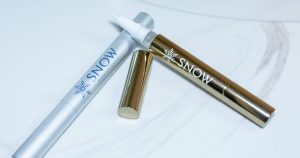 That means you can use the same kit for years to come – it comes with a 5-year guarantee, after all – and purchase the refills you need whenever you want to do a whitening touchup.
The wands come in two sizes:
Standard: 21 treatment sessions
Large: 42 treatment sessions
Snow Teeth Whitening subscription
Snow have just launched their Smile for Life Club, a teeth-whitening subscription service. If you sign up to this when you buy your kit you get:
The Original kit discounted to $129
1 Free Extra Strength Serum worth $29
1 Free Charcoal Whitening Floss worth $15
The subscription costs $29 every three months, and for this you'll get a new Extra Strength whitening wand plus free floss. This great deal continues for as long as you keep the subscription active.
In the video below, you can see the differences between the original and wireless kit.
How to use Snow Teeth Whitening
To use your Snow Teeth Whitening kit, follow the instructions included with your kit, or the ones provided on the Snow website. The general instructions are as follows:
Brush the whitening serum onto your teeth using the applicator wand.
Insert the mouthpiece into your mouth and turn it on.
Keep it in for 9 to 30 minutes (depending on if you want to whiten more or less or if you are concerned about sensitivity).
After your whitening time is up, rinse your mouth and the mouthpiece with warm water.
Snow also recommends: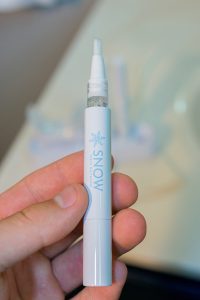 Brushing your teeth before you whiten.
Repeating twice a day for the fastest results.
Storing the whitening wands in the fridge so they keep their potency.
You also may need to twist the whitening wand as many as 30 times during the first use, until the whitening gel comes out.
How long does it take for Snow teeth whitening to work?
Looking at Snow teeth whitening reviews, some people notice their teeth looking whiter after just one or two uses. For others, it might take a few days longer to start seeing results.
A lot depends on how white (or not) your teeth are to begin with and what type of staining you have.
To keep track of your results, a shade guide is included in your whitening kit. It has a space to write the date you begin your treatment, and boxes to check the shade of your teeth before and after whitening.
You can purchase more shade guides when you repeat your treatments.
The recommended treatment course is 21 days, and by the end of this you should definitely see a difference. If not, you're covered by Snow's 30-day satisfaction guarantee.
Snow whitening ingredients
The ingredients used in Snow's safe whitening serum are:
Carbamide peroxide
Glycerol
Deionized water
Sodium bicarbonate
Carbomer
Potassium nitrate
Peppermint oil
Money-back guarantee
If you're convinced that Snow is for you, don't wait any longer to seize this great opportunity to whiten your teeth safely and effectively.
Snow's kits come with a 30-day money-back guarantee if you're not happy with your results, but their 99% satisfaction rate suggests you will be!
Snow Magic Strips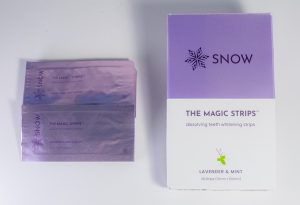 Snow also offers whitening strips that dissolve after 15 minutes. These strips won't slide around and they won't leave any nasty goop behind.
They are small and barely visible, and they have a pleasing lavender mint flavor. Each pack comes with 28 strips, and you can opt for a one-time purchase or subscribe for automatic delivery.
These are a good option for people who don't want to purchase an entire kit, but still want to achieve noticeably whiter teeth.
Other Snow products review
Snow toothpaste
Snow also has a toothpaste — or rather, a set of toothpastes — that help keep your teeth white. You get a morning and an evening toothpaste, called morning frost and evening mist, each containing Snow's gentle whitening formula.
The nighttime toothpaste contains special ingredients that combat bad bacteria while you are sleeping at night.
These toothpastes don't contain fluoride, and it should be noted that the ADA does recommend that adults and children use fluoridated toothpaste for optimal tooth and gum health.
Read Snow toothpaste reviews here.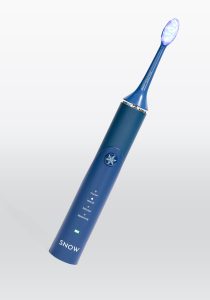 Snow toothbrush
To complete the full suite of whitening products, Snow also makes an LED toothbrush that can help keep teeth white.
This toothbrush features an LED light, specialized bristles and sonic vibrations that help to eliminate plaque, take care of gums and freshen breath. The LED light is supposed to help with teeth whitening, although there isn't currently much evidence to support this claim.
It has a quadrant timer that will let you know when to change sections of your mouth, 4 cleaning modes for customized brushing, and it comes with 2 brush head refills.
Snow tongue scraper
The Snow tongue scraper helps you keep your tongue clean, and your breath fresher. It's made with surgical-grade stainless steel and designed to last for several years.
Snow whitening powder
Boost your teeth whitening routine with the Magic Powder by Snow. It is formulated with cleaning and whitening ingredients like sodium bicarbonate, and silicon dioxide.
To use, just sprinkle it over your toothpaste and brush your teeth like you normally would.
Snow mouthwash
Snow also makes a mouthwash to compliment your tooth whitening and hygiene routine. It features aloe for soothing your gums, and hydrogen peroxide for whitening. It's free from alcohol, parabens and sulfates.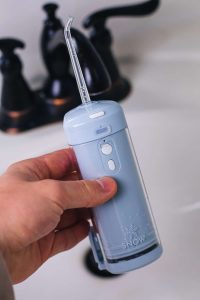 There are two flavors — arctic mint and strawberry mojito, and has a pleasant mint flavor to freshen your breath.
Snow water flosser
The Snow water flosser helps clean between your teeth with a small stream of water. This flosser is made with antibacterial plastic, reusable nozzles, and a collapsible reservoir for compact storage, or taking with you on your travels.
It has three modes — pulse, normal, and soft, and charges conveniently on its base.
Snow Teeth Whitening reviews
Snow Teeth Whitening reviews tend to be positive. Many customers now rely on this system as their go-to for perfectly white teeth. Let's have a quick look at what just some of them have to say.
Dentaly.org Product Reviewer
We had one of our Dentaly.org Product Reviewers try the Original Whitening Kit. She used the kit for just under 21 days and found it to be easy to use.
She even looked forward to seeing her results at the end of each whitening session. She didn't notice any tooth sensitivity, but she didn't have any sensitivity issues to begin with.
Throughout the sessions, she did notice a progressive whitening of her teeth, estimating that they went from a 7 on the shade guide to about a 3.
Her conclusion? If you want to make your teeth a few shades whiter for less money than you would with in-office professional treatment, then Snow is definitely a good choice.
Sher's Snow Whitening review
Sher has a lovely smile but off-white teeth due to her daily coffee habit. She decides to take the Snow 21-day challenge and takes us with her on her journey.
By day 5 she uses the Snow shade guide (included in the kits) to track her progress, and by the end of the 21 days, she says her teeth when from about a 5 on the shade guide to a 2. She never reaches 1, but she notices a marked difference in the whiteness of her teeth and highly recommends the kit.
This next YouTube reviewer has been using Snow for two weeks so far and sums up her experience so far by saying "so far, so good!" She also shows us some Snow teeth whitening before and after images.
She takes us through all of the products that come included with the kit, including those she loves and those she doesn't. She also covers how to use Snow teeth whitening.
This next reviewer is coming to us from across the pond and is no stranger to at-home teeth whitening kits. Even with all of the kits she's tried, she really likes Snow and the different products that come with the kit, especially the sensitivity pen, since she often gets sensitive teeth after whitening treatments.
Find out more about why she recommends Snow for whitening teeth in her full review below, and have a look at her Snow teeth whitening before and after pics.
Snow whitening vs other kits
Let's briefly go over how some of the most popular whitening alternatives stack up to Snow.
Smile Brilliant vs Snow teeth whitening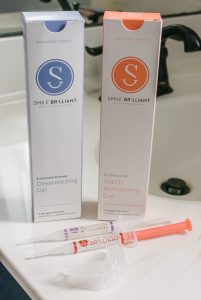 Smile Brilliant is another effective kit that costs much less than in-office whitening. In fact, it's one of the best at-home alternatives to professional teeth whitening. That's because the Smile Brilliant system uses custom teeth-whitening trays and the same whitening gel that dentists use in office.
So how does that work? Here's the process:
Make your impressions: Order an impressions kit online and you'll get everything you need to make molds of your teeth in the mail, including instructions, trays and putty. Make your impressions and send them back using the included envelope.
Make your trays: A dental lab will custom-craft your whitening trays, and then mail them back to you.
Whiten: Once you get your custom whitening trays and whitening gel in the mail, it's time to start whitening your teeth.
If you'd like to try this professional whitening system at home, just click the button below to get started. You can also find out more about Smile Brilliant in our full review here.
Hismile vs Snow teeth whitening
Hismile is another great option if you're looking for an effective at-home whitening kit, designed for people with sensitive teeth.
The unique Hismile formula features PAP+ which whitens discolored teeth without causing any sensitivity. Plus it's also got hydroxyapatite which is a mineral that is naturally present in tooth enamel and can actually help worn enamel remineralize.
If you'd like to know more about Hismile, you can check out our full review here.
Auraglow vs Snow teeth whitening
AuraGlow is another brand of standard at-home whitening. It's made in the US like Snow and comes with a 35% carbamide peroxide gel . They offer a Smile Guarantee, so if you are unsatisfied with the product before a trial period of 30 days is up, you can get a full refund.
Find out more about Auraglow in our full review.
Conclusion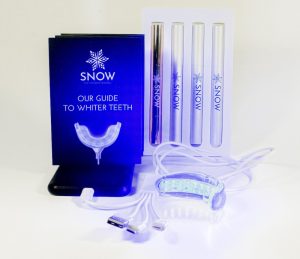 Snow Teeth Whitening offers a fast way to whiten your teeth at home. Their special formula is made without any harsh chemicals and is perfect for people who have sensitive teeth.
They've helped nearly 1 million people get whiter smiles and that number promises to keep rising.
Snow is making their teeth whitening products even more accessible now by offering payment plans so you can spread out the costs. Read more about the Snow Teeth Whitening payment plan.
And remember, you don't have to be in the US to get whiter teeth with Snow. They ship internationally, to any country in the world.
If you haven't yet, have a look at why celebrities are big fans of this convenient and effective whitening system.
Not convinced yet? Check out some of the other best teeth whitening options. One in particular that we recommend is the Smile Brilliant teeth whitening system.
Their custom-made trays and dentist-grade whitening gel means you get the exact same treatment you'd get at the dentist, from the comfort of your home, and for a fraction of the cost. Read our review here to find out more!
FAQs
Is there a Snow Teeth Whitening coupon or discount code?
Yes! There are frequent promotions and discount codes for a variety of products on Snow's website, including the wireless and original whitening kits.
Does Snow Teeth Whitening hurt?
The Snow teeth system doesn't hurt. Even people with teeth sensitivity can use it. One of the reasons why it's good for people with sensitive teeth is the way the gel is applied.
You apply the whitening gel to your teeth by brushing it on with a wand; this ensures that the gel only goes where you want it to—on your teeth, and not on your gums.
Does Snow Teeth Whitening work?
The Snow Teeth Whitening system uses hydrogen and carbamide peroxide in their whitening formula — both ingredients which have been proven to whiten teeth, and are used by dentists.
Can you buy Snow's products on Amazon?
Yes, you can, but we recommend buying through their website where you can access exclusive discounts. Click here to check Snow's best prices before you order on Amazon.
Sign up to receive the latest news and offers from Dentaly.org