Looking for Snow Teeth Whitening reviews? Snow whitening kits are a popular and effective way to whiten teeth at home, touted by celebrities and dentists alike. You've probably seen them all over social media, and maybe your friends are talking about them too.
We wanted to know what all the hype was about, so we decided to take a detailed look at the science and reviews behind this product. In this article, in addition to Snow whitening reviews, you'll find out:
What exactly is the Snow system?
How much does it cost?
How does Snow teeth whitening work?
Will it make your teeth white?
Is the Snow teeth whitening system safe?
Keep reading to find out all you need to know to make an informed decision regarding the whitening of your teeth!
In short: Why choose Snow?
If you want the quick version of how Snow is leading the way in teeth whitening kits, here's the answer:
Over half a million happy customers
Lasting results from just 9 minutes a day
Proprietary application system to protect your gums
Kits contain a year's worth of treatments
Made in the USA
Satisfaction guaranteed – or your money back!
You won't find another whitening system like this on the market, whether in the US or internationally. For those of you reading from another country, don't worry because Snow ships to any country around the world. Keep reading for more details, or check out their best-selling kit here. Right now you can use code BDAY for 20% off your entire Snow order!
What is Snow Teeth Whitening?
Are you skeptical of all the teeth whitening kits and procedures out there? Do they seem too good to be true? The folks over at Snow Teeth Whitening understand—they're skeptics too! Which is why they set out to develop a whitening kit that does everything it claims to; a system that is, as they put it, "for skeptics, by skeptics."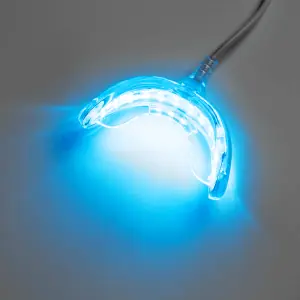 Activating LED light technology is one of the newest ways to whiten teeth, and studies show that it can indeed be effective. Snow Teeth Whitening is an all-in-one, LED-activated teeth whitening kit that gets to work in as little as nine minutes per day. It targets all sorts of stains, from coffee, wine, tea, tobacco and really anything else you can think of.
But it's not just about getting whiter teeth. Snow Teeth Whitening isn't just a product; it's more of a whitening revolution.
When you buy Snow, you're:
Buying local: The product was developed in California. Each kit is made in the US and ships from Arizona.
Avoiding harmful chemicals: The Snow whitening system contains no harmful chemicals and is safe to use on all types of teeth, including sensitive teeth.
Helping make dental care accessible to all: 5% of Snow's proceeds go to help children across America who don't have access to dental care.
Taking a stand against animal testing: Snow whitening products are never tested on animals.
Snow reassures customers that no shortcuts have been or even will be taken in the development of their products. They've poured millions of dollars of research into developing this system, and the result is products which have an indisputable scientific foundation.
So, when you buy Snow whitening products, you know you're getting professional-quality whitening from a company that cares about more than just profits. And you can do all of this from the comfort of your home.
How does the Snow Teeth Whitening system work?
With Snow Teeth Whitening, you have two kits to choose from: the original kit and the wireless kit. Both receive stellar reviews, but let's have a look at the differences between these two systems so you can decide which one is best for you personally.
Original kit
This is the original Snow Whitening system that rocketed the Snow name to the top of whitening kit brands around the world. You'll see results from using it for as little as nine minutes a day, although you can use it for up to 30 minutes twice a day for stronger results.
When you order the Original kit you will receive:
1 mouthpiece with patent-pending LED technology
3 whitening wands with advanced whitening serum to erase stains
1 extra-strength whitening serum wand
1 teeth whitening progress tracker
Wire for connecting to iPhones, USB and other smartphones
An app which lets you control just how much you whiten your teeth
30-day money-back guarantee if you're not happy with the results
5-year warranty
What makes Snow different?
Apart from the app and the unique technology it uses, and the fact that it lasts a whole year, one of the best things about Snow is that you brush the whitening serum directly onto your teeth. This has several benefits over other whitening kits where you apply the gel to a mouth tray:
You get completely even coverage
It's less messy
The gel lasts longer because you're only using what you really need
There's no risk of excess gel squirting out onto your gums and causing irritation or sensitivity
The original kit is the most popular, normally sold for $200. But there is usually a promotion happening that makes it significantly less. In fact, right now you can get 20% off your whole order with discount code BDAY – that's in addition to any other discounts Snow are offering on their products.
So, if you're ready to whiten your teeth from the comfort of your home and for an affordable price, the Original kit is a great option. It comes with everything you need to get that white smile you've always dreamed of, with results lasting more than a year.
Not in the US? No problem! Snow whitening kits ship to wherever you are around the world. So don't let borders stop you from getting whiter teeth!
Wireless kit
As the name suggests, the wireless kit is, well, wireless! It includes all of the same great features as the Original kit, plus the following which add that add extra convenience and reassurance to your whitening:
A wireless, waterproof mouthpiece with blue and red LED technology to kill bacteria in your mouth while you whiten your teeth
Wireless docking station that sanitizes the mouthpiece between uses
Anti-aging lip balm
Desensitizing serum for prevention of sensitive teeth
Luxury travel case
So, if the idea of whitening your teeth while you check your email wasn't convenient enough for you, with the Wireless kit you can reduce bacteria in your mouth, get a whiter smile, and take a shower all at the same time.
If you're ready to take convenient teeth whitening to a whole new level with Snow's advanced features, don't forget to use code BDAY at checkout to get an extra 20% off your purchase!
Snow refills
One of the things we really love about Snow is that unlike some other whitening kits, with Snow, you can purchase whitening serum refills. That means you can use the same kit for years to come – it comes with a 5 year guarantee, after all – and just purchase the refills you need whenever you want to do a whitening touchup. The wands come in two sizes:
Standard: 21 treatment sessions
Large: 42 treatment sessions
Snow teeth whitening subscription
Snow have just launched their Smile for Life Club, a teeth whitening subscription service. If you sign up to this when you buy your kit you get:
The Original kit discounted to $129
1 Free Extra Strength Serum worth $29
1 Free Charcoal Whitening Floss worth $15
The subscription costs $29 every three months, and for this you'll get a new Extra Strength whitening wand plus free floss. This great deal continues for as long as you keep the subscription active. What a great way to take the hassle out of remembering to order refills! Click here to read full details of Snow's whitening subscription offer.
Summary of kit options
That's a lot to think about! And we have one more option to throw into the mix: Buy the Original kit in a bundle of 2 or 3 units to save even more on your purchase. This could work well if several family members want to whiten their teeth, or you have a couple of friends who are interested.
Anyway, the table below has a reminder of what Snow's different whitening kits contain and where to get the best deals, whether you choose a bundle, subscription, or just the kit itself.
You can also watch this short video for an explanation of the difference between Snow's Original and Wireless whitening systems:
How to use Snow Teeth Whitening
To use your Snow Teeth Whitening kit, follow the instructions included with your kit, or the ones provided on the Snow website. The general instructions are as follows:
Brush the whitening serum onto your teeth using the applicator wand.
Insert the mouthpiece into your mouth and turn it on.
Keep it in for 9 to 30 minutes.
After your whitening time is up, rinse your mouth and the mouthpiece with warm water.
Snow also recommends:
Brushing your teeth before you whiten.
Repeating twice a day for the fastest results.
Storing the whitening wands in the fridge so they keep their potency.
You also may need to twist the whitening wand as many as 30 times during the first use, until the whitening gel comes out.
How long does it take for Snow teeth whitening to work?
Looking at Snow teeth whitening reviews, some people notice their teeth looking whiter after just one or two uses. For others, it might take a few days longer to start seeing results. A lot depends on how white (or not) your teeth are to begin with and what type of staining you have.
The recommended treatment course is 21 days, and by the end of this you should definitely see a difference. If not, you're covered by Snow's 30-day satisfaction guarantee.
Snow whitening ingredients
The ingredients used in Snow's safe whitening serum are:
Hydrogen peroxide
Carbamide peroxide
Glycerol
Deionized water
Sodium bicarbonate
Carbomer
Potassium nitrate
Peppermint oil
Claim 20% off your entire order
If you're convinced that Snow is for you, don't forget to use promo code BDAY for 20% off your order. You can also find other discounts on their site for all sorts of Snow products, including extra serums and accessories.
Snow's kits come with a 30-day money-back guarantee if you're not happy with your results, but their 99% satisfaction rate suggests you will be!
Snow teeth whitening reviews
We can tell you all about the features of the Snow system, but the best reviews come from people who have actually tried it out and gotten past the unboxing step. So let's have a look at some real Snow customers who are currently undergoing treatment, or have completed it.
Taylor's Snow whitening review
"I wanted you to see how big my smile was, and how white it got. "
In this Snow Teeth Whitening review, Taylor reports back after using Snow for the whole 21 days. He says even though it is a bit more expensive than some other at-home whitening options, he's happy with the results. He began by using the kit for 9 minutes a day but decided to start going for the whole 30 minutes to maximize his results. Ultimately, he is impressed with his results and would recommend Snow.
You can watch his full video review below.
Jamaul's Snow review
"Overall I think it's a very cost-effective way to whiten your teeth at home."
Jamaul begins his review by showing some genuine appreciation for the great packaging of the Snow kit. After talking about what the kit includes, he fast forwards and shows us his results one month later, going through pictures of each day of whitening results. He recounts the exact steps he followed to get his results, using just the regular whitening serum.
Jamaul reflects that he'll probably start using the extra-strength serum to speed things along; so far he has moved from a 5-6 on Snow's whitening scale to a 3-4. Watch the rest of his honest Snow review, including before and after pictures, in the video below:
Consumer reviews of Snow whitening kit
"I was a little skeptical at first, but after my first week using the product, I was amazed!! I did not have tooth or gum sensitivity. This product is amazing!!"

Judy D.
"It is easy to wear around the house for 30 minutes. I hook the appliance up to my iPad and surf email and the internet. Time passes quickly. There is a decided brightening after just two treatments. I recommend that purchasers be sure to visit your website's FAQ section."

Denver N.
"Great product….My teeth turned pure white in less than 3 days. It does exactly what they said it would do, yes to everything!!!!"

Kathy M.
For more Snow whitening reviews and before and after photos from real patients, click through to their website here.
Conclusion
Snow Teeth Whitening offers a fast and affordable way to whiten your teeth at home. Their special formula is made without any harsh chemicals and is perfect for people who have sensitive teeth. As you can see from the reviews, regular customers and dentists alike approve of this whitening system.
Snow is also a great option for those who prefer to spend their money on a socially responsible company because Snow never tests on animals and donates part of their proceeds to children who need access to dental care across the US. And remember, you don't have to be in the US to get whiter teeth with Snow. They ship internationally, to any country in the world.
If you like what you saw in these Snow whitening reviews, and are ready to start your whitening journey today, all you have to do is click the link below to jump onto Snow's website and enter code BDAY for 20% off your order.
Not convinced yet? Check out some other teeth whitening options here.
FAQs
Is the Snow whitening system safe?
The Snow whitening kit is absolutely safe. There are no harsh chemicals, and what's more, it's even made for people with sensitive teeth. In fact, anyone over the age of nine can use it!
It also has the benefit of using wands to apply the gel to your teeth. This ensures even coverage and avoids excess gel getting onto your gums, which is often a risk with kits where you apply the gel inside a tray.
Is there a Snow Teeth Whitening coupon or discount code?
Yes! There are frequent promotions and discount codes for a variety of products on Snow's website, including the wireless and original whitening kits. Right now you can get 20% off your whole order with Snow discount code BDAY.
Does Snow Teeth Whitening hurt?
The Snow white teeth system doesn't hurt. In fact, it's so gentle that even people with teeth sensitivity can use it.
Does Snow Teeth Whitening work?
Every set of teeth is different, but the large majority of those who have used the Snow system for a whiter smile would recommend it to others. If you don't get results you're happy with, you're covered by their satisfaction guarantee for the first 30 days.
Can you buy Snow's products on Amazon?
Yes, you can, but we recommend buying through their website where you can access exclusive discounts. Click here to check Snow's best prices before you order on Amazon.