Looking for Snow Teeth Whitening Reviews? Snow Teeth Whitening is a popular brand of teeth whiteners on the market for whitening teeth at home, touted by celebrities and dentists alike.
We wanted to know what all the hype was about, so we decided to look at some reviews to see what everyday people looking for whiter teeth have to say. In this article, in addition to reviews, you'll also find out:
What exactly is the Snow system?
How much does it cost?
Will it make your teeth white?
Keep reading to find out all you need to know to make an informed decision regarding the whitening of your teeth!
In short: Why choose Snow?
If you want the quick version of how Snow is leading the way in teeth whitening kits, here's the answer:
Over half a million happy customers
Lasting results from just 9 minutes a day
Proprietary application system to protect your gums
Kits contain a year's worth of treatments
Made in the USA
Satisfaction guaranteed – or your money back!
You won't find another whitening system like this on the market, whether in the US or internationally. For those of you reading from another country, don't worry because Snow ships internationally, to any country around the world.
Keep reading for more details, or check out their full product range here. Use promo code SMILE to get an extra 25% off your entire order for a limited time!
What is Snow Teeth Whitening?
Are you skeptical of all of the teeth whitening kits and procedures out there? Do they seem too good to be true? The folks over at Snow Teeth Whitening understand—they're skeptics too! Which is why they set out to develop a whitening kit that does everything it claims to, a system is, as they put it "for skeptics, by skeptics."
Activating LED light technology is one of the newest ways to whiten teeth, and studies show that it can indeed be effective. Snow Teeth Whitening is an all-in-one, LED-activated teeth whitening kit that whitens teeth in as little as nine minutes per day. It targets all sorts of stains, including stains from coffee, wine, tea, tobacco and really anything else you can think of.
But it's also so much more than that. When you buy Snow, you're also buying local, as the product was invented in California, and each kit is made in the US. What's more, the Snow system contains no harmful chemicals and is safe to use on all types of teeth, including sensitive teeth.
Snow Teeth Whitening isn't just a product, it's rather more of a whitening revolution. The makers of Snow set out not only to make products that actually work but also to make quality dental care accessible to all. That's another benefit of whitening your teeth with Snow—5% of their proceeds go to help children across America who don't have access to dental care. And for you animal-lovers out there, you can rest assured knowing that Snow whitening products are never tested on animals.
But back to the product—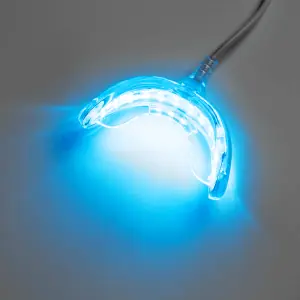 Snow reassures customers that no shortcuts have been or will be taken in the past, present or continued development of Snow. They've poured millions of dollars of research in developing this system, offering products created on an indisputable scientific foundation.
Another thing people love about Snow is that you don't need to go to the dentist to get professional-quality whitening. You can complete treatment entirely from the comfort of your home, beginning by ordering your kit online.
How does the Snow Teeth Whitening system work?
With Snow Teeth Whitening, you have two kits to choose from, the original kit and the wireless kit. Both receive stellar reviews, so you'll just have to decide which system is best for you personally. Let's have a look at the differences between these two kits to figure out which one you should get.
Original kit
This is the original Snow Whitening system that rocketed the Snow name to the top of whitening kit brands around the world. This kit will whiten your teeth in just nine minutes a day, and is safe to use on caps, veneers, braces, crowns and bridges! What's more, it will prevent future stains and is proven to kill viruses and bacteria in seconds. Use this kit to whiten teeth stained from smoking, coffee, wine and soda. It's safe enough that anyone ages nine and older can use it!
When you order the Original kit you will receive:
1 mouthpiece with patent-pending LED technology
3 whitening wands with advanced whitening serum to erase stains
1 extra-strength whitening serum wand
1 teeth whitening progress tracker
Wire for connecting to iPhones, USB and other smartphones
30-day money-back guarantee if you're not happy with the results
5-year warranty
Your mouthpiece works with the Snow app, allowing you to control just how much you want to whiten your teeth.
Another benefit that Snow kits have is that since you apply the whitening gel directly to your teeth using a wand, the process is a lot less messy. This also ensures even coverage. This is something that you won't get with kits where you just fill the trays with the gel and stick them in your mouth; the process is much messier and even coverage isn't guaranteed.
Multiple celebrities have endorsed this product, including Rob Gronkowski, Shanola Hampton, Christopher Mcdonald, and Floyd Mayweather.
You also may have seen it as an audience gift on Wendy Williams when it was first introduced to the market. Watch the video below if you missed it!
The original kit is the most popular, normally for $200, however, there is usually a promotion happening that makes it significantly less.
If you're ready to whiten your teeth from the comfort of your home and for an affordable price, the Original kit is a great option. It comes with everything you need to get that brilliantly white smile you've always dreamed of. And for a limited time, you can get 25% off your order by entering SMILE at checkout.
Not in the US? No problem! Snow ships its wireless kits to wherever you are around the world. So don't let borders stop you from getting whiter teeth!
Wireless kit
As the name suggests, the wireless kit, is well, wireless! It includes all of the great features as the Original kit, with the added convenience of wireless capability, plus a little extra. When you order the Wireless kit, you'll get:
Wireless charging LED activating mouthpiece
Wireless docking station
USB cable
Anti-aging lip balm
3 whitening wands with professional whitening serum
1 desensitizing serum for prevention of sensitive teeth
1 maximum strength whitening wand
Luxury travel case
30-day money-back guarantee if you're not happy with the results
5-year warranty
Just like the Original Kit, this kit connects to an app on your phone that lets you control your shade of white. It also has a self-sanitizing feature and it's waterproof, so you can even get whiter teeth while taking a shower. Another added benefit of the Wireless kit, is that it activates red LED technology to eliminate bad bacteria in your mouth, while the blue LED works to whiten your teeth.
If you want white teeth on the go, and you don't mind paying a little bit more for a whole lot of convenience and advanced features, then the Wireless kit might be a good option for you. If you do decide to go with Snow, enter code SMILE at checkout to get 25% off your order.
Summary of kit options
You may be wondering what happens if you run out of whitening gel—do you have to purchase an entirely new kit? Thankfully, the answer is no, you can simply buy gel refills separately, whenever you need more.
The original and wireless kits are the most popular options, but Snow also offers options to bundle your purchases. With so many options, it can be hard to choose! But don't panic, we've put together a nice organized table so you can clearly see what all of your kit options are.
How to use Snow Teeth Whitening
To use your Snow Teeth Whitening kit, follow the instructions included with your kit, or the ones provided on the Snow website. The general instructions are as follows:
Apply the whitening serum using the brush tip applicator onto your teeth.
Insert the mouthpiece into your mouth and turn it on.
Keep it in for 9 to 30 minutes.
After your whitening time is up, rinse your mouth and the mouthpiece with warm water.
Snow also recommends:
Brushing your teeth before you whiten.
Whitening for as long as 30 minutes, twice a day for the fastest results.
Storing the whitening wands in the fridge so they keep their potency.
You also may need to twist the whitening wand as many as 30 times during the first use, until the whitening gel comes out.
Snow whitening ingredients
The ingredients used in Snow's safe whitening serum are:
Hydrogen peroxide
Carbamide peroxide
Glycerol
Deionized water
Sodium bicarbonate
Carbomer
Potassium nitrate
Peppermint oil
Snow refills
One of the things we really love about Snow is that unlike most whitening kits, with Snow, you can purchase whitening serum refills. That means you can use the same kit for years to come, and just purchase the refills you need whenever you want to do a whitening touchup. The wands come in two sizes:
Standard: 21 treatment sessions
Large: 42 treatment sessions
Snow teeth whitener reviews
We can tell you all about the features of the Snow system, but the best reviews come from people who have actually tried it out and gotten past the unboxing step. So let's have a look at some real Snow customers who've are currently undergoing treatment, or who've completed it.
Gena's review
"I cannot believe I saw results after just a few treatments!"
In this Snow Teeth Whitening review, Gena M writes in her blog, Get Glammed Up that she loves whitening her teeth using at-home kits. She drinks a lot of coffee and red wine, and tries to use a whitening treatment at least once a year. But, she also has sensitive teeth, so finding a kit that isn't harsh on enamel or painful can be difficult. That's why she focuses her review on teeth whitening for sensitive teeth with Snow. She says that you get a lot for the value, what with all of the syrums and the lip balm. Gena has been using this whitening system for two weeks and she says it's easy to use and hasn't caused her any sensitivity. She also says it's very convenient that there's a USB cord that can plug into any brand of smartphone and USB ports.
You can read her full review here, and check out her Snow before and after photo. Her teeth were already pretty white to begin with, but now they're even whiter!
Claim 25% off your entire order
If you're convinced that Snow is for you, don't forget to claim 25% off your order using promo code SMILE at checkout. The discount applies to everything you order, including extra serums and accessories.
Snow's kits come with a 30-day money-back guarantee if you're not happy with your results, but their 99% satisfaction rate suggests you will be!
Jamaul's review
"Overall I think it's a very cost-effective way to whiten your teeth at home."
Jamaul begins his review by showing some genuine appreciation for the great packaging of the Snow kit. After talking about what the kit includes, he fast forwards and shows us his results one month later, going through each day of whitening results. He takes a picture every day and recounts the exact steps he followed to get his results. He used the kit with the regular strength whitening serum for 30 minutes each night, because he wanted to show what the results would be without the extra-strength serum. He reflects that he'll probably start using the extra-strength serum to speed things along. He started on the whitening scale provided by Snow at a 5 or a 6 and ended up with a 3 or 4. One thing he didn't like was the amount of saliva produced, but he said laying down and reading a book or watching TV helped with that issue. Have a look at all of his pictures and watch the rest of his honest review in his full video below:
Dentist's review of Snow
"It's great for those patients that are worried about tooth sensitivity."
Dr. Broumand says that he only recommends Snow for his patients. He personally appreciates that it's suitable for people with sensitive teeth and it's easy to use. But his absolute favorite part is that they donate profits from every sale to kids who don't have access to dental care. You can see his full review in the video below:
The Snow website also has a whole review section where you can see before and after pictures of actual patients who have completed their whitening treatment with Snow. You'll see once and for all why Snow dental whitening is being considered the "Apple of teeth whitening."
Conclusion
Snow Teeth Whitening offers a fast and affordable way to whiten your teeth at home. Their special formula is made without any harsh chemicals and is perfect for people who have sensitive teeth. As you can see from the reviews, regular customers and dentists alike approve of this whitening system. Snow is also a great option for those who prefer to spend their money on a socially responsible company because Snow never tests on animals and donates part of their proceeds to children who need access to dental care across the US. And remember, you don't have to be in the US to get whiter teeth with Snow. They ship internationally, to any country in the world.
If you like what you saw in these Snow whitening reviews, and are ready to start your whitening journey today, all you have to do is click the link below to get started. And right now, you can get 25% off everything in their online store by using the code SMILE at checkout!
FAQs
Is the Snow whitening system safe?
The Snow whitening kit is absolutely safe. There are no harsh chemicals, and what's more, it's even made for people with sensitive teeth. In fact, anyone over the age of nine can use it!
It also has the benefit of using wands to apply the gel to your teeth. As opposed to kits where you just put the gel inside of a tray, which creates a lot more mess also, the use of wands ensures even coverage on all of your teeth.
Does Snow Teeth Whitening hurt?
The Snow white teeth system doesn't hurt. In fact, it's so gentle that even people with teeth sensitivity can use it.
Does Snow Teeth Whitening work?
Every set of teeth are different, but the large majority of those who have used the Snow system for a whiter smile would recommend it to others.