What are the best invisible braces for 2023? We've taken a look at the wide range of clear aligners on the market and narrowed the list down to the brands that stand out — Byte, Smileie, ALIGNERCO, NewSmile, Candid, and Invisalign.
The criteria we used to review these brands included the price of treatment, the efficacy of treatment, customer service, and customer reviews.
In this article, we'll cover the following:
Best invisible braces 2023
Cost of treatment
Treatment time
Eligibility requirements
Keep reading to find out which type of adult braces could work for you.
What is the best clear aligner company?
Byte is our top pick for the best brand of invisible braces. They offer a low price and fast treatment, in some cases as little as 3 months. They also have special technology that reduces discomfort.
There are a lot of other good options too, all of which we will cover in this article.
The best aligners on the market

There are so many companies offering remote teeth straightening with aligners! Take a look at our top picks and discover why we recommend these over any others.
At-home aligners work very much like in-office clear aligners, except that everything is done remotely. Studies have found that teledentistry outcomes could be comparable to regular braces.
Best invisible braces in 2023
As promised let's take a look at some of the best invisible aligners brands on the market today.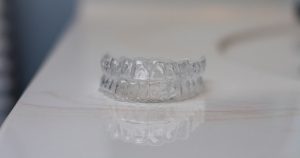 Byte: Best overall
Byte is a at-home teeth straightening brand, offering some of the fastest treatment available — just 3 months in some cases. This is thanks to HyperByte, a device that speeds the straightening process up and decreases discomfort.
One of the things that really sets Byte apart from other brands is their HyperByte technology, which can cut treatment time down to just 3 months for some people. Check out this report for more information about the technology. Byte also offers a nighttime option, with 10 hours per night of aligner wear.
Byte pros
Treatment time: Shortest treatment time of all aligners — just 3 months in some cases
Nighttime: They offer a nighttime option
Support: They have great customer support
Tech: HyperByte technology speeds up treatment time and reduces discomfort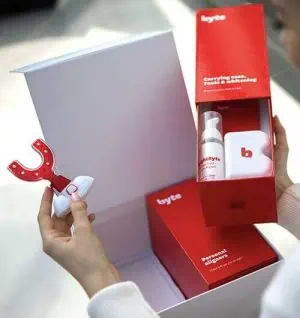 Byte cons
Byte is only meant for mild to moderate cases of malocclusion
Byte has no physical locations where you can go to get your teeth scanned
Highlights
Cost: $1,999 standard; $2,399 nighttime
Average Treatment time: 4 months
Overall rating: ★★★★★
Is Byte right for me?
You don't mind paying more for a nighttime option
You want faster and more comfortable treatment thanks to HyperByte technology
We have a whole Byte reviews article and a Byte vs Candid comparison for more information.
To get started, order your impression kit online and get 80% off your kit with code SMILEBRYTE.
NewSmile: Clearest aligners
NewSmile is another of our top picks for best teeth aligners. Their aligners are the second-fast in the industry (just behind Byte) and they also offer a nighttime-only option.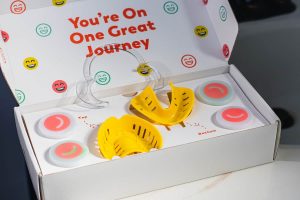 NewSmile pros
Clear aligner material: NewSmile teeth aligners are the clearest on the market
Price: Starting at just $1,495 for standard treatment, NewSmile offers a great price for high-quality treatment
HSA/FSA accepted: Pay for your smile as you would other medical expenses
Orthodontists: NewSmile orthodontists help plan and supervise your treatment
Night aligners: NewSmile is one of the only brands to offer nighttime aligners. These only have to be worn at night, and cost just a bit more than standard treatment
NewSmile Guarantee: Free refinements to perfect your smile
Military discount: Services members get $100 treatment
Extras: Teeth whitening and retainers included in price
NewSmile cons
There are no studio locations where you can go if you need in-person help, or to get a 3D scan instead of impressions
NewSmile is only meant to treat mild to moderate cases of malocclusion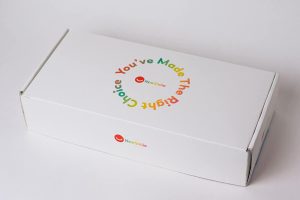 Highlights
Cost: $1,495 standard; $1,595 nighttime
Average Treatment time: 4-6 months
HSA/FSA accepted
Overall rating: ★★★★☆
Is NewSmile right for me?
You want the clearest aligners on the market
You want a free whitening kit
Read more about NewSmile in our full NewSmile review here.
Smileie: Best single arch
Smileie is a newer brand that stands out from the crowd with its various treatment options, making it easier for you to find a plan that best fits your lifestyle and budget.
Their Daytime OneGo is the standard package that straightens both your top and bottom teeth and requires wearing 20 hours per day.
They also have a Single Arch treatment plan, ideal for people who just want to straighten their top teeth — or straighten bottom teeth if that's your case. Keep in mind that this option won't work for everybody, as dental professionals typically recommend the movement of teeth in both arches.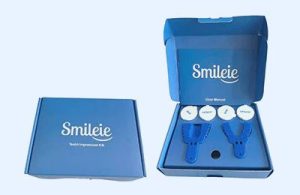 For further convenience, Smileie also offers a nighttime treatment option so you can straighten your teeth while you sleep. With nighttime aligners you can also choose to straighten just your top or bottom teeth.
All of the treatment options can be paid for upfront, or in installments.
Smileie pros
Wide variety of options: Including single-arch straightening and nighttime straightening
Ultra clear: These are some of the clearest aligners on the market
Quick turnaround: Once you approve your treatment plan, you'll get your aligners in just 5-7 days
Free refinements: If you aren't 100% satisfied with your results, you can get adjustments for free
Smileie cons
Smileie is only meant to treat mild to slightly moderate cases
There are no physical locations or in-office meetings with your dentist — which some people may feel more comfortable with
Highlights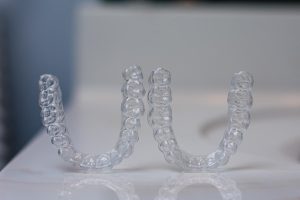 Cost: $849 standard; $1,049 nighttime
Average Treatment time: 4-6 months
Overall rating: ★★★★☆
Is Smileie right for me?
You want the option of just straightening one arch
You want a nighttime option
You want some of the clearest aligners
We have a whole Smileie article if you want to find out more.
ALIGNERCO: Best value
ALIGNERCO is another brand we recommend as some of the best clear aligners, primarily because of the cost and the fact that just like Byte, they work with orthodontists to plan and monitor your treatment.
The cost is especially appealing with ALIGNERCO as it is one of the cheapest options available. ALIGNERCO costs just $949 if you decide to purchase their standard plan called SmileAdvantage.
This includes everything for your treatment: impression kit, clear teeth aligners, retainers, the lot—even a free whitening kit!
ALIGNERCO pros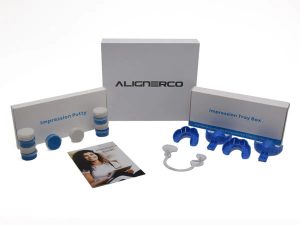 Price: It's the cheapest clear aligner on the market
Nighttime: They offer a nighttime option
Payment plans: They offer a range of monthly payment plan options
ALIGNERCO cons
Lower costs mean fewer frills
There's only one physical location so far
Only meant to treat mild to moderate cases of malocclusion
Highlights
Cost: $949 standard; $1,145 nighttime
Average Treatment time: 4-6 months
Overall rating: ★★★★☆
Is ALIGNERCO right for me?
You want an in-person consultation (NY only)
You are looking for the best price
You want a free whitening kit
You can find out more about ALIGNERCO in our ALIGNERCO review. And now there is an ALIGNERCO SmileStudio in New York for residents of the Big Apple who want to have an in-person consultation and get help taking their impressions.
Candid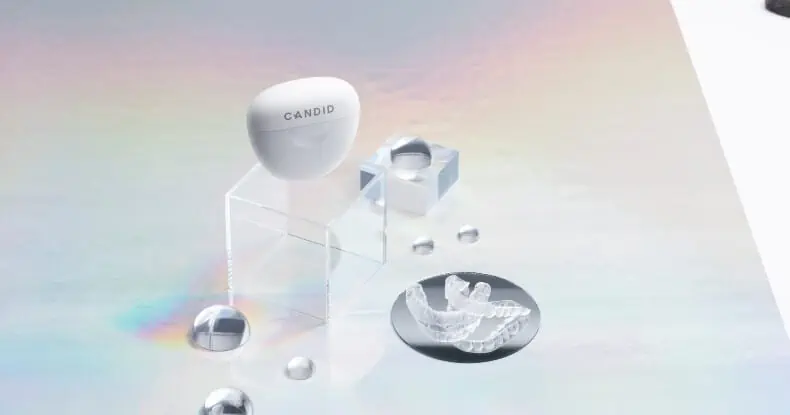 Candid is an aligner brand with a partnership with medical tech company Dental Monitoring. Through this partnership, they use AI-based remote monitoring technology, including a ScanBox that you use every 10 days to take pictures of your teeth.
This special remote monitoring system results in an average of a 20 to 30% reduction rate in treatment time.
Candid pros
In-office and at-home: With Candid you work with a provider in person, and do remote monitoring from home
Virtual check-ins: Remote monitoring means fewer office visits
Candid cons
Like the majority of clear aligners, Candid can only treat mild to moderate cases of malocclusion; this system is not meant for more severe teeth straightening treatment
Cost: $3,000+
Average Treatment time: 6 months
Overall rating: ★★★★☆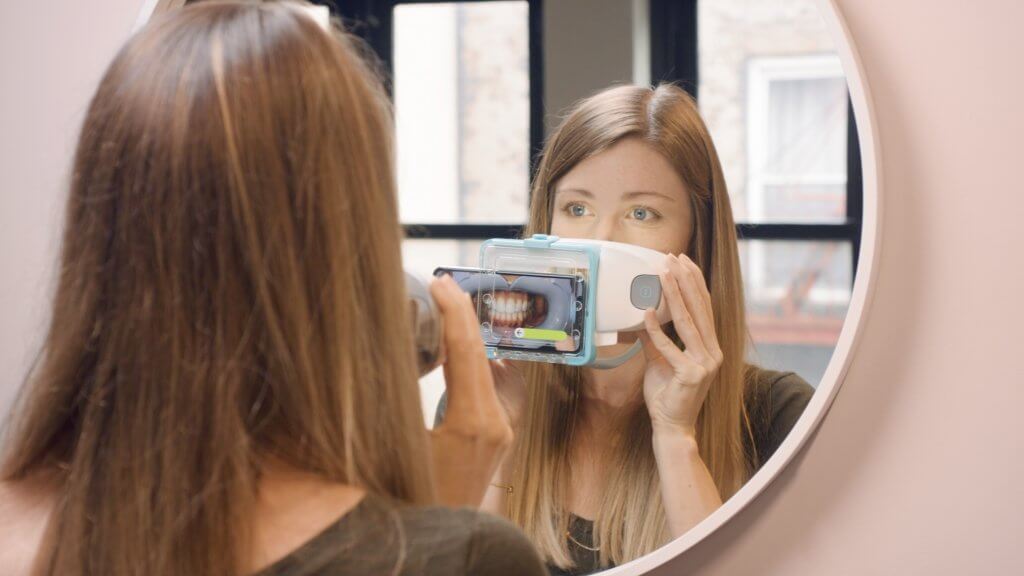 Is Candid right for me?
You want to combine hybrid and in-office treatment
Read more about Candid in our in-depth review here!
Invisalign
Invisalign is the poster child for invisible aligners teeth straightening. Besides their invisible and removable nature, these braces are almost more similar to traditional braces than they are to at-home options.
Invisalign treatment time can take anywhere from 12 to 18 months and these invisible braces cost between $3,500 and $8,500. Your treatment is monitored during in-person visits with your dentist, which is why Invisalign can also be used to treat more severe cases of malocclusion.
Find out more about Invisalign in our complete guide here, and see how they compare to traditional braces or Smile Direct Club in our Smile Direct Club vs. Invisalign article, or how they compare to ClearCorrect — another brand of in-office invisible braces.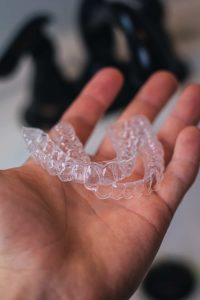 Invisalign pros
90% of cases eligible: Since your treatment is monitored in person, these invisible braces can treat more severe cases of malocclusion
Invisalign cons
These invisible braces are more expensive than those with remote monitoring
In-office appointments may be inconvenient for your schedule
Highlights
Cost: $3,500 – $8,500
Average Treatment time: 12-18 months
Overall rating: ★★★★☆
Is Invisalign right for me?
Choose Invisalign if:
You want to see a dentist in-person
You have moderate or severe malocclusion
Other brands of at-home clear aligners
There are myriad brands of clear aligners and teledentistry aligners options on the market today, and the offerings are bound to keep growing. Other brands that we've reviewed are Smilint, Smilelove, SnapCorrect and Smile Direct Club.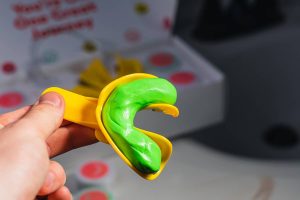 They are quite similar with a bit of a price difference and treatment time difference, although Smile Direct Club is a bit more well-known.
Read more about Smile Direct Club here, or check out some Smile Direct Club reviews and Smile Direct Club alternatives. You may also be interested in reading our Smilelove reviews, or finding out more about SnapCorrect here.
Another brand you might be interested in is Uniform Teeth. They're a bit different since they offer a hybrid option between at-home and in-office aligners. While you do have some in-office appointments, you don't have as many as you would with Invisalign, and this helps keeps prices down. To find out more, read our Uniform Teeth reviews article.
For faster treatment time, Inman Aligners straightens only the front few teeth, which may work for some people, but not everyone. Read more about the Inman Aligner cost.
Recently, other in-office aligners have hit the market, including Six Month Smiles, a brand that focuses on only the teeth visible when you smile. They promise results in, you guessed it, six months.
Depending on the complexity of your case, you will be eligible for either clear aligners or clear braces, and these invisible braces cost between $3,000-$5,000.
SureSmile aligners are similar and are made with durable Essix Ace plastic. The cost will vary depending on the treatment time, but it averages around $4,000.
Best invisible braces roundup
| | | | | | | |
| --- | --- | --- | --- | --- | --- | --- |
| | | | | | | |
| | | | | | | |
| | | | | | | |
| | | | | | | |
| Treats mild to moderate cases | | | | | | |
| | | | | | | |
Before you decide to straighten your teeth with clear aligners, you should first make sure you are a good candidate — that's why all of the brands in this article offer an online assessment to determine eligibility. For more guidance, a dentist explains who might not be an eligible candidate for this type of treatment:
Conclusion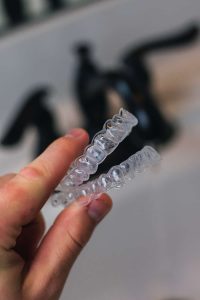 Invisible braces offer a discreet and convenient way to straighten your teeth. Some are in-office brands, like Invisalign, and others offer remote treatment, like Byte.
Our top pick for best invisible braces is Byte, thanks to its fast treatment time, affordable price, convenience, and special technology that speeds up treatment and decreases discomfort.
You can order your Byte impression kit now to get started, and use code SMILEBRYTE to get 80% off your kit.
FAQs
What are the most invisible braces?
According to NewSmile, they offer the clearest invisible braces on the market. NewSmile is a remote treatment brand of clear aligners that straightens teeth without in-office visits.
What are the cheapest invisible braces?
The cheapest option currently on the market is ALIGNERCO, with a monthly payment plan if that works better for you. If you find options that are much cheaper, approach with caution. When in doubt, you should probably ask your dentist about them.
If budget is a concern, be sure to check out our article on cheap braces here, as well as our article on dental insurance for braces.
What is the best brand of Invisible aligners?
Byte is our top pick for invisible aligners. Thanks to their HyperByte device, their treatment is fast, comfortable, and affordable. They also offer night-time aligners for added convenience.
Sign up to receive the latest news and offers from Dentaly.org