What are the best invisible braces? With so many brands to choose from it can be hard to know for sure. Our favorites include brands like Candid, ALIGNERCO, Invisalign and Byte, but there are plenty of others to choose from as well.
To help you decide which is the best clear aligners brand to straighten your teeth, we'll have a look at things like:
Eligibility for treatment
Cost of treatment
Treatment time
Dentist or orthodontist supervision
We hope that by the end of this article you have a much clearer idea of which brand could work for you.
How do invisible braces work?
First things first, let's review the how and why of invisible braces.
Invisible braces are plastic 'trays' that fit over your teeth and gradually move your teeth into the correct position. The plastic is clear so that you can straighten your teeth more discreetly than with traditional metal braces.
They are also removable, so if you need to take an important photo or attend an important event, you can briefly take them out, although usually for no longer than two hours, as they must be worn for 22 hours a day.
This type of orthodontics aims to provide a solution to the fact that around 60% to 75% of the global population has misaligned teeth every year, according to Align Technology.
There are two main kinds of invisible braces: at-home, and in-office. Below we'll briefly go over the differences.
In-office braces
In-office isn't really the official name of this type of aligner, but refers to the fact that treatment with these invisible braces requires regular, in-office visits with your dentist or orthodontist. You begin with an in-person consultation with your braces provider, at which point they may take molds or 3D scans of your mouth and teeth. They then plan your treatment and your invisible aligners are crafted in a lab.
Once your aligners are ready, you'll go back to see your dentist who will make sure that your first pair of aligners fits as it should, and you'll make an appointment for your next visit. At each visit, if all goes well, you'll get to move on to your next set of aligners, and so on and so forth until you have a perfect smile.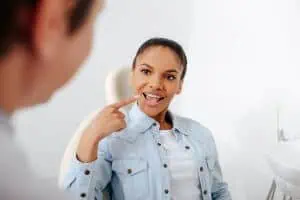 When you're all finished with your treatment, your dentist will give you retainers to wear for the rest of your life to keep your teeth in place.
But don't worry, after the first few weeks or so you only have to wear your retainer at night. Currently the two most popular brands of in-office braces are Invisalign and ClearCorrect, both of which we'll discuss briefly below.
At-home braces
The teledentistry invisible braces market is booming, and that's an understatement. In fact, the market is estimated to reach $8.2 Billion by 2026. The goal of most at-home braces brands is to provide a more convenient and more affordable way to straighten your teeth.
Let's face it, not everyone has upwards of $3,000 lying around for orthodontics, especially if your problems are mostly cosmetic. But that shouldn't mean that just because you're not wealthy you should have to go without straight teeth. In fact, crooked smiles can have both physical and social consequences, and even enhance the levels of inequality in our society….but we digress!
How do these teledentistry braces work? Well, they work very much like in-office clear aligners, except that everything is done remotely. This might sound odd at first, but studies have found that teledentistry could be comparable to in-office visits.
First, you take an online assessment that will let you know if you're eligible for at-home braces. If you are, you can then order an impression kit online and take the molds of your teeth at home.
You then send your molds in and a dentist or orthodontist remotely creates your treatment plan.
Once your aligners are made, they are all sent to you at the same time, and you can begin your treatment. Your treatment will involve remote monitoring with your dentist, sometimes involving video chat check-ins.
Once you're done with treatment, just like with any other kind of braces, you'll have to wear a retainer at night for the rest of your life.
The most notable at-home aligner brands are Candid, ALIGNERCO, Smile Direct, Byte, and Snapcorrect. Candid and Smile Direct also have physical locations where you can have certified representatives take 3D scans of your teeth if you don't like the idea of taking your own molds at home.
Are you eligible?
Before we dig into the details of these brands, why not take a quick assessment to check whether you're a good candidate? It only takes a minute to get your results, and access some special deals from our recommended brands:
The best teeth aligners: At-home
As promised let's take a look at some of the best invisible aligners brands on the market today. We will review a variety, but we think the most important things to look for are orthodontist monitoring and a great customer service record.
Candid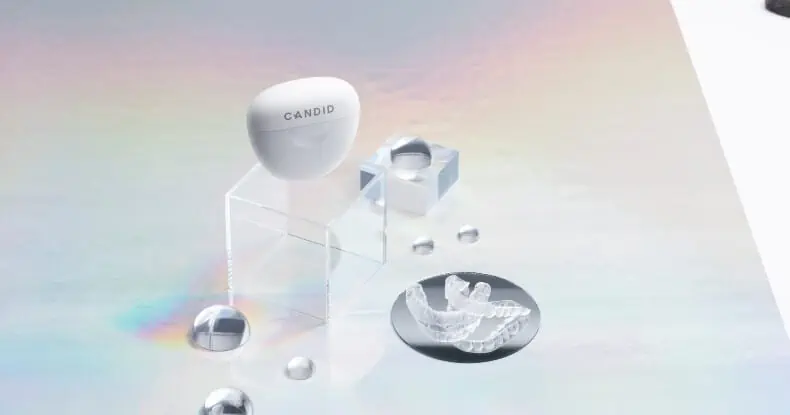 Candid clear aligners give you the option of 100% remote orthodontic treatment, but if you aren't comfortable taking your own molds with impression kits at home, you can visit a Candid Studio where a trained representative will take 3D scans of your teeth. The process is very easy and straightforward:
Take Candid's Smile Assessment online
Order your impression kit and make your impressions, or visit a Candid Studio to get scans of your teeth
Receive your aligners in the mail and begin your orthodontic treatment
Whiten while you straighten with Candid's whitening foam
Check-in every 10 days with your teeth scanner and Dental Monitoring
Post treatment care with retainers
This is actually one of our favorite brands of clear aligners, for a couple of reasons:
Physical locations: It's great that if you need to speak with someone in person, or you want 3D scans of your teeth instead of ordering an impression kit, you can visit a Candid Studio at no cost to you.
Dentists vs orthodontists: While many brands work with dentists or orthodontists to plan your orthodontic treatment, Candid works exclusively with orthodontists. Why is this important? Because orthodontists are dentists who then go on to specialize in the art of teeth straightening.
Customer service: According to Candid invisible aligners reviews, Candid has wonderful customer service, including an online video chat option so you can talk with someone in real-time if you have any issues.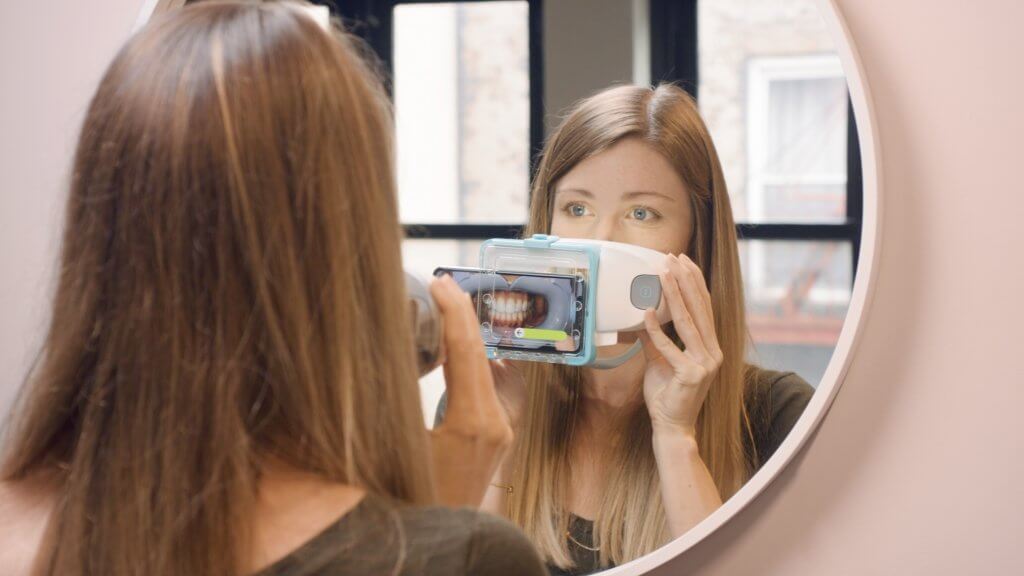 There's another reason we recommend Candid and that's because of their partnership with medical tech company Dental Monitoring. Through this partnership, they use AI-based remote monitoring technology, including a ScanBox that you use every 10 days to take pictures of your teeth.
The AI technology then analyzes the images of your teeth and sends the information along to your orthodontist who will have a look and determine if you're ready to move on to your next set of aligners.
This special remote monitoring system benefits patients by holding patients accountable with reminders and significantly cutting down treatment time. Without the AI technology, Candid treatment time is on average six months, rarely exceeding 11 months, with check-ins with your orthodontist every two weeks. But with this new technology, since you are checking in with your orthodontist more frequently, it means that if you get their OK, you can move on to your next aligner trays in 10 days as opposed to two weeks. This results in an average of a 20 to 30% reduction rate in treatment time.
Read more about Candid in our in-depth review here, and if this sounds like a system that interests you, you can find your nearest Candid Studio now to get started. If it turns out that there isn't a Studio near you, you can always order your impression kit online.
NewSmile
NewSmile is perhaps the newest brand to enter the clear aligner market. They are worth checking out for a couple of reasons:
Aligner material: NewSmile aligners are made from Raintree Essix plastic which is said to be the clearest available.
Price: At $1,595, NewSmile offers a great price for high quality treatment.
Orthodontists: NewSmile orthodontist help plan and supervise your treatment.
Night aligners: NewSmile is one of the only brands to offer nighttime aligners. These only have to be worn at night, and cost the same as the standard treatment option.
NewSmile has also found a way to make the treatment process even more simple and convenient. They offer an upfront price that includes everything you need to complete treatment, including your impression kit, your aligners, two sets of retainers and whitening. And if it turns out you aren't eligible, you get a full refund.
They also offer a monthly payment plan for just $58 per month with a $295 down payment, so no matter what your budget, you have access to quality orthodontic treatment.
Read more about NewSmile in our full review here, or head right on to their website to get started today!
ALIGNERCO
ALIGNERCO is another brand we recommend, primarily because of the cost and the fact that just like Candid, they work exclusively with orthodontists to plan and monitor your treatment.
The cost is especially appealing with ALIGNERCO as it is the cheapest option available. ALIGNERCO costs just $1,145 if you decide to purchase their standard plan called SmileAdvantage. This includes everything for your treatment: impression kit, aligners, retainers, the lot!
They also offer payment plans if that works best with your budget. And for those who don't mind paying a bit more (but still less than for other brands), ALIGNERCO offers a nighttime option for just $1,345. With the nighttime option, you only have to wear your aligners for 10 hours per day, and you can spend most of that time sleeping.
Have a look at the full price offerings for ALIGNERCO for the standard option:
SmileAdvantage: This costs $1,145 and includes the impression kit, aligners, and a set of retainers. Right now you can use promo code SMILE100 to get $100 off this plan, reducing the cost to just $1,045! Check it out here!
SmileFlex: This option costs $110 per month. You pay in installments of $110 every month for 12 months. The total cost comes out to $1,320.
SmileFlex Easy: The cost of this plan is just $95 per month for 11 months, but you also have a down payment of $275. The total comes out to $1,320.
And for the nighttime option:
NightAdvantage: You pay $1,345, which includes your impression kit, your aligners, and a set of retainers. You can also use the promo code NIGHT200 on this option for a $200 discount.
NightFlex: This plan costs $125 per month with installments of $125 every month for 12 months. The total cost comes out to $1,500.
NightFlex Easy: You pay just $105 per month for 11 months, but you also have a down payment of $345. The total comes out to $1,500.
You can find out more about ALIGNERCO in our in-depth article here.
Here's a recap of what you get with ALIGNERCO:
Byte
Byte is one of the newer brands to the clear aligner game. It's an at-home brand, founded to increase access to orthodontic treatment with shorter treatment time and a lower price tag of just $1,895 for standard treatment. Your treatment is planned exclusively with orthodontists and they offer a nighttime version for just $2,245 with payment plans that are available for both treatment options.
One of the things that really sets Byte apart from other brands is their HyperByte technology.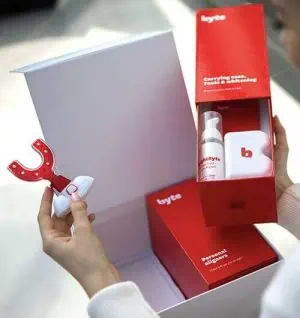 HyperByte is a device that uses micro-pulse therapy to speed up treatment time and reduce discomfort. It's a mouthpiece that you gently bite down on, and as you do it helps your aligners set better.
HyperByte should be used for just five minutes a day with the standard Byte treatment, and 10 minutes a day with Byte At-Night. Byte has the shortest treatment time of all aligners. In fact, average treatment time with Byte is just three months and can be as little as two months!
We also recommend Byte because your treatment plan is developed by an orthodontist, whereas many clear aligner brands work with dentists and orthodontists. We mentioned this before with Candid, but the reason that it's so important for orthodonists to plan your treatment, is that they are specialists in the art of teeth straightening. That means that they are dentists who have additional studies in jaw misalignment and treatment.
Finally, another reason why Byte is one of our favorites is that they are a socially-aware brand. They are committed to community outreach and service, and have a program called byteCares which provides dental care to those who can't afford it.
And if that's not enough, Kerry Washington, AKA Olivia Pope, is on the Byte team so you know they are wearing the white hat.
We have a whole article about Byte if you want to find out more. And if it sounds like a brand you might be interested in, you can order your Byte impression kit now.
Otherwise, check out the table below:
Other brands
There are myriad brands of clear aligners and teledentistry aligners options on the market today, and the offerings are bound to keep growing. Two other brands that we've reviewed are SnapCorrect and Smile Direct Club. They are quite similar with a bit of a price difference and treatment time difference, although Smile Direct Club is a bit more well-known.
They were one of the first teledentistry aligners brands to appear. At $1,895 they are neither the most expensive nor the cheapest on the market. One thing that stands out about Smile Direct is that they also offer a nighttime option, which means you only have to wear your aligners for 10 hours a day (ideally while you sleep, with a little run-over).
Have a look at the tables below for a summary of the features of these two brands.
The best teeth aligners: In-office
In-office invisible aligners tend to be more expensive than their at-home counterparts, however they may be your only option (besides traditional braces) if you have a more complex case of malocclusion. Let's take a closer look at two of the most popular and potentially best in-office brands: Invisalign and ClearCorrect.
Invisalign
Invisalign is the poster child for invisible aligners teeth straightening. Besides their invisible and removable nature, these braces are almost more similar to traditional braces than they are to at-home options.
Invisalign treatment time can take anywhere from 12 to 18 months and they cost between $3,500 and $8,500. Your treatment is monitored during in-person visits with your dentist, which is why Invisalign can also be used to treat more severe cases of malocclusion. Find out more about Invisalign in our complete guide here.
ClearCorrect
ClearCorrect is the same as Invisalign in process and treatment time. The differences are the price and orthodontist vs dentist involvement. The price for ClearCorrect can be anywhere from $2,000 to $8,000, and treatment is planned exclusively with orthodontists. Read more about ClearCorrect here.
How do these brands differ?
There's a lot of information to sort through when it comes to choosing the best aligners for you, and it can definitely become overwhelming. The most important differences to look for when deciding which invisible braces are best for you are generally the following:
In-office or at-home: Some people prefer the convenience of remote treatment, while others feel more comfortable with in-person monitoring.
Cases they treat: Some brands like Invisalign or ClearCorrect can treat more complex cases of malocclusion, while the majority of at-home invisible brands are only meant for mild to moderate malocclusion.
Cost: If price is a big issue for you you may want to consider one of the more affordable, at-home invisible options, especially those that offer payment plans.
Nighttime option: Standard treatment plans usually involve wearing your aligners for at least 22 hours every day. If you know that you don't want to wear your aligners during the day, you'll have to consider a brand that offers a nighttime wear option.
Average treatment time: Ultimately, it's really not your decision how long treatment will take; it depends on the severity of straightening that you need. But if you are dead-set on spending as little time with aligners as possible you may want to check out the brands with the fastest average treatment time, or brands like Candid that offer special technology to speed treatment up.
To help you sort which brand meets your requirements, we've compiled all of the differences and similarities for each brand in the table below.
Choosing the best invisible braces brand for you
Every mouth, every budget and every lifestyle is different. What works for some may not work for you. To help you decide we've outlined which brands are the best for you depending on what you're looking for. Remember you can use our quick assessment to check your eligibility and compare offers from our recommended brands.
Choose Candid if:
You want a discreet way to straighten your teeth
You want the convenience of remote treatment
You want the security of physical locations if you need them
You want to pay less than you would for in-office brands like Invisalign
It's important to you to work exclusively with an orthodontist
You want more accurate and efficient treatment with AI technology
Customer service is important to you
You don't want to compromise quality of care for a lower price tag
You have mild to moderate malocclusion
Choose ALIGNERCO if:
You want a discreet way to straighten your teeth
You want the convenience of remote treatment
You are looking for the best price
You want to work exclusively with orthodontists
You have mild to moderate malocclusion
Choose Byte if:
You want a discreet way to straighten your teeth
You want the convenience of remote treatment
You want to work exclusively with orthodontists
You have mild to moderate malocclusion
You don't mind paying more for a nighttime option
You want to use HyperByte technology to speed up treatment
Choose Invisalign if:
You want a discreet way to straighten your teeth
You don't care if you work with an orthodontist or a dentist
You want in-person monitoring
You don't mind higher costs for direct care
You have mild to severe malocclusion
You've got a big decision ahead of you. Whatever you decide, invisible braces are considered by many to be the best way to straighten teeth. Have a look at the video below to see why the Chief Dental Officer of Candid recommends clear aligners over regular braces.
Conclusion
With so many invisible braces options it can be overwhelming to figure out the best option for you. Choosing a brand that works exclusively with orthodontists, and which has a great customer service record, will help you narrow down your options.
Candid, Byte and ALIGNERCO all meet these criteria. ALIGNERCO is best if price is your main concern, since they have by far the cheapest aligner package out there. Candid has the benefit of physical locations for in-person assistance. They also use Dental Monitoring and AI technology to make treatment more accurate and efficient. And Byte's technology means they have some of the fastest treatment times out there.
However, when choosing the best brand for you, you'll need to consider your budget, your level of malocclusion, and how long you want to spend on treatment. And keep in mind that if you have severely crooked or misaligned teeth or jaws, you will most likely need to opt for an in-office version like Invisalign or ClearCorrect, and you might even have to go with traditional braces. Don't forget to take this assessment to see if you're a good match for the brands that we recommend.
Whichever option you choose, straightening your teeth can aid better oral health and overall health, and give you more confidence with your smile!
FAQs
Which brand has the best customer service?
Customer service is essential, especially when you're working with at-home braces. According to many customer reviews, Candid has some of the best customer service of all of the brands, with a live video chat option for real-time assistance.
What are the cheapest invisible braces?
The cheapest option currently on the market is ALIGNERCO at $1,145. They also offer payment plans if that works better for you. If you find options that are significantly cheaper, you must approach them with caution, and you should probably ask your dentist about them.
What works better, braces or Invisalign?
Both Invisalign and traditional braces are highly effective treatment methods for those who have mild to severe malocclusion. However, if you have a particularly complex case of crooked or misaligned teeth or jaws, you may have to go with traditional braces.