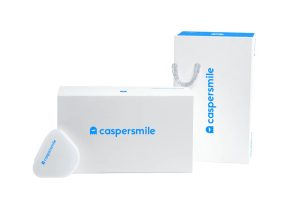 Caspersmile offers at-home clear aligners that are among the more affordable teeth straightening options on the market, targeting mild, aesthetic dental misalignments.
In this review, we'll talk about:
The price of Caspersmile: $1,595
Treatment time: 3 – 5 months
Treatable cases: Minor aesthetic cases
It's wise to consult with a dental professional before diving into remote treatment. However, many individuals have reported satisfactory results with clear aligners like those from Caspersmile.
What are Caspersmile aligners?
Caspersmile is a brand of clear aligners, AKA invisible braces, that can fix minor alignment issues. This type of aligner requires no office visits. Instead, the patient begins treatment by ordering an impression kit online.
Throughout treatment, you don't have check-ins with your dentist, but you can speak to your Caspersmile Smile Specialist at any time, and they will relay any concerns you or they may have to the dentist who has been assigned to your case.
Caspersmile, while part of a family of remote treatment clear aligners that can't treat a wide variety of cases, can be a successful way to correct minor alignment aesthetic alignment issues. And since aligners are made from transparent plastic, you can add that perfecting touch to your smile without anyone even knowing about it.
Caspersmile aligners are made from a transparent, medical-grade polymer, custom-crafted to the contours of your teeth, promising a comfortable fit. Unlike traditional metal braces that may irritate the soft tissues of your mouth, Caspersmile aligners are smooth to the touch, which is great news for sufferers of canker sores.
How does Caspersmile aligners work?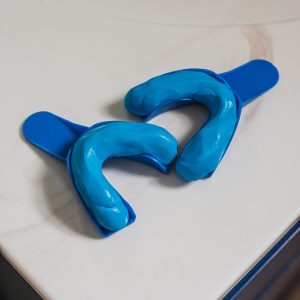 Caspersmile works by gradually moving teeth into alignment — applying pressure through a progression of custom-made, clear aligners. They require no dentist visits, but you can check in if you need help along the way.
The first step is to order an impression kit online and then receive it at home. Using the materials in the impression kit and the instructions, you will make your own impressions of your teeth with the putty provided.
Then, you will return your impressions to Caspersmile, where a licensed dentist will approve your treatment plan. Then, they will custom-make your aligners in their lab. A few short weeks later, you'll receive your aligners in the mail.
Caspersmile pricing
Caspersmile is now one of the most affordable aligner brands on the market. They have two plans — a daytime treatment plan and a nighttime treatment plan, and they both cost just $1,595. The impression kit is just $49.99. You can also split your payments up into bite-sized payments for $153 per month.
The price of Caspersmile aligners include:
Impression kit
Personalized treatment plan
Clear aligners
1st set of retainers
Lifetime guarantee
You also have unlimited remote video consultations with your Smile Specialist, who is your liaison to the Caspersmile dentist assigned to your case.
If you'd like to pay less for your minor treatment, just click the button below to get started.
What can Caspersmile aligners treat?
Caspersmile can treat minor, aesthetic cases of overbite, crossbite, and spacing issues like crowded teeth, deep bites, midline shifts, and edge-to-edge bites. Let's have a closer look!
Overbite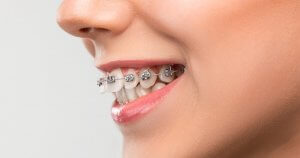 An overbite occurs when the upper front teeth excessively overlap the lower teeth.
Caspersmile aligners are adept at correcting overbites by straightening teeth and improving mouth closure. They may be well-suited for minor overbite issues.
Crossbite
Crossbite is a dental misalignment where the upper teeth fit inside the lower teeth.
Caspersmile aligners can be used to treat crossbites that affect only the teeth, not the jawbone.
Spacing (Gap Teeth)
Spacing, or gap teeth, refers to noticeable spaces between teeth, which can invite gum disease, discomfort, and infection.
Caspersmile aligners may address slight spacing issues by gently moving the teeth and closing the gaps.
Crowding
Crowding is a condition where teeth overlap, twist, or bunch up due to lack of space.
Caspersmile's clear aligners may be able to create the necessary space for realignment.
Deep Bite
A deep bite is characterized by the upper front teeth biting too far down over the lower front teeth.
Caspersmile aligners can be used in some cases to gradually extend the lower jaw while rectifying the bite, simultaneously realigning the jaw and straightening the teeth.
Midline Shift
A midline shift occurs when the center lines of the upper and lower front teeth do not align.
Caspersmile can help you if you have minor midline discrepancies so that your top and bottom teeth are symmetrical and photo-ready.
Edge to Edge Bite
An edge-to-edge bite is when the upper and lower front teeth meet edge-to-edge.
Caspersmile may be appropriate for some edge-to-edge bite cases if there is enough space available to work with.
What makes Caspersmile aligners different?
24/7 support: Queries don't follow the clock, and neither does Caspersmile's support. Be it a question at the crack of dawn or a concern in the dead of night, their team is always on standby to assist you.
Nighttime option: For the night owls or the overly occupied, the Nightlong Caspersmile aligners are nothing short of a boon. Requiring just 10 hours of wear while you snooze, they gently work on aligning your teeth as you dream.
Low price: Quality orthodontic care should not be a privilege. The competitive pricing of Caspersmile aligners, coupled with a monthly payment plan, makes smile correction an accessible dream for many.
Caspersmile Guarantee: A guarantee is synonymous with peace of mind, and Caspersmile offers just that. Any extra aligners needed during the treatment come at no extra cost, and post-treatment, should any misalignment recur, their team is ready to step in and restore your smile.
If you're still considering your options, have a look at some other great choices below, including Byte, ALIGNERCO and SmiSmileieleie:
Find the right clear aligners for you
There are so many companies offering remote teeth straightening with aligners! Take a look at our top picks and discover why we recommend these over any others.
Caspersmile patient reviews ★★★★☆
Have a look at what Caspersmile patients are saying on Trustpilot!
"I've only been using Caspersmile aligners for a short time, but I'm already impressed with the results. My teeth are gradually shifting into place, and the aligners are comfortable to wear. I appreciate how affordable the treatment plan is compared to other options."

Rabby M
"I was really impressed with the impression process for Caspersmile. The kit they sent was easy to use and came with clear instructions. I had a few questions about the process, and their customer support team was really helpful and responsive. Overall, a great experience!"

Trica P
"I'm only a few days into my Caspersmile aligner treatment, but I can already tell a difference in how my teeth are shifting. The instructions are easy to follow and the aligners fit perfectly. Looking forward to the end result!"

Senaiul S
Conclusion
Caspersmile aligners are a potential solution for mild aesthetic teeth misalignment, offering both daytime and nighttime usage options. For $1,595 or a monthly payment plan of $153, it presents a more budget-friendly choice in the clear aligner market.
It's advisable, however, to seek a dental professional's opinion before starting treatment to make sure that this option aligns — pun intended — well with your individual dental needs.
If you'd like to begin treatment with Caspersmile click the button below to order your impression kit.
FAQs
How is Caspersmile different from other aligners?
Caspersmile aligners are very clear and handcrafted for maximum comfort and a superior fit. They are also some of the most affordable clear aligners on the market.
Does Caspersmile have a payment plan?
Yes, Caspersmile offers a monthly payment plan of $153 per month. You can also use money from your HSA or FSA to pay for your treatment. However, it's unlikely that dental insurance will cover this type of treatment.
What can Caspersmile aligners treat?
Caspersmile aligners can treat minor orthodontic issues, including slight overbites, crossbites, spacing, crowding, deep bites, and midline shifts. These aligners are only meant to treat aesthetic issues, not for medical needs.
Sign up to receive the latest news and offers from Dentaly.org