Are you looking for Smile Direct Club alternatives to straighten your teeth? Smile Direct Club is a popular brand of at-home clear aligners, and while many people do align their teeth with this brand, there are other companies you may want to check out as well.
Some of the most popular alternatives to Smile Direct Club include Invisalign, Byte, Candid, and ALIGNERCO. Each of these brands has a lot in common, but also some special features that can help you decide which is the best option for you.
In this article we'll talk about:
The best Smile Direct Club alternatives
Their costs, treatment time and eligibility requirements
How to choose the brand for you
We hope that this information helps you choose the best orthodontic treatment for your needs.
If you don't have a lot of time and you'd like to see a quick comparison of our top picks for Smile Direct Club alternatives, have a look now:
Find the right clear aligners for you

There are so many companies offering remote teeth straightening with aligners! Take a look at our top picks and discover why we recommend these over any others.

Best service
Complete treatment 100% remotely
Amazing customer service
Nighttime-only option
$1,395 or $83/month
NewSmile aligners are made from the clearest Essix plastic and come with a daytime or nighttime-only option to suit you. For just $1,395 you'll receive everything you need to straighten and whiten your teeth – and maintain your new smile:
Home impression kit
Full aligner treatment
Free whitening
First set of retainers
A full refund if you're not a good fit
NewSmile go above and beyond to provide a great experience to all their customers, beginning with a live video call to help you with your teeth impressions. Mail these back, and they'll send a 3D Treatment Preview for you to approve before going ahead.
Alternatively,
click here
for an extra $20 off an impression kit!
Best value
Complete treatment 100% remotely
6 month average treatment time
Nighttime-only option
$1,145 or $95/month
If you're looking for the best value aligner package, here it is! For just $1,145 you'll get:
Impression kit
Full aligner treatment course
Free teeth whitening kit
Your first set of retainers
In short, everything needed to straighten your teeth remotely and keep them looking great, with a full money-back guarantee if you're not a suitable candidate.
This low price doesn't mean you're compromising on quality of care, though. ALIGNERCO just choose not to put so much into marketing, and they pass on the savings to their customers. They are also known for their responsive and helpful customer care, which is important when you're doing things from home.
Plus, if you're in New York, you can visit their SmileStudio for a free consultation and help taking your impressions.
Nighttime-only aligners are also available for anyone who doesn't want to wear aligners during the day.
Get $150 off!
Faster treatment
3-4 month average treatment time
Assessed and planned by orthodontists
Includes whitening and first retainers
$1,895 or $83/month
Byte's HyperByte technology uses High Frequency Vibration to help your teeth move faster and with minimal discomfort. Their average treatment time is just 3-4 months, compared to 6 months for most others.
Treatment includes your first set of retainers. You'll also get their BrightByte 3-in-1 foam to whiten your teeth, clean your aligners and freshen your breath. And their Byte-for-life guarantee means you'll get free adjustments if your teeth start to move again.
Begin by ordering an impression kit so their orthodontists can assess whether you're a good match.
Get 75% off with code 02DENTALY100TS
What is Smile Direct Club?
Smile Direct Club (Smile Direct or SDC) is an at-home clear aligner company. That might be a mouthful if you're not yet familiar with this type of orthodontics.
What it means is that with Smile Direct, you use clear plastic trays to straighten your teeth. These trays are ordered online, and you complete treatment from home without visiting a dentist's office.
If that sounds sketchy or dangerous, don't worry, it's not necessarily — as long as you do treatment with a reputable brand. There are some important things to keep in mind when choosing a good brand for this treatment:
They make your custom aligners (don't try to straighten teeth with a one-size-fits-all option!)
They plan your treatment with a dentist or orthodontist
As part of treatment, you have regular remote monitoring with your dentist
Anyways, back to Smile Direct. The treatment process with SDC is fairly standard these days, and it typically goes something like this:
Impression kit: You order an impression kit online, and once it arrives, you take impressions of your teeth at home. Once you make your impressions, you then send them back in. You can also go to a SmileShop where you can get 3D scans taken of your teeth instead of doing your own impressions.
Treatment planning: A team of certified dentists from SDC will review your case and decide if you are eligible for treatment or not. If you are, they will develop a treatment plan for you, and have your aligners made.
Get your aligners: Your aligners will arrive in the mail, along with your treatment plan. Throughout treatment, you'll have regular virtual check-ins with an SDC dentist.
Smile Direct Club is cheaper than in-office braces options because you don't have in-office appointments with a dentist. Because of this, SDC can only treat mild to moderate cases of teeth misalignment, so this isn't a good option for everyone.
There is a new initiative that SDC is introducing to their treatment model — you can now visit a partner dentist in person at the beginning of your treatment for a consultation, and for 3D scans of your teeth.
If you'd like to hear what customers are saying about SDC, you can check out our Smile Direct reviews article.
And if you're interested in hearing what the CFO of SDC has to say about where the company is now, and their vision for the future including their partnering dentists, check out the following clip:
Smile Direct Club vs braces
So, what's the difference between Smile Direct Club and braces? A lot actually. But have a look at the following table where we've summed it all up:
| | | |
| --- | --- | --- |
| | | |
| | Transparent, removable tray that must be worn for 22 hours per day | Fixed, non-removable metal brackets and wires; worn 24/7 |
| | | |
| | | |
| | Regular remote monitoring with an SDC dentist | Regular in-office visits with your orthodontist |
| | | |
Smile Direct Club alternatives
There are plenty of SDC alternatives to choose from today, so to help you wade through it all we've chosen some of our top picks. Have a look!
Byte
Byte is a more recent brand than Smile Direct Club but has already amassed a huge network of satisfied clients. This is another clear aligner brand that has remote treatment.
Byte and SDC are similar in that with both companies, you can opt for 100% remote treatment — you order your impression kit online, make your impressions at home, and then send them in for your custom aligners to be made. You then continue your treatment with remote monitoring and check-ins.
Have a look at this rundown of the other similarities and differences between these two brands:
| | | |
| --- | --- | --- |
| | | |
| | | |
| | | |
| | | |
| | Mostly remote, but patients can meet with an SDC dentist | |
| | Partner dentists and SmileShops mean you can get 3D scans in-person | HyperByte technology speeds up the treatment time and eases discomfort |
Find out more about Smile Direct Club vs Byte in our full guide or get started with Byte now.
Candid
Candid used to be a completely remote aligner company, but they've recently transitioned to a more hands-on model. Now with Candid, you must meet with a CandidPro dentist to begin treatment.
But after the initial meeting, you continue treatment similar to how you would with other aligner companies. With Candid, you send scans of your teeth to your Candid dentist every 2 weeks so they can ensure you're on the right track.
In this interview from prnewswire.com, Dr. Craig Spodak talks about the benefits for Candid, dentists, and patients in this new partnership.
Check out the table below for the main similarities and differences between SDC and Candid:
| | | |
| --- | --- | --- |
| | | |
| | | |
| | | |
| | | |
| | Mostly remote, but patients can meet with an SDC dentist | |
| | Partner dentists and SmileShops mean you can get 3D scans in-person | Treatment begins with a visit to your CandidPro doctor |
Interested to learn more? We have an entire article dedicated to comparing the pros and cons of SDC and Candid, or you can set up an appointment with a CandidPro doctor now.
NewSmile
NewSmile is a 100% remote clear aligner company, with no physical locations where you can get 3D scans of your teeth, nor partnering dentists that you consult at the beginning of treatment.
One of their key selling points is that they have some of the clearest, and thus least visible, aligners around and their aligners work by moving all of the teeth at once, which can speed up treatment time.
Check out the differences and similarities between NewSmile and SDC:
| | | |
| --- | --- | --- |
| | | |
| | | |
| | | |
| | | |
| | Remote, but you can visit an SDC dentist or go to a SmileShop for 3D scans | |
| | SmileShops where you can get 3D scans | Clearest aligner material; moves all teeth at once |
Find out if you're eligible for NewSmile now to get started.
ALIGNERCO
ALIGNERCO, like NewSmile, is another 100% remote clear aligner company with no physical locations.
They've managed to make a name for themselves based on offering the lowest price for clear aligners. While they probably won't be able to solve any huge issues with your smile, this is a good option if you have minor adjustments you'd like to make.
Have a look at the comparison between SDC and ALIGNERCO below:
| | | |
| --- | --- | --- |
| | | |
| | | |
| | | |
| | | |
| | Remote, with option to visit SmileShop or SDC dentist | |
| | Get 3D scans at a SmileShop | |
If you only have minor issues to fix and you want the most affordable treatment, you can get started with ALIGNERCO now.
Other companies like Smile Direct Club
There are so many clear aligner brands out there nowadays that it can be hard to tell the difference between many of them. Some other brands that are similar to Smile Direct Club, but neither as well-known nor as noteworthy are Smilint, Smilelove, and SnapCorrect.
Smilint: One-size-fits-all option with no monitoring throughout treatment (Not recommended, but very cheap)
Smilelove: Follows a standard clear aligner process, focused on fast results
SnapCorrect: Standard clear aligner brand, nothing notable
Is Invisalign a good alternative to Smile Direct Club?
Invisalign is one of the brands of invisible braces that began the clear aligner revolution. The main difference between Invisalign and SDC is that Invisalign is an in-office brand. With regular visits with your dentist, this type of aligner can treat even more severe cases of malocclusion.
This also means it's more expensive than at-home clear aligner brands — potentially thousands of dollars more expensive. But, if you want to straighten your teeth, and you have a more complicated case to treat, then Invisalign may be the best option for you.
If you'd like to find an Invisalign dentist in your area, you can call 800-794-7437 now. You'll be connected with a live operator who can put you through to a dentist who offers Invisalign near you.
Whichever brand you choose, it's important that you take your time considering the options, and remember that cheaper isn't always better.
Conclusion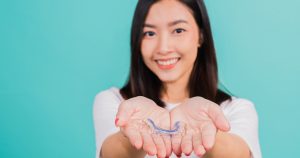 Smile Direct Club is a popular at-home clear aligner brand, but it certainly finds itself in good company. There are plenty of Smile Direct competitors that you can choose from, and a few who we think go the extra mile and rise a bit above SDC.
Our top picks as SDC alternatives include NewSmile, Candid, ALIGNERCO, and Byte, for the high quality of service they offer and their success in treating patients.
FAQs
Who are Smile Direct competitors?
Some of the most popular competitors to Smile Direct Club include Invisalign, Candid, Byte, NewSmile, and ALIGERNCO. Invisalign is an in-office brace with treatment similar to that of regular braces. The others are types of at-home clear aligners like Smile Direct.
Can SmileDirectClub be cheaper?
Smile Direct Club costs $1,950, making it potentially thousands of dollars cheaper than traditional braces or brands like Invisalign. Sometimes there are discounts available as well. This may bring the price down, even more, when there are limited-time offers.
Can you negotiate with SmileDirectClub?
No. Smile Direct offers a fixed price for their aligners. Both their standard 22-hour per day treatment and their nighttime treatment cost $1,950. They also have treatment plans available.
Why should you not use SmileDirectClub?
SDC treatment may not be the best treatment for everyone. For example, if you have a severe case of malocclusion, you may need to see an orthodontist for regular braces.
Can your teeth fall out with Smile Direct?
No. Your teeth shouldn't fall out with Smile Direct Club. If they do, then there is an underlying issue that should have been dealt with before you began treatment.
Sign up to receive the latest news and offers from Dentaly.org