What is SnapCorrect and can it help you straighten your teeth?
SnapCorrect is a clear aligner brand that lets you straighten your teeth conveniently, discreetly, and affordably.
That being said, this is just one of many companies that claim to offer affordable, clear aligners along with a convenient experience. In order to help you choose the best aligner company for your teeth, we've included the following information in this article:
How SnapCorrect works
SnapCorrect cost
How they compare to other aligners
SnapCorrect reviews
So let's get started so you can take the next step on your journey to straighter teeth and better dental health.
What is SnapCorrect?
SnapCorrect wants to make oral health and better esthetics more accessible. They do this by making clear aligners for straightening teeth that are customized, removable and affordable (compared to traditional braces and other discreet braces like clear braces and ceramic braces). As with some other clear aligner brands, they straighten your teeth completely remotely. SnapCorrect aligners are made from non-matte, clear BPA-free plastic, giving these aligners the in-house name, 'Truly Invisible'. The idea is that no one will notice when you're wearing them. These clear aligners also boast a shorter treatment time than original braces—the average treatment time for SnapCorrect is nine months.
How does SnapCorrect work?
This at-home aligner process works to straighten teeth very similarly to other aligner brands, and the general steps are:
Take the online assessment: You'll answer some questions about your teeth and your goals for your teeth with clear aligners.
Upload photos: You'll receive a link with instructions in your email to upload photos of your teeth to the site.
Take your impressions: After you do the assessment, a teeth impression kit will be sent to your home in the mail. Instructions are provided in the kit and you can call customer service if you have any questions.
Send impressions: Send your impressions back to SnapCorrect with the prepaid shipping label that was included in your impression kit.
Complete forms: You will also receive a Consent to Treat and Medical History form that you will need to complete and return to the address provided.
Begin your treatment: You'll receive all of your aligners in the mail at the same time. Wearing your aligners during the entire time laid out by your care plan is imperative.
Wear retainers: Once you've finished your aligners, it's important to wear your retainers at night for the rest of your life to make sure your teeth don't move back to a crooked position. You get a free set of retainers with your treatment purchase.
How to make SnapCorrect impressions
Making the molds of your teeth is one of the most important steps in straightening your teeth, so it's important to get it right. Here are the basic instructions from SnapCorrect, but you'll want to make sure you follow the directions sent with the impression kit as well.
Refrigerate the dental putty for 30 minutes. You must mix and use the putty as soon as you take it out of the refrigerator.
Take the white putty out of the container first, then take the blue putty out.
As soon as the blue putty is out, start your timer for 90 seconds.
Mix the blue and white putty together with your fingertips for 90 seconds.
Roll mixed putty into a thick coil or a log and fit it into the tray.
Put the dental tray in your mouth and bite down for 3.5 minutes.
These instructions are taken from the SnapCorrect video, which you can see below.
Who is eligible for SnapCorrect?
SnapCorrect, along with most at-home aligners is meant for minor to moderate cases of malocclusion. This includes people who have:
Dental crowding
Crooked teeth
Overbites and underbites
Gaps in teeth
How much does SnapCorrect cost?
At a glance, the company offers one of the most affordable at-home aligners options. The impression kit costs $95 and the aligners cost $1,749. You can also opt to do the monthly payment plan which starts at $80.84. This monthly cost is based on the purchase price of $1,749 at 10% APR for 24 months, but APR rates can go up to 30%. So if your treatment is going to take less than 24 months, paying upfront is likely to cost less than the payment plan.
SnapCorrect vs Invisalign and other brands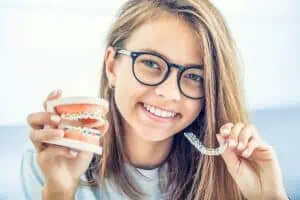 There are a few SnapCorrect competitors on the market. The one you may have heard of most often is Invisalign, which is an in-office brand, or Dandy which is hybrid meaning you have appointments with your dentist or orthodontist. Other popular at-home brands include Candid, (read our Candid reviews) Byte aligners, ALIGNERCO, NewSmile braces, and Smile Direct Club (SDC). You can also read Smilelove reviews if you are interested in a brand that is very similar to SnapCorrect.
Some of these brands are better than others in terms of quality and service. Below you can compare the top aligner brands to see which is best for you.
Find the right clear aligners for you

There are so many companies offering remote teeth straightening with aligners! Take a look at our top picks and discover why we recommend these over any others.

Best service
Complete treatment 100% remotely
Amazing customer service
Nighttime-only option
$1,395 or $83/month
NewSmile aligners are made from the clearest Essix plastic and come with a daytime or nighttime-only option to suit you. For just $1,395 you'll receive everything you need to straighten and whiten your teeth – and maintain your new smile:
Home impression kit
Full aligner treatment
Free whitening
First set of retainers
A full refund if you're not a good fit
NewSmile go above and beyond to provide a great experience to all their customers, beginning with a live video call to help you with your teeth impressions. Mail these back, and they'll send a 3D Treatment Preview for you to approve before going ahead.
Alternatively,
click here
for an extra $20 off an impression kit!
Best value
Complete treatment 100% remotely
6 month average treatment time
Nighttime-only option
$1,145 or $95/month
If you're looking for the best value aligner package, here it is! For just $1,145 you'll get:
Impression kit
Full aligner treatment course
Free teeth whitening kit
Your first set of retainers
In short, everything needed to straighten your teeth remotely and keep them looking great, with a full money-back guarantee if you're not a suitable candidate.
This low price doesn't mean you're compromising on quality of care, though. ALIGNERCO just choose not to put so much into marketing, and they pass on the savings to their customers. They are also known for their responsive and helpful customer care, which is important when you're doing things from home.
Plus, if you're in New York, you can visit their SmileStudio for a free consultation and help taking your impressions.
Nighttime-only aligners are also available for anyone who doesn't want to wear aligners during the day.
Get $150 off!
Faster treatment
3-4 month average treatment time
Assessed and planned by orthodontists
Includes whitening and first retainers
$1,895 or $83/month
Byte's HyperByte technology uses High Frequency Vibration to help your teeth move faster and with minimal discomfort. Their average treatment time is just 3-4 months, compared to 6 months for most others.
Treatment includes your first set of retainers. You'll also get their BrightByte 3-in-1 foam to whiten your teeth, clean your aligners and freshen your breath. And their Byte-for-life guarantee means you'll get free adjustments if your teeth start to move again.
Begin by ordering an impression kit so their orthodontists can assess whether you're a good match.
Get 75% off with code 02DENTALY100TS
SnapCorrect Reviews
Let's have a look at some SnapCorrect aligners reviews so you can see what other customers think.
"SnapCorrect has already given me back so much confidence in my smile"
We meet Christen six months into her alignment experience. In her review, she talks about how she used to always be aware of her crooked teeth before she decided to start treatment. She would keep her mouth closed as much as possible when talking to people and actively made an effort not to show her teeth due to embarrassment. Of course, her family and friends were supportive and said they didn't see what the big deal was, but you know how it is: You're your biggest critic, and you know if there's something that you don't like about yourself.
She shows us her SnapCorrect before and after photos, and you can indeed notice slightly straighter teeth. She still has three months to go, however, so her teeth may straighten some more yet. She says that her aligners have given her greater confidence in her smile and she'll let us all know how it goes once she's finished.
"Slow but steady progress"
Jen gives us a six-month update on her SnapCorrect process. She made the decision to try it because she has an active profile on social media and has always wanted straighter teeth for the pictures and videos she posts.
At first, she couldn't see any difference in her teeth, so she was a bit worried, but now, six months later, she sees a big difference. Her teeth used to overlap a lot, and now they are further spaced out. And according to the plan developed by the dentists at SnapCorrect, it looks everything is going as it should be.
She says that when she looks at the final set of aligners that she will be wearing, the outline shows really perfectly straight teeth, so she's optimistic that the outcome will be the same, but she'll keep us updated on how it goes. She's overall happy with her experience and says that the process has been painless, albeit a bit uncomfortable at times.
She did have one issue with one of the sets of aligners, but customer service responded quickly and she was able to get a new set quickly.
You can watch her full review here:
"I never heard from the supervisor, no one ever called me back"
This is an older review, but we thought it'd be useful to include because it demonstrates the potential difficulty you could have in making the molds of your teeth on your own.
This reviewer talks about her experience, including the frustrating process of making impressions. She actually just sent in her third try at the impressions. She says the molds were really uncomfortable and it was difficult to fit all of her teeth in the tray. But she took the impression anyways.
When she sent her third attempt at impressions in, customer service responded that they wouldn't be able to use them.
They claimed they were preparing her new trays, and when she asked to speak with a supervisor, they said they would have a supervisor call right back. No one ever called back, so she has quit SnapCorrect and made an appointment with SDC.
This user ultimately ended up having to use Invisalign, because her malocclusion was too severe for at-home aligners like SnapCorrect and SDC. But this review does go to show that you might want to opt for an at-home aligners brand that has a physical location where you can get in-person assistance if you need it.
Watch her full review below:
Recent SnapCorrect reviews
There aren't many recent vlogs or blog posts about these aligners, but there are some recent short reviews on sites like Trustpilot. Here are just a few:
"Noone has answered my emails"
"Very impressed with this company"
"What a waste of money!
As you can see, the reviews for the SnapCorrect aligner are sort of all over the place. That being said, they have 4.6 out of 5 stars from ConsumersAdvocate and 4.5 out of 5 stars on Trustpilot. You'll have to decide if the lower SnapCorrect cost is worth it to you and if you think that you only have a mild or moderate case of malocclusion that they'll be able to treat.
Conclusion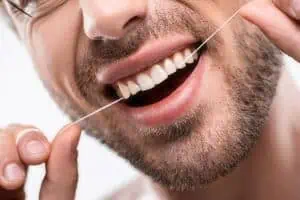 SnapCorrect promises an affordable, convenient and more invisible way to straighten your teeth than other clear aligner brands. Their treatment is 100% remote—there are no physical locations where you can go to ask for help if you need it. This seems to be fine with some people, but others have a difficult time taking their impressions properly.
The most important thing to consider is whether you have a case that can be treated with this kind of teledentistry.
If it turns out that you have severe malocclusion that can't be treated by at-home clear aligners, then you may want to consider Invisalign or even traditional braces. Whatever option you choose, you should feel good about taking this step to better your oral health, as straighter teeth can help with problems like decay and infection.
FAQs
Who is a candidate for SnapCorrect?
If you have mild to moderate misalignment, then you could be a candidate for SnapCorrect aligners. However, anyone with severe cases of malocclusion will not be eligible.
How much does SnapCorrect cost?
The cost is comparable to other aligner brand. Aligners with SnapCorrect cost $1,749 and the price for the impression kit is $95. You can also pay with the payment plan that starts at $80.84/month.
Do I have to use rubber bands with SnapCorrect?
Rubber bands are often an unpleasant part of the teeth straightening experience. Great news! There are no rubber bands with SnapCorrect! One less thing to worry about!
How often do SnapCorrect retainers come?
You get one free set of retainers as part of your treatment — you won't receive multiple sets on a schedule. If something happens to this set, you can order a new set of retainers for $99.
How long does SnapCorrect take?
The average time it takes to straighten teeth with the SnapCorrect company is from 3-18 months, with average treatment time being 9 months. Other aligner brands may take longer.
Is SnapCorrect legit?
SnapCorrect has worked for some people with mild cases of malocclusion. And if you're looking for the shortest treatment time, they might be right for you. However, we recommend other brands.
Sources
Mouth Healthy: Braces. Consulted 9th January 2020.
Sign up to receive the latest news and offers from Dentaly.org