Looking for Candid reviews? If you want straighter teeth, clear aligners like those offered by Candid are a great option. But before you decide, it's always a good idea to see what other people have to say. That's why we've compiled some honest reviews from real Candid orthodontics customers.
You'll find out the answers to some of your most burning Candid questions, like:
Are they painful?
Do they work?
Are they worth it?
So without further ado, let's dive into some Candidco reviews and see what customers are really saying about their experience with this convenient and relatively affordable brand of braces for adults.
Candid vs Candid Care Co vs Candid Co
You might get confused during your initial search for Candid reviews, because you'll find reviews for Candid, Candid Care Co and Candid Co. But guess what? They're all the same! According to the Better Business Bureau, Candid Care Co is the business name, and Candid Co is the alternative business name.
A quick look at press releases from the spring of 2018 shows that that's about the time when they starting referring to themselves as the more direct "Candid". That's why you'll see any of these versions of the company name used interchangeably throughout this article, and throughout the web.
The Candid Process
Before we jump into the reviews, let's do a quick refresher on how Candid actually works.
The Candid treatment process is in the process of undergoing a big change. Where Candid has been a remote treatment brand, they are now transitioning to a model wherein there is a network of Candid dentists. Patients will have in-person meetings with their Candid dentist, although it's still not clear how often these visits will be.
Before this change, the Candid process followed the usual steps of most clear aligners:
Order your complete aligner kit online to take molds of your teeth at home.
Receive your aligners in the mail and wear them following the instructions laid out by your personalized treatment plan.
After treatment with aligners, wear retainers to keep teeth in place.
Whiten your teeth along the way with the complimentary whitening foam!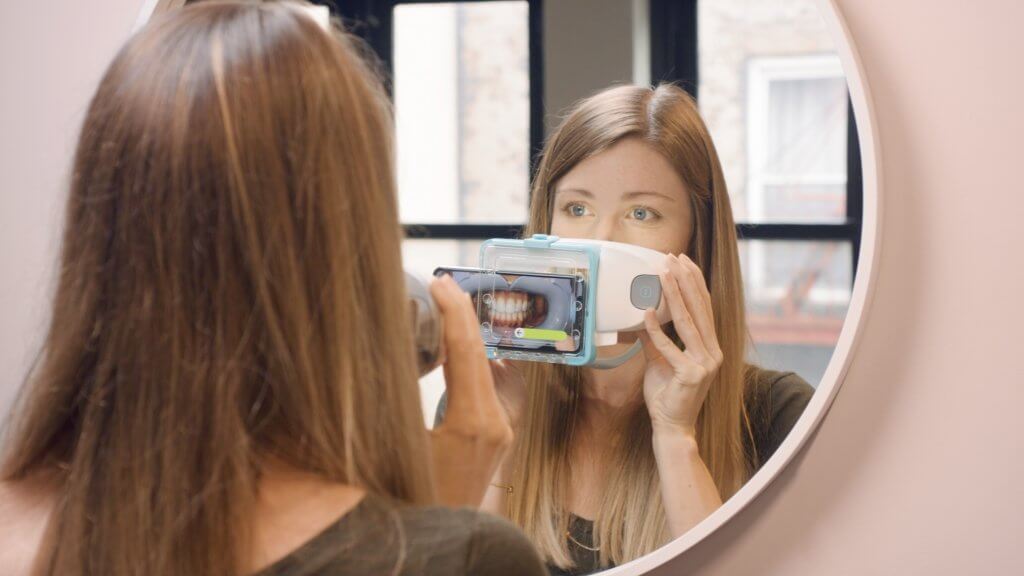 The cost of Candid is comparable to other at-home braces and a lot cheaper than traditional options and in-office options like Invisalign. See how Candid compares to Invisalign.
You can read more about Candid aligners in our full Candid guide here and see how it compares to SDC in our Candid vs. Smile Direct Club article.
Candid isn't the only clear aligner brand offering quality treatment at an affordable price. If you'd like to check out some of the other top brands before you commit, you can compare them below:
Compare the best aligner options
There are so many companies offering remote teeth straightening with aligners! Take a look at our top picks and discover why we recommend these over any others.
Otherwise, keep reading to see what real customers have to say about Candid!
Andrea's Candid clear aligner review: Candid Co 3 months in
"I am only 3 months into treatment, and I am already 1000% satisfied with my treatment."
Andrea begins her blog post and Candid Co review by letting the reader know that she is not receiving money or free aligners in exchange for her review.
Andrea has a relatively mild case of teeth crowding, and reveals that her biggest motivation for getting invisible braces is to correct the slight overlap of her front teeth.
As of her post, she is three months into her treatment and she is happy to report that her teeth are almost perfectly straight; she can floss between her teeth now, which she never could before, and she doesn't feel insecure in photographs anymore. Although to be honest, she had a pretty nice smile before beginning treatment too.
She also notes that her teeth are whiter, thanks to a whitening foam that comes with the clear aligners.
A few other points she mentions in her Candid Co review are:
Her aligners shipped 14 days after she ordered them, and took three days to ship, so 17 in total.
She says Candid Co is a legitimate company, and that she has had no problems with their customer support.
She has submitted a coverage request to her insurance company but isn't sure if the aligners will be covered.
All in all, it sounds like Andrea's quite happy with her Candid Co experience so far, and you can read her whole article to see her full candid co review and before and after pictures.
Jenn's Candid aligner review: The good, the bad and the ugly
"The invisible aligners company that allows you to straighten your teeth without ever changing out of your pajamas."
In Jenn's blog post, she checks in near the end of her Candid treatment. Jenn has only two more aligners to go. Her treatment plan was only six months, as she had a fairly mild case of malocclusion.
One thing that Jenn mentions appreciating in her Candid review is how convenient they are. She loves that you can complete every part of the process all from the comfort of your home.
She also says that Candid has great customer service. She didn't really have many questions throughout the initial process, because the resources that Candid provides, including a video tutorial, and an informational booklet, make everything really easy to follow. She also received biweekly reminders of when to change her aligners, and monthly emails just checking in.
And finally, she says that the aligners really are quite invisible. She credits that to their matte texture which doesn't reflect light off her teeth the way it does with other clear aligners.
As far as some cons of Candid Co go, Jenn says:
Ouch! Straightening your teeth can hurt, especially at first!
Prepare yourself for a noticeable lisp…or move to Barcelona
Plan for discomfort
Try not to take them out in front of your hot date…unless they have a thing for excess saliva! Ew!
Visiting the Candid Studio
Please note: As of the 9th of December, Candid studios are closed. You can still do treatment with Candid by ordering your impression kit online.
This Candid reviewer talks about how she has always wanted braces, especially to close the gap between her two front teeth. However, due to the high cost of traditional orthodontic treatment, she never got braces as a child or as an adolescent.
But then, as an adult, her teeth began to crowd even more on the bottom, and she decided it was time to do something about it. Her initial thought was to go with Invisalign since she is a young professional and doesn't love the idea of walking around with a mouth full of metal. But when she found how just how much Invisalign costs, there was just no way that she would be able to afford them…and then she found Candid!
Candid appealed to her because of the convenience this system offers and of course, the lower price tag.
In her vlog, she takes us along as she visits a Candid Studio in New York.
First impressions? The studio is ultra-chic and modern, with a super-friendly care specialist who greats you as you walk in, makes sure you're comfortable and offers you sparkling or normal water. It almost seems like a fun place to just go and hang out!
The care specialist isn't just friendly, he's also extremely helpful and professional. He began by taking pictures of our vlogger's teeth, with and without a spacer. Then he takes the 3D scans and while he's doing it, he walks her through the whole process, showing her the images on the computer screen.
Her main takeaways from visiting the studio are:
Everything was really clean
The care assistant was nice, helpful and professional
All of her questions were answered, even ones she didn't know she had.
And she got a swag bag with a cool toothbrush!
You can see her full experience at the Candid Studio in her video below.
If you're interested in Candid aligners then the first step is to take a free online Smile Assessment to find out if you're a good candidate.
Candid Journey Before and After
Jay checks in with us at the end of her 9-week treatment with Candid, beginning with saying that it definitely works.
She explains that when she reached the end of her treatment, Candid reached out to her to find out how the treatment went. She told them that she noticed her teeth were not yet completely aligned. They suggested a refinement and a new treatment plan with nine new aligners.
At the time of this video, she is at step four of her second treatment and she is very happy with her progress and already received her retainers to wear after treatment. She has 10 weeks left and shares great tips along with her experience so far.
Watch Jay's full experience below!
"You will brush your teeth in the weirdest spots"
At least that's what Anthony, the author of this Forbes article says. At the time of writing this article, he's had his Candid aligners for eight weeks, and he's learned a few things, well specifically eight things, along the way:
Your teeth will hurt
You will be unsure of the process
You will slowly begin to notice results
Way less snacking, since you have to keep your aligners in for 22 hours per day
You'll brush your teeth more
You'll brush your teeth everywhere, his examples include theme park bathrooms, his car, at his friend's wedding
You'll have whiter teeth, thanks to Candid's whitening foam
You'll worry you're doing it wrong
He's also learning that straightening teeth will take a different amount of time for everyone, but he's OK with being patient and doing it right. And with Candid, he has the best of both worlds—at-home convenience and professional supervision. Plus, he says, the AI Dental Monitoring aspect of Candid makes it one of the best options among all the at-home aligners.
Now that you've some real Candid reviews, check out the following table that summarizes the pros and cons of this treatment compared to traditional braces.
| | |
| --- | --- |
| | |
| | Not for severe cases of malocclusion |
| | Some people may prefer in-office treatment |
| Cheaper than Invisalign and traditional braces | |
| | |
| | |
| | |
Conclusion
At-home aligners like Candid have been successful in plenty of cases, and they may also be one of the best options for you.
We think that Candid is one of the best brands of at-home aligners because they only work with orthodontists for treatment monitoring and you have the option of advanced AI technology as well.
So, have these reviews convinced you of the benefits of getting Candid aligners? If so, get started right now by taking the free online smile assessment.
Still undecided? Our guide to the best invisible braces explains and compares some more options for you.
Sign up to receive the latest news and offers from Dentaly.org