Candid vs Smile Direct Club… that is the question. You know you want straighter teeth, and you've already decided that the at-home route is the best option for you. But now you need to choose between two of the most popular adult braces brands on the market.
The truth is, both have been proven to be successful in straightening teeth for cases of mild to moderate malocclusion. And many users love that the whole process can be completed from home. Which is why, in this article, we'll go over the pros and cons of Candid vs Smile Direct including:
Smile Direct cost vs Candid Co cost
Candid and Smile Direct treatment differences
Who has the best customer service?
Candid vs Smile Direct vs Invisalign
We hope this helps you work out which option is right for you!
The short version: Candid vs Smile Direct Club
Don't have time to read it all now? Here's our take. We recommend Candid over SDC. Why?
Candid have a thorough diagnostic process
Their cutting-edge technology can reduce your treatment time
Candid are known for their great customer service
If you're interested in Candid aligners then the first step is to take a free online Smile Assessment to find out if you're a good candidate.
Candid Co vs Smile Direct Club
Is Smile Direct Club or Candid Better?
To figure out which option is better for you, we'll take a look at both the similarities and differences between these two brands, so that you can decide whether Candid or Smile Direct is best for you. We'll also do a quick recap of how teledentistry works when it comes to straightening your teeth.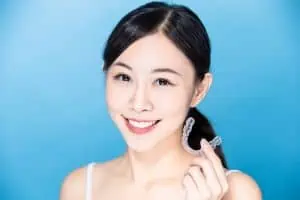 Please note that Candid used to be a completely remote aligners brand, but they are currently transitioning to a model that includes a network of dentists that you meet in person.
How do at-home braces work?
By now you've probably heard about the success of clear aligners in straightening teeth, and you're familiar with how the process works as well. But just in case you aren't, let's go over the basics of at-home clear aligners:
At-home braces are made from clear plastic so that they are virtually invisible when you are wearing them. They are also removable, although you're supposed to wear them most of the day, but if you have a special event, you can take them out for a couple of hours.
The general process is as follows:
Teeth scans or impressions
Meet with a dentist or purchase your kit online. Some aligners requiure you to meet with a dentist to begin treatments, while others make it possible to be approved for treatment remotely, and order your aligners online.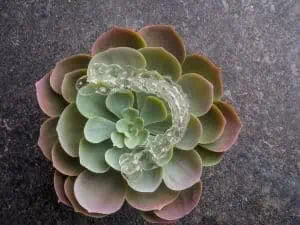 Remote monitoring
Your dentist or orthodontist will monitor your process as you go along, making adjustments as needed and checking your progress to make sure you are ready to move onto each new aligner. With some aligners, including Candid after they transition to the new model, you will also meet in person with your dentist for check-ups.
Follow-up care with retainers
Just like with braces, for best results, you should continue to wear a retainer for the rest of your life. You can order your retainer after you complete your treatment with the aligners.
And voila!
Many patients prefer this type of teledentistry for the convenience of not having to make appointments with an orthodontist, for the discretion they offer while wearing them and because they are much more affordable than other teeth straightening options.
And SDC and Candid are not your only options if you're considering this type of treatment. We've included Byte, NewSmile, and ALIGNERCO in our list of the best invisible braces, too! Have a look at these top brands to see which is the best for your needs:
Find the right clear aligners for you

There are so many companies offering remote teeth straightening with aligners! Take a look at our top picks and discover why we recommend these over any others.
Now, let's continue with our comparison of two of the best-known brands.
Candid vs Smile Direct: Similarities
Clear aligners: Both Candid and Smile Direct offer clear, removable aligners
Fewer office visits: Candid's new model may include some office visits, and Smile Direct Club has none at all, once you've begun treatment. Either way, you're visiting the dentist less than you would be with normal braces.
Candid vs Smile Direct Club: Differences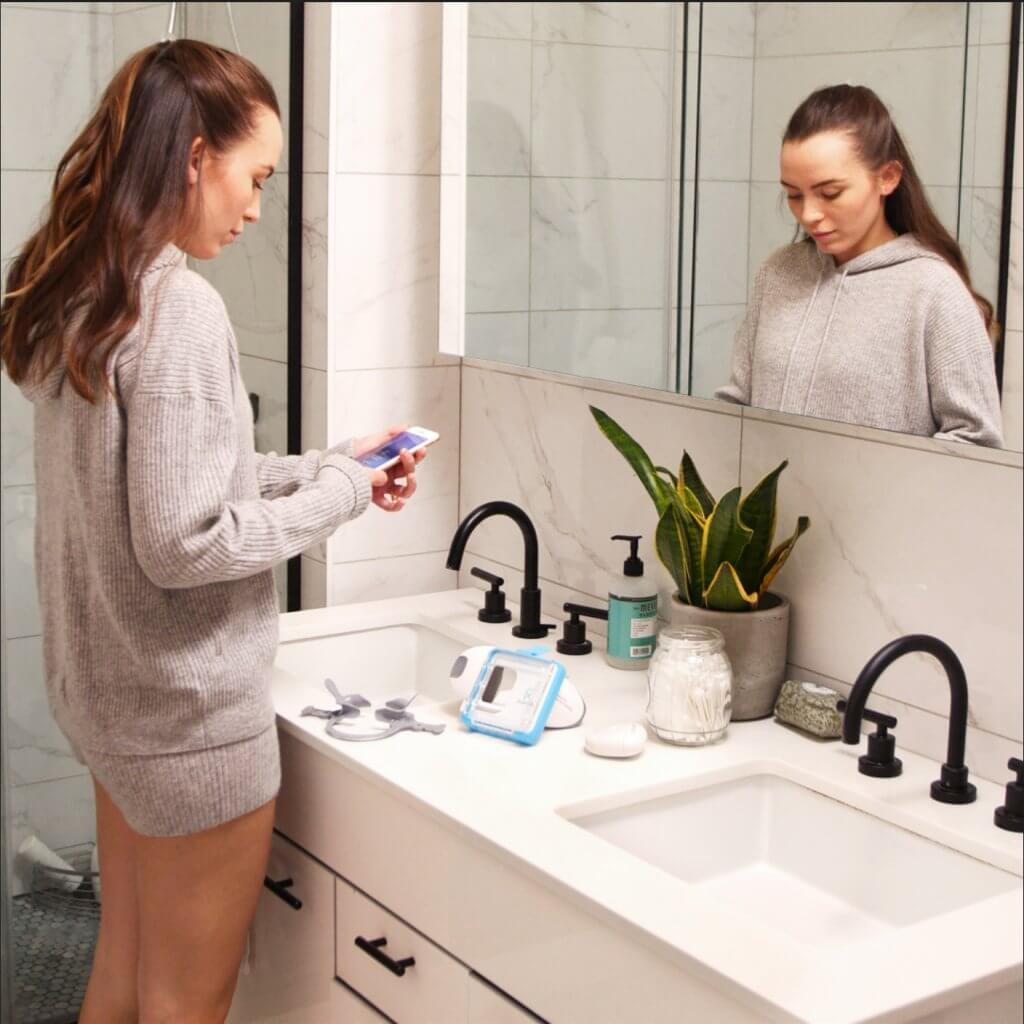 Now have a look at the primary differences when it comes to Smile Direct vs Candid.
Nighttime aligners: SDC offers Nighttime Clear Aligners, which only need to be worn for 10 hours a day, most of which you can do while you sleep. This does, however, tend to prolong treatment time.
Cost: The sticker price for SDC and Candid is the same – $1,895, although this is subject to change.
Customer service: Candid offers video chat and receives overall excellent customer service reviews when compared with SDC.
AI technology: Candid now includes remote monitoring using AI technology with everyone's treatment to help make the process more efficient and effective. Patients digitally check in every 10 days, whereupon their orthodontist will let them know if they can move on to their next aligner trays. This helps keep patients accountable and makes it easier for your orthodontist to accurately follow your treatment.
Candid vs Smile Direct cost
We mentioned that cost is one of the differences when it comes to Candidco vs Smile Direct, although when compared to the costs of other braces and especially in-office invisible braces, the difference is minimal.
Even so, you can see that at first glance, Candid appears to be a bit more expensive than SDC. Have a look at the following table for a summary of the cost differences:
| | | |
| --- | --- | --- |
| | | |
| | | |
| | | $49 at home (free in-studio) |
| | | |
| | Requires a credit check and a down payment | Requires a down payment but no credit check |
As you can see, Smile Direct Club, barring any promotions offered by each of the brands, is a bit cheaper than Candid.
But keep in mind that the Candid price includes AI monitoring. This has the potential to cut months off of your treatment time, and in an interview with MedCity News, Nick Greenfield, Candid's CEO, says that there is a 95% compliance rate when this technology is used, as opposed to an 80% compliance rate normally, meaning more patients stick with the treatment to the end.
Candid vs Smile Direct Club reviews
We've included a couple of examples of reviews, but you can find a larger collection of Candid aligner reviews and Smile Direct reviews in separate articles.
To give you a taste, have a look at this Candid review from a woman at the end of her braces journey. She's overall happy with her experience, saying it was way better than she thought it would be at the beginning.
And now have a look at Henricka's review for Smile Direct Club. Since moving to the United States from Africa, she began looking for an affordable way to correct the gap between her two front teeth. She is also quite happy with her results.
Candid vs Smile Direct Club vs Invisalign
If you are investigating your options for clear aligners, chances are you are quite familiar with Invisalign. Invisalign is one of the brands that helped make clear aligners so popular. It works in quite the same way as Candid and SDC, in that your dentist or orthodontist comes up with a plan that involves a series of virtually invisible clear aligners.
So when it comes to the differences between Candid vs Invisalign vs Smile Direct, what stands out?
The two main differences are price and the fact that Invisalign treatment must be completed at your dentist or orthodontist's office. And while Candid's new treatment will likely involve some in-office visits, there will probably be fewer than with Invisalign.
Invisalign can cost anywhere from $3,500 to $8,500 for their Full treatment, making them much more expensive than either Candid or Smile Direct Club.
You can find out more about that in our Candid vs Invisalign comparison, or in our SDC and Invisalign comparison here.
Who is Candid best for?
Candid is for those who:
Want to straighten their teeth discreetly
Want fewer office visits
Want to pay less than they would for Invisalign
Don't want to compromise on quality of care
Who is SDC best for?
SDC is best for those who:
Want to straighten their teeth discreetly
Want to do it from home
Have mild to moderate malocclusion
Who is Invisalign best for?
Invisalign is best for those who:
Want to straighten their teeth discreetly
Want hands-on monitoring by a dentist or orthodontist
Don't mind paying more for direct care
Have mild to severe malocclusion
Conclusion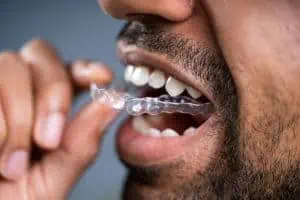 If you need some teeth straightening but nothing too severe, chances are that you will get the results you want whether you choose Smile Direct Club or Candid. After all, when it comes to Candid aligners vs Smile Direct, the way they work is very similar — they both offer (mostly) remote treatment for a more affordable price than other invisible braces.
Candid costs a bit more, but you're also getting high-tech AI remote monitoring and some visits with a dentist.
Ultimately, you'll have to figure out what your priorities are, and what you think will be the best for your oral health.
If you're interested in Candid as an option, your first step is to take their free online assessment to find out if you're eligible for this type of treatment
We have details of more Smile Direct Club alternatives and Invisalign alternatives if you're still undecided.
FAQs
Which is better, Candid or Smile Direct Club?
The question on many consumers' minds—is Candid or Smile Direct Club better? Both Candid and Smile Direct can be successful in giving you the straight smile you've always wanted. These two brands have more similarities than differences, but we prefer Candid, due to their superior customer service.
What's the difference between Candid vs Smile Direct vs Invisalign?
Candid and Smile Direct are both at-home invisible braces whereas Invisalign requires in-office visits, making treatment more expensive. Have a look at the main differences.
Price: Candid and SDC's ticket price is the same: $1,895.
Nighttime option: SDC offers aligners that only need to be worn for 10 hours a day (or night), however, treatment time will most likely be longer.
Customer service: Candid is known to have better customer service, including an online chat option.
AI remote monitoring: Candid has introduced new remote monitoring that speeds up treatment and makes it more effective.
Sign up to receive the latest news and offers from Dentaly.org