You've been researching your options for straightening your teeth and you want to know which is better: Candid or Invisalign?
On the one hand, Invisalign is one of the biggest names in the orthodontics game, but on the other hand, Candid is so much more affordable. But then, can you really straighten your teeth without going to the dentist?
If you're feeling stuck in deciding, don't panic! We are here to help you make the best decision for your smile. In this article we'll go over the following:
Costs of Candid vs Invisalign
Treatment time
Who can be treated by which method
Which is best for you
So, take a deep breath because you're about to take the next step on your journey to a beautiful smile (we think your smile is already beautiful, but we understand that you want straighter teeth!)
The short version: Candid vs Invisalign
If you're pushed for time, here's our honest take.
When all is said and done, these are actually both good brands. But, the affordability and convenience of Candid make it much more accessible to a much broader range of people. And we are all about making oral health care accessible to all! We also appreciate that they work exclusively with orthodontists to make sure you're getting the absolute best care.
Candid is only suitable for mild and moderate straightening—if you think that description fits you, you can take their free online smile assessment to get started.
How does Invisalign work?
First things first, we've got to talk about how these braces actually work. If you're familiar with how traditional braces go, Invisalign has a pretty similar process:
Molds: Your dentist or orthodontist will take a mold or digital scan of your teeth (scans are generally more accurate).
Treatment planning: Your scans or molds are used to plan your treatment with advanced computer technology.
Before and after: You can see before and after views of your teeth before beginning treatment.
Teeth filing: You might have to have your teeth filed to create space for them to move.
Begin treatment: You'll begin your aligner treatment!
In-office visits: Every two weeks or so you'll have an appointment with your dentist or orthodontist to check on the progress of your treatment and move on to your next set of aligners.
Retainers: After Invisalign treatment, you'll need to wear Vivera teeth retainers at night for the rest of your life to make sure your teeth don't go back to their original position.
How does Candid work?
The Candid process is quite a bit different from the Invisalign process, but it is changing as Candid works to move towards a model more similar to Invisalign, which includes a network of dentists. Instead of ordering a kit online, you'll now be matched with a CandidPro dentist in your area.
The following information is how Candid used to work, but we'll keep you updated as changes are implemented.
Impressions or scans: Order your aligners kit online and take impressions of your teeth and then send them back into Candid.
Approval: A licensed orthodontist will review your scans or molds and decide if treatment with Candid is a good option for you.
Receive your aligners: If you are approved, you'll receive all of your aligners in the mail at once, along with a detailed treatment plan, clear instructions, tooth whitening and a remote monitoring system.
Remote care: You'll have regular check-ins with your orthodontist remotely. They will monitor your treatment and let you know when you are ready to continue on to the next set of aligners.
Teeth whitening: During your straightening journey, you can use Candid's tooth whitening foam so you can have both straighter and whiter teeth.
Retainers: Just like with Invisalign (or any other braces for that matter) you'll need to wear a retainer every night for the rest of your life to make sure your teeth stay in place.
If you are interested in treatment with Candid, the best way to get started is by taking their free online Smile Assessment to find out if you're a good candidate.
You can watch this short video below for an introduction to Candid from the company's founder and head orthodontist.
Candid vs Invisalign: Similarities
Obviously there are some important similarities between Candid Co and Invisalign, otherwise, you wouldn't be here, trying to figure out which one to choose! So let's have a look at the main similarities between Invisalign and Candid treatment.
Invisible straightening
Invisibility! Yes, both Candid and Invisalign are a kind of clear aligner that is now widely accepted and promoted by professionals as a discreet way to straighten your teeth. They are made from different materials, so there may be a bit of a difference in transparency, texture and general appearance, but it's likely only a difference that you will notice. If anyone else gets close enough to notice the difference, tell them to back off!
But, we at Dentaly.org are nothing if we aren't thorough, so let's go over how each brand describes the material of their aligners.
Material used by Invisalign
According to the Invisalign website, these aligners are made from SmartTrack material. They describe them as being gentle, effective and efficient.
Material used by Candid
Candid's braces are made from a BPA-free plastic material called Zendura. Zendura is said to be durable, strong and effective. Invisalign used to use Zendura before switching to SmartTrack.
Removable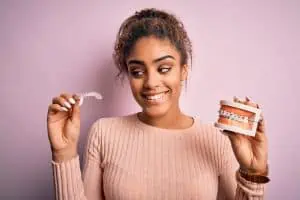 The aligners offered by both of these brands are removable, which is a big selling point for both of them. Although, keep in mind that removable doesn't mean that you can simply take them out as you please.
Candid says that you must wear your aligners for a minimum of 22 hours a day in order to move your teeth safely and effectively.
Invisalign says that you need to wear your aligners for 20 to 22 hours per day, so there is a bit more flexibility there.
That being said, both brands encourage you to only take your aligners out when you are eating and to keep them in the rest of the time.
There are other alternatives to Invisalign – both in-office and remote – which cost less than the big-name brand. Read more about some good Invisalign alternatives in our separate guide.
Candid vs Invisalign: Differences
There used to be more differences between these two brands, back when Candid specialized in remote orthodontics. However, now that you see a CandidPro dentist in person, the difference gap is narrowing. Here are some differences that you still might find:
Whitening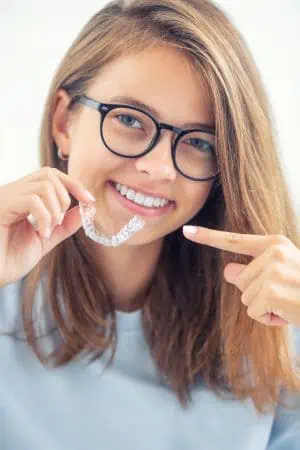 When you get your Candid braces in the mail, you'll also receive a free tube of their whitening foam. You simply put the foam in your aligners, and it's gentle enough to be worn overnight. It can also be used to clean your aligners up to four times a day, and it has the added benefit of freshening your breath.
If you want whiter teeth with Invisalign, you'll have to purchase a separate whitening system.
Attachments
With Invisalign, your dentist or orthodontist may see it fit to add buttons or attachments to certain teeth. These will help your aligners work more efficiently, applying extra force needed for tooth rotation or movement. These attachments are one of the reasons why Invisalign can treat more severe cases of malocclusion.
With Candid, there are no attachments needed. On their website, Candid says that attachments and buttons are only for when dramatic tooth movement is needed, and require in-office treatment and supervision. If your teeth require attachments for proper treatment, then your case qualifies as more than mild to moderate malocclusion, and beyond the scope of what can be treated by Candid.
Tooth filing
As we mentioned above, with Invisalign retainers, you may need to get teeth filing done in order to make room for your teeth to move, but with Candid there is no filing of your teeth.
Customer service
It's essential that a teledentistry company like Candid have customer service that goes above and beyond, and Candid's service is known for just that. One facet of their customer service includes online video chat, so you can talk to someone in real-time, face to face, about any issue that you may have. If you want to learn more about what people think about Candid's service, you can read our Candid reviews article to find out more.
AI remote monitoring
Here's where Candid really goes above and beyond any other braces company, in-office and at-home alike.
Candid is now partners with a medical tech company called Dental Monitoring. Dental Monitoring offers an AI remote monitoring system, one of the latest technological advances in the teledentistry world, made for doctors to use with their patients to elevate patient care.
How does Candid's AI technology work?
AI monitoring is included in everyone's treatment, without any additional cost. Every 10 days, you have to check in with your orthodontist. To do this, you first download the Dental Monitoring app on your smartphone, and then you slide your phone into the slot at the back of your ScanBox. You then follow the instructions to take pictures of your teeth. The AI technology analyzes the scans and sends the information onto your orthodontist.
Your orthodontist will look at the scans and decide whether or not you can move onto the next aligner tray.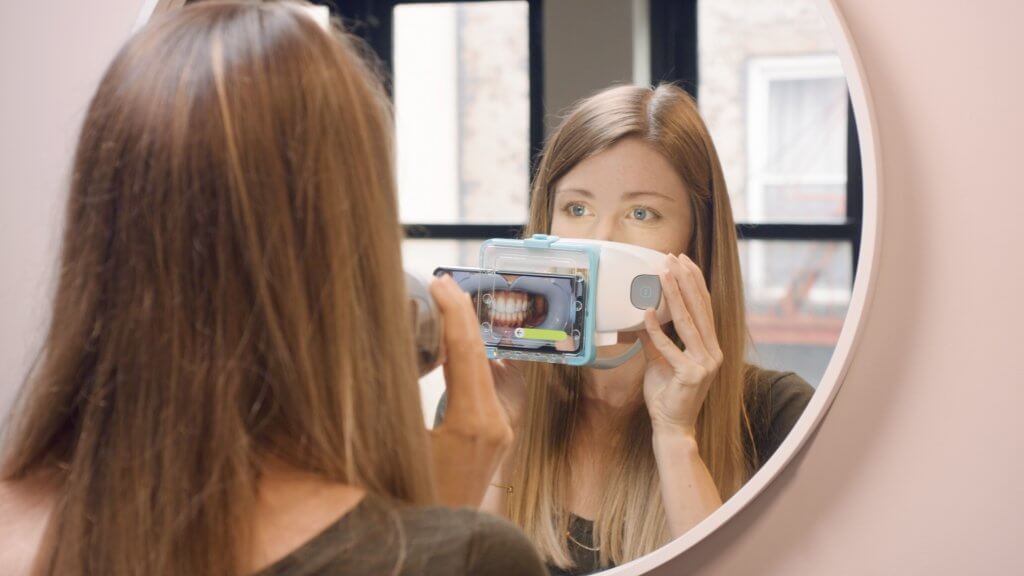 Why is this important?
The usual frequency for adjustments and aligner changes for all braces is around two weeks. Since with Candid, you are checking in every ten days, if your orthodontist decides that at the 10-day mark you are ready for your next set of aligners, you can be onto your next trays over half a week before you would if you had to wait the traditional two weeks.
Typically this reduces treatment time between 20 to 30%, but in some cases your orthodontist may move you to the next aligner after seven days, and so you can see how it has the potential to reduce treatment time up to 50%.
Who can have them
Candid: Treatment with Candid is for those who have mild to moderate malocclusion.
Invisalign: Treatment for Invisalign can be for anyone who has mild to some severe types of malocclusion.
Anything beyond that will most likely need to be handled with traditional braces and involve other forms of treatment as well.
Find the right clear aligners for you
There are so many companies offering remote teeth straightening with aligners! Take a look at our top picks and discover why we recommend these over any others.
You may also want to check out our guide to the best invisible aligners, which covers these brands in more detail.
Conclusion
It can be difficult to choose which path to choose when it comes to straightening your teeth, but that's only because in this modern age, we are fortunate enough to have such an embarrassment of options. Both Invisalign and Candid have been shown to be effective, and a search online will yield positive and negative reviews.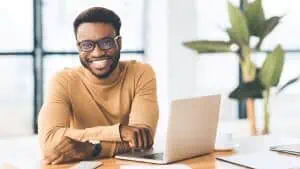 As we mentioned at the beginning of the article, we slightly prefer Candid over Invisalign, due to the fact that they work exclusively with orthodontists, they have great customer service and they are affordable and convenient.
FAQs
Is Invisalign better than Candid?
Both Invisalign and Candid have their pros and cons. We prefer Candid overall for their affordable price and convenience, making them accessible to a wider range of people.
Candid is for those with mild to moderate malocclusion, so if you have severe malocclusion you may have to go with Invisalign or even traditional options.
Is Candid cheaper than Invisalign?
Candid is cheaper than Invisalign! Candid costs $1,895 and Invisalign can cost anywhere from $3,500 to $8,500 — that's a potential difference of thousands of dollars in some cases.
Sign up to receive the latest news and offers from Dentaly.org