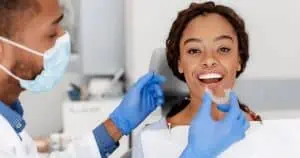 What is Six Month Smiles, and does it work? Six Month Smiles is a brand of invisible aligners and clear braces for adults and teens that has an average treatment time of six months. They offer both invisible aligners and clear braces to treat patients with a wide range of alignment problems.
In this Six Month Smiles review, we'll help you figure out if this option is the best for you by taking a look at:
Six Month Smiles reviews from patients
Potential problems you may encounter
Alternatives to Six Month Smiles treatment
Cost of Six Month Smiles
What is Six Month Smiles?
Six Month Smiles is a teeth-straightening company that offers two treatment options—invisible aligners or clear braces—and promises an average treatment time of six months. Both clear aligners and braces are effective in treating malocclusion, although braces are typically required in more severe cases.
This brand doesn't offer full bite correction. Rather, it just works to align the teeth that are visible when you talk and smile. Unlike at-home braces, this company requires regular, in-office visits with a dentist from start to finish. In that way, they are similar to Invisalign, except that they also offer a clear braces option. Let's take a closer look at what these two options mean.
Invisible aligners
Invisible aligners (also commonly referred to as 'clear aligners') are clear plastic trays that are custom-made for your teeth. Patients typically receive a series of trays, each one representing the next step in treatment. The average time of wear for each set of invisible aligners is two weeks, although this may depend on the brand you choose, your compliance with wearing them, and the rate at which your teeth are straightening.
Six Month Smiles invisible aligners are made from Zendura FLX material. This material has properties similar to memory foam for comfort, is flexible, and has contoured edges.
If you opt for invisible aligner treatment with 6 Month Smiles, you may need to get buttons or attachments put on your teeth. These are temporary, discreet, tooth-colored fixtures that help secure the aligners better on your teeth for more efficient straightening.
Clear braces
Clear braces are much more similar to traditional metal braces than they are to invisible aligners. The main difference between metal and clear braces is that with clear braces, the brackets are made from a clear ceramic material and the wires are tooth-colored. The rest is pretty much the same—clear braces are not removable, and they can only be applied or removed by your dentist or orthodontist.
If you opt for clear braces with Six Month Smiles, your treatment should still only take six months, and you'll need to visit your dentist three to seven times throughout treatment for adjustments. If you're not a candidate for invisible aligners because you have a more complex case of malocclusion (teeth and jaw misalignment), you may be eligible for clear braces, which are intended for more severe cases.
Who can have 6 Month Smiles?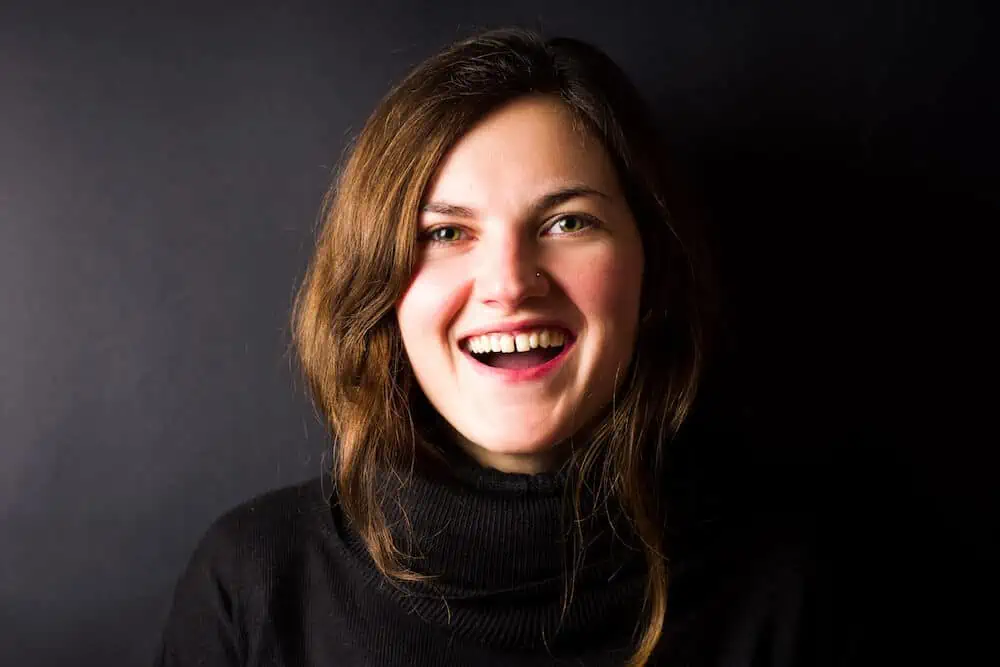 Adults and teens over 16 with crooked, crowded, or misaligned teeth may be eligible for treatment. The first step is to visit a participating dentist and get approved. Patients with mild to moderate teeth straightening needs may be candidates for the invisible aligners, while those with more complex cases will most likely need to get clear braces.
How much does Six Month Smiles cost?
Six Month Smiles costs between $3,000 to $5,000, depending on the complexity of treatment you need. The company also offers a payment plan, in which case your 6-month smile cost would be $86 per month and a downpayment of $399, with post-braces retainers included.
Six Month Smiles compared to other brands
There are myriad discreet ways to straighten teeth these days, from in-office clear aligners and at-home clear aligners to clear braces, lingual braces, and everything in between. Let's have a look at some of the most popular options out there for adults and teens committed to avoiding a mouth full of metal.
Candid
Candid aligners are a type of at-home aligner and part of a booming market expected to reach USD 5.58 billion by 2027. Like other brands on the market, they offer completely remote orthodontic treatment.
You can purchase an impression kit online, take your impressions at home, and then complete your aligner treatment without ever going to see a dentist in person. However, if you aren't comfortable taking your impressions at home, you can visit a Candid Studio where a trained representative will take 3D scans of your teeth for you. Many people find this type of treatment more convenient than conventional methods since they don't have to worry about missing work or school.
Something unique that Candid offers is an AI remote monitoring system, where you use a scanner that attaches to your phone to send 3D images to your Candid orthodontist. This helps your orthodontist better monitor your treatment and can even cut down on treatment times. Candid costs $2,400 and has an average treatment time of six months. It's intended to straighten mild to medium cases of malocclusion.
ALIGNERCO
ALIGNERCO aligners are similar to Candid in that you can complete treatment from the comfort of your home. They recently opened a SmileStudio in New York where patients can go for in-person consultation and help taking their impressions. Chances are that more SmileStudios will pop up in larger cities around the country. This treatment also averages six months, and they are the least expensive option at just $1,345. ALIGNERCO also offers a nighttime clear aligners option where you wear your aligners for 10 hours at night, and you don't have to wear them during the day. This treatment costs a bit more ($1,345) and treatment time may be extended.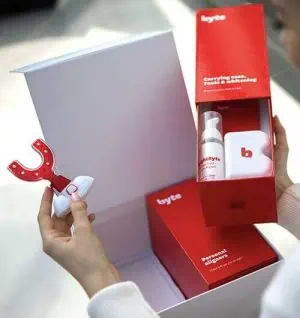 Byte
Byte is another at-home aligner brand, which like ALIGNERCO, has no physical locations. Treatment costs $1,895 and comes with HyperByte, Byte's unique technology that delivers gentle micropulse therapy to reduce comfort and speed up the movement of teeth. Thanks to HyperByte, the average treatment time with Byte is just three months. Byte also has a nighttime option that costs $2,245 and extends treatment time to around six months. Read more about Byte in our full Byte reviews article.
NewSmile
NewSmile offers both standard and nighttime aligners for the same price of $1,595 or $58 per month, and you can start with a fully refundable $49 impression kit. This brand offers similar benefits to other at-home aligners, including invisibility, convenience, and affordability. However, they are also made from special Raintree Essix plastic which is the clearest aligner plastic on the market. If you'd like to find out more, you can read our NewSmile review.
Since there are so many great options out there, we have an easy way to compare them all and decide which one is best for you. Simply fill in a few details below to check your eligibility and access some exclusive aligner offers!
Invisalign
Invisalign is one of the most well-known invisible aligner brands. Invisalign can treat more severe cases of malocclusion than at-home aligners can. This is because it requires regular visits with your dentist, and treatment time can last from 12 to 18 months. This treatment is also more expensive than mail-order brands, averaging anywhere between $3,500 and $8,500.
Uniform Teeth
Uniform Teeth is a newer brand of clear aligners that is a hybrid of at-home treatment (like Candid) and in-office treatment (like Invisalign). With Uniform Teeth, you meet with a dentist for your initial scans, then you visit your dentist up to five times during the course of your treatment.
Treatment time with Uniform Teeth depends on the degree of correction that you need. There are three levels of treatment:
Level 1: Less than 6 months, mild aesthetic changes; $2,500
Level 2: 6–10 months, moderate crowding and misalignment issues; $3,950
Level 3: Greater than 10 months, severe cases; $4,950
6 Month Smiles reviews
Let's have a look at what dentists and patients are saying in these 6 Month Smile reviews.
Taxin Dental review
In the video below, a Six Month Smile provider explains what he thinks the benefits of this braces treatments are. He mentions the discreetness of treatment and faster treatment time and that most of his cases finished in just six months. This brand might be best for some patients, while Invisalign or other brands might be best for others.
John's review
Men's lifestyle blogger John tells us what it was like to get Six Month Smiles when he was 45. He never had braces as a kid, and because of root canals, bike accidents, and crowding, his teeth got to a point where he decided he needed to do something about it. Since he needed a higher degree of correction, he decided to go with braces, but he didn't want full-on metal mouth.
Then he learned about Six Month Smiles and decided to choose it for his braces treatment. He doesn't have many Six Month Smiles complaints, only that he has a slight lisp. He thinks he has the lisp because he ended treatment too quickly. John says he should have spent another month with his braces, but due to a move, he had to take his braces off after five months.
To complete his new smile, he got veneers to take care of his discolored front teeth. You can watch his full review, which includes his Six Month Smiles before-and-after photos in the video below.
Is Six Month Smiles treatment for me?
Six Month Smiles is a good option for anyone who wants:
Correction for mild to complex cases
A discreet way to straighten teeth
To pay less than for traditional braces
Shorter treatment time than traditional braces
Not sure if this is the right option for you? To help you decide, have a look at the table below where you can compare the price, treatment time, and eligibility requirements for all of the brands mentioned in this article. And don't forget you can compare your options using our handy assessment here.
Conclusion
Six Month Smiles is a brand of clear braces and invisible aligners for adults and teens who want to straighten their teeth without traditional metal braces. The aligners are meant for mild to moderate cases, while the clear braces option handles more complex cases of malocclusion. Six Month Smiles is able to keep the treatment time short, even in complex cases, because they don't work to fix your entire bite. Instead, they align the teeth that are visible when you talk and eat.
For both the aligner and clear braces option, you need to visit with a Six Month Smile dentist for a consultation and then go in for regular visits for adjustments and checkups. If you'd prefer to get cosmetic teeth straightening without the need for in-office visits, consider at-home aligners.
FAQs
What alternative six-month smile braces are available?
Other 6-month smile braces include brands like Candid, ALIGNERCO, and Byte. Normally, companies that offer such fast treatment time are at-home aligner brands. Six Month Smiles, on the other hand, requires regular office visits and is able to treat more complex cases than clear aligners normally can in a shorter period of time.
How much do other 6-month braces cost?
The six-month smile cost for most brands is between $1,000 and $3,000. That's because most brands that have such a short treatment time are at-home brands that can cut costs because there are no regular in-office visits with a dentist or orthodontist.
Does Six Month Smiles really work?
Six Month Smiles can treat people with mild to complex cases of malocclusion. People with mild cases may be able to opt for their invisible aligner treatment. Those with more complex teeth straightening needs will most likely have to go with the clear braces option.