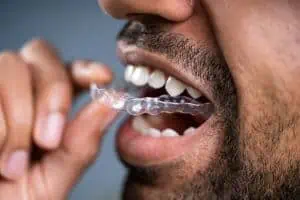 Welcome to our in-depth AlignerCo review.
Many people are looking for an affordable, discreet, effective, and convenient way to straighten their teeth. Does this sound like you? If so, you may want to consider treatment with AlignerCo.
AlignerCo offers one of the most convenient and affordable teeth-straightening methods on the market, with at-home clear aligners that are truly invisible. That's why we've written this AlignerCo review. We'll fill you in on everything you need to know to make an informed decision about straightening your teeth, including:
How much does AlignerCo cost?
What's the treatment time?
Is it safe?
Find out if you're eligible and save $100
If you are short on time, our quick take is that AlignerCo is an effective way to straighten teeth for many people, plus it's one of the most affordable solutions out there. If you want to get started with AlignerCo braces right away, you can take their assessment to find out if you're eligible for treatment.
You can also get an extra $100 off your aligner package for a limited time with promo code SMILE100, so don't miss out on this great deal!
But if you feel like you need more information, keep reading to find out if AlignerCo aligners are the best option for you.
What is AlignerCo?
Before we dive into the specifics of AlignerCo, let's do a little refresher on clear aligners (sometimes also called invisible braces). Clear aligners are a solution for people who want to straighten their teeth without the inconvenience and discomfort that comes with traditional metal braces.
Anyone who's ever had traditional braces will be quite familiar with not just the aesthetic downsides of braces, but also all of the sores and cuts your gums and cheeks develop from being scratched and caught by the metal brackets. That's where clear aligners come in; a successful way to straighten teeth discreetly. They are made from plastic and are removable. Sometimes the top edges of the aligners can cut into your gums, but if that happens, you can simply file the edges until they are smooth.
The world of invisible braces has evolved so much there are actually two main kinds of this teeth-straightening method: In-office and at-home. In-office aligners require initial consultations with your orthodontist and then frequent check-ins thereafter until your treatment time is done. The most well-known brand of in-office braces is Invisalign, although other brands like ClearCorrect are popping up with frequency.
AlignerCo, in contrast to Invisalign, is a clear aligner company that lets you straighten your teeth from home. Completely from home. That means no taking time out of your schedule to go see a dentist or orthodontist. You can complete the entire process, from ordering your impression kit to actual treatment with aligners to post-care with retainers, from the comfort of your home.
So how does it work? Let's, take a closer look at the AlignerCo teeth-straightening process.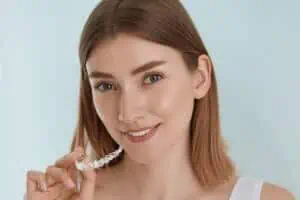 How does AlignerCo work?
How can you possibly straighten your teeth from home? What happens if something goes wrong? These are excellent and important questions, and we think you'll find that AlignerCo provides some pretty good answers.
The AlignerCo process
Before you begin treatment with AlignerCo, you get to take their super easy, super fast assessment—this will let you know right away if you're a good candidate for this sort of treatment. Once you've taken the assessment, and get the green light to go ahead, then you can officially get started.
Step 1: The first step is to order your impression kit online. Your impression kit includes a special molding putty that you fit inside of mouth-shaped trays. These trays are then used to take impressions of your teeth. You then send these impressions to your AlignerCo orthodontist. If you need help taking your impressions, you can contact their customer service 24/7, or schedule a video chat appointment.
Step 2: Using your molds, your orthodontist creates a personalized treatment plan, consisting of a series of aligners that will gradually align your teeth.
Step 3: You'll receive your aligners in the mail, along with a detailed treatment plan and easy-to-follow instructions. You'll begin with the first aligner, and change aligners every two weeks until your treatment time is done and your teeth are straight. An orthodontist will remotely monitor your treatment during this time.
Step 4: As with any type of orthodontics, in-office, at-home, invisible or metal, you need to wear retainers at night for the rest of your life in order to make sure your teeth stay in their straight position. Unlike with some other brands, with AlignerCo, your first set of retainers is included when you order your aligners.
In the video below, you can watch Daniela go through the process of making her molds. She is surprised by how difficult it is for her to do it correctly, but the good thing is that once you've made your first set of impressions, you can send a picture in to AlignerCo, and they'll confirm if you've done it correctly or not. That way you know what to do if you have to take a second set.
Nighttime treatment
AlignerCo offers a nighttime treatment option as well. This treatment plan only requires you to wear your aligners from eight to 10 hours a day, so your daily routine isn't affected by your aligners.
Treatment time will take longer than the average time for standard AlignerCo aligners, which we'll discuss more below. This option is also a bit more expensive than the regular option.
AlignerCo braces treatment time
With AlignerCo aligners, treatment time usually takes from six months to one year, unless you choose the nighttime option. If you require only very mild adjustments, then you'll be closer to the six-month mark, whereas those requiring more extensive treatment can wear their aligners for a year.
During this treatment time, you'll need to wear your aligners for 20 to 22 hours per day; the success of your treatment is entirely dependent on whether or not you wear your aligners for the prescribed time. Not doing so could delay the treatment process. You'll wear each aligner for two weeks before switching to your new aligner unless the orthodontist who is monitoring your care instructs you to wear it longer.
Who is AlignerCo for?
AlignerCo is for anyone who wants to straighten their teeth safely and for the most affordable price available. To be a candidate for AlignerCo you must also:
Have only mild to moderate teeth crowding, spacing or bite misalignment issues (not severe)
Be 14 years of age or older
Wait at least three months after getting an implant
Do you meet these criteria?
If you have mild or moderate malocclusion, are at least 14 years of age and haven't gotten an implant recently, you can take the
AlignerCo assessment
right now to see if you're a candidate.
Remember to use promo code SMILE100 to get $100 off your aligners!
How much do AlignerCo braces cost?
The founders of AlignerCo set out with the goal of making straight teeth and beautiful smiles accessible to everyone. That's why they offer some of the most affordable aligners on the market.
There are three ways to pay for standard AlignerCo:
SmileAdvantage: This plan costs $1,145 and includes your impression kit and your aligners and a set of retainers. Right now you can use promo code SMILE100 to get $100 off this plan, reducing the cost to just $1,045!
SmileFlex: This plan costs $110 per month. You pay in installments of $110 every month for 12 months. The total cost comes out to $1,320.
SmileFlex Easy: With this plan, you pay just $95 per month for 11 months, but you also have a down payment of $275. The total comes out to $1,320.
There are also three ways to pay for NightOnly AlignerCo:
NightAdvantage: This plan costs $1,345 and includes your impression kit and your aligners and a set of retainers. You can also use the promo code Smile100 on this option.
NightFlex: This plan costs $125 per month. You pay in installments of $125 every month for 12 months. The total cost comes out to $1,500.
NightFlex Easy: With this plan, you pay just $105 per month for 11 months, but you also have a down payment of $345. The total comes out to $1,500.
AlignerCo accepts only Visa Credit and MasterCard Credit for their SmileFlex plan, and all major forms of payment for their SmileFlex Easy plan.
How is AlignerCo different than other brands?
It's true that someone looking for a discreet way to straighten their teeth has many options to choose from. But some brands, like AlignerCo, differentiate themselves from your run-of-the-mill aligners in some very important ways. Some of the most important ways that AlignerCo is different from other brands include:
Affordability: At just $1,145, AlignerCo is one of the cheapest brands on the market.
Orthodontist supervision: Many brands work with both dentists and orthodontists, but AlignerCo works just with orthodontists to plan your treatment. This is important because orthodontists are dentists who go on to specialize in teeth straightening.
Online video chat: AlignerCo offers an online video chat option if you need help taking your impressions.
Have a look at the following table for a summary of the difference between AlignerCo and some of the other most popular brands on the market, like Byte, Candid, and SmileDirectClub:
AlignerCo reviews
Now let's have a look at what some of the many people who have used AlignerCo to straighten their teeth have to say.
Pamela's AlignerCo review
We check in with Pamela as she begins her AlignerCo journey. Pamela is a mother who has spent most of her adult life focusing on her children and has never had the time to dedicate to herself. Now that her kids are older, she finally has time to address things like her smile, and the affordability and convenience of AlignerCo attracted her to this option. Watch her unboxing review in her video below.
Trustpilot reviews
AlignerCo has stellar reviews on Trustpilot with an overall rating of 'excellent'. Here's what some people have to say:
"They made everything super simple and their price is the best on the market!"

"The experience I had with Alignerco was awesome! What I loved the most was that you get good quality aligners at an affordable price, and they are able to work with you financially."

"Alignerco was an amazing company to work with. They always replied to my e-mails efficiently and I received my supplies faster than expected. I am so glad I went with this company for my teeth alignment experience."
Should I get AlignerCo?
Ultimately, you'll have to decide if AlignerCo is the best option for you. We recommend this brand for anyone who:
Wants to straighten teeth discreetly
Wants to straighten teeth from home
Is looking for the best price
Wants to work exclusively with an orthodontist
Values customer service
How do I get started?
You can get started on your AlignerCo journey today. All you have to do is take their assessment to find out if you're a candidate. If it turns out you are, you can go ahead and order your impression kit and aligners online.
Conclusion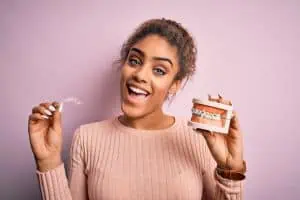 If you're looking for an affordable, safe and effective way to straighten your teeth, AlignerCo may just be the best option for you. It's one of the cheapest brands on the market, and they only work with orthodontists for your treatment monitoring, so you know you're getting the best care.
As with any remote braces brand, it's up to you to follow the instructions, wearing your aligners from 20 to 22 hours a day, and your retainers every night after treatment in order to ensure successful results.
If you think this could be a good option for you, you can get started by finding out if you're eligible for this kind of treatment by taking AlignerCo's assessment. If you are a candidate, you can order your impression kit right away! Don't forget to use coupon code SMILE100 when you buy your aligner package to get $100 off!
How long does AlignerCo treatment take?
AlignerCo treatment can take fewer than 6 months and up to 12 months, it all depends on the level of teeth straightening you need.
Does AlignerCo work?
If you have mild to moderate malocclusion and are approved for treatment by the orthodontists at AlignerCo, this treatment option should absolutely work for you. However, as with any at-home braces, your treatment success will be highly contingent on whether or not you wear your aligners for the prescribed amount of time every day, (between 20 and 22 hours).
After treatment, continued success will require wearing your retainers during the day for the first few months and then only at night for the rest of your life.
Is AlignerCo safe?
AlignerCo treatment is definitely safe, as long as you follow the instructions. Plus the aligners themselves are FDA-approved!
Is AlignerCo legit?
The legitimacy of many at-home braces and DIY treatments can be a rather grey area at times, but in our opinion, that's not the case with AlignerCo. It really can help you get straighter teeth, and for one of the lowest prices on the market. What really ensures that AlignerCo is legit, is that they work exclusively with orthodontists to plan and monitor your treatment. This is important because orthodontists have specialized training in teeth straightening, so they can provide even better care than dentists who haven't specialized in orthodontics.