What is the best Waterpik water flosser?
Depending on your needs, there are Waterpik models for all lifestyles and budgets. Try the Aquarius for the all-around best Waterpik, or the Cordless Express for a budget and travel-friendly option.
Waterpik is also constantly innovating, with new futuristic models like the Ion and Sidekick.
In this Waterpik review, we'll help you wade through the various options to find the best Waterpik for your needs.
You can read more about the best water flossers of every brand in our separate article. And you can also check out our guide to whether you should floss before or after brushing.
What is the Waterpik water flosser?
A water flosser is an oral health appliance meant to be used for dental care at home, instead of, or in addition to, traditional dental floss, depending on what your dentist recommends.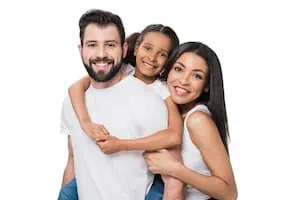 Water flossers consist of a motor with a pump, a water reservoir and a water flosser tip. The motor pumps pressurized water from the reservoir, through the tip and into your mouth. This stream of water removes plaque and food particles just like regular floss.
Waterpik is just one brand of water flossers that are available on the market. What sets the Waterpik apart is that it was the first of its class to earn the American Dental Association Seal of Acceptance.
A similar product is air flossers, which you can read about here.
What are the features to consider in the best Waterpik flosser?
Due to their efficacy and ease of use, water flossers have become quite popular, and as a result, there are many different kinds on the market. Here are some features you should keep in mind:
Countertop: A countertop water flosser has a large reservoir base that holds enough water for repeated uses, and that means less frequent re-filling. Countertop models may also be more powerful than a cordless water flosser.
Cordless: Cordless water flossers are not connected to a larger reservoir that sits on the countertop. Instead, they have a smaller reservoir that is built in to the handheld device. The best benefits of a Waterpik cordless water flosser are that it takes up less space, making them the best travel Waterpiks. The downsides are that it isn't as powerful as a countertop model and some have reservoirs that only offer a stream of water for as little as 30 seconds.
Price: Waterpik flossers can range in price from $40 to $200, so you'll have to decide what extras you will pay for.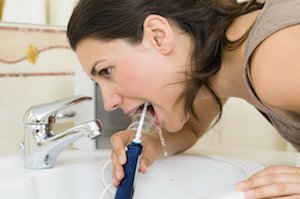 Settings: Water flossers come with various settings, some even having up to 10. This can be very useful, especially if your family will be using it as well.
Tips: All water flossers have standard water jet tips, and then some come with special tips for cleaning different things, such as orthodontics, your tongue, and implants.
Electric toothbrush compatibility: If you prefer using an electric toothbrush but don't want to occupy any more precious countertop space, you should look for either a countertop unit that bundles the two items together or a cordless water flosser that is compatible with the charging base for your electric toothbrush.
Now, without further ado, let's have a look at some of best Waterpik water flossers on the market today.
Waterpik Aquarius water flosser
The Waterpik Aquarius is topping the list as one of the best-rated Waterpiks for most water flosser reviewers. This countertop water flosser has all the bells and whistles you could hope for. You may also see this listed as the Waterpik WP-660.
It includes 10 different water pressure settings that are easily chosen by rotating a knob on the side of the countertop component. One of the settings is a "pulse modulation" mode that first flosses your teeth and then massages your gums.
The tip rotates 360 degrees so you can easily get into normally hard-to-reach places and a timer beeps every thirty seconds to remind you to move on to a different part of your mouth.
This model also comes with seven tips: three classic jet tips, a toothbrush tip that lets you brush and floss at the same time, a plaque seeking tip, an orthodontic tip for braces and a tip for periodontal pockets.
The reservoir holds enough water for 90 seconds of use, which is more than enough since dentists recommend around 60 seconds of flossing per day. You also don't need to recharge this unit, as it runs on AC power. And for those concerned with tidiness, the tips can be neatly stored in the reservoir's cover.
Some Waterpik flosser reviews complain it takes up a lot of space and makes a quite a bit of noise, but most consumers report they are happy with their purchase. One says:
"This is my first water flosser. So far I love it. It's easy to use and cuts maintenance time so I can get out the door or to bed. I wanted to post pics so you to see the size of the unit as I couldn't really tell the space utilization. It's compact and blends in."
If you want the best Waterpik for braces, implants, braces and periodontal pockets, this water flosser model has it all. In fact, we even feature it in our article on the best Waterpik for tonsil stones.
Waterpik Ultra water flosser
If you are attracted to the Aquarius but are looking for something a bit more affordable, consider the Waterpik Ultra Water Flosser. This flosser is an earlier model than the Aquarius, and it has a bit bulkier design and doesn't look as modern.
That being said, it has plenty of functions, such as 10 pressure settings that are easily adjusted by a dial, and a convenient push-to-stop water flow button on the handle. It also has seven tips: three classic jet tips, a toothbrush tip, a plaque seeker tip, an orthodontic tip and a periodontal pocket tip.
It doesn't, however, have a 30-second pacer, nor does it have a hydro-pulse massage mode.
One reviewer sums up their experience by saying:
"We've been using these types of products for many years. They improved it with more hand control features, a stronger lid and a smaller water tubing coil that retracts better. We love these additions."
Find out more about the WP-100 in our full review.
Waterpik Cordless Express
If you're looking for an affordable, straightforward Waterpik model that you can take with you on the go, then this may be the Waterpik for you. The Cordless Express is one of the best cordless Waterpiks for a variety of reasons:
Convenient: This Waterpik water flosser was designed for use anywhere, in small bathrooms, in the shower, and while traveling.
Proven to work: It's accepted by the American Dental Association and shown to remove up to 99.9% of plaque where used.
Time-saving: You only need 1 minute per day to improve your gum health.
Easy-to-use: Replace the AAA batteries every 1 to 2 months and switch on and off with a simple switch.
Great features: 2 pressure settings, 1,200 pulses/minute, 5-ounce water reservoir for 30 seconds, 2 flossing tips.
After adding the Waterpik Cordless Express Water Flosser to their hygiene routine, this Waterpik review writer says:
"I wish I knew about water flossers earlier in my life. This particular one is easy to use-be sure to watch the video for tips. It's definitely portable and adds an extra layer to having clean teeth."
See instructions for how to use the Cordless Express in the video below:
Waterpik Cordless Rechargeable water flosser
If you liked the convenience of the Cordless Express, but you're looking for something a little more luxurious, check out the Waterpik Cordless Rechargeable. Read our full page on the Waterpik WP-560 cordless range.
This water flosser has all the same features as the Cordless Express—ability to remove 99.9% of plaque, and ADA acceptance, a waterproof design, travel-friendly—and then some.
It also offers:
Cordless charging: Rapid magnetic cordless charging makes it easy to charge on the go
Pressure settings: 3 pressure settings ranging from 45 to 75 PSI
Multiple tips: Tip storage case includes 2 classic jet tips, 1 orthodontic tip and 1 plaque seeker tip
One happy customer has this to say in their Waterpik cordless water flosser review:
"We purchased it for my stepdaughter who has braces. It works amazing and we don't have to worry as much if she's getting all. Doesn't need to be charged too often and the refill is so quick and easy."
Waterpik Sidekick Portable water flosser
The Sidekick is one of the newest Waterpik models and by far the most stylish. This sleek water flosser features a compact form and a water-resistant travel and storage case that allows you to take it with you wherever you go.
It's got some other outstanding benefits too:
Full-sized power: This Waterpik may be lean, but it performs as well as any of the most powerful countertop models.
Proven to work: It's been clinically proven to remove up to 99.9% of plaque.
New stylus tip: Integrated classic tip with swivel handle makes it easy to reach every corner of your mouth.
5 settings: With pressure ranging from 10 to 100 PSI, you can go as gentle or as powerful as you want.
"Love this portable Waterpik. It by far exceeded by expectations. I keep it in my carry-all bag in my car. Simple to use in any restroom as it has its own carrying pouch."
In the table below you can see a summary of the best Waterpik water flossers:
| | | | | | |
| --- | --- | --- | --- | --- | --- |
| | | | Waterpik Cordless Express | Waterpik Cordless Rechargeable | |
| | | | | | |
| | | | | | |
| Covered tip storage in unit | | | | | |
| | | | | | |
| Hydro-pulse massage mode & LED indicators | | | | | |
| | | | | | |
| Reservoir capacity (seconds) | | | | | |
| | | | Batteries, not electric charging | Worldwide magnetic charging | |
| | | | | | |
| | | | | | |
Waterpik Sonic Fusion
If you want more than a water flosser, the Waterpik Sonic Fusion combines flossing with an electric toothbrush. Read our Waterpik Sonic Fusion review page. And with Complete Care, you get everything you need in one package. Check out our Waterpik Complete Care 5.0 review now.
Waterpik reviews by dentists
In the video below you can see a dentist give her opinion of Waterpik water flossers. She talks about how effective they are at removing plaque and cleaning gum pockets.
Watch her full Waterpik flosser review to see why she recommends that you add it to your oral hygiene routine.
Best Waterpik alternatives
Waterpik is certainly one of the most well-known water flossers out there, but there are some other brands you may want to consider as well.
cariPRO Cordless water flosser
The CariPRO is comparable to the Waterpik rechargeable model—the price is a bit higher, but in return, you get a luxury flossing experience. This water flosser features a sleek design that will complement even the most stylish of master baths, and each package comes with: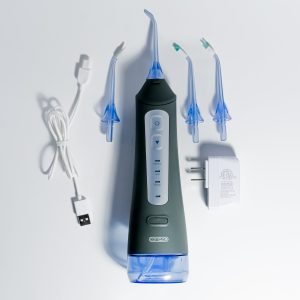 1 cariPRO Cordless Water Flosser
4 specialty floss tips (standard, crowns, perio, braces)
1 USB & wall charger
Full 2 year limited warranty
Its generous reservoir holds 155ml of water for 45 seconds of flossing, with pressure levels ranging from 44 to 75 psi. It also features three flossing modes — normal, soft and plus — for a customized experience.
It runs for 28 days on a single charge, making it great for taking with you on the go, and it comes with a 60-day trial so you can try it for two months, risk free.
Get your cariPRO Cordless Water Flosser now at a discounted price.
Fairywill 5020E water fosser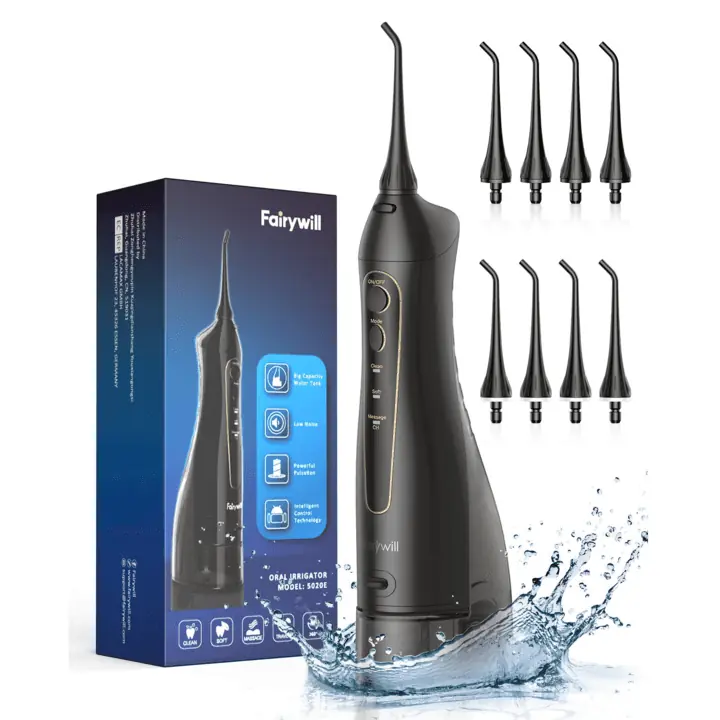 The Fairywill water flosser is an affordable option that has all the features you need to care for your gums and teeth.
This flosser features 1400 to 1800 high-pressure water pulses per minute that deep clean your teeth and gums, while feeling like a pleasing massage.
The water tank holds 300 ml of water — nearly twice as much as cordless Waterpik models. That means that you can thoroughly floss your teeth without having to refill.
Other features include three flossing modes and a nozzle that rotates 360 degrees. It also comes with 8 standard tips for replacement or for family members.
A single battery charge lasts for 30 days and charging is hassle-free with a USB cable.
Conclusion
Water flossing is becoming more popular by the day and medical professionals even consider it to be as good as traditional flossing. But you can also use it as a traditional flossing supplement, and many dentists are still adamant that conventional flossing is essential for a healthy mouth.
If you are having a difficult time making flossing with dental floss a consistent part of your oral hygiene routine, or if you're concerned about swollen or bleeding gums, ask your dentist if water flossing is right for you. You may also be wondering can a Waterpik damage gums – the short answer is no, as long as you use it properly. In fact, you can find out how water flossers help gum disease in our separate guide.
And if after talking to your dentist, you're not convinced, make sure you check out our article on how to floss your teeth with traditional floss, so that you can still take care of your gums. If you're not 100% sold on water flossers, check out our Waterpik vs Airfloss guide.
Once you've decided to take the water flossing plunge, you'll have to decide which water flosser brand or Waterpik is best for you. There are a plethora of options on the market today, so we hope this article will help guide your water flossing decision on your road to better oral health. You can find out more in our article reviewing the best portable water flossers.
While adding a water flosser to your oral hygiene routine will help no matter what, find out why it's best to use a Waterpik before you brush your teeth, and read about tricks like adding mouthwash in your water flosser.
FAQs
Are Waterpiks as effective as flossing?
Waterpiks offer many of the same benefits of flossing, and for some people, may be enough to maintain healthy gums. For others, however, it should only be used as a supplement to regular flossing.
You should talk to your dentist if you are considering changing traditional floss for a water flosser to see if the benefits of using a water flosser outweigh the cons of leaving floss.
What model of Waterpik is the best?
Some of the best Waterpik models are the Aquarius, Ultra, Cordless Express, Cordless Rechargeable and the Sidekick. The Aquarius is ideal if you want all the features a Waterpik can offer. There are various water pressure settings, multiple tips, a large reservoir and a sleek design!
What is the best portable Waterpik?
The best portable Waterpik on a budget is the Waterpik Cordless Express, and the best portable Waterpik at mid-high range prices is the Waterpik Cordless Rechargeable.
Sign up to receive the latest news and offers from Dentaly.org