Knowing the best Waterpik water flosser for you might just be a life-changer. (Or at least an oral health-changer).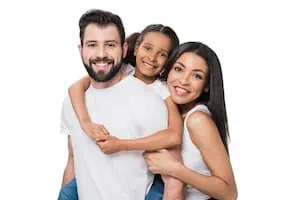 That's a pretty bold statement, so what makes it true and why should you be interested in the Waterpik water flosser?
Well, first of all, the Waterpik water flosser is the first of its class to gain the American Dental Association Seal of Acceptance.
And secondly, let face it, there's nothing worse than getting all snug under the covers and remembering that you haven't flossed your teeth, and your slight touch of OCD says you can't go to sleep until you floss.
But flossing is so tedious, and sometimes it even hurts. The worst part is when you wake up with swollen gums and a touch of fever because you released months' worth of bacteria during your sporadic flossing episode the night before. But, flossing is also essential for a healthy mouth… so, what do you do?
That's where the Waterpik comes in. Water flossing converts claim that it makes flossing more enjoyable and it's way gentler on their gums. That's why in this article we will go over the best Waterpik flossers to buy on the market, along with the best Waterpik reviews and consumer reports, so you can find the best Waterpik to buy for you and commit to your goal of better oral health. You can read more about the best water flossers of every brand in our separate article. And you can also check out our guide to whether you should floss before or after brushing.
What is the Waterpik Water Flosser?
Let's begin by answering an important question: What's a Waterpik water flosser?
A water flosser is an oral health appliance meant to be used for dental care at home, instead of, or in addition to, traditional dental floss, depending on what your dentist recommends. Water flossers consist of a motor with a pump, a water reservoir and a water flosser tip. The motor pumps pressurized water from the reservoir, through the tip and into your mouth. This stream of water removes plaque and food particles just like regular floss.
Waterpik is just one brand of water flossers that are available on the market. What sets the Waterpik apart is that was the first of its class to earn the American Dental Association Seal of Acceptance.
What are the features to consider in the best Waterpik Flosser?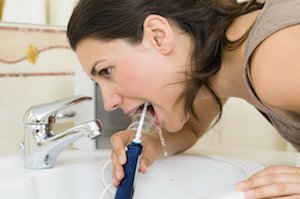 Due to their efficacy and ease of use, water flossers have become quite popular, and as a result, there are many different kinds on the market. When looking for the best Waterpik flosser for you, here are some features you should keep in mind:
Countertop: A countertop water flosser has a large reservoir base that holds enough water for repeated uses, and that means less frequent re-filling. Countertop models may also be more powerful than a cordless water flosser.
Cordless: A cordless water flosser is not connected to a larger reservoir that sits on the countertop. Instead, it has a smaller reservoir that is built-in to the handheld device. The best benefits of a Waterpik cordless water flosser are that it takes up less space, and can be brought with you when traveling. The downsides are that it isn't as powerful as a countertop model and some have reservoirs that only offer a stream of water for as little as 30 seconds.
Price: Waterpik flossers can range in price from $40 to $200, so you'll have to decide what extras you are willing to pay for.
Settings: Water flossers come with various settings, some even having up to 10. This can be very useful, especially if your family will be using it as well.
Tips: All water flossers have standard water jet tips, and then some come with special tips for cleaning different things, such as orthodontics, your tongue and implants.
Electric toothbrush compatibility: If you prefer using an electric toothbrush but don't want to occupy any more precious countertop space, you should look for either a countertop unit that bundles the two items together or a cordless water flosser that is compatible with the charging base for your electric toothbrush.
Waterpik reviews by type
As mentioned above, there are two main types of Waterpiks: a Waterpik water flosser cordless model and a countertop model. You'll have to decide which one is the best Waterpik water flosser for you, based on your needs. If you want to know which Waterpik is best for traveling for example, then you may want to choose a Waterpik water flosser cordless model. But if you want to have all of the power and features available, and you do most of your flossing in your own bathroom, then a countertop model may be the right choice.
Best cordless Waterpik flosser
If you are looking for the best portable Waterpik water flosser, that takes up less space on your countertop, can be taken with you on vacation and has the best price for a Waterpik, have a look at these following options, among which are the best cordless Waterpik models. We've included some Waterpik cordless water flosser customer reviews to help with your decision:
Waterpik Cordless Advanced Water Flosser WP-560
The Waterpik Cordless Advanced features innovative technology that will leave your mouth feeling clean and healthy. It comes with two classic jet tips and two specialized tips. The specialized tips include:
Orthodontic tip: Made specifically to remove plaque around braces and said to be up to 3x as effective as traditional string floss.
Plaque Seeker tip: This tip removes up to 99.9% of plaque in three seconds, and is up to 2x as effective as traditional floss for improving gum health around implants.
This water flosser also features a quiet design and is fully charged in four hours. Three pressure settings include low, medium and high-intensity options, and 360-degree tip rotation makes it easy to access normally hard-to-reach corners of your mouth.
After adding the Waterpik Cordless Advanced Water Flosser to their oral hygiene routine, one reviewer says:
"Water-flossing opened my eyes and changed my mind. Not only are you addressing a real dental hygiene need but you will like the way your mouth feels afterwards."
If you want to know more, check out this fun Waterpik review video where Daniel relates his experience with this Waterpik model:
Waterpik Cordless Freedom Water Flosser WF-03
If you are looking for the best Waterpik Cordless Water Flosser on a budget, then the Waterpik Cordless Dental Water Jet may be the right fit for you. This flosser was designed specifically for small bathrooms and travel, as it is more compact than many other cordless water flossers.
This Waterpik flosser is considered by some to be one of the best portable Waterpiks, as it comes with two classic jet tips and an orthodontic tip which provides superior cleaning around braces. It also has a dual pressure control on the handle, and two settings depending on your pressure needs.
It is waterproof so it can be used in the shower and comes with a travel bag for taking it with you on trips, making it possibly the best portable Waterpik and the best travel Waterpik.
One satisfied customer sums up her positive experience with this portable Waterpik water flosser by saying:
"There are so many reasons that I love this water flosser, it's small, it doesn't take up a lot of space on my bathroom counter, the batteries last a long time, I can use it in the shower if I wish and I can easily travel with it."
Waterpik Cordless Dental Water Jet WP-360
The Waterpik Cordless Dental Water Jet effectively cleans plaque from teeth in a practical and more economical package. This flosser features an easy-to-fill reservoir, it is waterproof for use in the shower and is compact making it one of the best travel Waterpik options and one of the best cordless Waterpik options.
This flosser comes with two flosser tips and has two pressure settings: gentle and normal. It is ideal for individuals or couples (because it comes with two tips) who want to use this method of flossing, but aren't interested in all of the frills that come with the other models.
One reviewer reinforces this sentiment by saying:
"Great for cleaning around braces, bridges, and implants. I don't have any of those things like my family members and it still leaves my teeth/gums feeling clean!! This doesn't have a ton of bells and whistles but it works really well."
Waterpik Cordless Plus Water Flosser
Another Waterpik water flosser that is made with travel and smaller bathrooms in mind is the Waterpik Cordless Plus. This cordless, rechargeable and all-around portable Waterpik comes with two classic tips and has two pressure settings. It holds enough water in the reservoir for 30 seconds of continuous use and has an easy pressure intensity switch on the grip. What's more, 360-degree tip rotation makes it easy to clean those normally hard-to-reach places.
One downside is that this flosser isn't technically waterproof, but one user doesn't seem to mind, even saying:
"Effective and more comfortable than string flossing. I love that you can use this in the shower to eliminate the splash mess."
Cordless model summary
As you can see, while the overall function is very similar with all of the cordless Waterpik water flossers, there are some subtle differences that can be hard to keep straight, so here's a Waterpik cordless review table to help you keep the information organized:
Best countertop Waterpiks
Travel and portable Waterpiks are super convenient, but in the comfort of your own bathroom, you may want the full power that comes with a countertop Waterpik flosser. Have a look at the following countertop Waterpik models:
Waterpik Aquarius Water Flosser WP-660
The Waterpik Aquarius is topping the lists of most water flosser reviewers. This countertop water flosser has all of the bells and whistles you could hope for. It includes 10 different pressure settings that are easily chosen by rotating a knob on the side of the countertop component. One of the settings is a "pulse modulation" mode that first flosses your teeth and then massages your gums. The tip rotates 360 degrees so you can easily get into normally hard-to-reach places and a timer beeps every thirty seconds to remind you to move on to a different part of your mouth.
This model also comes with seven tips: three classic jet tips, a toothbrush tip that lets you brush and floss at the same time, a plaque seeking tip, an orthodontic tip for braces and a tip for periodontal pockets.
The reservoir holds enough water for 90 seconds of use, which is more than enough since dentists recommend around 60 seconds of flossing per day. You also don't need to recharge this unit, as it runs on AC power. And for those concerned with tidiness, the tips can be neatly stored in the cover of the reservoir.
Some reviewers complain that it takes up a lot of space and makes a quite a bit of noise, but most consumers report they are happy with their purchase. One says:
"I love it, I purchased because I have braces and it's a pain to floss any other way. I don't have a single regret, I actually see positive results in my gums as well…"
If you want the best Waterpik to buy for tonsil stones, implants, braces and periodontal pockets, this water flosser model has it all.
Waterpik Sonic Fusion Professional Flossing Toothbrush
The Waterpik Sonic Fusion offers a convenient Waterpik with toothbrush combo boasts a sleek black or clean white design with gold or silver detailing. It combines brushing and flossing in one luxury device, featuring three modes: brush, floss or a brush and floss combo. This Waterpik electric toothbrush and flosser also has a built-in timer that lasts for 2 minutes and alerts you every 30 seconds when it's time to move to another area of your mouth. What's more, it has 10 adjustable water-pressure controls for those with sensitive teeth. It's easy to switch from brushing to flossing to combo mode by just pushing a button and you can easily find Waterpik Sonic replacement toothbrush heads on Amazon.
You may want to consider purchasing this more expensive model over the Waterpik Aquarius if:
You want all of the features that the Aquarius has
You are looking for an all-in-one solution
You're looking for a luxury product
Some reviewers say that its too pricey and takes up too much space, but the overall consensus is that if you can afford it, it's worth it.
One reviewer addresses the increased cost by saying:
"This unit costs a little bit more than most, but this does more! Easy to use and really works well."
Waterpik Ultra Water Flosser WP-100
If you are attracted to the Aquarius but are looking for something a bit more affordable, you may want to consider the Waterpik Ultra Water Flosser. This flosser is an earlier model than the Aquarius, and it has a bit bulkier design and doesn't look as modern.
That being said, it has plenty of functions, such as 10 pressure settings that are easily adjusted by a dial, and a convenient push-to-stop water flow button on the handle. It also has seven tips: three classic jet tips, a toothbrush tip, a plaque seeker tip, an orthodontic tip and a periodontal pocket tip.
It doesn't, however, have a 30-second pacer, nor does it have a hydro-pulse massage mode.
One reviewer sums up their experience by saying:
"Works great. I like the way I can easily adjust the flow. Really helps with food traps in-between teeth."
Waterpik Nano Water Flosser and Ultra combo pack
If you travel a lot and the reservoir size of a cordless Waterpik model just doesn't do it for you, you may want to consider purchasing this Ultra and Nano combo pack. This combo pack includes the Waterpik Ultra mentioned above and a Waterpik Nano.
The Nano comes with two classic jet tips and features compatibility with shaver sockets, three pressure settings and 60 seconds of water capacity. It has 80 PSI and automatically changes voltage depending on where you are traveling to within the United States.
One reviewer says:
"Prescribed by our dentist and seems to be as effective as flossing. Water pressure is adjustable. We took the 'travel unit' with us to use on overnight trips."
Waterpik Complete Care Water Flosser and Sonic Toothbrush WP-900
The Waterpik WP-900 is another Waterpik with toothbrush bundle option for those who want to take up less counter space and still have both an electric toothbrush and a water flosser. It comes with:
2 classic jet tips
1 plaque seeker tip
1 orthodontic tip
1 periodontal pocket tip
1 standard brush head
1 compact brush head
This Waterpik electric toothbrush and flosser has a reservoir that holds 90 seconds of water, it has convenient tip storage in the unit and an easy to use water control on the handle. 10 pressure settings, just like with the Aquarius mean it can be used by everyone in the family.
The downsides that are mentioned by reviewers are that it only comes with one standard toothbrush head and that it takes up a fair amount of counter space. But one of the commenters who mentioned this also said:
"Water flosser works like a BOSS!! I really didn't think it would have the power to remove food, let alone remove years of plaque build up, but after a few weeks I could already tell a difference!"
Countertop model summary
Check out the following Waterpik comparison table for a summary of the best countertop models on the market today:
Waterpik Reviews by need
Best travel Waterpik
Waterpik WF-03 Cordless Freedom Water Flosser
The Cordless Freedom is the best travel model because of the following factors:
Compact size
Battery operated
Portable design
Travel bag included
Best Waterpik for braces
Waterpik Aquarius Water Flosser WP-660
What makes the Aquarius the best for braces?
Special orthodontic tip
Larger water reservoir
Ease of use
Best family Waterpik
Waterpik Complete Care Water Flosser and Sonic Toothbrush WP-900
The best Waterpik for family needs to have tidy storage and plenty of features for every mouth. Of course, you can adapt almost any water flosser to family use, but the Waterpik Complete Care bundle takes the cake because of its:
Space-saving design
Electric brush and water flosser included
Tidy tip storage
Multiple tips included
Large reservoir
Best Waterpik for implants
Waterpik Aquarius Water Flosser WP-660
The Waterpik Aquarius is the best flosser for implants due to its:
ease of use
general efficiency
special plaque-seeker tip
Compare Waterpik models based on need using the following table:
Conclusion
Water flossing is becoming more popular by the day, and is even considered by medical professionals to be as good as, or better than traditional flossing. But you can also use it as a traditional flossing supplement. If you are having a difficult time making flossing with dental floss a consistent part of your oral hygiene routine, or if you're concerned about swollen or bleeding gums, ask your dentist if water flossing is right for you. And if after talking to your dentist, you're not convinced, make sure you check out our article on how to floss your teeth with traditional floss, so that you can still take care of your gums.
But if you've decided to take the water flossing plunge, you'll have to decide which brand and model is right for you. There are a plethora of options on the market today, so we hope this article will help guide your water flossing decision on your road to better oral health.