The best portable water flosser will help you keep your gums and teeth clean between your dental checkups. You've already decided that you want a cordless water flosser as opposed to a countertop model, so now you just need to decide which brand or model you prefer.
There are many water flossers to choose from, so we've come up with a list of our top five picks, according to common customer needs.
Keep reading to see why and how we've rated the best waterpik portable flossers. But before we continue with our cordless water flosser reviews, if you're short on time, you can have a look at the table below for a quick summary.
| | | | | | | |
| --- | --- | --- | --- | --- | --- | --- |
| | | | | | | |
| | | | 155 ml; 45 seconds of flossing | | | |
| Waterpik WP-560 Cordless Advanced | | | 7 oz; 45 seconds of flossing | | | |
| Philips Cordless Power Flosser 3000 | | | 8.4 oz; 60 seconds of flossing | | | |
| Panasonic Professional Water Flosser for Braces | | High-pressure, pulsating, regular, and soft | 4.3 oz; 35 seconds of flossing | | | |
| | | Normal, soft, pulse, and custom | | | | |
What to look for in a cordless water flosser
Flossing time
Your portable water flosser should let you floss for about 45 seconds before running out of water. That's not to say that's how long you should floss for — in fact, many brands recommend flossing for one minute with a water flosser.
However, it would seem that most reputable water flosser brands have settled on 45 seconds of flossing as the sweet spot for not having a tiny reservoir that you have to fill up every 10 seconds, to one that is too bulky to handle comfortably.
45 seconds of flossing means the reservoir holds a little over 5 oz of water or around 155 ml.
Grip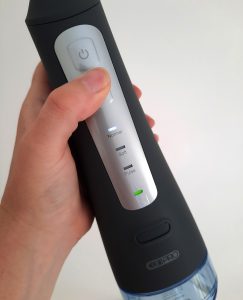 It may not seem like a big deal at first, but unlike a countertop water flosser, which has a petite nozzle, a cordless water flosser has to carry its tank around with it, which can be quite heavy and bulky if designed poorly.
It should be easy and comfortable to grip and hold for at least one minute, or you're not going to want to floss. Words like 'non-slip,' and 'ergonomic' should come to mind during your search.
Battery life
If you want to bring your flosser with you on vacation, or you don't plan on having it plugged in all of the time, you'll want it to have a battery that lasts at least a couple of weeks. The battery range for portable water flossers tends to be from two weeks to one month.
Travel design
Some cordless water flossers come with travel cases or bags, so you can easily back them with you when you're on the go. Furthermore, some have a more compact design and a sleeker charging base — these are all things to look for if you'd like to travel with your flosser. And as we mentioned above, a longer battery life is ideal for trips.
Best overall: cariPRO water flosser
Our top pick for best overall water flosser is the cariPRO. It is designed for all of your needs — whether you are always on the go with business trips, or you are looking for a flosser to use at home.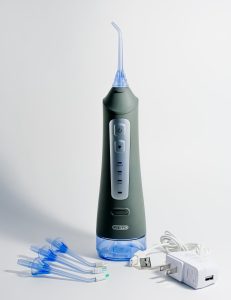 It's also designed with different oral health needs in mind, like gum disease, people with prostheses, braces wearers, or those who just want to take better care of their mouths.
What's more, it goes beyond everything you should look for in a portable water flosser (mentioned above):
Flossing time: The cariPRO has a reservoir that holds 155 ml of water, for 45 seconds of non-stop flossing
Grip: It has an ergonomic design with a slim grip, designed with soft-touch material
Battery life: This flosser lasts a whopping 28 days on a single charge (plus it charges in just 5 hours)
Travel: The cariPRO's extra-long battery life and compact design make it ideal for taking it with you on-the-go
This flosser also has the following stand-out features:
3 modes: Normal, soft, and pulse
Waterproof design: Use it in the shower or bath
4 floss tops: Standard, Orthodontic, Brush (implants, crowns, and bridges) Pocket (periodontal pockets and furcations)
You can order the cariPRO now risk-free with a 60-day trial. That means you can use it for two months, and if you don't like it, you can return it for a full refund.
Best travel Waterpik: Waterpik WP-560 Cordless Advanced water flosser
Waterpik is one of the biggest names in the water flosser game, and the Waterpik Cordless Advanced WP-560 model has various features that make it another good choice.
It's topping our list as the best cordless Waterpik for taking with you on your trips because it is compatible with global voltage and it comes with a storage case for the flossing tips, a special water plug, and a micro-fiber travel bag, so you can pack it away neatly in your bags.
This Waterpik cordless water flosser is accepted by the American Dental Association and uses a combination of water pulsations and pressure to clean between teeth and along the gumline.
The highlights of this Waterpik rechargeable water flosser are:
Fast charging: The charger connects magnetically and charges in just 4 hours, with an LED light indicating when it's finished
Travel-friendly: It is compatible with global voltage, and comes with a micro-fiber travel water flosser bag, tip storage case, and water plug
3 settings: Customize the water pressure for maximum clean and comfort
Flossing time: The reservoir holds 7 ounces for 45 seconds of non-stop flossing
4 tips: 2 Classic Jet Tips, 1 Orthodontic Tip, and 1 Plaque Seeker Tip
Best coverage: Philips Cordless Power Flosser 3000
The Philips Cordless 3000 features a unique design wherein four wider streams of water come out of the tip, as opposed to the thinner stream that most flossers have. This, combined with pulse wave technology, offers greater coverage with less movement, plus a gentler feel on your gums.
This flosser is also designed to be especially quiet when you floss, so you don't wake anybody up, and it has an extra-large reservoir for a cordless water flosser, so you can floss for a full minute without stopping.
The main features of the Philips water flosser are:
Quad Stream: 4 wide streams of water form an X to cover more surface area
Whisper quiet: Let you floss without waking or disturbing anyone else
Pulse-wave technology: Gentle on your gums and guides you from tooth to tooth
Extra-large reservoir: Lets you floss for 60 seconds without stopping
2 modes: Clean and deep clean for that extra oompf
2 nozzles: You can mix it up between Quad Stream and Standard
Best for braces: Panasonic Professional Water Flosser for Braces
As it is clear by the product name, the Panasonic Professional Water Flosser for Braces is designed to be the best water flosser for braces. That's because it features a 2-in-1 design, with two heads:
Tuft brush: This head features a tufted brush that delivers a stream of water while at the same time scrubbing away plaque to remove more debris and plaque from under and around wires and brackets
Water jet nozzle: This head features a spout that lets you clean along the gumline, ensuring you evacuate any remaining debris from your gum pockets
You can also choose from three settings — a high-pressure water jet, a pulsating stream of water mixed with air, or a softer mode for gentle gum stimulation. Plus, it features an ergonomic design that is comfortable to hold, and it's compact so you can take it with you on vacation.
Best budget: Nicwell Oral Irrigator
At under $40, the Nicwell Oral Irrigator is our top budget pick. It may go easy on your wallet, but it's still tough on plaque, with 1,400 – 1,800 water pulses per minute, removing deeply tucked away debris, massaging gums, and promoting healthy blood circulation.
The Nicwell doesn't have quite as many features as some of the more premium options mentioned above, but it still has some great additions that will help keep your teeth and gums clean:
4 pressure settings: Choose from normal, soft, pulse, and custom
Ergonomic handle: An ergonomic grip with a gentle slope makes it comfortable to hold
Waterproof: Take it with you in the shower or bath — no problem!
Multiple tips: It comes with 3 standard tips, so the family can floss, plus an ortho tip and a tongue scraper
Water flosser basics
Before you buy a water flosser, there are a couple of things you should know, like the advantages of using a water flosser, as well as how it fits into your oral hygiene routine. You should also be clear on the differences between a countertop and a cordless flosser, so you can make the best decision for your lifestyle and needs.
Pros and cons of using a water flosser
Efficient: Water flossers can make it easier to remove more plaque than regular flossing

Gentle: The stream of water is softer on gums than traditional floss

Better for braces and bridges: If you have appliances in your mouth, water flossing is a much easier way to get in cracks and crevices

Size: Even cordless water flossers are rather large and bulky

Noise: Water flossers make noise — even the really quiet ones have to make some

Price: Water flossers are more expensive than normal floss

Not a replacement: Water flossers are not meant to replace floss, but rather to supplement it
Can a water flosser replace flossing?
A water flosser is not meant to be a replacement for flossing your teeth with traditional dental floss. Instead, it is meant to supplement your regular flossing routine. That being said, there are some dentists who give patients with special circumstances the go-ahead to use a water flosser instead of regular dental floss, like if they have braces, or if they have especially sensitive gums.
And — you didn't read this here — but, if it's between you never flossing and you using a water flosser regularly, then a water flosser will certainly do a good job helping to keep your gums and teeth healthy between your dental checkups. Studies have shown that water flossing is as effective as regular flossing at removing plaque from teeth.
In the video below, dental hygienist Whitney gives her review of how well water flossers work and why she recommends that her patients use them.
Countertop vs cordless water flosser
Both countertop and cordless water flossers will do an equally good job cleaning your teeth and gums. However, if you have the countertop space available, and you're not looking for a water flosser to take with you when you travel, then you may find that a countertop model is more comfortable.
That's because the handle is lighter and easier to hold, plus the reservoir is much larger, so you don't have to stop mid-floss to refill it. A countertop model might also have additional features, like more pressure settings and timers.
However, cordless water flossers have a sleeker, more minimalist appeal, and they don't need to be plugged in to work, so they don't require a bathroom with an electric socket.
Conclusion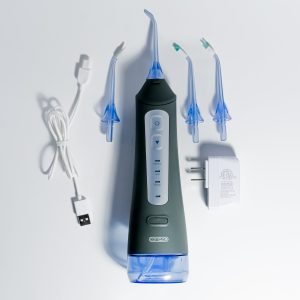 You have a lot of options when you're looking for a handheld water flosser. Here's a summary of our top picks for the best rechargeable water flosser:
We hope you choose the best one for your needs so you can start taking better care of your gums and teeth now.
FAQs
What is the best cordless water flosser to buy?
Our top pick for a cordless water flosser is the cariPRO water flosser. It features three modes — normal, soft, and pulse — for personalized flossing, and specialized tips based on your needs.
What is the best cordless water flosser on the market?
We think that the cariPRO water flosser made by Smile Brilliant is the best portable Waterpik water flosser. It has specialty flossing tips for braces, implants, and more, and modes for customization.
Sign up to receive the latest news and offers from Dentaly.org