Are you curious to learn more about the Waterpik benefits? There are a variety of reasons why someone would include water flossing in their dental hygiene routine.
A water flosser is a portable device that sprays water into the small spaces between your teeth to remove food and plaque. While it shouldn't be used instead of brushing or flossing, it may help remove food and germs from below the gumline.
It can supplement your flossing routine, and in some cases, if you have trouble due to dental treatment, braces, or a physical condition that restricts hand mobility, your dentist may recommend it as an alternative.
In this article we'll talk about:
The benefits of water flossing
The different types of water flossers
Reasons to use a water flosser
Water flosser benefits
Let's have a look at the top benefits of using a Waterpik water flosser.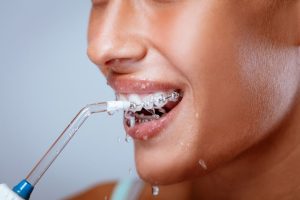 Waterpik water flossers improve your gum health
It is essential to remove germs from the area surrounding our gum tissue in order to maintain healthy gums. The Waterpik not only removes and destroys bacteria, but it gently massages the gum tissue while doing so.
Massaging the gums improves is beneficial to gum tissue and may also help to encourage new tissue regeneration. The majority of people who use a water flosser on a regular basis notice a reduction in irritation and bleeding.
Water flossers offer deeper cleaning than standard flossers
The second benefit of water flossers is that the water jet may get into tissue pockets where germs tend to appear. Water flushes bacteria out of the pocket as the water jet flows in and out. Traditional flossers may not reach as deep into the gum pockets, but the Waterpik has been tested to dislodge more bacteria and clean deeper.
Water flossing is less abrasive and gentler on the gums
The technique is important when it comes to standard flossing. It's crucial to wrap the floss around each side of the tooth and gently glide the floss up and down. Tissue attachment may be damaged by rough flossing and incorrect technique.
In areas where excessive flossing is done, the gum tissue might be cut. The water flosser, on the other hand, does not have this problem because it works with water. There is a learning curve to determining the optimal positioning and angles to hold the water flosser, but unlike standard floss, abrasion and cuts are not a concern.
Water flossing reduces the risk of tooth decay
A Waterpik effectively eliminates bacteria and, in some situations, outperforms regular flossing. Brushing your teeth twice per day and flossing, and water flossing once per day are excellent ways to keep your teeth clean and reduce the chance of decay.
Water flossers are perfect for braces and bridges
Cleaning around the brackets and wires can be very time-consuming and it can be difficult to reach the right location. When it comes to using standard floss, people sometimes avoid flossing some spots because it's too difficult. But they can be cleaned with a water flosser in a few seconds. Read our article about the best Waterpik for braces to learn more.
Water flossers are safe to use on dental implants
Some products may be abrasive to dental implants. Simple things like brushing too hard or flossing too hard might damage the tissues that maintain your implants in place. That's where the water flosser benefits come in handy.
Waterpiks clean periodontal (gum) pockets with ease
Water flossers reach below the gumline to clean mild to severe gum pockets. This advantage is especially valuable if you've previously suffered from periodontal disease.
There is a unique water flosser design for everyone
On the market, there are hundreds of different varieties of water flossers. One may be better or more convenient than the other, depending on your own preferences. The following are some of the most common design options and settings to think about:
Portable (rechargeable) water flossers: Are you a frequent traveler? Do you like to be able to use your water flosser in a variety of situations rather than being limited to a single sink or shower? If that's the case, a portable water flosser could be the best option. The handle of these designs has a built-in reservoir that you must fill each time you use it.
Countertop water flossers: Most water flossers are countertop models with a large reservoir, hose, and exchangeable tips. An example is the Waterpik Aquarius WP-660.
Shower-mounted water flossers: Flossing with water is nearly always a bit messy at first. Some individuals choose to get a type that fits inside their shower, eliminating the need to worry about water spilling out. Shower-mounted water flossers are very useful because they can be used every day without interrupting your morning routine.
Waterpik water flossers are easy to use
You just need to trace around each tooth along the gumline with a water flosser, stopping between each one to clean those small spaces. Using a Waterpik to clean your teeth is a lot easier for people who aren't very good at using their hands, have arthritis, or can't reach into the back of their mouth because they have a strong gag reflex.
It takes a couple of tries, but once you've mastered the art of water flossing without producing a mess, the procedure is pretty straightforward.
A Waterpik can be used by almost everyone in your family. Many of them even feature color-coded tips, so you can share the same device with different family members by just swapping out the attachments.
The more you use your water flosser, the simpler it will become. The first few times, just be patient. The excess water and tickling sensations become less bothersome as you use them more.
10. Your dentist will be able to tell the difference.
Your dentist and dental hygienist will be able to determine whether you've been flossing in between appointments. If flossing is done infrequently or swiftly, the tissues remain mildly inflamed and irritated.
Water flossers help many people take better care of their gums, and when used with regular floss, people see vast improvements. So, when it's time for your next dental cleaning and checkup, your gums should be in much better shape than they were at the prior session.
It's not only when you grin that you can see the difference. When you use a Waterpik, your hygienist will notice that there is less irritation, bleeding, and pocketing around your teeth during your cleaning.
Waterpik benefits summary
Offers deeper cleaning than traditional floss


Less abrasive and gentler on the gums


Reduces the risk of tooth decay

Works perfect if you have braces


Good for cleaning periodontal pockets

Many designs and models available


Most models are too large for travel

Conclusion
Flossing your teeth is an important element of maintaining good dental hygiene. While most dentists say that a water flosser shouldn't be used to replace flossing, it certainly can be a great supplement for many people.
There are many benefits of Waterpik water flossers, including that they are easy to use, they clean deep into gum pockets, and they improve gum health. They are also beneficial for people with braces and other fixed dental devices.
FAQ
What is the benefit of using a Waterpik?
There are a lot of benefits of Waterpiks. It's easier and more efficient than standard flossing. In addition, Waterpiks can better clean periodontal gum pockets and reduce the risk of tooth decay.
Do dentists recommend Waterpik?
Dentists still recommend standard flossing on a regular basis. However, as the benefits of water flossing become more well recognized, more dentists are recommending Waterpiks as a supplement.
Is it good to use a Waterpik daily?
Yes, there are a number of benefits of using a Waterpik on a daily basis. It cleans bacteria from periodontal pockets, promotes healthy gums, and is essential if you have braces.
Sign up to receive the latest news and offers from Dentaly.org