Is the Waterpik Aquarius WP-660 good value for money, or are there better options?
If you're considering replacing your dental flosser with a Waterpik Aquarius, read our in-depth Waterpik WP-660 review to learn all you need to know to make an informed decision.
This Waterpik Aquarius Water Flosser review will cover the following:
What is the Waterpik WP-660?
Key features of the Waterpik WP-660
How useful is the Waterpik Aquarius (WP-660) in terms of daily oral care?
We'll look at some Waterpik WP-660 reviews on Amazon
We hope that this information will assist you in selecting the best Waterpik for your teeth and that you will be able to determine if the Waterpik WP-660 is right for you.
What is the Waterpik WP-660 water flosser?
The Waterpik WP-660 is a water flosser that uses a stream of water to clean between your teeth. The Waterpik Aquarius water flosser and the Waterpik WP-660 are the same product. So, whether you searched for "Waterpik Aquarius review" or "Waterpik WP-660 review," this article will guide you through everything you need to know about this device.
Waterpik WP-660 models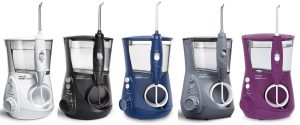 There are five distinct models of the Waterpik WP-660 water flosser. The only notable variation between them is the color of each unit. They have various model numbers as well. The following are the five units:
When choosing between these models, it all boils down to personal preference because they function in the same way. Choose a color that is either your favorite or one that fits the color of your bathroom.
What's included with the Waterpik Aquarius water flosser?
The Waterpik WP-660 comes with seven replacement tips, which include three classic jet tips, one plaque seeker, one pocket tip, one toothbrush tip, and one orthodontic tip.
Classic Jet Tips: Three users can have a personal tip.
Plaque Seeker Tip: Assists in cleaning implants, crowns, and bridges.
Pik Pocket Tip: Ideal for reaching deep into periodontal pockets (use low water pressure!)
Toothbrush Tip: Brush your teeth while flossing with one of these toothbrush tips, though it washes the toothpaste away rapidly.
Orthodontic Tip: For cleaning braces.
Waterpik WP-660 key features
Seven flossing tips
360-degree rotating tips
(600 mL / 22 oz / 90 seconds) reserve capacity
Ten pressure control settings (10-100 psi)
Pulses per minute: 1,400
Water control (on/off)
One-minute timer with a 30-second pacer
Two modes: Floss Mode & Hydro-Pulse Massage Mode
Compatible with 120 VAC / 60 Hz outlets (only for use in North America)
Three-Year Limited Warranty; see the user manual for details
Approved by the ADA
How does the Waterpik Aquarius WP-660 work?
Before we continue with our Waterpik WP-660 review, we'll explain how the Waterpik Aquarius works. This video from Waterpik explains all of its functions in great detail.
Waterpik WP-660 review
Water flossers are much more convenient to use than conventional string floss. But why has the Waterpik WP660 become one of the most popular devices on the market? It stole top spot from the Waterpik Ultra water flosser a few years ago.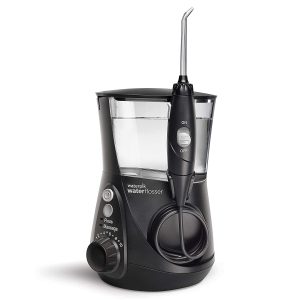 Aside from the well-known brand name, the Waterpik WP660 boasts a few unique characteristics that set it apart from other flossers. It's obviously more attractive than string or wax floss, but how does it compete in a saturated market, and is the new Waterpik WP660 worth the money?
When there are so many different devices available, it may be difficult to narrow down the search.
When you're ready to buy a new water flosser, we're here to assist you in making the best decision. Let's have a look at some of the main selling points as well as some of the areas where it may need some improvement to see whether it's appropriate for you!
Design – ★★★★☆ (4/5 stars)
When you unbox this product, you'll see that it's a good size, but perhaps not as portable as you'd want. Who doesn't enjoy a little portable water flosser that doesn't take up much counter space? However, with a 600 mL (22 oz) tank built-in, the Waterpik WP-660 makes a fantastic countertop water flosser compared to some other alternatives.
Enhances my dental care routine! I was concerned with its countertop footprint, and it's surprisingly small—it takes a little more space than a large bottle of mouthwash. It's also aesthetically pleasing, and the functional design

L.F.
The older WP100 model is WAY Better. I like this machine a lot more as it is very attractively designed and sits very prettily on any bathroom counter, but unfortunately, it doesn't measure up to the consistency of the older WP100 model.

VintageBookLover
Noise – ★★☆☆☆ (2/5 stars)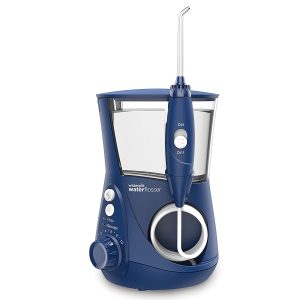 It's important that the design is stylish and appealing. But, there are many more factors to consider. One of them is how quiet the device is. If you are using it early in the morning for your oral hygiene routine, you don't want to wake up people sleeping next door.
Unfortunately, this device is rather noisy, and the greater the pressure level, the louder it gets.
Here are several Waterpik WP660 reviews that criticize the device's noise:
Insanely loud for a bathroom – decent otherwise but I can't stand the noise. No bathroom appliance should make this much noise. I hate being anywhere nearby when it runs.

B.H.
Is that a car engine? In the past month I've probably only used this thing 2-3 times. Why? This thing is LOUD! Seriously very loud. I was kind of shocked.

Jeff
Keep in mind that most electric water flossers produce some level of noise. However, the Waterpik Aquarius (WP660) seems to get more complaints about being noisy than the alternatives.
Oral hygiene – ★★★☆☆ (3/5 stars)
Let's look at the most important part: the Waterpik WP660 performs quite well in terms of oral hygiene.
Like the other Waterpiks, this Aquarius WP660 model has earned its ADA Seal of Acceptance.
Waterpik takes great pride in the fact that the efficiency of its products has been shown in several clinical trials. Waterpik claims that the Aquarius (WP660) removes up to 99.9% of plaque biofilm, which is much more than string floss. It's also great for keeping your gums healthy and preventing gingivitis.
When researching Waterpik WP660 reviews online, you'll see that many people are pleased with how well this water flosser removes food from between their teeth. You can even use this Waterpik to remove tonsil stones.
While many positive Waterpik WP-660 reviews highlight the device's performance, you'll find that many critical Waterpik WP-660 reviews mention the device's hygiene issues.
Good performance, but significant mold problem. I have had this Waterpik for a bit over 3 years and made it an important part of my dental hygiene. It does an excellent job of cleaning out the food from between my teeth and along the gum line. Recently we have become aware of the hazards of mold and started paying attention to the Waterpik. The mold growth on the rubber section of the handle and along its seams were hard to miss. I also found spots of mold growing inside the housing assembly. Attempts to clean the mold off the wand with a bleach wipe did not work.

Joanne
Keep in mind, however, that many water flossers have mildew problems and they have to be cleaned regularly. But we were surprised to see that Waterpik didn't include any information in their user manual about how to prevent mold. Here are a few things you can try to avoid mold development:
After usage, empty any remaining water from the reservoir.
Before putting the wand in the holding bracket, make sure it's completely dry.
Every once in a while, run a vinegar solution through the Waterpik.
Different modes – ★★★★☆ (4/5 stars)
Although it is more common to adjust the pressure setting and choose the floss mode, the Waterpik WP-660 water flosser also offers a Hydro-Pulse Massage possibility.
This setting enables the nozzle to produce a striking water flow pattern, which may help stimulate the gums. If you have sensitive gums or suffer from periodontal disease, this is very helpful.
Timer – ★★★★☆ (4/5 stars)
According to dental specialists, you should floss for one minute: 30 seconds for the top part and another 30 seconds for the bottom section.
The timer works by pausing after 30 seconds to tell you that you need to move the water flosser to another spot. The timer will stop again after 60 seconds to notify you that you have completed the required one-minute session.
Warranty – ★★★★☆ (4/5 stars)
The company gives a three-year guarantee to boost your trust in the Waterpik WP-660 water flosser.
However, certain circumstances can void the warranty. Here's a snippet from the Waterpik WP660 user manual about the warranty:
Water Pik will replace the product, provided the product has not been abused, misused, altered, or damaged after purchase, was used according to instructions, and was used only with accessories or consumable parts approved by Water Pik. Use with improper voltage will damage the product and VOID warranty.
As a result, you should always read the terms carefully when purchasing a product like the Waterpik Aquarius.
Price – ★★★★☆ (4/5 stars)
The Waterpik WP-660 retails for $99. Of course, depending on the market, this price might fluctuate, and particular colors are often discounted. To find the Waterpik WP-660's best price, simply go over to Amazon.com and check if there are some colors discounted. The button below will take you to the original product's Amazon page, where you can see whether there are any discounts available.
Waterpik WP-660 pros and cons
It comes with a wide range of tips.

It cleans effectively without the abrasiveness of traditional floss

A timer and a pacer guarantee that the cleaning is done correctly and consistently.

Gum health benefits greatly from the massage mode.


There are ten different pressure levels to choose from, giving you complete control.


This countertop water flosser is not as portable as a cordless water flosser.

Many customers reported mold issues on the handle and other parts of the device.

Many customers have reported water leaks on the wand, cord, and water tank.

It's only compatible with 120V outlets, so international users won't be able to use it.
Waterpik alternatives
If you are looking for a countertop water flosser, the Waterpik Aquarius (WP660) is not a bad device to buy. However, it comes with some flaws as mentioned earlier:
The Waterpik WP-660 can be very loud if you have it running at a high water pressure level.
Another concern is that the Waterpik Aquarius, like other water flossers, can develop mold. You must actively take precautions after each usage to prevent mold development.
Some customers reported leakage problems with this device.
If you can get beyond these drawbacks, the Waterpik WP-660 is a solid device with good performance and a stylish appearance. Yet, we think other water flossers provide superior value for the money without the issues of the Waterpik WP-660. Waterpik has a variety of other options, including the cordless Waterpik WP-560.
We recommend you check out the cariPRO cordless water flosser. It provides you with the following advantages:
Portable: the device is cordless and has a rechargeable battery. You can freely move around and take it on vacation.
Waterproof: You can floss while you're in the shower. It saves you time and helps to keep water splashes out of your bathroom.
Comparison: Waterpik WP-660 vs cariPRO water flosser
cariPRO cordless water flosser


10 water pressure settings


takes a lot of space on the counter

4 premium floss tips (standard, ortho, brush, and pocket tip)

3 flossing modes (normal, soft, and pulse)

Auto-interval smart timer


Ergonomic design with soft-touch grip

Portable: great for traveling

Waterproof: can be used under the shower


3.7v Li-ion high capacity battery

28-day battery life (*on full charge)

Details correct at time of writing; check marketplace for current price and policy details.
Conclusion
The Aquarius water flosser is one of the most efficient and functional on the market. Despite this, it doesn't provide much new innovation, and we doubt it would have been the best-selling flosser if it weren't created by Waterpik.
In addition to this, more and more customers are reporting issues in their Waterpik Aquarius reviews. Therefore, we recommend the cariPRO water flosser as an alternative to the Waterpik WP-660.
FAQs
Is the Waterpik WP-660 flosser good?
The Waterpik WP-660 is a fantastic countertop water flosser with sufficient water power to clean your teeth properly. However, unlike other rechargeable gadgets, it is not portable.
Which Waterpik model is best?
Waterpik makes many great water flossers. The Waterpik Aquarius WP-660 is undoubtedly one of the most popular models and has received a lot of customer feedback.
Sign up to receive the latest news and offers from Dentaly.org