If your kids don't love brushing their teeth, consider getting them a kids electric toothbrush. A children's electric toothbrush may be more appealing to your child, as they have fun gadgets, features and even kid-friendly designs that regular toothbrushes don't have. Plus they'll feel more grownup with their kids electric toothbrush knowing it's like the kind you use.
There are certainly many kids electric toothbrushes on the market, including ones that light up, play sounds, and feature fun characters. But despite the number of products available, some experts recommend sticking to a manual toothbrush until a certain age.
In this article, we will examine the different sides of the 'electric vs. manual' debate when it comes to kids electric toothbrushes. Then, if you decide an electric brush would be beneficial to your child's dental care, you can continue reading to find out more about the different models and types of children's electric toothbrushes available, and decide which is the best electric toothbrush for kids.
For more information on children's oral health, you can check out our full collection of articles dedicated to child tooth care and your child's dental health.
How to brush a child's teeth properly
Even if you are using the best electric toothbrush for kids on the market, the toothbrush is only as good as the technique and consistency with which your child brushes. Get your child into good tooth brushing habits when they are young and they will hopefully continue them for life, minimizing their chances of developing dental cavities, gum disease and other oral health problems.
Your child will need help or supervision with tooth-brushing until they are seven or eight years old, or when they are able to tie their own shoelaces. Start when their first teeth come through and follow these tips to help make sure they're brushing properly: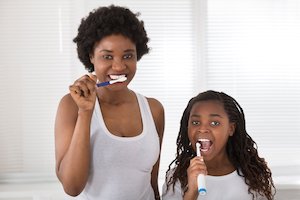 Children, like adults, should brush for 2 minutes twice a day, with one of those times being just before bed.
Once all the baby teeth are in by age 3, children should brush for 2 minutes.
Use a toothpaste that contains fluoride; at least 1,000 ppm for children up to age 6 and 1,350–1,500 ppm thereafter.
Use just a smear of toothpaste until age three and then a pea-sized blob between the ages of 3 and 6.
Once a child knows how to spit, switch to a pea-size amount of fluoride toothpaste.
Take care to spend time on every surface of each tooth.
Get your child used to the hand movement of brushing by holding their hand in yours as you help them brush.
Use a mirror so they can see which parts of their mouth they are reaching.
Don't rinse with too much water after brushing (this washes off the fluoride).
Replace the brush every 3 months (or sooner if your child tends to chew on it).
If your child gets sick replace the toothbrush earlier than 3 months.
If despite a proper oral hygiene routine, your child's dentist finds that your child is at risk for tooth decay, they may also recommended fluoride varnish treatments (if you're hesitant to get these you can read more about the safety of these treatments in our dental fluorosis article) and dental sealants to protect against tooth decay.
We also have a separate guide to the best kids toothpastes which explains how to choose the right toothpaste for your child's age and maximize their oral hygiene. This video shows some more simple advice for brushing a baby, toddler or child's teeth:
Trouble brushing
If your child won't concentrate for the full two minutes or it's a struggle to get a toothbrush in their mouth at all, try to make it more fun for them. You could use an egg timer to time the two minutes, make up a song to sing, or put a poster on the wall next to the sink for them to concentrate on.
However difficult it is to keep your child still for two minutes, don't let them run or walk around with a toothbrush in their mouth. If they fall, it could cause serious injury to their teeth or mouth.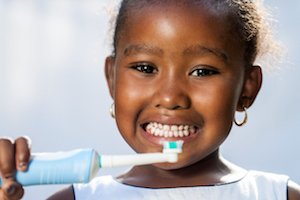 It's at this point that the different features of certain premium toothbrushes might come in handy. A kids electric toothbrush with a timer will tell them how long to brush, and they may even get the voice of their favorite cartoon character to encourage them. A toothbrush that pairs with a mobile app can also provide added motivation and make brushing fun.
You could also buy some plaque disclosing tablets, which reveal how much plaque is left on the teeth before or after brushing. Plaque revealers can turn brushing into more of a challenge, since children see the results of their efforts.
Electric vs. manual toothbrushes for children
Entertaining features aside, you no doubt want to know what type of toothbrush is best for cleaning children's teeth: manual or electric? First, let's understand the two main types of kids electric toothbrush available: battery-powered and rechargeable.
Children's battery-operated toothbrushes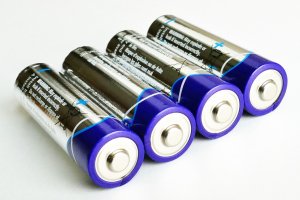 A battery-operated toothbrush takes AA or AAA batteries which must be changed when the old ones run low. The lower the power becomes, the less effective they are at cleaning teeth.
Because these brushes are sold mainly with children in mind, they are usually designed with eye-catching colors and familiar characters.
These are the cheapest type of powered toothbrush and rarely offer the same power as a rechargeable one. However, this can be good for getting kids used to feeling the vibrations in their mouth. Starting them off on a stronger rechargeable model may put them off the idea completely.
The lower cost of a child's battery toothbrush might be a false economy if you choose a model that doesn't have replaceable brush heads. Replacing the entire unit every few months will end up costing a lot more in the long run.
If you're unsure how your child will react to an electric brush, a battery-powered one is a relatively small investment to test the idea out. Many parents, once satisfied that their child will use it properly, may then invest in a more expensive (and effective) rechargeable model.
Children's rechargeable electric toothbrushes
Some children's toothbrushes are powered by the same type of rechargeable battery that's used in some of the best electric toothbrushes for adults. The main difference is that the ones designed for children generally operate at a lower power and have more features to appeal to kids.
Some rechargeable toothbrushes charge via a docking base, which also acts as a toothbrush holder. Others have a USB charger which plugs directly into the brush. The duration of a single charge varies wildly from around one week with an Oral-B toothbrush to three weeks or more with a Sonicare.
Older children may be able to take responsibility for charging their own brush when needed. For younger children, however, it will be the parents' job to remember this. For some parents, there is a clear benefit to choosing a rechargeable toothbrush with a long-lasting battery!
Children's rechargeable toothbrushes tend to have more features than their battery-operated counterparts. This might be a more advanced timer or Bluetooth connectivity, for example.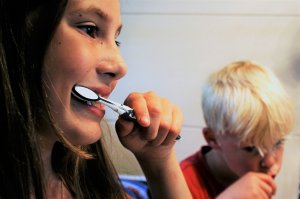 What do the experts say?
Certain features on children's brushes, including powered ones, can encourage proper brushing. The most important thing, dentists say, is to choose a brush with soft bristles (like silicone brushes from FOREO) and a small head that is suited to the age of your child.
An article published in American dental magazine, RDH refers to a study which found that children who used a power toothbrush had "significantly longer" average brushing times than those who used a manual one. This is probably thanks to their ease of use, entertaining features, and built-in timers.
Brushing for longer, provided the child reaches every part of their mouth, should result in greater plaque removal. To add to this, increasing numbers of studies are showing that powered brushes are more effective at cleaning teeth than manual brushes. A study has shown that they can also make it easier to clean the hard-to-reach back teeth more thoroughly.
On the downside, some experts warn that introducing an infant to an electric brush too early in life means they never develop the motor skills needed to brush manually.
Ask a dentist: What's the best toothbrush for my children?
Parents often ask me what kind of toothbrush is best for their children, and whether they should use an electric or manual toothbrush. I always say that the most important thing is to make sure they brush twice a day, for the recommended two full minutes, but the right choice of brush can help encourage good habits. Children can use an electric toothbrush from age two if they don't mind the feeling of a power brush. I always recommend incorporating an electric toothbrush after age two if your child is able to tolerate it.
Dr. Fatina, Gramercy Kids Smiles
As a parent, you might be concerned about the abrasiveness of a powered brush on your child's tooth enamel and gums. This is certainly not something to worry about, though. Because it requires less pressure to be exerted for a proper clean, powered brushing can actually be less harmful to soft tissue than manual brushing. If your child has a history of sensitive gums, a brush with soft bristles like the Brush-Baby could be worth a try.
Benefits of electric and manual brushes
The table below summarises the main differences between manual and electric toothbrushes for kids:
| | |
| --- | --- |
| | |
| | Develop motor skills for brushing motion |
| Encourage longer brushing | |
| | Still effective at removing plaque if used properly |
| Less pressure on teeth and gums | No need to remember to charge |
| Help with developing good brushing habits | Better for children who don't like the vibrations of an electric brush |
It's worth adding that even if you don't buy a kids electric toothbrush with a timer, you can find songs and videos online to play while they brush. As long as you choose one that's two minutes long, it serves the same purpose as a timer. The following video is just an example, but it reminds children how and where to brush as well:
Choosing the best electric toothbrush for kids
If you do decide that an electric powered brush would be best for your children, you then need to decide which one to buy. The best toothbrush for your child will depend on: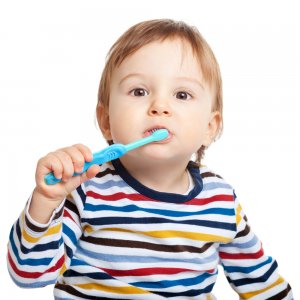 Their age
Your budget
The designs they are attracted to
The features you think are necessary
All children's toothbrushes should have very soft bristles which are gentle on gums, but it's always worth double-checking this before you buy. They are also designed to be easy for children to hold, both in terms of the size and shape of the handle, and the materials used on it.
You should choose a brush head that will fit easily inside your child's mouth and enable them to reach all their teeth. If the head is too large, they will find it difficult to reach their very back teeth and some of the surfaces inside their mouth.
Important features to look for
Features you might find helpful for encouraging your child to brush their teeth properly include:
A timer
Lights that are activated for two minutes
Songs that play for the duration of brushing
Character voices to encourage longer brushing
A pressure sensor warning if they (or you) are brushing too hard
An app to use while brushing
Once you have narrowed down the options, you might want to let your child make the final choice (even if it's just in terms of color or character). This lets them feel more responsible for their toothbrush and, hopefully, for their brushing as well.
The following table compares the main features of some of the best kids electric toothbrushes in the US. Keep reading to find more detailed descriptions and kids electric toothbrush reviews.
| | | | | | |
| --- | --- | --- | --- | --- | --- |
| | | | | | |
| Frost Kids Battery toothbrush | | | | Soft bristles, gentle vibrations, friendly bear character | |
| | | | | Includes an antibacterial cap that protects the toothbrush | |
| Oral-B Kids Rechargeable Electric | | | | Includes 2 sensitive brush heads | |
| Colgate Kids hum smart toothbrush | | | | Smart app and game; extra-soft bristles; slim design | |
| Philips Sonicare + Bluetooth | | | | 2 speed settings; battery indicator; compatible with app | |
| | | | | Waterproof, LED for visibility inside mouth, Suction cup | |
Before purchasing any kind of electric brush for kids, discuss your decision with a dentist to find the best children's electric toothbrush for your little one.
Frost Oral Care child's battery-powered toothbrush
The Frost kids toothbrush features a lovable bear for the handle and is battery-powered, requiring one AAA battery (included).
It is also designed with replaceable brush heads so when it's time to change the bristles, you don't have to buy a new toothbrush.
Soft bristles and gentle vibrations will ensure your child's teeth stay plaque-free.
Choose from a pastel color range, including green, blue, yellow, purple, and orange.
Check out the complete line of Frost products, including this toothbrush, toothpaste, and more.
Firefly Clean N' Protect toothbrush
Firefly's Clean N' Protect Power Toothbrush comes with your child's favorite characters and makes brushing teeth fun while effectively cleaning them. This toothbrush has a soft rotating head that blasts away plaque, preventing gum disease and tooth decay, and its massaging action stimulates and cleans gums.
It also has an ergonomic handle for an anti-slip grip, a compact head and a fun antibacterial character cap that protects the brush.
Oral-B kids electric toothbrush
The Braun Oral-B children's electric toothbrush range includes both battery-powered and rechargeable models, all of which have a two-minute timer. They mostly feature popular Disney characters from movies including Frozen, Cars and Star Wars.
The Oral-B Kids rechargeable electric toothbrush is suitable for ages 6-12, although many reviewers say their younger children use it too. It comes with two sensitive brush heads but it's compatible with the full range of adult toothbrush heads for whitening, use with braces, and so on.
The brush pulses every 30 seconds to help children spend the right amount of time brushing each quadrant of their mouth.
With this Oral-B kids electric rechargeable power toothbrush, the charging base is the same as for adult brushes. This is handy if you have limited space in your bathroom and don't want several bases out at once. They hold their charge for five to seven days.
One parent loves this oral-b electric toothbrush for kids so much that they are thinking of getting one for themselves:
"The Magic Timer App from Oral-B definitely helps me brush my kids teeth longer, too. Overall, I'm incredibly happy with this purchase and I'm considering getting one of these for myself because the price is so good."
Battery-powered model
Oral-B Kids battery-operated electric toothbrushes are suitable for ages 3+. Their small round heads provide an oscillating movement to help remove plaque from teeth. This Oral-B kids electric toothbrush costs only slightly more than the brand name's manual toothbrush, but the heads are not replaceable so you'll have to buy a completely new brush every few months. Still, it's a cheap option if you want a simple electric toothbrush for kids with a timer.
Any Disney-branded Oral-B kids power toothbrush can be used with the Disney MagicTimer App which, they say, gets 90% of children brushing their teeth for longer. The app gradually reveals an image as kids complete their two minutes of brushing. Over time they collect rewards to fill a virtual sticker album.
Colgate kids battery toothbrush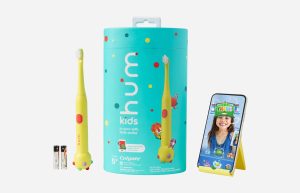 Colgate has a line of smart toothbrushes called 'hum', and the kids' version is particularly fun. It features smart technology that lets your kids track brushing progress live while they play a game on their phone or tablet in which little monsters pop up in the spots that need more brushing attention.
It's also got a gentle level of vibration, a 2-minute timer, and a kid-friendly ergonomic grip. The brush heads are replaceable and designed with extra soft bristles.
One impressed parent says:
"Hum by Colgate Kids smart toothbrush is such a fun toothbrush for kids to use! My daughter gets excited about brushing her teeth now and likes the vibration. I like that the base keeps the toothbrush upright!"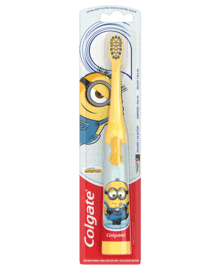 Philips Sonicare kids rechargeable electric toothbrush
Philips has taken a different approach to the kid's toothbrush market with just one offering: the Philips Sonicare children's toothbrush. The Philips Sonicare for kids is a Bluetooth-connected and rechargeable electric toothbrush to use with an app. This brush uses the same sonic cleaning technology as the Philips adult range.
Philips have cleverly designed the children's Sonicare to be suitable for different ages with its two speed settings and two sizes of brush head. With the slower speed and compact head, it can be used from age four, with the faster setting and larger head more suitable for ages seven and up.
In terms of design, you aren't stuck with gender-stereotyped cartoons; instead, kids can choose from a range of sticker designs which affix to the brush handle. These let them personalize their brush and update its look every now and then.
This brush is more expensive than the Colgate and Oral-B options. It features a timer which plays a sound every 30 seconds until brushing is complete.
Philips says the battery lasts up to three weeks on a single charge, but many reviewers say it actually lasts more like four or six weeks.
Bluetooth connectivity
The brush connects in real-time to the accompanying app to encourage children to brush thoroughly. Led by the character Sparkly, kids will have fun tracking their progress. Some parents have warned that the app is so fun, kids want to keep playing on it even after brushing is over.
Fortunately, the Bluetooth brush can store data from up to 20 brushes without connecting to the app, updating the record next time it is connected. This could be a handy feature if you have a tight morning routine and don't want the distraction of the app every time your child brushes.
The Philips Sonicare for kids rechargeable electric toothbrush receives great reviews and seems to offer good quality and value for money. If you have children of different ages, this product could avoid the need to buy multiple brushes (as long as they can agree on which sticker to apply!).
One parent, satisfied with this Sonicare kids electric toothbrush, says of their daughter:
"We are going on a month of using this toothbrush and I couldn't be more pleased! Before this toothbrush, we were lucky to get her to let us brush for 30 seconds… now she asks to do it two and three times in a row!!!"
Electric toothbrushes for babies
So far, the toothbrushes that we have covered are meant for use by children ages three and up, but there are a few electric brushes which are specifically designed for infants from ages 0-3. The first company to produce these electric toothbrushes for babies is called Brush-Baby.
Brush-Baby was started by a British mother who wasn't satisfied with the toothbrushes available for small children. When she saw there were no products that met her standards she decided to create one.
You can tell by its design that she was trying to design the best electric toothbrush for her own infants. They have features which make brushing fun and easy for kids, and as convenient as possible for parents.
Like most electric brushes, theirs has a two-minute timer with reminders every 30 seconds to change which area you are brushing. The Brush-Baby also has larger replacement heads which you can use as your child grows. There's no need to worry about charging, as it runs on a single AAA battery and its waterproofing means it can be safely dropped in the bathtub.
Here's an overview of Brush-Baby's electric brushes for babies and young children:
Brush-Baby electric toothbrush
The Brush-Baby BabySonic is one of very few electric toothbrushes on the market for infants, and certainly one of the best, thanks to these features:
Appropriate for children under the age of three
Different sizes of brush head for 0-18 and 19-36 months
Extremely soft bristles and gentle sonic vibration
Built-in LED for better visibility inside the mouth
Suction cup on handle keeps brush upright between uses
Small easy-grip handle
Available in teal, blue, and pink
Every time I brush my almost 2 year olds teeth it is a struggle. She cries and we have to hold her down. This toothbrush is a hit! She loves the vibration and how it lights up in the dark. She is now asking to brush her teeth. We still have to finish the job, but this is a huge improvement!

-Aquacat, Amazon reviewer
There are some products on amazon which look almost identical, but they don't have exactly the same features so we recommend you purchase the genuine Brush-Baby.
Kids electric toothbrushes we don't recommend
There is a certain type of electric brush called an autobrush that has many people interested both for themselves and for their kids. The idea behind these brushes is that you bite down on a mouthpiece and hold it while it cleans your teeth for you, leaving your hands free. The problem is that it doesn't seem to perform as well as a regular manual or electric brush.
The Autobrush for kids actually has some positive reviews, averaging 3/5 stars on Amazon. However this average is the result of nearly as many 1-star reviews as 5-star ones. If you look at other brands for adults, like OtoBrush, on average they tend to have even worse reviews.
In short, these are very novel and could possibly help your child be more excited when it comes time to brush their teeth, but it would probably be best to follow up with a regular cleaning from a normal brush.
Conclusion
The best kids electric toothbrush for your child will depend on your budget, their preferences, and the age of your child. You'll probably find they will need to begin with a baby electric toothbrush, and then outgrow each brush after a few years, so they may switch from one to another.
If you're after a more affordable option, either the battery-powered or rechargeable toothbrush from Oral-B or the Firefly Clean N' Protect Power Toothbrush would be a good way to introduce a child to powered brushing from age three. The rechargeable model with its replaceable heads will work out cheaper in the long run.
The Philips Sonicare can adapt as your child grows, and offers a more engaging experience than the Oral-B app. But both the brush and the replacement heads are more expensive, so you'd want to be sure your child will make good use of it.
Even though the Colgate Magik Smart toothbrush for kids isn't electric, it might be enough to get your child more excited about brushing thanks to the app. It is definitely a cheaper option than some electric brushes, and replacement is relatively cheap since the app-connective base can be removed and placed on any Colgate 5+ brush.
There are a few electric toothbrushes for babies and kids age 0-3, which are designed to be as gentle as possible and convenient for parents to use. The first of these brushes, and one of our favorites is the Brush-Baby BabySonic.
Whether you use a power toothbrush for kids or a regular toothbrush, it's most important that you show your child how to brush correctly and monitor their brushing until they can brush independently, probably around age seven or eight.
FAQs
Are electric toothbrushes good for children's teeth?
Yes. Both sonic and spin brushes are perfectly suitable for kids. However younger children will still need assistance (or at least supervision) when brushing. Even though electric brushes make cleaning easier, children who haven't developed motor skills won't be able to properly brush.
When should a toddler start brushing their teeth?
Parents should begin brushing their child's teeth as soon as they begin teething, when first tooth appears around 6 months old. From there, parents should assist with brushing until the child has more developed motor skills. After this it is still advisable to supervise children until their brushing habits are well established.
How often should you brush your toddler's teeth?
Children's teeth, just like adults, should be brushed twice a day. Although children do require less toothpaste and benefit from softer brushes, it's just as important to establish a twice-a-day routine.
Sign up to receive the latest news and offers from Dentaly.org