The Quip toothbrush is designed to transform your oral hygiene routine. With its sleek and minimalist design, Quip combines form and function to deliver a superior brushing experience. Quip is your trusted companion for attaining a cleaner, healthier smile, whether at home or on the go.
But is this innovative toothbrush as good for your oral health as advertised?
Let's find out, as we learn a little more about the Quip electric toothbrush and read some Quip reviews from real customers, including information like:
How much does the Quip electric toothbrush cost?
Does it really work?
Is it worth it?
What we like and what we don't like
Keep reading to find out!
An overview of the Quip toothbrush

It is ADA-approved
It has a convenient subscription service
It is comfortable to use
What is the Quip electric toothbrush?
The Quip electric toothbrush is a popular choice among people who are looking for a simple and effective electric toothbrush with a sleek design and convenient subscription service. The Quip brush is a relatively new battery-powered toothbrush from a company that aims to make proper brushing easy.
When you buy a Quip electric toothbrush, you automatically sign up for a replacement brush head every three months. Dentists recommend using a brush for three months before replacing it.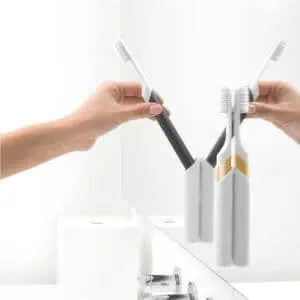 Quip cleans your teeth using a gentle vibrating movement, and it comes with a handy guide that tells you how you can brush up—pun very intended—on your brushing techniques.
It also features an undeniably sleek design and comes in different color options. Quip electric toothbrushes are available in silver, copper, slate, black, gold, and other colors. Throughout the year, you may be able to obtain a limited edition color.
What makes the Quip brush different than other electric toothbrushes?
What makes the Quip brush different than other electric toothbrushes is its sleek style and the fact that you automatically get replacement brush heads sent to you every three months.
We will review some of the other things that make the Quip toothbrush different, and you can also read all about the best electric toothbrushes.
How does the Quip toothbrush work?
The Quip produces sonic vibrations at 15,000 strokes per minute. Since this is around 1/2 the strength of other electric toothbrushes, you also need to brush your teeth with circular motions, just like you would with a manual toothbrush. By the way, if you're interested in non-electric options, you can check out our guide to the best manual toothbrushes.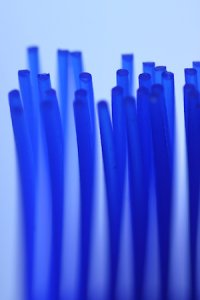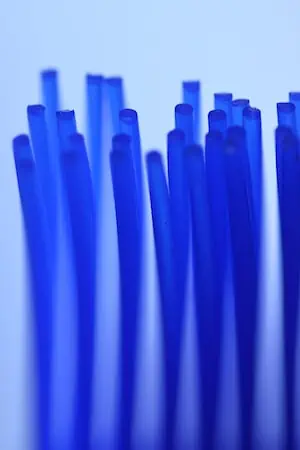 Another thing that makes the Quip different from other electric toothbrushes is that it isn't rechargeable. Instead, it uses an AAA battery which lasts around three months, with two minutes of brushing twice a day.
The Quip's bristles are different too—you'll find the normal bristles, but in between those you'll find soft silicone bristles that help get even more thorough cleaning done. There's also a tongue scraper on the back of the brush head.
The Quip electric toothbrush is definitely designed for those who prefer a minimalist vibe, as unlike many other electric toothbrushes, the Quip only has one setting, and that's the 'on' setting.
It does, however, like most electric toothbrushes, have a 2-minute timer with a 30-second pulse to help you follow best brushing practices.
There is also a kids' Quip plastic option that comes as part of a package with watermelon-flavored toothpaste. You can read more about options for your children in our full guide to electric toothbrushes for kids.
How much does it cost to get Quip?
It costs $25 to get the cheapest version of this brush (just for the brush, not the subscription package) and the more expensive version is around $40. A Quip is way more expensive than a manual toothbrush but way less expensive than the ultimate deluxe models of the leading powered brush brands.
What comes in the box?
The box contains the following items
1 Quip toothbrush with head and battery included
3 months of Quip's anti-cavity, fluoride toothpaste (SLS-free)
A base for your Quip (mounts to the wall and doubles as a travel cover)
Instruction packet
What we like
It has a built-in tongue scraper on the back of the brush head
It has a single and gentle power setting
It is lightweight and easy to travel with
Rechargeable and battery-powered versions are available
It has a two-minute timer and 30-second alerts
What we don't like
The vibration of the battery-powered Quip brush isn't as effective as the electric one
The size of the brush head is large
It has no pressure sensor
Quip toothbrush reviews
"Very sleek, soft, clean and pricey."
Traci's Quip toothbrush review from the lifestyle blog Poppie Lady is short, sweet, and gets to the point. She says that she and her family have been using Quip brushes for around two years, and the overall impression is positive.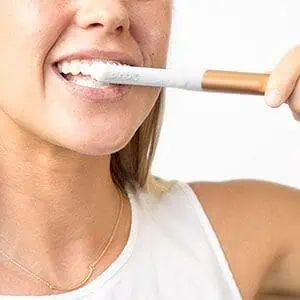 The best thing about the Quip electric toothbrush seems to be the aesthetics. As far as style goes, they're on par with your iPhone or Macbook. They have a very gentle vibration and soft bristles that her dentist said are actually positive when it comes to brushing teeth.
The subscription and refills plan isn't an effortless process, and you end up paying more upfront than with other standard brushes.
Oh, and she says the toothpaste is, in her words, "AWFUL"…maybe that's why it actually costs $5 more to get a subscription without the toothpaste.
"Just a simple brush that does everything you need it to."
Sarah's review is quite positive. She considers herself an individual with a good oral hygiene routine—brushing and flossing twice a day, etc. But she had always assumed that you needed the most expensive electric toothbrush with all the bells and whistles to really brush your teeth well.
That's when she saw an advertisement for Quip. You see, Quip is remarkably simple, and it's this simplicity that makes it so appealing.
She reiterates the fact that Quip brushes only move at 15,000 RPM. Additionally, the only feature it has is a two-minute timer with 30-second intervals. But then again, that's really everything you need to clean your teeth well.
She is also someone who says that the subscription service is quite nice because she didn't use to take care to change her brush nearly enough.
"Quip makes the prettiest toothbrushes ever"
The Barefoot Blonde is definitely a fan of Quip according to her blog post. She has always had good dental health and maintains a proper oral hygiene routine. However, since she used to use manual toothbrushes, she didn't have the timer feature to tell her how long to brush, and she says this has been very helpful in helping her to learn proper brushing techniques.
Also, as a mom, she was apprehensive that it would be difficult to make her kids want to brush their teeth, but with Quip that doesn't seem to be a problem. She also says her whole family is super excited to have toothbrushes that have matching styles.
Her family travels a lot, so a huge pro about the Quip is that it isn't bulky, there are no cords, and the toothbrush holder serves as a brush head cover, making a compact travel case.
"I can't recommend it but I also can't tell you not to get it."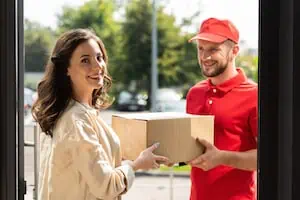 Not all Quip impressions are glowing, however—Oscar, in his assessment, feels quite ambivalent about this trendy new toothbrush.
He tried Quip sort of unintentionally. He "took a jab" at the Quip company on Twitter for an advertisement they ran that was a bit too gimmicky for his taste. Well, wouldn't you know, Quip responded and agreed to send him the product to give it a test drive.
So he and his wife both received Quip toothbrushes in the mail.
His summary?
Oscar says that the Quip is pretty much like a regular manual toothbrush, just with a thicker handle. And that it's different from other power toothbrushes because it just seems to vibrate, neither pulsating nor circular motions like Sonicare or Oral-B.
In fact, unlike with other electric brushes, you actually still have to move the Quip just like you would with a normal toothbrush.
Ultimately neither he nor his wife felt very enthusiastic about the Quip, but since they already had great oral hygiene routines and perfect dental health before, they didn't really see the need to switch.
Oscar recognizes he may be biased since he really doesn't like their marketing campaign. Perhaps the Quip is only supposed to be for people who need help establishing a good oral hygiene routine. Maybe it's not meant for people like him who already have an oral hygiene routine that they are happy with.
Unlike Traci in the first Quip toothbrush review, however, Oscar loved the toothpaste. So, to each his own, right?
"They're not really worth the hype"
In Sarah's video review, she talks about how she was used to using a Sonicare toothbrush before trying Quip. She says that if you are looking for a toothbrush with a lot of power, Quip is not it.
Sarah does appreciate that it vibrates every 30 seconds to let you know when to switch quadrants of your mouth.
She also thinks that the price is too expensive for what you get, especially when you factor in the subscription price, and that ultimately she expected too much. She mostly uses it for overnights and when she's traveling, otherwise she uses her Sonicare. And her boyfriend uses it without turning it on, just like a manual brush, since the vibrations are so weak.
In her review, she also mentioned that her boyfriend's Quip had a faulty AAA battery and that there was mold growing in his toothbrush, and she doesn't know whether it was just a bad Quip brush, or if the whole brand is faulty.
You can watch the rest of her video to hear more about what she honestly thinks about Quip.
Quip vs. CariPRO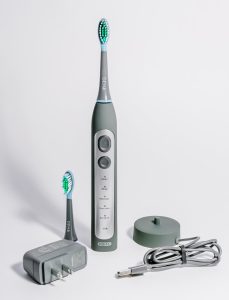 The CariPRO electric toothbrush is made by Smile Brilliant, a brand known for its line of professional and affordable oral health care products. The CariPRO is a sonic toothbrush that features everything you need to keep your smile healthy, clean and bright, for an affordable price and without any confusing technology.
It costs a bit more than the Quip, but that's because the makers of CariPRO are dedicated to bringing their customers the absolute best for oral care. Have a look at just some of the CariPRO Ultrasonic toothbrush features:
40,000 vibrations per minute (that's nearly 3x Quip!)
5 brush modes—clean, white, massage, gum care, and sensitive
30-day battery life on a single charge
Ergonomic design with a soft-touch grip
Waterproof design for the shower
Auto-interval smart timer
Wireless charging dock
The brush heads are specially designed to optimize cleaning, with angled and tufted DuPont bristles, and they have a gentle tongue scraper on the reverse side. This toothbrush has also been shown to remove 7x more plaque than a manual toothbrush and can improve your gum health in just two weeks.
There's also absolutely no risk in trying out the CariPRO. That's because your toothbrush comes with a 60-day trial and free shipping both ways. If you aren't totally in love after 60 days, you can return it for a full refund.
Quip vs Sonicare and Oral-B
You also may wonder if Quip is as good as Sonicare and Oral-B, the most popular electric toothbrush brands in the country. These two are by far the most competitive brands on the market and have many models to compare.
We've taken an in-depth look at the way Oral-B sizes up vs Sonicare, without including minor brands like Quip, which you can read about in our Oral-B vs Sonicare article.
For our purposes, however, we'll focus on a couple of the more basic models from each brand, specifically the Sonicare 4100 and Oral-B Pro 1000, and how they compare to Quip. It makes sense to ignore the top-of-the-line models for this comparison because they are much more expensive, and Quip really doesn't have the features to measure up.
We assume that you are only interested in the same ballpark of brushes as the Quip. If you want something with a lot of options and features (and don't mind paying for them) check out an Oral-B iO Series or Sonicare DiamondClean.
Have a look at the following table and see how the Quip toothbrush looks vs Oral-B and Sonicare so you can decide which features you consider to be the pros and cons of each. You can also read our full Sonicare toothbrush review.
| | | | | |
| --- | --- | --- | --- | --- |
| | | | | |
| | | | | |
| | | Rechargeable lithium battery | Rechargeable lithium battery | Rechargeable lithium battery |
| | | | | |
| 2-minute timer and 30-second pacer? | | | | |
| | | | | |
| | | | | |
| | | | | |
| | Refill plan sends you a new brush head every 3 months | 60-day risk-free trial, 2-year warranty, waterproof, wireless induction charging dock, ergonomic design, high-speed polish setting for white teeth | Pressure sensor, BrushSync tracks how long you've been using your brush head for | Pressure sensor slows brush head speed when pressing too hard, several color options |
| | | | | |
Conclusion
So, we've learned that Quip has an alluring marketing campaign, but is sort of the Ryan Gosling of toothbrushes. It's sleek and cool, but it doesn't really do much. Millennials started off loving it but have kind of forgotten about it lately.
Ok, that's not entirely fair, because the first few reviewers were actually quite positive, but no one was jumping up and down, bursting with excitement to share the good news about Quip with their followers across the internet.
If you're looking for a new gentler, but still powered toothbrush, or if you think that a subscription service could be beneficial to you, give it a try.
After, all the American Dental Association stresses that it doesn't matter whether you used a powered or manual brush—the most important thing for your oral health is that you brush your teeth with the proper technique at least twice a day, and Quip can certainly help you do that.
You can also read our article on how to brush your teeth so you can make sure you're doing an optimal job.
If you are excited about the sonic vibrations but want something a bit more powerful, you should definitely consider cariPRO. It offers replacement brush heads and a sleek modern look like Quip, but with three brushing modes and the most powerful sonic motor on the market, there's a bit more behind it than novelty.
FAQs
Is the Quip toothbrush any good?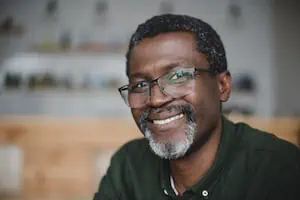 The Quip electric toothbrush is good because it gets an especially good review from those who, above all, require their toothbrush to not only clean your teeth but also look good while doing it.
The Quip is a battery-operated toothbrush that features gentle vibrations and requires you to provide the actual brushing motion. It's good if you find it helpful to automatically receive a new brush head in the mail, and if you prefer gentler vibrations. It comes with a subscription package, so you are automatically sent a replacement toothbrush head every three months.
Are Quip toothbrushes soft?
Quip toothbrushes are soft for two reasons. They have silicone bristles in between their normal bristles—silicone is a very soft plastic material. These brushes use very gentle vibrations to clean your teeth.
Where am I able to buy a Quip toothbrush?
You can buy a Quip toothbrush on various online platforms, as well as in physical stores. You can buy the electric toothbrush on the Quip website, and on Amazon, where you can read user reviews. If you don't want to wait for delivery, you can find Quip at Target stores around the country.
Is Quip used the same way as other electric toothbrushes?
No, Quip is not used the same way as other toothbrushes because it has a slight difference. Even though it is battery-powered and has a metal finish, the Quip differs in that you move it manually. The idea is that its vibration is for bonus cleaning beyond a non-powered brush.
If my Quip toothbrush head falls off is it broken?
If the head of your Quip toothbrush falls off, it is not necessarily broken. Since the Quip electric toothbrush is designed with replaceable brush heads, there would actually be a problem if it didn't come off.
If yours falls off early, just try to attach it as if it were a replacement. If it can't properly reattach or fall off again, then your brush handle may be faulty or broken.
What is the best electric toothbrush recommended by dentists?
There is not one ultimate brand that every dentist will agree is the best. But nearly any dentist will tell you that it's not so important what kind of toothbrush you have, but how and when you use it. Even the most basic manual toothbrush will benefit your oral health if you brush at least twice a day and use the proper technique.
If you're concerned about choosing the right toothbrush, you can always talk to your dentist. Your dentist will be able to give you some options and recommend which ones will be the best at keeping your mouth clean. Brands like the Burst sonic toothbrush offer special features like charcoal bristles.
Sign up to receive the latest news and offers from Dentaly.org