There's been a lot of hype about the Quip toothbrush since it became available to purchase in the UK last year. If you've heard about the 'getquip' subscription toothbrush service and want to know more before you sign up, we're here to help. Quip's marketing campaign may be slick, but it might not answer all your questions.
In this article we'll cover:
How much it costs to buy the Quip toothbrush in the UK
How it works compared to other electric toothbrushes
Pros and cons of the subscription toothbrush model
Some Quip toothbrush reviews from other UK users
We hope this information will help you decide whether you should buy a Quip toothbrush or another model.
What is the Quip electric toothbrush?
The Quip electric toothbrush is one of the newer brands to hit the already packed electric toothbrush marketplace. It has quickly gained popularity through an impressive marketing campaign, mainly aimed at older Millennials and Gen X-ers, and has been described as "the iPhone of toothbrushes".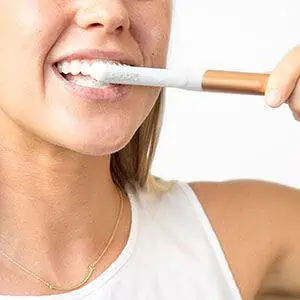 The simple concept behind the brush is that it helps you focus on brushing properly, without any other distractions. If you're used to more premium electric toothbrushes, though, it might come across as rather basic.
Quip launched in the US in 2015 and for a while was only available to buy there. But in 2019 they introduced international shipping, which means you can now get Quip toothbrushes in the UK, too.
Although you can buy the toothbrush as a one-off purchase, one of the main selling points is the accompanying subscription plan. With this, you receive a new brush head every three months, as well as toothpaste and floss, if you choose.
We'll explain the subscription options and costs a little further down, but first let's look at what makes the Quip toothbrush different to others out there.
Design features
One of the things that makes the Quip really stand out is its sleek and modern design. It is a similar size to a regular manual brush, making it quite different to other electric toothbrushes with chunky handles. You can get your Quip in either green or blue plastic, or silver, copper, slate or gold metal. They often have limited edition colours available, too.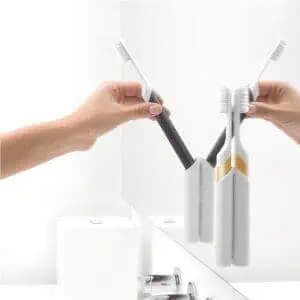 If you travel frequently, the slim, lightweight design of the Quip makes it easy to fit in your luggage. There's no charger or docking station, which is also helpful if you have limited bathroom space. And it comes with a cover that will keep the bristles clean and prevent it from switching on accidentally. This cover doubles up as a stand or wall mount – it fixes to smooth surfaces like mirrors and tiles with a suction strip – so it takes up minimal countertop space, or none at all.
All in all, the design gets a thumbs up for good-looking, functional minimalism.
How it works
The AAA battery-powered Quip toothbrush produces sonic vibrations at 15,000 strokes per minute. It's a lot faster than you can brush manually, but most of the best sonic toothbrushes vibrate at 40,000 to 60,000 movements per minute. This means that with Quip you still have to use a circular brushing motion, just as you would with a manual toothbrush – you can't simply move it around your mouth and let it do all the hard work for you.
You might wonder, then, why to bother with this powered brush at all. Well, the toothbrush also features a timer and quad-pacer, which helps you clean each quadrant of your mouth for the recommended 30 seconds. Although these are standard on pretty much all modern electric toothbrushes, Quip argue that any other bells and whistles are simply a distraction, and have made many of us forget how to brush our teeth correctly in the first place.
Quip toothbrush bristles are a little different to standard brushes, as the brush has a mixture of normal (nylon) and silicone bristles. The heads are designed to be strong enough to clean away plaque, but soft enough that they don't cause any damage in the process. There's also a tongue scraper on the back of the head (but if you really want to keep your tongue clean, look into buying a proper tongue scraper).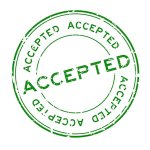 The battery lasts for about three months which, conveniently, is when you'll receive a new toothbrush head and battery from your subscription plan.
This toothbrush has earned the American Dental Association Seal of Acceptance "based on [their] finding that the product is safe and has shown efficacy in removing plaque and helping to prevent and reduce gingivitis, when used as directed."
How does the Quip toothbrush compare to other electric toothbrushes in the UK?
We've already talked a little bit about what the Quip brush has that other electric toothbrushes don't, namely its sleek style, smart design, and the fact that you automatically get replacement brush heads sent to you every three months.
But if you've owned an electric toothbrush before, you may find that Quip is lacking some features that you're used to. Notably, the Quip brush doesn't have:
A pressure sensor
Different power modes
Different cleaning modes
A choice of brush heads
A battery indicator
Bluetooth connectivity
Again, Quip say they have carefully selected the features which actually make a difference to good brushing, and which make it a brush you want to use. If you have used a powered brush in the past and found it useful to have any of the features listed above, Quip may not be the one for you. For the latest in electric toothbrush technology, the Oral-B iO ticks all these boxes and more – but be prepared to pay for it.
Check out our guide to the best electric toothbrushes in the UK for some alternative product recommendations, and keep reading to find some Quip toothbrush reviews below.
Quip toothbrush for kids
There is also a kids' Quip toothbrush available, with a rubber grip handle in four colour options. Priced the same as the adult plastic brushes, it's suitable for ages 3+. The only real differences are that the brush heads are smaller, designed to fit in children's mouths, and the toothpaste (if you choose to add it to your subscription) is watermelon flavoured.
You can read more about toothbrush options for your children in our full guide to electric toothbrushes for kids.
What's included?
When you first buy your Quip toothbrush, you'll receive: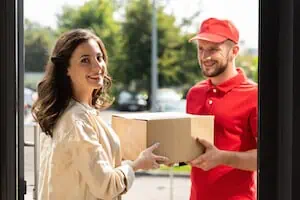 1 Quip toothbrush with head and battery included
A base for your Quip (mounts to the wall and doubles as a travel cover)
Instruction packet
Optional: 3 months' supply of Quip's anti-cavity toothpaste (contains fluoride, SLS-free)
Optional: Refillable floss (3 months' supply)
You can make a one-time purchase, but this increases the cost slightly.
Subscription options
With a 'refill plan' you receive a new brush head every three months. Dentists recommend changing your brush head this often to avoid damaging your teeth and gums with worn-out, bacteria-laden bristles.
You can also choose to add in toothpaste and/or dental floss to your refill package, both enough for three months' usage. Whatever you buy with your initial purchase will automatically be added to your subscription.
Warranty and returns
The Quip toothbrush comes with a lifetime warranty on manufacturing defects, provided you have an active refill plan. If you have cancelled your plan or there are any payments issues, a 1-year warranty applies from the date of purchase.
If you're unhappy with the product for any reason, you can contact Quip and return it within 30 days for a refund. Any shipping costs won't be refunded though, and you have to pay for the return shipping. If you're returning it from the UK, this is obviously going to eat into any money you are refunded for the product.
How much does a Quip toothbrush cost in the UK?
Rather than being on a dedicated Quip UK site, the toothbrush is available on the US site with international shipping. This means that all the prices are in US dollars and the equivalent price in pounds will vary according to the exchange rate.
To give you a better idea of the true cost, we have included the published prices in $ as well as the approximate equivalent in £, correct at the time of writing. Note that Quip may update their products and offers at any time.
You may see the Quip toothbrush on Amazon or other online marketplaces, but we don't recommend buying from there. You can't register for refills if you buy this way, and your product also won't be covered by the manufacturer's warranty unless it's purchased from an authorised reseller.
One-off purchase
If you buy only the toothbrush, no subscription plan, the following charges apply:
| | | |
| --- | --- | --- |
| | | |
| | | |
| | | |
| Special edition toothbrush | | |
| | | |
| Refillable floss (plastic) | | |
| | | |
There are several other Quip products available to purchase, including a travel-size toothpaste, a replacement cover, and a silicone storage bag.
Subscription/refill service
If you purchase a subscription plan for only the brush, with no toothpaste or floss, the Quip prices in the table above apply.
If you include toothpaste or floss in your initial purchase (and therefore your refill plan), the cost of a Quip toothbrush with accessories is as follows:
| | | |
| --- | --- | --- |
| | | |
| | | |
| | | |
| Special edition toothbrush | | |
| | | |
| Refillable floss (plastic) | | |
| | | |
Thereafter, you're charged $5 every 3 months for the new brush head and battery which is automatically shipped to you. Toothpaste and floss refills are optional and also cost $5 each every 3 months.
So think carefully about whether you really want that toothpaste or floss. You save money initially, but then the quarterly fee starts to add up. Some Quip toothbrush reviews say the toothpaste doesn't even taste that great. Fortunately, you can contact Quip at any time to change your refill plan options.
At the time of writing, Quip are offering 20% off if you pay for your first 12 months in advance.
International shipping
For all toothbrush purchases outside the US, an international shipping fee of $15 (£11-£12) applies. However, there is no extra shipping charge for the refill packages. Delivery takes approximately 15 business days.
If you can't wait that long, you can pay $40 (£30) for express shipping, which takes around 7 business days.
The shipping fee is the same with or without a refill plan, even if you order multiple brushes.
Quip toothbrush reviews
Ok, so we've given you all the facts about what Quip is, how the subscription plan works, and what it'll cost you to buy a Quip toothbrush in the UK. But what do real people think of it? Let's look at some Quip toothbrush reviews to find out.
"Very sleek, soft, clean and pricey."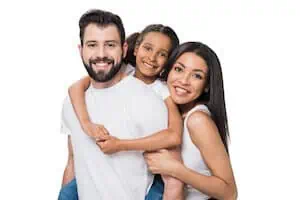 Traci's Quip review from the lifestyle blog Poppie Lady, is short, sweet and gets to the point. She says that she and her family have been using Quip brushes for around two years, and the overall impression is positive.
The best thing about Quip seems to be the esthetics. As far as style goes, they're on par with your iPhone or Macbook. They have a very gentle vibration and soft bristles, which her dentist said is actually a positive when it comes to brushing teeth.
She found the subscription and refill plans a little "cumbersome" though, and opted to just re-order when she needs to – even if this did mean paying more for the brush up-front. And, if you're wondering about that toothpaste, she describes it as "AWFUL".
"Just a simple brush that does everything you need it to."
Sarah's Quip review is quite positive. She considers herself an individual with a good oral hygiene routine; brushing and flossing twice a day, etc. But she had always assumed that you needed the most expensive electric toothbrush with all of the bells and whistles to really brush your teeth well.
That's when she saw an advertisement for Quip. You see, Quip is remarkably simple, and it's this simplicity that makes it so appealing.
She reiterates the fact that Quip brushes only move at 15,000 RPM. Additionally, the only feature it has is a two-minute timer with 30-second intervals. But then again, that's really everything you need to clean your teeth well.
She says that she appreciates her new brush heads arriving in the post without her having to think about it, as that's one area where she was liable to let her oral hygiene slip.
"They've thought of everything for you."
Next up, a video review from Sarah, who has owned her Quip toothbrush for over two years (in the US). She gives some background on Quip and shows you what the brush is like, before explaining some Quip toothbrush pros and cons based on her experience.
Here's a quick summary of the main points Sarah mentions in her video. First of all, the reasons she likes the Quip toothbrush:
The slim design: The brush takes up so little space, plus there is no charger to worry about. Sarah has attached hers to the inside of her medicine cabinet using the built-in suction strip.
The timer: Sarah reckons she was only brushing her teeth for about 30 seconds before the Quip came along and showed her that she should spend this long on each quadrant of her mouth.
It's travel-friendly: It's small and light and the sleeve easily slips over the top to protect the bristles and stop it accidentally switching on.
They tell you when to switch: If you never give much thought to when your brush head should be changed, Quip takes care of that for you.
It has kept her teeth healthy: In the two years she has been using Quip, Sarah hasn't had any new cavities. She believes it has helped her develop better brushing habits.
And now for the downsides of the Quip which Sarah mentions:
More add-ons would be nice: Sarah would like the option to purchase other extras like mouthwash (she mentions dental floss too, which has recently been introduced).
You can't replace just the handle: After a year and a half, she wanted to buy a new handle because it was getting a bit dirty. This meant buying the whole toothbrush, like a new customer, which was frustrating because she didn't need all the extras it comes with.
It feels like it's lacking features: Because it's such a simple design, you can feel like you're missing out on some of the things that other electric brushes offer. But, as Sarah points out, those features might not actually make the brushes any better.
Sarah concludes by saying that all in all, she loves the Quip brush and would recommend it to anyone.
"I can't recommend it but I also can't tell you not to get it."
Not all Quip impressions are glowing, however. Oscar, in his assessment, feels quite ambivalent about this trendy new toothbrush.
He tried Quip sort of unintentionally. He "took a jab" at the Quip company on Twitter for an advertisement they ran that was a bit too gimmicky for his taste. Well, wouldn't you know, Quip responded and agreed to send him the product to give it a test drive.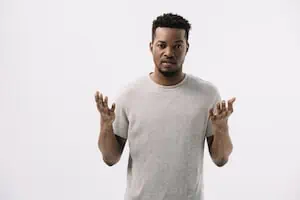 So he and his wife both received Quip toothbrushes in the post.
His summary?
Oscar says that the Quip is pretty much like a regular manual toothbrush, just with a thicker handle. And that it's different from other power toothbrushes because it just seems to vibrate, neither pulsating nor circular motions like Sonicare or Oral-B. In fact, unlike with other electric brushes, you actually still have to move the Quip just like you would with a normal toothbrush.
Ultimately neither he nor his wife were left feeling very enthusiastic about the Quip, but since they already had great oral hygiene routines and perfect dental health before, they didn't really see the need to switch.
Oscar recognizes that he may be a bit biased since he really doesn't like their marketing campaign. Perhaps the Quip is only supposed to be for people who need help establishing a good oral hygiene routine. It could be that it's not meant for people like him who already have an oral hygiene routine that that they are happy with.
Unlike Traci in the first review, however, Oscar loved the toothpaste. So, to each their own, right?
"It delivers real results and takes care of my patients' teeth and gums"
The last Quip toothbrush review we're featuring is from a dentist giving an honest medical opinion on the product. Some of the things mentioned in this dentist's opinion of Quip include:
The lightweight design makes brushing less awkward
The vibrating bristles are softer on teeth and gums than some other rotating/oscillating models
Getting a new brush head every three months takes the hard work out of remembering to switch
It helps eliminate bad brushing habits
And if a dentist is happy with the results their patients get using Quip, that has to be a good thing.
Conclusion
So, we've learned that Quip has an alluring marketing campaign and looks great, but it might leave you disappointed in terms of features.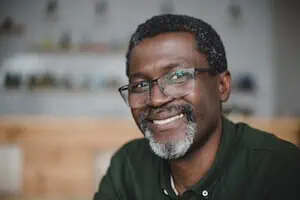 But let's not that forget that, according to the British Dental Association: "It doesn't matter if you use an electric or manual toothbrush in terms of keeping your teeth clean, as long as you brush all the surfaces of your teeth carefully and use a fluoride toothpaste."
If you're used to a top-of-the-range, bluetooth-connected toothbrush with 10 power modes, you might be too impressed by the simplicity of Quip. If, however, you get easily distracted while brushing and you have no idea when you last switched to a new toothbrush or head, the Quip might be just what you need.
To compare more electric toothbrushes and see how they compare to Quip, take a look at this article.
FAQs
Is the Quip toothbrush any good?
The Quip is a battery-operated toothbrush that features gentle vibrations and requires you to provide the actual brushing motion. It comes with a subscription package. You are automatically sent a replacement toothbrush head every three months.
So is it any good? It's good if you find it helpful to automatically receive a new toothbrush head in the post, and if you need help timing your brushing. This toothbrush is especially good for those who, above all, require their toothbrush to not only clean their teeth, but to also look good while doing it.
Are Quip toothbrushes soft?
In short, yes. They have silicone bristles around their normal bristles, and silicone is a very soft plastic material. These brushes use very gentle vibrations to clean your teeth.
What is the best electric toothbrush recommended by dentists?
There is not one ultimate brand that every dentist will agree is the best. But nearly any dentist will tell you that it's not so important what kind of toothbrush you have, but how and when you use it. Even the most basic manual toothbrush will benefit your oral health if you brush at least twice a day and use the proper technique.
If you're concerned about choosing the right toothbrush, you can always talk to your dentist. Your dentist will be able to give you some options and recommend which ones will be the best at keeping your mouth clean.
Sign up to receive the latest news and offers from Dentaly.org