This is a review of the Oclean X Pro Digital Smart Sonic Toothbrush. We've tried and tested this toothbrush and examined its features to determine whether or not this toothbrush is worth the price of around $100, and the answer is yes — depending on what you're looking for of course.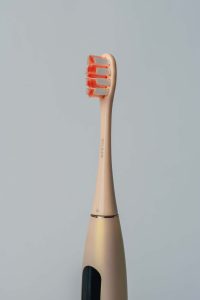 Not only do we review the Oclean X Pro Digital based on our testing, but we also take a look at what other people are saying about this toothbrush, so you can get a range of opinions.
In this article, we'll review the Oclean X Pro based on the following:
Battery life: ★★★★☆
Brushing power: ★★★★★
Smart technology: ★★★★★
Design: ★★★★★
Cost: ★★★☆☆
Keep reading to find out if the Oclean X Pro Digital toothbrush is the best option for you.
Oclean X Pro Digital main features
The Oclean X Pro Digital features:
Smart screen: The smart screen ensures that no spots are missed while you brush for real-time visible brushing. The AI tech tracks eight brushing areas, and provides instant feedback on the screen so you can see the results and go back over those areas. It also provides an auto-generated brushing plan if you get a brushing score of below 90.
Maglev motor: The motor, with 84,000 movements/minute, offers 2x the cleaning power of other sonic toothbrushes and 5x the stability, meaning the sonic vibrations are gentler and more comfortable.
Rapid charge: The battery lasts for 30 days on a single 2.5 to 3.5-hour quick charge.
Duo brush heads: It comes with a 'Plaque Control' head — Dupont Diamond bristles, tongue scraper — and a 'Delicate Clean' head — smaller size, 20% softer bristles, silicon-coated cover, fluoride-infused bristles.
Oclean X Pro Digital Toothbrush Review
Battery life: ★★★★☆
The battery life of this toothbrush is 30 days, which is pretty standard for an electric toothbrush — even a smart one. Charging time is considerably faster than most toothbrushes at just 2.5 to 3 hours for a full charge.
Brushing power: ★★★★★
In general, the power of sonic motors on electric toothbrushes is between 30,000 and 60,000 vibrations/minute, but the Oclean X Pro Digital delivers 84,000 vibrations/minute. What's more, the vibrations are designed to be more stable and steady, decreasing discomfort and offering a gentler brushing experience.
Smart tech: ★★★★★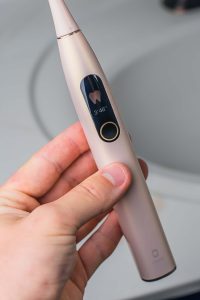 There are eight brushing areas in your mouth that this toothbrush tracks, using 6-axis gyroscope tech. This lets it provide instant feedback on the smart touch screen. It shows the areas you missed in red, and gives you a brushing score from 0 to 100, 100 being the best.
If you score lower than 90, you can opt to spend a few seconds more of supplementary brushing until you reach a score of 100. This brush also comes with an app, Oclean Pro, that lets you keep track of your brushing and collect brushing rewards.
Design ★★★★★
It is waterproof so you can brush in the shower, and features 3 brushing modes — sunset clearout, morning sunrise soothing, and exclusive mode. The smart screen lets you know how many brushes remain on your low battery, so you'll never be caught off guard.
The color touch screen makes it easy to change modes and see your brushing results. And if you need more brushing time, you can set it via the app. The motor is extra quiet, so you won't wake others while you brush. It comes with a wall-mounted holder and charging base, for a tidy, wireless aesthetic.
Cost ★★★☆☆
The Oclean X Pro Digital Smart Sonic Toothbrush costs $109.99, so it's not a cheap toothbrush. The price is justified, as it comes with a lot of features, and has cool technology, like the touch screen, the eight-area tracking, and the supplementary brushing add-on, and there are certainly smart brushes like the Oral-B iO that cost much more.
However, you don't really need those features to do a good job brushing your teeth. However, there are studies that show that electric brushes do a better job cleaning your teeth than manual brushes, so if you have a history of poor oral health, you may want to consider switching to electric.
The point is, if you want these extra features, then it is a cost-effective brush. If this sounds like the toothbrush for you, you can get yours now.
Oclean X Pro Digital toothbrush reviews from customers
In the YouTube video below, Amy goes through the design features of the brush and shows you how to use them. For her, this high-tech brush has been a game changer.
But if you already have a smart electric toothbrush, there's no need to switch over, as most high-range brushes offer similar performance. So maybe the next time you're looking for an upgrade, the Oclean would be a good pick.
Amazon customer reviews
The following Oclean X Pro Digital reviews are from customers on Amazon:
Best toothbrush I've ever used: ★★★★★
This is by far the best electric toothbrush I've ever used. It is smart, talking to the app on my phone and keeping me updated on my brushing habits and how well I brush. Lots of modes, including custom tailored to your brushing style. It has a very nice charging base that also mounts to the wall and uses a magnet to stay in place. Comes with two different brushing heads for different cleaning types. My teeth feel clean like just from the dentist after a cleaning.

A.J.
Average toothbrush, but cool tech: ★★★★☆
"Just speaking from a perspective of an electric toothbrush, it functions as expected like many other vibrating brushes. I did appreciate that the head was a little larger than normal which helped with coverage. Now on to the tech…it's admittedly pretty neat stuff having a touchscreen toothbrush that is app compatible. The app itself gives you some decent insight on your brushing habits and the brush shows where you can improve. Overall a neat concept but not sure it's worth the cost as-is."

Nick C.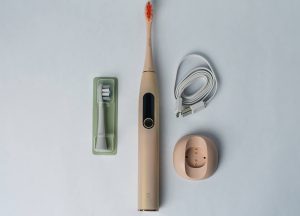 Truly a "Smart" electric toothbrush but comes with a hefty tag: ★★★★☆
This Oclean toothbrush is quite unique and can be used with an app to assess your brushing habits. The toothbrush kit included a well-made and sleek toothbrush body, two brush heads, charging base, USB charging cable, and manual. The toothbrush was easy to link to the app and I really enjoyed using it. The app kept track of my brushing usage, habits, and provided additional feedback on duration.

The toothbrush was simple to hold and felt good in my hands. There is only a single on/off button and a touch screen that shows how well I cleaned each of the 4 quadrants of my mouth which was interesting to visualize. Moreover, the toothbrush heads are soft and did not cause too much bleeding from the gums.

While this toothbrush is great, it does come with a very hefty price tag. Additionally, I could not find replacement heads for this toothbrush kit which is definitely a bummer. Overall, I think this is a very good toothbrush although at that price point, I'd like to see it have additional brush heads and more features.

Doc S.
Oclean X Pro Elite vs Oclean X Pro Digital
So how does the Oclean X Pro Digital compare to the Oclean X Pro Elite?
The Elite also has a color touch screen and eight-area monitoring, fast charging time and a quiet motor. However, it doesn't come with the dual brush heads, and the Digital has an updated display. In the table below, you can see a comparison of these two brushes. You can also find both on the Oclean website.
Conclusion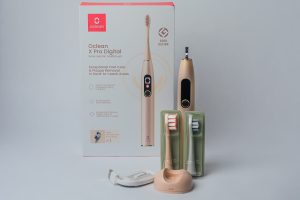 The Oclean X Pro Digital toothbrush features advanced technology including a touch screen, app compatibility, and brushing monitoring and instant feedback to help you improve your technique.
At around $100, it's not a cheap brush, but if you're looking for a brush that is fun to use, and even gives you awards and badges for improving your brushing habits, then this may be a good brush for you.
Overall, if you don't mind spending more for a brush with a lot of cool features, we say go for it. You can also check out our guide to the best electric toothbrushes including affordable electric toothbrushes for some other good options.
FAQs
Is the Oclean X Pro smart electric toothbrush worth it?
The Oclean X Pro smart electric toothbrush is worth it if it's time for you to buy a new toothbrush, and you want to invest in one that has cool technological features and a stylish design.
This toothbrush is not as expensive as some smart toothbrushes, but it still costs around $100, making it much more than a standard electric, not to mention manual, toothbrush.
What is the difference between the Oclean X Pro Elite and the Oclean X Pro Digital?
The Oclean X Pro Elite and the Oclean X Pro Digital are mainly different in that the Digital comes with two brush heads, and has an upgraded touch-screen interface. Many of their other features are the same.
Sign up to receive the latest news and offers from Dentaly.org