There are all kinds of things that can cause our teeth to become discolored. Everyday foods and drinks like tea, coffee, wine, sauces, and berries are just a few of the main culprits. If you're considering using a home teeth whitening kit to brighten up your smile, you're certainly not alone.
The whitening industry has boomed in recent years and there is now a huge variety of whitening products available in the US. And while it's nice to have options, this choice can be overwhelming if you're new to it all.
It's great that you're here to do some research before deciding how to whiten your teeth – safety should be a priority with something so important!
In this article, we explain why home whitening kits are such a popular option for people dissatisfied with the shade of their teeth. You'll be able to compare the cost and effectiveness of some of the best teeth whitening kits to make your decision easier. Finally, we offer some advice on how to prepare for whitening and care for your teeth afterwards.
Ways to make your teeth whiter
There are many whitening products and treatments available to try. Some are performed in a dentist's office while others can be bought over-the-counter or online to use at home. Choosing the right one for you will come down to two main factors: how much you want to spend and how drastic you want the results to be.
Whitening toothpastes are the cheapest option but they are abrasive to teeth and prolonged use can cause sensitivity. Results are mild and only last for as long as you are using the product.
On the other end of the scale, you can visit your dentist for whitening treatment using advanced laser technology. Although this delivers impressive results with just one visit, a course of treatment can run into thousands of dollars (but you might find it cheaper abroad). There is also a risk that you'll end up with dazzling white teeth that just look weird.
Cheaper yet effective
Somewhere in the middle, offering a balance between price and results, is the option of a teeth whitening kit. Available in drugstores as well as online, these kits can produce decent, lasting results after 1-2 weeks' use.
Usually, teeth whitening kits cost $15 – $50 in the US. More expensive options might have stronger gel or more components included. They offer the added benefit of allowing you to do your whitening at home, when it suits you.
But even if you have decided to whiten your teeth at home with one of these kits, you're still faced with many options. Should you go for a kit that uses LED or UV light? Are professional brands more effective than retailers' own brands? Should you supplement your whitening with other products like toothpaste, mouthwash or a whitening pen? And how can you be sure it's safe to use?
We're focusing on home kits in this article, but if you're interested in other ways to whiten your teeth you should check out our complete guide to teeth whitening as well. This covers other methods like whitening strips and pens as well as professional treatments carried out at the dentist. There is even a section on natural whitening techniques for those who would rather try a chemical-free approach.
How do teeth whitening kits work?
Although the individual components of each kit vary, the principle behind them is the same: you apply a bleaching gel to your teeth for a certain amount of time each day. Most kits come with a set of trays (which look like mouth guards) that fit to your teeth and hold the gel in place.
The bleach, usually containing hydrogen peroxide or carbamide peroxide, seeps through your tooth enamel to whiten the layer of dentin below. Dentin is naturally a darker yellow color, which is why our teeth aren't perfectly white in the first pace.
Some home kits come with an accelerator fluid which you must apply directly to your teeth before fitting the trays.
Each kit will include instructions to tell you how much gel to use, how long to leave the trays in for, and how often to repeat the treatment. Some may have different options depending on whether you'd rather have several short treatments in a day or one longer one. The timings are all dependent on the ingredients used in the products, and you should follow the manufacturer's instructions closely.
Certain kits come with additional features or components which make them faster-acting, more comfortable, or easier to use. Premium kits may include:
A blue light used to accelerate the whitening process
Individual pre-filled trays for each use
Pre-measured amounts of gel in syringes
Trays that can be molded to fit your teeth better
A peroxide-free gel for gentler whitening on sensitive teeth
Additional whitening products such as a tooth polisher, whitening pen, or toothpaste
Keep in mind that a more expensive kit won't necessarily produce the best teeth whitening results. Cheap teeth whitening kits can be just as effective if used properly, but the process itself may be less enjoyable.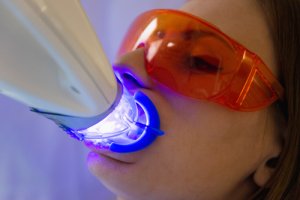 LED teeth whitening
If you've seen images of people with a device crammed in their mouth emitting an eerie blue light, they were probably whitening their teeth at the time.
Dentists have long been using LED (light emitting diode) and UV (ultraviolet) light to accelerate the whitening process when you go for in-office treatment. Some kits now use this technology in a handheld device to speed up whitening at home, too.
The blue light itself doesn't have any impact on the whiteness of teeth, but it kick-starts the whitening agents. This means that visible results can be achieved much faster with an LED teeth whitening kit. If you don't have much time to dedicate to wearing bleaching trays each day then you may benefit from choosing a kit with an LED light.
LED whitening has widely replaced UV whitening in dental clinics since it is proven to be more effective. It's also thought to be safer; UV light poses a greater risk of damage to gums and other parts of the mouth and face.
Measuring success
The whiteness of teeth is measured using a color scale. In dental clinics, you may see a row of what look like teeth in different shades of white and yellow. Dentists use these to check your original tooth color and measure how many shades of whitening you have achieved.
The best home whitening kits often come with a shade guide you can hold up to your teeth to assess the change in color. Without this it can be hard to measure success since our teeth can appear different shades in different lights.
Many kits are labeled with a promise such as "makes teeth 10 shades brighter", but in reality your individual results will vary depending on the condition of your teeth.
Don't be tempted to use whitening trays or other products for longer than stated on the packet. You might think this will give you whiter teeth faster, but in fact it could leave white blotches on your teeth. Similarly, over-filling the trays with more than the recommended amount of product could cause it to leak out and damage other parts of your mouth.
Over-whitening can also lead to your teeth losing their healthy shine and instead becoming dull and chalky white, so it's best to aim for a modest improvement at first.
Home whitening safety
Any products you buy from a reputable drugstore should be safe to use. If you look online, though, you'll find numerous other options available. Products sold in other countries are regulated in different ways so it can be harder to know whether these are completely safe to use.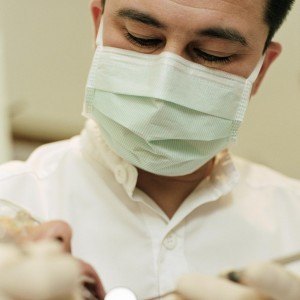 Firstly, you can check the percentage of hydrogen peroxide in the bleaching agent. In the US, home whitening products usually contain 3-10% hydrogen peroxide. A higher concentration than this is more likely to cause damage.
Dentists, meanwhile, can use products containing as much as 38% peroxide for in-office bleaching. This is why their treatments are more effective (and expensive!).
Although the gel used in home whitening kits is much weaker than that used by dentists, there is still a risk of injury to gums and cheeks if the product leaks out of the trays. Kits with trays that mold to the shape of your teeth can reduce this risk.
The American Dental Association (ADA) notes that a concentration of 10% hydrogen peroxide or higher is more likely to damage skin and tissue, so steps must be taken to protect the gum tissue when using these products.
Before going ahead with any kind of whitening it's a good idea to speak to your dentist first. Teeth bleaching kits may be unsuitable for people with gum disease or dental crowns, and if you have any tooth decay the bleaching agent can get to your nerves more easily, causing sensitivity or pain. Your dentist will be able to advise you of any potential risks at your next checkup.
Home teeth whitening kit reviews
Below we describe some of the top teeth whitening kits available in the US. You will see:
How they work
Pros and cons
Any unique features
Real user reviews
This information will help you make up your mind about which is the best teeth whitening kit for you.
If you decide to buy a teeth bleaching kit online, be sure to shop around for the best price. Many kits are available for much less than the advertised RRP through discount sites, with voucher codes, or even from the manufacturer's own website.
Best teeth whitening kits in the US
Active Wow
| Product | Moldable Trays? | LED Light? | Main Whitening Ingredient | Treatment Time | Treatment Duration |
| --- | --- | --- | --- | --- | --- |
| Active Wow Starter Kit | Yes | No | Hydrogen peroxide | 10-20 minutes | 5-8 applications |
| Active Wow Premium Kit | Yes | Yes | Hydrogen peroxide | 10-20 minutes | 10-16 applications |
Active Wow offers a Starter and Premium whitening kit. Both include mouth trays, whitening gel and remineralization gel. The premium kit comes with double the amount of gel plus an LED light and tray case, so certainly offers better value. Some reviewers found the moldable mouth trays hard to get right – but fortunately the kits come with a spare one (3 in total).
Applying the remineralization gel straight after use helps combat any tooth sensitivity you might experience. No gel refills are available, so you'll need to purchase a new kit when the initial supply is used up.
The company claims that results can appear after just one use, and the majority of reviews seem to back this up.
"The product worked as advertised. There was definitely a difference after one treatment. I have done it 3 times and I can see an improvement every time. I highly recommend it." was one user's comment.
For those who aren't happy with the results, there is a 100% satisfaction money-back guarantee.
Active Wow also makes an activated charcoal whitening powder which receives equally high reviews. You can read more about using charcoal to whiten teeth here.
AuraGlow
| Product | Moldable Trays? | LED Light? | Main Whitening Ingredient | Treatment Time | Treatment Duration |
| --- | --- | --- | --- | --- | --- |
| AuraGlow | No | Yes | Carbamide peroxide | 30 minutes | 10 applications |
The AuraGlow kit comes with an LED light and one-piece mouth tray which doesn't require any molding. There is also a case to store your trays safely.
Recommended treatment time is 30 minutes a day. The LED light automatically shuts off after this time, and it also beeps at 10-minute intervals to make it easy to time shorter applications. It attaches directly to the mouth tray so you don't need to hold it in place the whole time.
Some reviewers report seeing a difference after one or two applications, but for others, it takes a little longer. The kit contains enough gel for 10 applications, by which time most people notice a clear difference – even on badly-stained teeth. The product's claim to have enough for 20+ whitening treatments is a little misleading since two "treatments" are needed if you want to whiten both your upper and lower teeth in one application.
"This stuff works. I had stains on my teeth from coffee and tea and after four days the stains were significantly better." is the comment from one happy consumer.
Gel syringe refills are available, costing around $1.50 per application.
Philips Zoom
| Product | Moldable Trays? | LED Light? | Main Whitening Ingredient | Treatment Time | Treatment Duration |
| --- | --- | --- | --- | --- | --- |
| Philips Zoom DayWhite | No trays included | No light included | Hydrogen peroxide | 15-30 minutes | 8-10 applications |
| Philips Zoom NiteWhite | No trays included | No light included | Carbamide peroxide | 1 hour or overnight | 8-10 applications |
Although not technically a kit, this product deserves a mention since it comes from the same manufacturer as the in-office treatment used by dentists worldwide.
If you purchase Philips Zoom DayWhite or NiteWhite gels, be aware that no mouth trays or LED lights are included. You'll need to visit your dentist to get custom-made trays or use some left over from another kit.
The gels are available in different concentrations. The DayWhite solution contains hydrogen peroxide whereas the NiteWhite solution contains carbamide peroxide. When comparing gels to find the right one for you, keep in mind that 10% carbamide peroxide is equivalent to about 3.5% hydrogen peroxide. So a product containing 22% carbamide peroxide is actually gentler than one containing 14% hydrogen peroxide.
Another unique ingredient in these products is amorphous calcium phosphate (ACP) which reduces sensitivity, protects enamel, and helps make results last longer.
The Nitewhite product can be left on overnight, but some users who experience problems with sensitivity say that just an hour or two is long enough. As a precaution, you may want to start by using it for just half an hour and build up your treatment time from there.
As one reviewer puts it: "This stuff is powerful! Don't leave it on too long or you will have major teeth sensitivity. It works so well though."
If you already own mouth trays, this is a good way to save on the hundreds of dollars dentists charge for the same treatment.
In the following video one user explains how the kit works and what she thought of the results. She was worried about pain from sensitivity but was relieved not to experience any. She has also had plenty of compliments on her whiter teeth!
MagicBrite
| Product | Moldable Trays? | LED Light? | Main Whitening Ingredient | Treatment Time | Treatment Duration |
| --- | --- | --- | --- | --- | --- |
| MagicBrite | Yes | Yes | Carbamide peroxide | 5-15 minutes | 10 applications |
The MagicBrite Complete kit contains everything you need for whitening, as well as some vitamin E swabs to protect your lips.
The mouth trays provided are moldable for a perfect fit, and the syringes provided contain enough gel for 10 applications. The manufacturer acknowledges that some users may experience sensitivity. If you do, the solution is to use the product only once every 3-4 days, rather than on consecutive days.
Some users notice results after the first use while others have to wait up to a week.
"At the beginning I thought that it won't change anything but after almost a week I started to see the change."
"I've used this 3 times and love it! I'm a big coffee drinker and a smoker so my teeth have staining but after using this my teeth are white again!"
There are a handful of negative reviews by users that complain about receiving damaged or incomplete kits. Some people also had problems with the mouth trays, saying they shrunk in hot water and were unusable. Still, it's one of the cheapest options for a complete kit that has good reviews overall.
US home whitening kits comparison
The table below summarizes all of the above information so you can easily compare these five home teeth whitening kits:
| Product | Moldable Trays? | LED Light? | Main Whitening Ingredient | Treatment Time | Treatment Duration |
| --- | --- | --- | --- | --- | --- |
| Active Wow Starter Kit | Yes | No | Hydrogen peroxide | 10-20 minutes | 5-8 applications |
| Active Wow Premium Kit | Yes | Yes | Hydrogen peroxide | 10-20 minutes | 10-16 applications |
| AuraGlow | No | Yes | Carbamide peroxide | 30 minutes | 10 applications |
| Philips Zoom DayWhite | No trays included | No light included | Hydrogen peroxide | 15-30 minutes | 8-10 applications |
| Philips Zoom NiteWhite | No trays included | No light included | Carbamide peroxide | 1 hour or overnight | 8-10 applications |
| MagicBrite | Yes | Yes | Carbamide peroxide | 5-15 minutes | 10 applications |
Things to consider before doing home whitening
If you have any artificial teeth or teeth coverings – such as implants, bridges, crowns, and veneers – these won't be affected by any whitening treatment. This shouldn't be too obvious with rear teeth but if you have an artificial front tooth you may have to just accept your natural tooth color.
Many people experience tooth sensitivity while whitening their teeth. Often this is quite bearable but it can escalate to considerable pain. If you experience any such side effects you can stop your treatment straight away and the pain should soon subside. Still, you should consider how much discomfort you're willing to go through for a temporarily brighter smile.
Most manufacturers recommend you don't use teeth whitening products while pregnant or breastfeeding. If you're currently undergoing orthodontic treatment with braces, you should wait until they are removed before whitening your teeth. You can still use a whitening toothpaste in the meantime.
Aftercare
How long your results last will depend a lot on how well you care for your teeth after whitening.
The simplest way to keep your teeth whiter for longer is to avoid exposing them to things that are likely to stain them. This includes:
Smoking
Tea
Coffee
Berries
Brightly colored sauces like tomato sauces and curries
Wine (both red and white – although white doesn't cause stains, it can darken existing ones)
Soft drinks (even sugar-free ones have damaging levels of acid)
Think of it this way: if it will stain a white shirt or carpet, there's a good chance it will stain your teeth. Drinking through a straw helps keep damaging liquids away from front teeth.
Whitening products temporarily make your tooth enamel more porous so the whitening agent can take better effect. This also means your teeth are more susceptible to staining from other sources while whitening is in progress. It's, therefore, a good idea to steer clear of these foods and drinks not just after whitening your teeth but during whitening as well. If this is too much to ask, at least abstain for a couple of hours after each whitening session.
Your teeth will also stay whiter if you take good care of them (something you should be doing anyway). This means brushing twice a day with fluoride toothpaste and flossing every day.
A whitening toothpaste will help remove any surface stains that do build up on your teeth. If this causes sensitivity, try using it just two or three times a week instead.
Finally, don't forget to visit your dentist for regular checkups and cleanings with the hygienist. They use more advanced tools to remove the stuff you miss while you're brushing.