We reviewed at-home teeth whitening kits and selected our top five — Snow, Hismile, Smile Avenue, Smile Brilliant, and Sporting Smiles. We looked carefully at the ingredients and any extras like extra-strength gel or custom-made trays to come to our conclusion.
These kits will whiten your teeth. However, some do come with a high price tag, and others include features like LED lights that may or may not actually help the whitening process.
We also rate each kit based on who it's best for — best for most treatments, best peroxide-free, best for professional results, best budget, and best affordable professional results.
Check out the table below for a snapshot:
Carbamide and hydrogen peroxide serum

Wireless mouthpiece option

PAP+ substitutes hydrogen peroxide

Nano-hydroxyapatite strengthens enamel

Just 10 minutes per treatment

Desensitizing pen included

Dentist-grade whitening gel

8 shades whiter after a single treatment

Best affordable custom trays
Keep reading to find the best teeth whitening kit for you and to read up on some advice on how to prepare for whitening and care for your teeth afterward.
Read our full guide for more information on teeth whitening dentistry procedures. This covers other methods like teeth whitening strips and pens as well as professional treatments carried out at the dentist.
Best teeth whitening kits in the US
Best for most treatments: Snow
The Snow whitening kit is made in the US and uses a whitening gel that combines hydrogen peroxide and carbamide peroxide for optimal results. It was one of the first brands to make LED whitening at home popular (although, as we'll discuss further down, there isn't much evidence that LED actually increases treatment efficacy).
There's also a Wireless Kit, which is perfect for those who want white teeth and don't mind paying a little extra for added convenience and add-on benefits. Find out more in our Snow wireless teeth whitening kit review.
To use Snow, all you have to do is apply the whitening serum to your teeth and put the mouthpiece in your mouth for 9 to 30 minutes. 90% of customers see noticeable results after the first use.
Watch the video below of people using this kit while they go about their day.
The brand receives excellent reviews across many web and social media platforms and has been featured on various morning news shows and talk shows like Wendy Williams. Celebrities like Floyd Mayweather, Rob Gronkowski, and Danielle Macdonald are some of Snow's biggest endorsers.
And yes, it is more expensive than your typical home whitening kit, but the results are meant to last, and a year or two from now, if you decide you want a touchup, you can use the same kit — all you need to buy are some whitening gel refills.
Plus, they can make their prices a little higher because they're so sure you'll see results that the cost includes a money-back guarantee if, for any reason, you aren't satisfied with your results.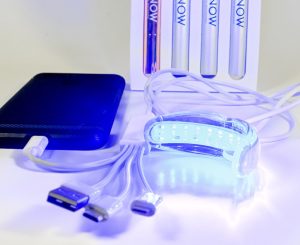 Snow is designed to give you full coverage without the gel coming into contact with your gums since you use a wand to brush the gel directly on each tooth.
Choose to bundle your purchase with other goodies, such as charcoal floss and lip balm, or buy couple and family kits. There's also a wireless kit if you want totally hands-free, on-the-go treatment. For more information about Snow, have a look at our Snow teeth whitening review.
The Snow kit comes with:
Dual light wireless mouthpiece
Wireless, portable charging case
Self-sanitizing case
Water-resistance
Travel friendly
And the wireless kit includes:
Dual light wireless mouthpiece
Wireless, portable charging case
Self-sanitizing case
Water-resistance
Travel friendly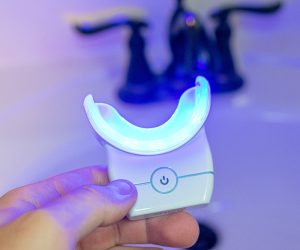 It features red light technology that Snow says supports gum health — some research suggests red light helps with plaque control, but there isn't much data available.
You can use it with Snow's smartphone app to track your progress.
Choose to bundle your purchase with other goodies, such as charcoal floss and lip balm. Snow also offers Snow whitening strips, which could be a convenient alternative to the full kit. For more information about Snow, have a look at our Snow teeth whitening review as well.
Product summary
Type of kit: LED
Full treatment duration: 21 days
Single treatment use time: 9-30 minutes
Active ingredients: Hydrogen and carbamide peroxide
Best non-peroxide: Hismile whitening kit
The Hismile kit has a unique selling point, particularly interesting to those looking for peroxide-free whitening.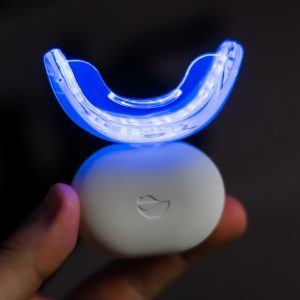 That's because, instead of hydrogen peroxide as the main whitening ingredient, Hismile features PAP (Phthalimidoperoxycaproic Acid). This innovative ingredient has been shown to be just as effective for whitening teeth as hydrogen peroxide, but without harming enamel or causing any sensitivity or irritation.
In addition to PAP, Hismile also contains nano-hydroxyapatite, which helps strengthen enamel, and potassium citrate, which helps relieve any sensitivity you were already experiencing prior to whitening.
When you order a Hismile kit, you get mouth trays, an LED light, and 6 teeth whitening pods. Each complete whitening treatment only requires 1 to 2 pods, so a single kit provides whitening for a year.
When you do need to restock on whitening gel, you can purchase pod refills. Find out more in our Hismile review.
Product summary
Type of kit: LED
Full treatment duration: 6 days
Single treatment use time: 10 minutes
Active ingredients: PAP+
Best budget: Smile Avenue
Smile Avenue is a home whitening kit that uses a tried and true formula — 34% carbamide peroxide, the same strength you would get from many dentists.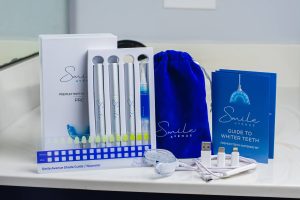 This kit comes with a whitening gel that you insert into the LED mouthpiece, which can help to speed up the tooth whitening process. The full contents of the kit are:
3 whitening gel pens
1 desensitizing gel pen
1 LED light with micro-USB plug
3 connectors: USB, USB Type-C and iPhone
1 shade guide
1 velvet pouch
1 user manual
Use code DENTALY15 to get 15% off your order. You can also read more about Smile Avenue in our full Smile Avenue review.
Product summary
Type of kit: LED
Full treatment duration: 12 days
Single treatment use time: 16 minutes
Active ingredients: Carbamide peroxide
Best custom trays: Smile Brilliant teeth whitening kit
Another at-home teeth whitening kit at the top of our list is Smile Brilliant. Smile Brilliant teeth whitening kits provide the same professional-level results you would get from your dentist. That's because while you make your own impressions at home for your whitening trays, you send them to a lab, so your customized trays are made professionally.
They use a whitening gel made with 22% carbamide peroxide, which is strong enough to whiten teeth by up to eight shades in a single course of treatment.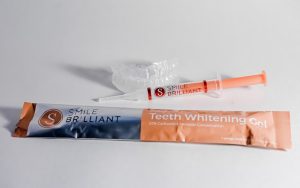 The whitening gel is sealed in light-proof foil bags. This prevents light from coming into contact with the peroxide, which would cause it to break down into water. This special storage method means that the whitening gel stays potent and has a longer shelf life.
And when you order your kit, you can choose the level of staining that you have, which will determine the number of treatments you need.
Since your trays are custom-made, these teeth whitening home kits offer the closest option to in-office whitening without actually having to go see the dentist.
This professional-level treatment costs just $149, with refills available, so you don't have to buy the kit again when you want to touch up your smile.
You can find out more in our Smile Brilliant review.
Product summary
Type of kit: Custom trays and serum
Full treatment duration: 27, 18, or 9 days (depending on the level of staining)
Single treatment use time: 45 minutes – 3 hours
Active ingredients: Carbamide peroxide
Best affordable custom trays: Sporting Smiles
Another option similar to Smile Brilliant is Sporting Smiles. They are best known for their custom Essix retainers and mouthguards for teeth grinding, but they also offer a professional-level whitening kit with custom-made trays.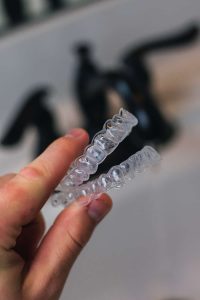 The process begins with ordering your impression kit online and then getting your whitening gel and custom trays in the mail. Sporting Smiles has the option of expedited shipping and a novelty whitening bag. Plus, they are one of the cheaper options for at-home whitening with custom trays at just $80 per kit.
Product summary
Type of kit: Custom trays and serum
Full treatment duration: 2 weeks
Single treatment use time: 20 minutes
Active ingredients: Carbamide peroxide
Overview of ways to make your teeth whiter
There are many whitening products and treatments available to try. Some are professional teeth whitening treatments performed in a dentist's office, while others can be bought over the counter or online at home. Choosing the right one for you will come down to two main factors: how much you want to spend and how drastic you want the results to be.
Whitening toothpastes are the cheapest option, but they are abrasive to teeth, and prolonged use can cause sensitivity. Results are mild and only last for as long as you use the product. However, some companies, like Smileactives, offer a whitening gel that you add to your toothpaste.
On the other end of the scale, you can visit your dentist for whitening treatment using advanced laser technology. Although this delivers impressive results with just one visit, a course of treatment can cost thousands of dollars.
LED teeth whitening kits
If you've seen images of people wearing a mouthpiece emitting an eerie blue light, they were probably whitening their teeth at the time.
Dentists have long been using LED (light emitting diode) and UV (ultraviolet) light to accelerate the whitening process when you go for in-office treatment. Some kits now use this technology in a handheld device to speed up whitening at home, too.
However, when you look for evidence of the efficacy of LED lights, studies produce mixed results. Some claim that it is more effective, while others claim that it has no effect.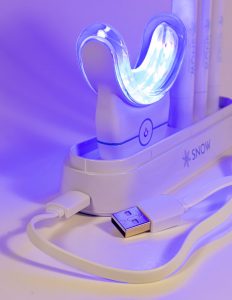 Everyone agrees that the blue light itself doesn't impact the whiteness of teeth — rather, its role is to kick-start the whitening agents.
LED whitening has widely replaced UV whitening in dental clinics since some studies suggest that it is more effective. It's also thought to be safer; UV light poses a greater risk of damage to gums and other parts of the mouth and face.
There are myriad teeth whitening kits with light that accelerate treatment. Available in drugstores and online, these kits can produce decent, lasting results after just a couple of uses in some cases.
Depending on the type you buy, teeth whitening kits can cost anywhere between $15 and $400 in the US. More expensive options might have stronger gel or more components included like LED tech to accelerate whitening. They offer the added benefit of allowing you to do your whitening at home when it suits you.
But even if you have decided to whiten your teeth at home with one of these kits, you're still faced with many options. Should you go for a kit that uses LED or UV light like ARC teeth whitening, or the GLO Science teeth whitening kit?
Are professional brands more effective than retailers' own brands? Should you supplement your whitening with other products like toothpaste, mouthwash, or a whitening pen (like the Radiance teeth whitener)? And how can you be sure it's safe to use?
Whitening is often part of a complete smile makeover, which you can read about here.
Measuring success
The whiteness of teeth is measured using a color scale. In dental clinics, you may see a row of what look like teeth in different shades of white and yellow. Dentists use these to check your original tooth color and measure how many shades of whitening you have achieved.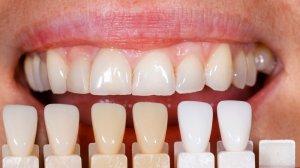 The best home whitening kits often come with a shade guide you can hold up to your teeth to assess the change in color. Without this, it can be hard to measure success since our teeth can appear in different shades in different lights.
Many kits are labeled with a promise such as "makes teeth 10 shades brighter", but in reality, your individual results will vary depending on the condition of your teeth.
Don't be tempted to use whitening trays or other products for longer than stated on the packet. You might think this will give you whiter teeth faster, but in fact, it could leave white blotches on your teeth.
Similarly, over-filling the trays with more than the recommended amount of product could cause it to leak out and damage other parts of your mouth.
Over-whitening can also lead to your teeth losing their healthy shine and instead becoming dull and chalky white, so it's best to aim for a modest improvement at first.
Home whitening safety
Since the lockdown, we've all become pretty savvy when it comes to DIY solutions, including teeth whitening. But there are some things to keep in mind. First of all, we recommend purchasing a kit made in the US because you know it's made to certain standards that you might not get if the kit you buy is imported from another country.
Additionally, any products you buy from a reputable drugstore in the US should also be safe to use. If you look online, though, you'll find numerous other options available. Products sold in other countries are regulated in different ways, so it can be harder to know whether these are completely safe to use.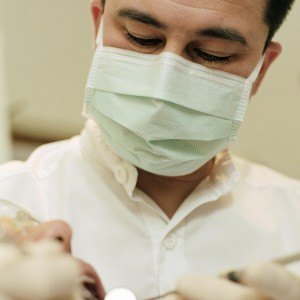 Firstly, you can check the percentage of hydrogen peroxide in the bleaching agent. In the US, home whitening products usually contain 3-10% hydrogen peroxide. A higher concentration than this is more likely to cause damage.
Dentists, meanwhile, can use products containing as much as 38% peroxide for in-office bleaching. This is why their treatments are more effective (and expensive!).
Although the gel used in home whitening kits is much weaker than that used by dentists, there is still a risk of injury to gums and cheeks if the product leaks out of the trays. Kits with trays that mold to the shape of your teeth can reduce this risk.
Before going ahead with any kind of whitening, it's a good idea to speak to your dentist first. Teeth bleaching kits may be unsuitable for people with gum disease or dental crowns, and if you have any tooth decay, the bleaching agent can get to your nerves more easily, causing sensitivity or pain.
You can most likely whiten your teeth with Invisalign aligners using a whitening kit, but your dentist will be able to advise you of any potential risks at your next checkup.
Things to consider before doing home whitening
If you have any artificial teeth or teeth coverings – such as implants, bridges, crowns, and veneers – these won't be affected by any whitening treatment.
Many people experience tooth sensitivity while whitening their teeth. Often this is quite bearable, but it can escalate to considerable pain. If you experience any such side effects, you can stop your treatment straight away, and the pain should soon subside.
Most manufacturers recommend not using teeth whitening products while pregnant or breastfeeding. If you're currently undergoing orthodontic treatment with braces, you should wait until they are removed before whitening your teeth.
You can still use whitening toothpaste to remove surface stains on teeth in the meantime. Have a look at our guide to the best whitening toothpastes.
If you want to try alternative teeth whitening methods, you may also want to have a look at some common teeth whitening myths.
Conclusion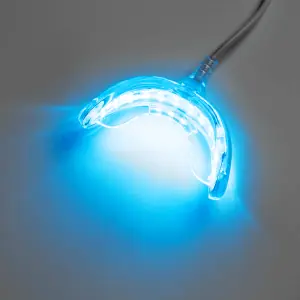 There are lots of whitening kits available out there with a wide variety of features, prices, and contents. While browsing the market, you'll need to consider your specific needs. Do you smoke? Are you a coffee drinker? Do you have sensitive teeth? How much whitening do you need?—Depending on the answers to these questions, some kits may work better for you than others.
Of all the whitening kits, those at the top of our list are Snow, Hismile, and Smile Avenue. They may not be the cheapest, but each has its own special features that make it well worth the cost.
Snow offers a whole year of results, Smile Avenue is actually professional-grade whitening at home, and Hismile offers peroxide-free whitening that causes no sensitivity.
Another kit we didn't feature but that you may want to check out is Glo Science teeth whitening, which also uses LED tech.
If you decide that these kits aren't right for you, the other kits mentioned here are good, tried, and tested alternatives.
For more information, check out all of our topics on your options for teeth whitening.
FAQs
Do teeth whitening kits work?
Teeth whitening kits do work, although some certainly work better than others. The most effective ingredients to look out for in kits are carbamide peroxide and hydrogen peroxide. If you have sensitive teeth, you should also make sure to look for a kit that offers desensitizing treatment as well.
What are the best teeth whitening kits?
Some of the best whitening kits available are Snow whitening and Smile Avenue. However, keep in mind that the best teeth whitening kit for you depends on your specific needs. Do you have sensitive teeth? Do you have severe staining? You'll need to do your research to make the best choice.
What is the best teeth whitening kit with light?
While there are many options available, Snow teeth whitening and Smile Brilliant whitening are a couple of the best teeth whitening kits that use LED light to whiten faster and more efficiently.
Sign up to receive the latest news and offers from Dentaly.org