Are you looking into teeth whitening kits like Smileactives and want to read some Smileactives reviews from actual users?
In this article, we'll look at Smileactives reviews and product details of Smileactives in order to answer the following questions:
Is Smileactives safe to use?
What are the active ingredients?
Does Smileactives work?
What do other Smileactives reviews say?
Once we have all these questions answered, you will have everything you need to know to compare Smileactives with other teeth whitening kits and decide which is right for you.
Professional whitening at home
If you're looking for a safe and convenient way to get professional-level whitening, you'll have a hard time finding a better at-home whitening system than Smile Brilliant.
That's because Smile Brilliant offers the same results that you would get at the dentist, but for a fraction of the cost. That's right—custom-made whitening trays and dentist-grade whitening gel.
Plus, the whitening gel is stored in light-proof foil, meaning that the peroxide won't break down into water.
Smile Brilliant is also a great option if you have sensitive teeth because you can choose to purchase their special desensitizing gel that can reduce – and in some cases prevent – tooth sensitivity.
What is Smileactives?
The Smileactives brand offers several cosmetic dental whitening products, including an electric toothbrush, LED whitening accelerator, and a whitening pen, but we are focusing on reviews of their main product: the Power whitening gel, which you add to toothpaste before brushing your teeth. Their website says this about the gel:
"When combined with your regular toothpaste, the Power Whitening Gel turns normal toothbrushing into a powerful whitening session. The Smileactives Power Whitening Gel features patent pending Polyclean® technology, which generates an ultra-fine foam that whitens the whole tooth, not just the front, and reaches all the grooves and crannies."

Smileactives website
So let's have a look at how Smileactives is different from other whitening kits and whether or not you should give it a try.
Our Smileactives review
Kit Contents and Price ★★☆☆☆ (2/5 stars)
The Smileactives Power whitening gel has two size options: 3.8 oz and 1 oz. Both sizes can be purchased off of the website individually, or with a subscription service that will send you a refill every three months. Purchased individually, the gel will cost just under $25 per ounce, with a bonus 0.8 oz when you buy the large bottle.
In a world full of trays, syringes, mouthpieces, and UV lights there is absolutely something to be said for simple kits, but this one feels a bit light. Considering that they have other products, it seems like they could include a little something more than 3.8 oz of gel for your 75 bucks, especially if you opt for the subscription service.
In a word, it's a bit basic, and if you want extra goodies you'll have to buy them separately.
Ingredients ★★★★☆ (4/5 stars)
Ingredients for the Smileactives whitening gel are fairly standard in most whitening products. They include:
Water
Hydrogen peroxide
Glycerin
Hydroxyethyl acrylate/sodium acryloyldimethyl taurate copolymer
Flavor
Sodium saccharin
Etidronic acid
Potassium stannate
Ammonium hydroxide
The active ingredient in Smileactives is hydrogen peroxide with a concentration of 9%. The other ingredients are either for consistency or flavor. Hydrogen peroxide is a known whitening agent so this gel should work, at least to some extent.
However, the concentration of peroxide is lower than in most professional teeth whitening kits. As you use it, it's instantly mixing with your toothpaste and saliva which will dilute it even further. And in 2-3 minutes of swishing around your mouth, it's going to have minimal whitening effect.
In contrast, a professional home whitening kit like Smile Brilliant uses professional-strength gel which stays on your teeth for 1-3 hours for much deeper whitening. Sure, it's less convenient, but it's going to give significantly better and faster results.
Ease of use ★★★★★ (5/5 stars)
One of the most distinctive features of Smileactives is the way you actually use it. If you have used whitening kits before, you'll know that an important factor is how long each treatment takes. Some professional kits require several hours, while others brag that their treatment only takes ten minutes.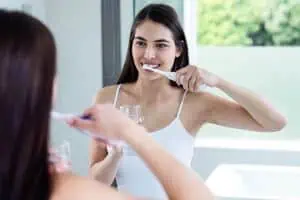 Smileactives tops all of them in this regard because it doesn't require a single second more than your standard oral hygiene routine. All you have to do is add some of the Smileactives gel to your toothbrush along with your normal toothpaste and brush away!
Assuming you already brush twice a day, then your schedule will not be affected, and that is something that very few whitening kits can say.
However, five stars for ease of use does not necessarily equate to good results. It takes time to work away those deep-set stains!
Does Smileactives work?
Since Smileactives whitening gel contains hydrogen peroxide, a tried and tested whitening ingredient, it is likely to have at least some whitening effect as you use it to brush.
However, as noted above, there are other products on the market with stronger peroxide concentrations and longer use time than the Smileactives whitening gel. Both of these factors mean they can properly penetrate your enamel and give deeper, longer-lasting whitening.
Check out our reviews of the best teeth whitening kits to learn more.
Smileactives teeth whitening pen
Even though we're focusing on the Smileactives whitening gel, we would be amiss in totally ignoring their whitening pen without giving at least an overview. The whitening pen ingredients aren't exactly the same as the gel, but they aren't anything extraordinary either. They are:
Water
Hydrogen peroxide
Glycerin
PEG-60 hydrogenated castor oil
Carbomer
Ammonium hydroxide
Flavor
Sucralose
Etidronic acid
Potassium stannate
The active ingredient is still hydrogen peroxide, and the method for applying it should be familiar. All you do is twist the bottom of the pen until whitening fluid appears on the applicator, then paint it onto your stained or yellow teeth 2-4 times a day, according to the Smileactives website. The price is also comparable to other teeth whitening pens.
Basically if what you're looking for is a whitening pen, Smileactives will give you about the same as most other brands. For more info, watch their whitening pen video:
Smileactives reviews from users
Of course, one of the best things you can do when shopping for whitening kits is check out some user reviews to see what the public reaction is. Here we've put together a few reviews from smileactives.com that give a pretty good idea of what people are saying about their product.
Most user Smileactives reviews on Amazon are quite positive, saying that they saw results and had no complaints: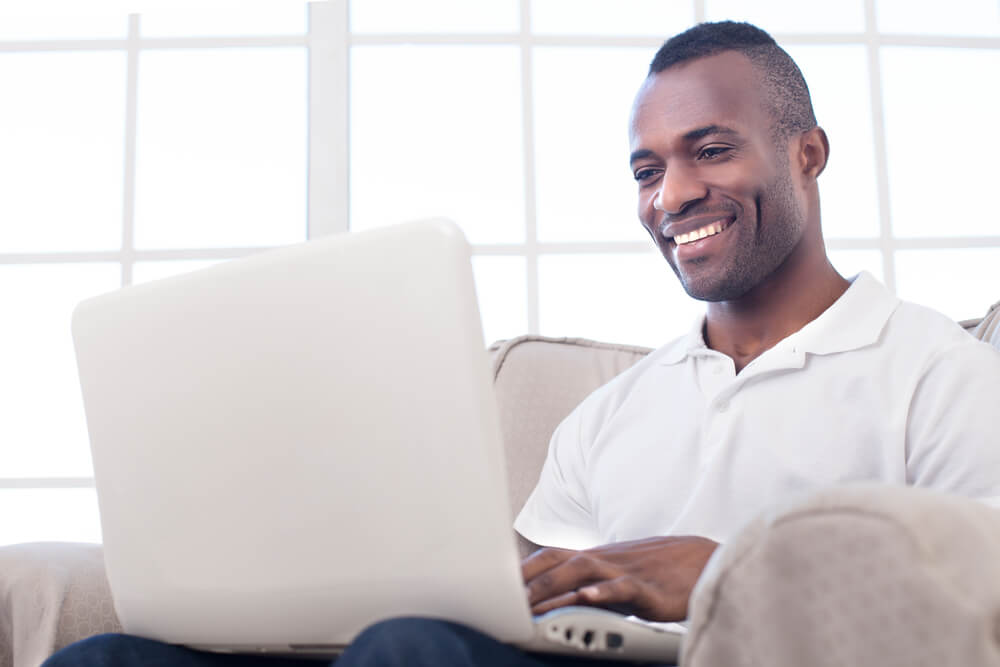 "I love this product. My teeth are whiter. I use it twice a day. I put my toothepaste on my toothbrush and I put Smileactives on top of my toothpaste! My teeth feel so clean. My teeth look sparkling white!"

Speedysusie
Some people who wrote Smileactives reviews were really blown away, like Tamara, who saw results sooner than expected and even liked the way Smileactives toothpaste gel tastes:
"Ive really enjoyed smile actives. Its simple to use with your toothpaste and it has a great taste. Its been about a month now but I started seeing results within two weeks."

Tamara1969
Other Smileactives reviews said that it's a good product but, like us, thought the price was a bit high for what you get:
"Love the product for how easily it works, but it is way too expensive for someone like me who is on a fixed budget…"

Audrey16
Finally, there were some pretty negative SmileActive reviews on Amazon as well. Many of them put it simply, saying Smileactives doesn't work at all. Others seemed to have run into trouble with the subscription service:
"You will automatically get shipped more product within 1 month of your original purchase and charged the first of three installment payment (total of $75 for 1 bottle of product). If you don't want the product you'll have to pay return S&H. Would not recommend unless you are OK with this type of program."

Katie78759
Though there are certainly negative ones, it's worth mentioning that the majority of reviews both on Amazon and the Smileactives website are 5-star reviews, or are at least quite positive. Most people are happy with Smilactives, though based on some of these reviews we would recommend that you be sure you know if you're purchasing a single item or a subscription to avoid unnecessary problems.
Smileactives before and after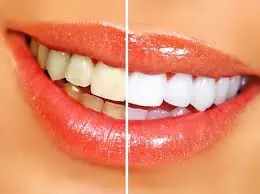 It's always tempting to just look up before and after photos to see what effect Smileactives has on teeth, but they are not always reliable. Most of the photos you see are actually stock photos that have nothing to do with a specific product. Even the ones that aren't just found online can be digitally altered or shot in a different light.
Though we wouldn't put much stock in the photos themselves, it is interesting that there aren't a lot of before and after images on Smileactives' Amazon reviews. It's hard to say that there's anything definite to glean from that fact, but you can draw your own conclusions as you see fit.
Where can I buy Smileactives?
You can try all of their products, both individually and with a subscription, by visiting their website. If you check Amazon you might find lower individual prices. You can find Smileactives Power whitening gel, teeth whitening pen, and more on Amazon.
Alternatives to Smileactives
So, you've read this far and you're wondering: what are my other options for whitening at home? Well, there are tons of products on the market and you can spend quite a while shopping around if you like.
But, to save you some time, here are two of our top picks:
Snow vs Smileactives
There's another at-home whitening kit that we feel merits special consideration as well. Sure, Snow whitening does ask that you set aside about 10 minutes, but we think that's a small price to pay for reliable professional results at home.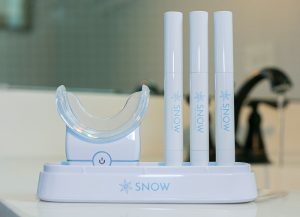 And speaking of price, you may think that Snow is much more expensive than Smileactives. It's true that you'll pay more up-front, but if you're planning to continue topping up your whitening over the course of a year, you'll find Snow more economical overall.
If you're interested, take a look at our more detailed Snow teeth whitening review or click the button below to find out why celebrities are big fans of Snow.
Hismile vs Smileactives
If you've looked everywhere for a teeth whitening kit that doesn't cause sensitivity, but nothing has worked for you so far, then Hismile may be the right system for you.
The Hismile company has recently revamped with a redesigned formula, based on tons of science-backed research into teeth whitening for sensitive teeth.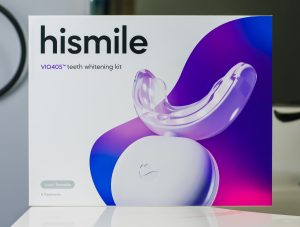 Their new formula features PAP+, a whitening ingredient that works on discolored tooth molecules and causes no sensitivity.
The whitening gel also includes hydroxyapatite, which can help remineralize and fortify enamel, and potassium citrate, which helps eliminate any sensitivity you were feeling prior to treatment.
You can read our full Hismile review to find out more!
Smile Brilliant vs Smileactives
That said, as we mentioned earlier, Smile Brilliant is a great option for professional results from home. This kit works in exactly the same way as one from your dentist, but costs much less. Plus, desensitizing serum means it's safe if you're prone to sensitivity when whitening. You can read full details in our review or view their full product range here.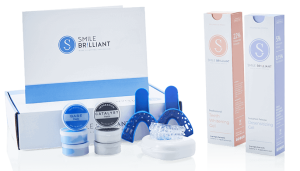 Another thing that sets Smile Brilliant apart is how they seal the whitening gel. You may have noticed that when you buy hydrogen peroxide, it typically comes in an opaque brown bottle. That's because when light comes into contact with HP, the peroxide breaks down into water.
So to prevent that from happening, Smile Brilliant seal their whitening gel in special foil bags — for greater potency and longer shelf life.
With Smile Brilliant, you can also choose which level of whitening you want, whether you have heavy stains, average stains or light stains.
Conclusion
To sum up our opinion of Smileactives in a two-word review: not bad. The price is a bit high, especially over time with the subscription, but it's straightforward, easy to use, and doesn't require you to make any extra time for it in your schedule.
We would recommend giving it a shot if you want a whiter smile. Especially since the majority of Smileactives reviews are really positive, it's probably not all creative marketing.
There are certainly other brands that are worth looking into, and in case you don't want to go through all our other reviews, we'll leave you with this table for a brief comparison of at-home whitening kits:
| | | | | | | |
| --- | --- | --- | --- | --- | --- | --- |
| | | Main whitening ingredient | | | | |
| | 2 minutes (while brushing) | | Place whitening gel on toothbrush with regular toothpaste, brush teeth as normal | | | |
| | | Hydrogen peroxide, carbamide peroxide | Gel is applied directly to teeth, then LED mouth tray is put in place | | | |
| | | Phthalimidoperoxycaproic acid (PAP+) | Insert gel directly into tray, place trays in mouth, and turn on LED | | | |
| | | | Your trays are custom-made in the lab. Once you get them in the mail, you apply the whitening gel to the trays and leave them in from 45 minutes to 3 hours | | | |
FAQs
Is Smileactives safe?
There is nothing about the Smileactives whitening range which makes it inherently unsafe to try at home. However, there is a risk of the whitening ingredients irritating your gums as you brush.
Increased sensitivity and gum inflammation are common complaints with home whitening treatments. Improper or excessive use can make these effects worse and leave teeth in a worse condition than when you began.
Just be sure to follow the instructions carefully. If you experience any side effects, discontinue use and see a dentist. The ADA also recommends consulting a dentist before commencing any home whitening treatment.
Does Smileactives work on veneers, crowns, and other dental work?
Some people claim their dental work was also whitened, but we would advise caution here. One of the main drawbacks of whitening treatment is that dental work often whitens at a different rate. Sometimes not at all. We would highly recommend consulting your dentist before you try whitening, especially if you have any type of visible dental work in front.
If I whiten more frequently will it work faster?
It is not a good idea to whiten your teeth any more than instructed by whichever product you're using. You should also never combine two different whitening treatments at the same time. This can be dangerous and lead to damage to your teeth and gums, not to mention worse staining.
If you want to whiten your smile fast, take the safe route and get it done by a dentist or choose a professional whitening system.
Sign up to receive the latest news and offers from Dentaly.org