Does teeth whitening for sensitive teeth exist? And if so, what are your best options?
It's frustrating when you want to whiten your teeth but experience sensitivity every time you try. Peroxide-free products may lessen sensitivity, making them a common option for teeth whitening for sensitive teeth, but they often produce inferior results.
Fortunately, some manufacturers have addressed this with whitening systems formulated especially for teeth whitening for sensitive teeth.
In this article, we'll review some of the best options for if you want to whiten teeth and avoid sensitivity. We also look at the ingredients in bleaching systems that cause sensitivity and those that help to ease or prevent it. Let's get started!s
The best home whitening kit for sensitive teeth
If you want to whiten sensitive teeth at home, without a formula containing hydrogen peroxide, have you tried Hismile? Hismile features their unique PAP+ formula instead of hydrogen peroxide, which whitens teeth without any sensitivity or enamel damage.
For the same whitening strength as hydrogen peroxide, but without any of the sensitivity, get Hismile!
Alternatively, if you want to learn more about general tooth sensitivity, you can read our full guide here.
Teeth whitening and sensitivity
If you're reading this article, it's likely that you're one of the many people that suffer from tooth sensitivity, especially during or after whitening cosmetic procedures. This sensitivity can manifest as an aching during a whitening procedure or discomfort when your teeth come into contact with hot or cold stimuli. There are multiple potential causes of such sensitivity, including cavities, cracked or chipped teeth, and gum disease. But when it comes to people with generally healthy teeth, these causes can, for the most part, be divided into two categories: bleaching sensitivity and dentin sensitivity.
Sensitive teeth after whitening with bleach
If your teeth are usually sensitive to hot and cold foods and drinks because of thin enamel, then you're more likely to experience heightened sensitivity after a bleaching treatment. During dental bleaching procedures, peroxide, in the form of gels or solutions, comes into contact with the teeth. These peroxide solutions penetrate the tooth structure and break down and remove stains within your dentin.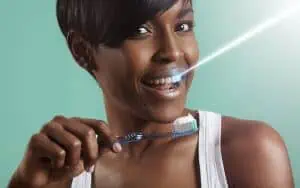 During this process, many patients experience bleaching sensitivity, which is only temporary and should go away within a couple of days. This sensitivity doesn't mean that your teeth are necessarily unhealthy.
In fact, the reasons why patients experience bleaching sensitivity are still unclear. However, it is believed that the deep penetration of oxidative free radicals generated from peroxide towards the teeth pulp could produce sensitivity. Additionally, the usage of some light sources contributes to increasing the temperature in pulp, causing more discomfort after the procedure.
Dentin sensitivity after whitening
Another kind of sensitivity is dentin sensitivity. This is permanent, unlike bleaching sensitivity which is temporary, and happens when stimuli come into contact with areas of your tooth that have exposed dentin. When your enamel is thin or dentin is exposed, the peroxide in the bleaching solution can penetrate your dentin, causing pain, sensitivity, or discomfort. If your teeth are usually sensitive to hot and cold foods and drinks because of thin enamel, then you're more likely to experience heightened sensitivity after a bleaching treatment.
Can I get my teeth whitened if I have sensitive teeth?
Yes! Even if you experience sensitivity, teeth whitening is still an option for you. You should always look for solutions that are specifically targeted towards people with tooth sensitivity. Thankfully, there are plenty of options available, like white strips for sensitive teeth, professional teeth whitening for teeth that are sensitive, kits for whitening teeth that are sensitive, whitening pens for sensitivity, and of course special toothpaste options as well. We'll go over all of these, but first let's look at the main whitening ingredients.
Teeth whitening ingredients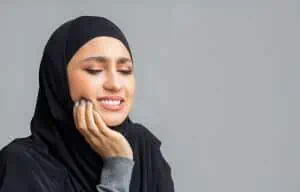 There are myriad ingredients used for lightening tooth color, some more effective than others. And sometimes the ingredients that are the most effective cause the most sensitivity. Some systems provide a solution for this problem by also including ingredients in their sensitive whitener for teeth that help prevent or decrease sensitivity.
Let's take a look at the ingredients in lightening products that are the main culprits of sensitivity and the ingredients that can actually relieve sensitivity.
Ingredients that cause sensitive teeth after whitening
Many whitening products contain peroxide. Peroxide is suspected to be the primary sensitivity culprit when it comes to teeth whitening sensitivity. It's usually in the form of hydrogen peroxide, although carbamide peroxide, which breaks down into hydrogen peroxide and urea, is sometimes used as well. Read more about carbamide peroxide and hydrogen peroxide here.
Peroxide passes through the tooth and actually changes the color. Hydrogen peroxide is a weak acid that has oxidizing properties, allowing it to take apart complex stain molecules.
Usually, the pain, sensitivity, or discomfort experienced during or after a bleaching procedure is only temporary. However, in cases where the bleaching agent isn't applied correctly or is applied for too long, there could be permanent effects like damage to the enamel.
Products for sensitive teeth whitening
Some ingredients used in whitening toothpaste and whitening systems are meant to prevent or decrease tooth sensitivity. Fluoride is one of the ingredients that dentists sometimes use, applying it directly to the teeth to strengthen enamel and reduce pain. Sensodyne, one of the most popular toothpastes for sensitivity, uses potassium nitrate to soothe the nerves inside your teeth and stannous fluoride to strengthen enamel.
There are also products and professional in-office teeth whitening services that are designed specifically for those who have teeth whitening sensitivity. These treatments usually come with some sort of desensitizing gel or serum and are applied prior to a bleaching procedure. Desensitizing substances based on phosphate such as (DCPA) and (TTCP) have reported successful results in preventing sensitivity.
One such treatment option is the Hismile whitening kit, which is made with PAP as the main whitening ingredient, instead of hydrogen peroxide.
In case these solutions aren't sufficient, have a look at the video below where Dr. Yazdan explains some helpful tips and tricks to prevent tooth sensitivity after whitening.
Best teeth whitening for sensitive teeth
When it comes to whitening sensitive teeth, there are plenty of options, but not all of them are created equal. Let's have a look at some of the most popular (and why) to help you decide which is best for you. The table below summarizes some of the best whitening products for sensitive teeth.
What makes it good for sensitive teeth?

Made with PAP instead of hydrogen peroxide

Relieves sensitivity before treatment

Special desensitizing gel protects teeth

Reduces and even prevents sensitivity

Brush-on applicator lets you control where whitening serum goes

Desensitizing serum protects teeth from sensitivity and strengthens enamel

Whitening formula is specifically designed to ease sensitivity

LED whitening kit and whitening pens

Enamel-safe whitening formula

Greater adherence to teeth means they won't slip out of place to harm gums or sensitive areas

Comes with a Crest sensitivity toothpaste
Now let's have a more detailed look into these options!
Hismile
Hismile is one of the best whitening systems for sensitive teeth for the simple fact that it doesn't contain hydrogen peroxide. Why is that important? Hydrogen peroxide is used in most whitening procedures — whether in-office, or at home — and is the reason why people suffer from sensitivity during teeth whitening.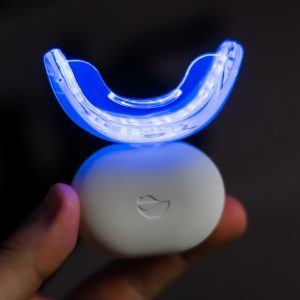 The problem is, other companies who try to provide whitening without hydrogen peroxide end up creating products that just aren't as effective.
Hismile on the other hand has developed a special PAP+ formula that uses phthalimidoperoxycaproic acid (PAP) instead of hydrogen peroxide. PAP has been shown to whiten teeth without damaging enamel or causing sensitivity while providing the same level of whitening as peroxide treatments.
Another benefit of Hismile for people with sensitive teeth is that it also includes hydroxyapatite, which is a mineral naturally present in tooth enamel, and which actually helps remineralize your tooth's surface.
Read our full Hismile review for more information, or get your Hismile whitening kit now.
Snow
With an LED light and extra-strength whitening serum with both carbamide peroxide and hydrogen peroxide, the Snow system is designed as a teeth whitening kit for sensitive teeth.
There are two kit options with Snow: the Original Kit and the Snow Wireless Kit.
If you order the Original Kit, you get :
1 mouthpiece with patent-pending LED technology
3 wands with advanced whitening serum to erase stains
1 extra-strength whitening serum wand
1 progress tracker
Cable for connecting to iPhones, USB, and other smartphones
30-day money-back guarantee if you're not happy with the results
5-year warranty
And when you order the Wireless Kit, you get: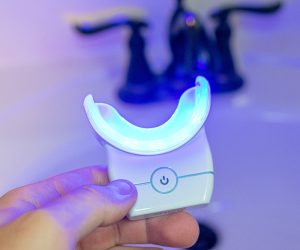 Wireless charging LED activating mouthpiece
Portable charging case
1 progress tracker
USB cable
2 wands with professional whitening serum
1 maximum strength wand
30-day money-back guarantee if you're not happy with the results
5-year warranty
Find out more about the wireless kit in our Snow wireless teeth whitening kit review.
Snow also offers whitening strips, which they call The Magic Strips. These strips dissolve on your teeth after just 15 minutes, and they don't leave a gooey mess behind like other strips do.
Plus they've got a great lavender mint flavor and the option to subscribe for automatic re-ups.
There are two main reasons why Snow is one of the brands that we recommend for teeth whitening without sensitivity:
Brush-on applicator: You use the brush applicators to brush a bit of gel directly onto your teeth. That means that the gel goes where you want it to, instead of all over your gums.
Desensitizing serum: When you order Snow, you can also purchase this serum if you're concerned about sensitivity issues. This serum protects teeth from sensitivity-causing agents and helps seal out future intrinsic and surface stains. It also strengthens enamel and infuses teeth with essential vitamins and minerals.
So, is Snow the best teeth whitening kit for sensitive teeth? Read our full Snow teeth whitening review to find out, or go right to the Snow site.
Smile Brilliant
We think that Smile Brilliant offers one of the best systems available for whitening teeth with sensitivity, and teeth whitening in general.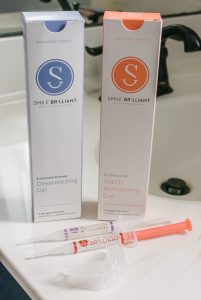 That's because it's the exact same treatment you would get in the dentist office. How?
With Smile Brilliant you get custom-made whitening trays, manufactured in the same lab where dentists who perform in-office whitening get their trays. You also get the same dental-grade whitening gel that dentists use in office.
Plus the gel is sealed in light-proof foil bags which keeps the chemical composition of the peroxide intact.
That means that for a much lower price than professional in-office whitening, you can get the same results at home. And it's a great system for people with sensitive teeth, because you can also order special desensitizing gel.
This gel is specially formulated to reduce and even prevent tooth sensitivity altogether. Read our full Smile Brilliant review, or go directly to purchase your kit with the link below.
Dr. Brite
Dr. Brite is another option you may want to consider for sensitive teeth whitening. It was created by two doctors and is a women-owned natural oral health care and lifestyle brand that makes it easy to take care of yourself while respecting the planet. All of their products are vegan, cruelty-free, GMO-free and made in the USA. Dr. Brite is also a B-corp certified company, meaning that it complies with strict social responsibility rules.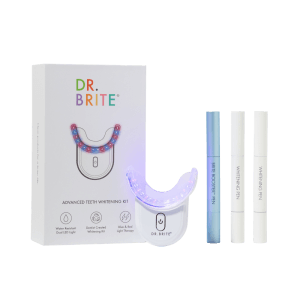 They offer a wide range of whitening products that are safe for sensitive teeth, including:
Extreme Whitening Kit
Extreme Whitening Toothpaste
Extreme Whitening Mouthwash
Extreme Whitening pens
The kit includes a blue and red LED tray, to enhance teeth whitening and promote gum health, and includes vitamin E wands that will help reduce sensitivity and calm gums during treatment. Additionally, organic chamomile extract in the whitening gel soothes teeth and gums and helps prevent sensitivity.
If you want to whiten your teeth with natural, earth-friendly ingredients that won't cause sensitivity, get your Dr. Brite kit by clicking the button below. You can also purchase Dr. Brite whitening pens and whitening toothpaste separately.
On all Dr. Brite products, including pens, kits and toothpastes, you can use code DRBRITE10 to get 10% off your purchase.
As you may have noticed some whitening systems include the employment of LED lights to activate the bleaching gel. It has been recently demonstrated the efficacy of Violet LED (405–410 nm) in tooth whitening procedures without the use of a chemical agent.
Although light sources have been pointed out as a contributor factor of sensitivity, this is not the case with Violet LEDs. The heat generated is not significant and the physical interaction between the light and teeth occurs in a less invasive manner, minimizing sensitivity. You may want to ask your dentist for this in-office method.
Crest 3D White Sensitive
These Whitestrips are one of the most popular options for best whitening strips for sensitive teeth. The strips are made with Crest's classic 3D white formula with hydrogen peroxide as the active ingredient, and you apply them for 30 minutes per day for two weeks.
They are specially formulated with a harder glue on the strips instead of a gel so the strips won't move out of place. These particular strips also come with a sensitivity toothpaste by Crest, which works to protect teeth all day from sensitivity.
Crest claims that these sensitive strips, when used with the sensitive toothpaste can:
Remove years of stains
Relieve sensitivity within days
Protect against further staining from food and drink
Conclusion
You may want to whiten your teeth but are hesitant to do so because of sensitivity issues. If that's the case, there are plenty of options you can try that are made specifically to give people with tooth sensitivity a brighter smile. In this article, we reviewed three options that we think are some of the best teeth whitening for sensitive teeth options. You may want to try them out to see if they work for you.
You should always remember, however, that a healthy smile comes in many shades; your teeth don't need to be Hollywood white to be in top shape. As long as you brush twice a day, floss at least once a day, and visit your dentist at least once a year, you have a smile to be proud of.
FAQs
Why are my teeth sensitive to whitening?
Your teeth may be sensitive because of the bleaching agent, peroxide, that is used in most whitening systems. It's still not known exactly why peroxide can cause pain, discomfort, and sensitivity. But if this is a problem for you, you can try one of the whitening systems we mention above or choose an option without peroxide.
How long does teeth sensitivity last after whitening?
Sensitivity from teeth whitening usually only lasts up to 48 hours after a whitening procedure. To relieve symptoms, you should use a toothpaste that helps reduce sensitivity. Your dentist can also recur to a preventive method or prescribe a toothpaste or medication to reduce post-bleaching discomfort.
Can I get my teeth whitened if I have sensitive teeth?
You can get your teeth whitened if you have sensitive teeth, but you should look for products marketed specifically for tooth sensitivity. Some at-home kits come with a desensitizing serum. Others use gentler ingredients.
What is the best teeth whitening product for sensitivity?
Hi-Smile, Snow, and Smile Brilliant all make effective whitening products for teeth with sensitivity. Out of these options, we think that Hi-Smile is one of the best. It delivers noticeable results without hydrogen peroxide.
Sign up to receive the latest news and offers from Dentaly.org