If you're looking for a cheaper way to get cosmetic or restorative dental work, dental treatment like Poland dental implants could be the answer. Treatment such as crowns, veneers and dental implants in Poland can cost 50-75% less than in the US. And with cities like Warsaw and Krakow easily accessible, more and more patients are choosing this option.
If you're considering Poland dental tourism, there is a lot to think about. You'll want to calculate the total cost of your trip, understand what to expect from your treatment, and find a reputable dentist.
This article contains information to help you make important decisions about your dental work in Poland. You'll also find some advice and tips for when you start planning your trip.
We have included a table with approximate Poland dental costs further down this article to help you decide whether it's worth traveling abroad for your work.
Why go abroad for dental care?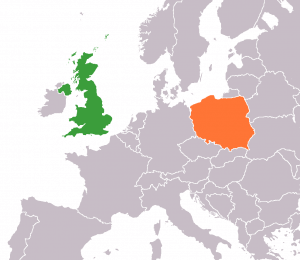 With the cost of private dental treatment in the US so high, many Americans have started visiting overseas destinations for dental work. This practice is known as 'dental tourism'.
While some patients choose destinations like Mexico or Thailand for dental implants because of their proximity, others choose to explore the lesser-known cities of Eastern Europe. Flights may not be so cheap, but you can enjoy a couple of weeks exploring a fascinating country before getting your teeth fixed (and still save money compared to US dental prices).
Eastern European countries like Poland and Hungary have become very popular dental tourism destinations for Brits because of their accessibility from the UK and affordable prices. Now, more Americans are heading over to Europe for dental work as well.
It's difficult to know exactly how many tourists get dental treatment in Poland and other foreign countries each year as this is not something that clinics have to report on. However, medical tourism figures showed that over 100,000 foreigners opted for dentistry in Poland in 2012.
If you're ready to find your dental clinic in Poland, you can get help from Medical Tourism Corporation (MTC). They have years of experience helping patients from the US find quality and affordable dental care abroad. Just fill in your details below to get started with a free quote.
Request a free quote for dental treatment abroad
Why get dental treatment in Poland?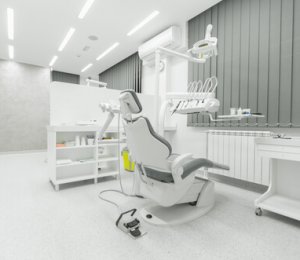 Since Poland is a member of the EU, any dentists practicing there must conform to strict regulations. You can expect to find clinics there which are modern, clean, and equipped with cutting-edge equipment. All of this can be achieved at a fraction of the cost of US clinics because of the weaker economy.
The Polish public healthcare system offers certain treatments for free to all patients via public dentists. However, these are often subject to long waiting times and may not be the most aesthetic option. For example, dental implants in Poland are usually not free, and government-funded restorations may be done with the most economical material.
Poles may also opt for private treatment, which must be paid for in full but offers better standards of dentistry. Waiting times are much shorter and patients are able to choose from higher-quality finishes for their dental work (much like in the US).
Dental tourists can piggy-back on this system, taking advantage of the high standards of care and dentistry in Poland for a comparatively low price.
And it's not just Americans who can see the value in travelling overseas for treatment. Dental clinics in Poland welcome many patients from Germany, Belgium, Switzerland, Sweden and the UK.
There is a stronger emphasis on service than you would expect to find in the US, too. Many clinics that cater to dental tourists offer a complete package which includes airport pickup and accommodation close to the clinic (or even on-site). This takes all the worry and hassle out of having to organize a trip abroad.
Education and regulation of dentists in Poland
To become a qualified dentist in Poland, students must first undergo five years of training at university. There are several universities in various cities offering this course, but places are limited and competition is high. The below video from Poznan University of Medical Science shows why one American student chose to study there:
These medical centers are equipped with the newest technology to ensure dental students are trained to modern standards. Courses are often taught in English, but any students learning in Polish must study English or another foreign language as part of their course. This means that most Polish dentists speak English well.
After completing their five-year course, graduates begin a 12-month work experience program. During this time they are only able to perform treatments under supervision. Following this, they must pass another exam in order to become fully qualified.
Before practicing, dentists must be registered with the Polish Chamber of Physicians and Dentists, which regulates and oversees their work. Every five years the dentist must demonstrate to the Chamber that they have maintained the latest knowledge and skills. This is compulsory for their licence to be renewed.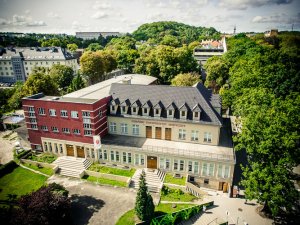 There are various other bodies with which a dentist may register, including the General Dental Council in the UK. However, the licence from the Chamber is the only one which is mandatory.
If a dentist wishes to specialize in a certain area such as orthodontics (braces) or endodontics (implants), he or she must obtain further qualifications.
Dental clinics in Poland are regulated by the Ministry of Health and can be closed on the spot if they don't comply to its standards. In addition, many choose to become ISO9001 certified.
Visiting dentists in Poland and tourism
When it comes to dental tourism, Poland is popular not just for its high standard of dental care, but also for its sightseeing opportunities.
The capital city of Warsaw is by far the largest, with a population of over 1.7 million. Many of the country's dental clinics are clustered here. Although prices may be slightly higher in the capital than in surrounding cities and rural areas, it is one of the easiest places to reach by plane.
Direct and connecting flights to Warsaw are available from many major US cities and cost upwards from $1,000 one-way. The trip takes around nine hours (direct from New York). A 3-star hotel room costs from around $40, but there is a full range of cheaper or more luxurious accommodation on offer.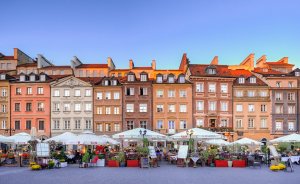 Fans of history will certainly want to extend their dental holiday in Poland to fit in some sightseeing. Warsaw, Krakow and Gdansk are just a few of the country's cities steeped in history which stretches back centuries. But even if you only have time to visit one of these, you will find plenty of museums, galleries and shops to keep you entertained.
Some clinics even offer sightseeing packages for their patients, so you needn't worry about organizing your own trips and tours.
Poland dental prices
Below is a table which gives an indication of the cost of veneers and dental implants in Poland. As you can see, even once the cost of flights and accommodation is added in, Poland dental tourism can save patients thousands of dollars.
| | | |
| --- | --- | --- |
| | Dental treatment in Poland | Dental treatment in the US |
| | | |
| | | |
| | | |
| | | |
| | | |
| | | |
Prices for dental implants and veneers in Poland will, of course, vary from one clinic to another. You should take into account the complete package on offer and the overall cost of your trip. Try to get quotes from several clinics so you can feel confident about the one you choose.
Why is dentistry in Poland cheaper than the US?
The lower cost of dental care in Poland is largely a reflection of the country's economy. Things like living costs, wages and business overheads are lower than in the US, and this in turn reduces the price you have to pay.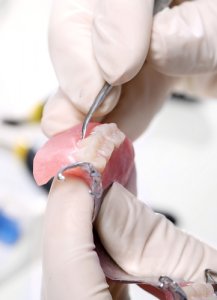 Many dentists have been able to invest in the most modern equipment thanks to low interest rates for credit. In contrast, dentists in the US are often working to such tight profit margins that they can't match this level of investment.
If you have a bridge, dental crown or veneer made to order, the laboratory that creates the prosthesis will also have lower operating costs. This doesn't mean that the materials used are of inferior quality; you may actually find that the highest quality porcelain veneers or German-engineered implants are now within your budget.
This said, you should avoid making a decision based on price alone. Not all Polish clinics operate to the same standards, so it's important to check reviews and do as much research as you can. Keep reading for some advice on things to check with your chosen clinic before you commit.
Getting dental implants in Poland
Because dental implants are the most expensive type of cosmetic dentistry, patients stand to save even more by getting treatment abroad.
If you decide to get teeth implants in Poland, you'll want to know what to expect. Here we provide an overview of the procedure, but keep in mind that this may vary slightly between clinics. If you have any questions, don't be afraid to ask. Staff at Polish dental tourism clinics are used to reassuring and providing information for potential patients.
Consultation
The first step of planning your treatment will be a consultation. Without this, the dentist won't be able to provide a precise quotation and they can't see exactly what treatment you require. Your consultation will probably involve some x-rays or other oral scans.
Your chosen clinic may have a partner clinic in the UK which you can visit for your consultation, if you prefer to fly there first. Alternatively, your consultation may take place during your first visit to the dental surgery in Poland. Initial consultations are often free of charge, or are reimbursed if you go ahead with treatment.
From this consultation, the dentist will formulate a treatment plan and provide a quotation. If you're happy with this, you can go ahead and set a date for your treatment. The type and number of implants you require will determine the length of your visits and the number of trips needed.
Dental implant procedure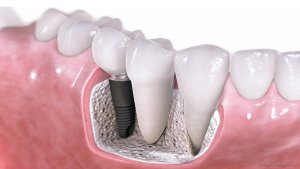 A traditional tooth implant consists of three parts: the crown, the abutment and the implant. The implant, usually made from titanium, is the part inserted into the bone; the crown is the part which is visible and looks like a natural tooth; and the abutment fixes the crown to the implant.
If you have traditional dental implants you will need to make three or four visits to the dentist, spread over several months. These visits typically involve:
The dentist drills into the jaw bone and inserts the implant. The gum tissue is stitched back over the implant site. You'll need to wait four to six months for the implant to fuse with the bone
The abutment is attached to the implant. If the tooth is in a prominent position you may get a temporary crown to cover the abutment.
Around two weeks later you'll return to have your mouth measured for the permanent crown or bridge.
It usually takes a few days to manufacture your new tooth/teeth. Once ready, the fitting is usually straightforward.
To read about the implant procedure in more detail, check out our full article on teeth implants here.
All-on-4 implants
A popular option for people getting teeth implants in Poland is All-on-4 implants, also known as 'teeth in a day'. These use a different system which means a dentist can insert the implants and fit a temporary prosthesis in a single day. Fewer implants are required with this technique, so the cost is typically lower.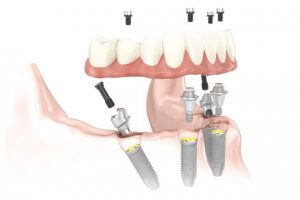 Although the patient may still need to stay a few nights for monitoring, the recovery time and overall procedure time are significantly less than with traditional methods.
A temporary prosthesis is fitted at the first visit. After several months you will need to return and your dentist will check the implants have settled properly. All being well, your permanent replacement teeth can be placed.
Is dental tourism in Poland right for you?
It's not just the price you should consider before visiting a dental clinic in Poland. The low cost of dental implants or veneers in Poland might be the deciding factor for you, but you should also check the following:
Is the dentist registered with the Polish Chamber for Physicians and Dentists (and any other bodies)?
Is the clinic ISO9001 certified? This isn't mandatory, but in such a competitive environment, clinics can't afford not to maintain these standards.
Does the dentist speak a level of English that you feel comfortable with?
What degree of aftercare will be provided by the clinic, and what will you need to arrange yourself?
What guarantees are offered on the work you are planning to have?
Complications will occur from time to time, whichever country the dentist is from. The best way to protect yourself is to ensure you have adequate insurance cover and understand what provisions are in place should something go wrong after you return home. The clinic should provide liability insurance in case of complications, but always double check the level of coverage.
Testimonials and reviews
Your chosen clinic will probably be able to provide you with testimonials and before & after photos of past patients. While these will help give you an idea of possible results, you should take them with a pinch of salt. You never know how many bad reviews the clinic had to filter out in order to present those few outstanding ones to you.
To get more candid feedback on patients' experiences with a Poland dentist, look for some online reviews. You could start with our article featuring Poland dental tourism reviews.
Keep in mind that no dentist is perfect all the time, so one or two negative experiences shouldn't deter you completely. Sometimes you can tell more from the way a clinic handled a bad situation than from a hundred shining reviews.
Alternative destinations for low-cost dental work
There are some other countries you should consider if you want to save money on dental implants or other treatment.
Hungary is the number one destination in Europe for getting dental work. Many head to Budapest to enjoy some sightseeing between dentist visits, while others go for a more relaxing experience at a more remote dental spa. Dentists in Hungary are highly trained and the country has an excellent reputation for its state-of-the-art clinics offering quality dental work at very competitive prices. Read more about getting dental work like dental implants in Hungary.
Romania also has a lot of options for quality dental care, and major treatments like implants can cost up to 70% less than in the US. Read more about dentistry in Romania. Nearby Bulgaria is another European hot spot. Read more about dentistry in Bulgaria.
Spain also has a well-established dental tourism industry thanks to its low prices and high standards of care. The cities of Madrid and Barcelona both have a wide selection of clinics to choose from with lots to do besides get your teeth done. You'll also find dentists catering to international patients in popular holiday resorts like Tenerife, Alicante and Costa del Sol. Read our full article on dental implants in Spain and Spain dental reviews.
You could also consider a dental holiday in Turkey. Like Spain, you'll be able to choose between a big city or a coastal resort depending on your preferences (and how much time you have for a holiday). Turkey is known in particular for its cosmetic dentistry, including implants, veneers and teeth whitening. Read our dental implants in Turkey reviews to find out more.
If you aren't willing to travel so far for dental work, there are several dental tourism hubs closer to home. Be sure to check out our articles on dental tourism for dental implants in Mexico, Thailand and even dental implants in the Philippines—you can read reviews of dentists in the Philippines also.
Conclusion
There are many reasons why people choose to get dental treatment in Poland. These include:
Reduced costs
Highly qualified dentists
State-of-the-art equipment
Short waiting times
Excellent service
Sightseeing opportunities
Still, you should research your options carefully, understand what is and isn't included in your quotation (don't forget to get your free quote), and make sure you have adequate insurance before committing to anything.
FAQs
How much are dental implants in Poland?
Dental implants in Poland cost around $700 for a single implant, and in the US prices can start at around $2,000 and can be much higher. Full-mouth implants in Poland are from $5,200 to $12,000.
How much do veneers cost in Poland?
A single porcelain veneer in Poland can cost around $400, which is considerably less than the cost for a single porcelain veneer in the United States, which usually starts around $1,000.
Sign up to receive the latest news and offers from Dentaly.org