Are you thinking about getting tooth implants, veneers, crowns, teeth whitening, or another cosmetic dental treatment from a dentist in Bulgaria?
Many dentists in Bulgaria offer good dental treatment at amazingly cheap prices when compared to the United States, making it a popular dental holiday destination.
However, you're likely to have concerns about receiving dental implants in Bulgaria. Before you decide to fly to another country for dental care, there are many factors to consider. We'll cover the following topics in this article:
The pros and cons of going on a dental holiday in Bulgaria
The cost of dental treatments in Bulgaria
Getting dental implants in Sofia, Bulgaria
Finding reputable dentists in Bulgaria
What to consider when choosing a dental clinic in Bulgaria
We hope that this information will assist you in determining if Bulgaria is the ideal destination for you to get your dental procedures done. If you are still unsure which country to choose for your dental holiday, read our complete dental tourism guide.
What is dental tourism?
Dental tourism is the practice of traveling to another country to acquire cheaper dental treatment. Because of the high-quality and low-cost dental care it provides, it has grown in popularity.
In this article, we'll concentrate on dental tourism in Bulgaria.
You'll learn how much dental implants and veneers cost, why Bulgaria has such an excellent reputation for dentistry, and what sorts of facilities you may expect to find.
Why choose a dentist in Sofia, Bulgaria?
Sofia in Bulgaria has high-quality dental clinics. Aside from the exceptional price and treatment quality, Sofia offers a variety of attractions that make it a perfect place for a dental vacation.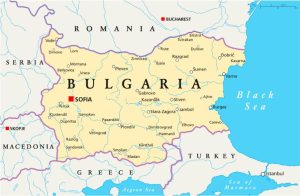 Here are a some of the reasons for a dental holiday in Bulgaria:
Lower prices: Dental care in Bulgaria is far less expensive than in any other European country. As a result, Europeans, Americans, and Canadians consider it a good deal when compared to the expense of treatment in their home countries. The cost is approximately 50–80% less than in the United Kingdom or the United States.
Quality treatment: Dentists in Bulgaria have proper training and are subject to strict regulations because they are part of the EU.
Safe tourist spot: Bulgaria is safe for Americans to visit, according to US travel advice.
Relaxing holiday experience: Bulgaria is a country rich in natural splendor, and receives over 9 million foreign tourists per year, according to privacyshiel.gov
Airport pick-up and drop-off services: Many of the dental clinics in Bulgaria offer pick-up and drop-off services as well as other tourism activities if you choose.
Excellent facilities and accommodation: Dental clinics in Bulgaria offer all-inclusive packages, providing excellent accommodation and spa-like amenities for patients to utilize during their stay.
No language barrier: English is widely spoken throughout the country, in addition to Bulgarian, Russian, and Turkish.
Modern equipment: To make dental treatments as effective, fast, and pleasant as possible, several clinics in Sofia, Bulgaria have invested considerably in the latest technology.
Fast treatment: Patients may undergo dental treatment in Bulgaria in a couple of days rather than wait months for treatment in their home country.
Sightseeing: If you're going to be in another country, why not combine it with a sightseeing holiday? Sofia and many of the nearby locations in Bulgaria have plenty to see and do.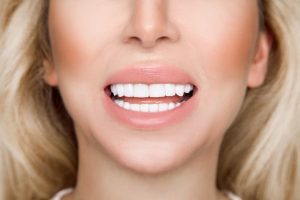 Bulgaria has European dentistry standards
As a member of the European Union, all dentists in Bulgaria must follow EU guidelines. They must also register with the Ministry of Health, which issues a certificate to those who can verify that they operate at a specific quality. To maintain this license, a dentist must remain up-to-date on current standards by attending seminars, lectures, and other educational events on a regular basis.
Most dentists in Sofia, Bulgaria, use modern technology and high-quality materials from renowned global manufacturers. Dentists have the relevant training and work certifications. The services are up to the highest medical standards, and the rates are moderate and cheap.
Studying dentistry in Bulgaria entails completing a 5-and-a-half year dental medicine program in English or Bulgarian and successfully passing five state exams, culminating in a Master's Degree in dental medicine.
Visiting Sofia, Bulgaria for a dental holiday
Sofia, Bulgaria's historic capital, is home to several of the country's best dental clinics. Many treatment centers provide airport pickup, so you don't have to worry about getting lost in a taxi.
Clinics located outside of Sofia may take a bit longer to reach, but you should have no trouble getting help with your travel plans. Sometimes dental services are even cheaper in more isolated places. Flights from New York take around 12 hours and cost upwards of $900 for a roundtrip.
A simple consultation or treatment may be done in one day, providing you with plenty of time to enjoy the remainder of your vacation. More complicated procedures, such as dental implants, would almost certainly require staying a few nights near the facility and probably multiple visits.
Some clinics provide on-site accommodation, but even if yours does not, there are hotel stay alternatives to fit every taste and budget. Sofia's 3-star hotel rooms start at roughly $25 per night.
Don't forget to plan some sightseeing time, particularly if you're staying in Sofia. A walking tour will give you a feel of the city, but you'll need many days to really explore everything. Some clinics even provide excursions and tourist packages that may be scheduled around your treatment.
Dental prices in Bulgaria
Dental treatment in Bulgaria is relatively inexpensive, with teeth whitening beginning at $100. You will still save more than 60% on significant procedures like All-on-4 dental implants or complete mouth restorations as compared to the cost back home.
Details correct at time of writing; check for current prices.
Veneers and dental implants in Bulgaria are, of course, priced differently from one clinic to the other. These are just estimates; you can shop around to find a price and clinic that you like.
Medical Tourism Corporation (MTC) can assist you in locating a trustworthy dental clinic in Bulgaria. They have a lot of expertise in identifying good clinics in other countries.
Furthermore, they place a significant focus on customer service, so you can be certain that you're in safe hands.
To get a free quote, just fill out the form below.
Request a free quote for dental treatment abroad
Why are Bulgaria's dentists cheaper?
The cost of treatment is mostly determined by corporate operating costs. Renting office space as well as salaries in Bulgaria are significantly cheaper than in the United States.
These savings soon pile up, allowing dentists to charge a lower fee for their services. Clinics in Bulgaria can spend more money on equipment and facilities to enhance their patients' experiences and still keep a good profit margin.
Many dental clinics in Bulgaria are equipped with cutting-edge technology and provide a level of treatment that exceeds that of many American facilities.
Bear in mind that not all Bulgarian dentists will have invested in innovation, training, or facilities. This means you shouldn't simply go with the lowest option available. Before choosing a dentist in Bulgaria, do your own research by looking up Bulgaria dental tourism reviews online. Ensure the clinic offers the standard you need by asking them a lot of questions.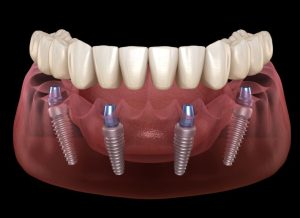 Popular dental treatments in Bulgaria
If you're having dental work done, be sure you've done your research and know what to expect. This will also help in making critical decisions.
Dental implants
Dental implants in Bulgaria cost 60-80% less than the price you might have been quoted in the US, which is why they are such a popular procedure for dental tourism.
Although the material and type of dental implants used in Bulgaria are often the same as those used in the United States, you should double-check before committing to treatment that the implants you're obtaining are compatible with the local dental system. This makes future maintenance easy for you.
You may require two or three dentist visits, depending on the kind of dental implants you're receiving. Take into consideration that various pre-surgery procedures, such as extractions, a bone graft, or a sinus lift, may be required.
Your dentist will go through your treatment plan in further detail based on your specific requirements.
All-on-4 full mouth dental implants, which require fewer implant rods in the jaw than conventional types, may be chosen for a somewhat faster procedure. They're also less expensive, but they're not for everyone.
Dental implants in Bulgaria might save you thousands of dollars, particularly if you require a complete set of replacement teeth.
When determining if your dental vacation is really worthwhile, keep in mind the expense of your airfare, meals, and hotel for each trip.
In the United States, a single tooth implant costs between $1,500 and $6,000. Full mouth implants start at $35,000, with less expensive variants such as All-on-4 costing roughly $15,000 per arch. Whether you choose to get traditional dental implants or All-on-4, and you factor in travel costs, going to a Bulgarian dentist will save you a significant amount of money.
Veneers
Dental veneers are substantially less expensive in Bulgaria than they are in the United States, though it is dependent on the type of veneer you choose. Veneers made of composite materials are less costly. They are made of a substance that forms over your natural teeth before hardening. They may be finished in one visit.
One disadvantage of composite veneers is that they only last around five years before eroding and needing to be replaced. Porcelain veneers are the higher-quality alternative. These last significantly longer, but are more expensive.
As a result, if you're getting veneers in Bulgaria, it might be worth it to go with the higher-priced, high-quality alternative. Porcelain veneers cost about $350 on average at Bulgarian dentists but can cost up to $1,500-$2,000 in the United States.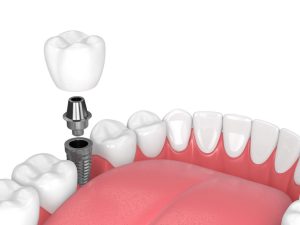 Other dental treatments in Bulgaria
Other dental services you could consider in Bulgaria include dentistry treatments such as tooth whitening, root canals, dental crowns, and even braces. Unfortunately, unless you package less costly procedures like teeth whitening or fillings with more expensive treatments like implants or veneers, it's not worth the trip.
Orthodontics (braces) may not be the ideal option when traveling overseas, not because the quality is poor, but because conventional braces need frequent appointments. Or would you fly back to Bulgaria every 6–8 weeks for a checkup?
While cosmetic dentistry has a sizable market in Bulgaria, many dental tourists also come for less spectacular treatments, such as:
Extractions
Fillings
Crowns
Root canals
Dentures
Bridges
Teeth whitening
For almost every treatment, prices are lower than in private care in the United States, so take advantage of the opportunity to receive all the work you need. Of course, considering the expense of airfare, flying to Bulgaria for a filling or teeth whitening is not cost-effective.
However, if you need an All-on-4 or require a lot of other expensive dental treatments, the trip is worth it. If you combine a few dental procedures that would cost $5,000 or more in the United States, it would be worth considering having them done by a dentist in Bulgaria.
Most popular locations for dental care in Bulgaria
Although there are many great dental clinics all across the country, dental tourists basically have two main choices when going to a dentist in Bulgaria.
Sofia
Sofia is Bulgaria's capital and biggest city. It's also known for its high-quality and affordable dental work.
The city has a lot to offer its tourists and is renowned for its historic churches, museums, and art galleries. It also offers a variety of fun outdoor activities, such as mountain biking, hiking, skiing, and snowboarding.
Dental implants in Sofia, Bulgaria cost roughly $3,900 on average for an All-on-4. All-on-6 or All-on-8 implants cost around $7,300 in Bulgaria. In the United States, comparable dental treatments average between $25,000 and $50,000.
To get a picture of the city and the services offered, watch this promotional video from the Sofia Implant Centre.
Varna
Another location known as a great dental vacation spot is Varna and Golden Sands. The city of Varna is located on Varna Bay, roughly 470 kilometers east of Sofia, Bulgaria's capital. Varna is the biggest city on Bulgaria's Black Sea coast, as well as the country's sea capital.
There are beautiful resorts like Golden Sands located near Varna on the Bulgarian Black Sea Coast. If a relaxing vacation by the Black Sea is more appealing to you than a city tour in Sofia, this may be the best choice for you. Varna also has excellent dental facilities, with costs that are comparable to those in Sofia.
Bulgaria dentist reviews
We'd also suggest reading some Bulgaria dentist reviews. You can google for "dental implants Bulgaria reviews" or "Bulgaria dentists reviews" and you will find a lot of useful information and customer experiences. Here's one review we've found:
Excellent service from beginning to end, including recommending accommodation and picking up and taking to the airport. The whole team were very nice. My husband is very pleased with his new teeth. Would highly recommend.

Smile Dental Services Bulgaria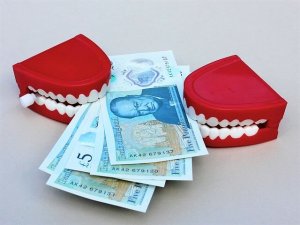 How to pay for dental treatments in Bulgaria
Even though dental care in Bulgaria is way cheaper than in the United States, you may still have difficulty affording more costly procedures.
Dental insurance
The good news is that your dental insurance plan in the United States may cover dentists in Bulgaria. Check your insurance policy to determine if any savings are available.
Dental loan
Another alternative is to get a dental loan to pay for your dental implants or other treatment. This allows you to receive the dental treatment you need immediately and then pay back the loan in affordable installments. Just make sure you understand what you're getting yourself into before taking out a loan, and that you'll be able to repay it on time.
Alternative locations for dental tourism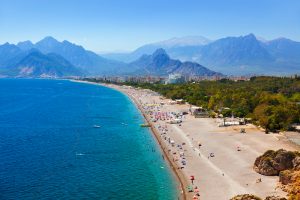 Bulgaria is a great country to get all your dental work done at a fraction of the cost. However, there are alternative countries to consider if Bulgaria is too far away.
We also have articles about dental implants in Turkey, dentists in Romania, and dental implants in Hungary.
Or if you are looking for dental tourism places closer to the United States, then you might be interested in dental care in Costa Rica, dental implants in Mexico, or dentists in Colombia.
Conclusion
Bulgaria has become a popular location for dental care that is both affordable and of high quality. Dentists in Bulgaria get the same rigorous training and certification as dentists in the United States, and they utilize the same materials and modern technology.
However, dentists in Bulgaria may charge less for their services since the cost of living is so much lower than in the United States. Just make sure you do your homework before going so you can find the best facility for your treatment.
MTC can assist you in organizing your trip to Bulgaria for dentistry, or anywhere else for that matter. They will connect you with high-quality clinics in other countries and make the planning and communication process easier for you. To get started with your free quotation, just fill out the form below.
Request a free quote for dental treatment abroad
Sign up to receive the latest news and offers from Dentaly.org