The bamboo toothbrush has come a long way in the last few years and is now just as good as its plastic alternatives. We understand it may be a big change to make to your lifestyle and oral hygiene routine, so we've put together this guide where we'll address your concerns, such as:
What exactly is a bamboo toothbrush?
What are the benefits of using a bamboo toothbrush?
Can I use a different type of eco-friendly toothbrush?
Can I give my kids a bamboo toothbrush?
What are the options for recycling?
Some people might be unable to use a natural bamboo toothbrush, perhaps because of sensory issues with the material. If that's the case, we have articles about plastic manual toothbrushes as well as electric toothbrushes that you can also check out.
The table below has our top picks for natural toothbrush options in the US, but you can keep reading to find out more about all of these and more.
| | | | |
| --- | --- | --- | --- |
| | | | |
| | Sustainable Tomorrow Bamboo Toothbrushes | Sustainable, locally sourced bamboo, gentle nylon bristles, dentist-approved design | |
| | GoWoo natural bamboo toothbrush | Recycled and biodegradable packaging, different color options | |
| | "Brush with Bamboo" toothbrush | 100% Biodegradable handle and bristles, made in US | |
| | EcoFrenzy Kids bamboo toothbrush | Small, colorful handles and brush heads are perfect for kids, comes in 4-pack | |
What is a bamboo toothbrush?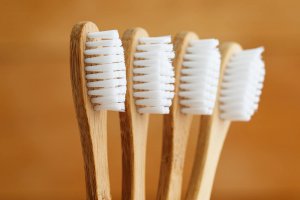 A bamboo toothbrush looks pretty much the same as any regular brush you've used, but with one key difference. Instead of being made from plastic, it has a wood toothbrush handle. Most manufacturers don't add much color to them so you can see the natural grain of the wood.
The bristles are normally still made of plastic nylon, though. Even though it's not a totally organic toothbrush, it's better than a full plastic brush. There are also things that you can do to reduce the environmental impact of these plastic bristles. We'll cover this in more detail a little later.
The packaging of a non-plastic toothbrush might look a little different, too. The plastic that your normal toothbrush comes is isn't great for the environment, so you'll find bamboo toothbrushes usually come in cardboard boxes. If they're wrapped in plastic it's usually biodegradable, but check the wrapper just to be sure.
Benefits of bamboo toothbrushes
If the concept of bamboo toothbrushes is new to you, you may be surprised to hear about all of the bamboo toothbrush benefits that exist.
It also may never have occurred to you how many toothbrushes you use in your lifetime. If you're replacing them every three months as dentists recommend, then you'll probably go through around 300 of them. That works out at about 3.6 billion toothbrushes worldwide, every year.
That's a lot of plastic going into landfills or ending up in oceans. But you can do your bit to reduce the problem by using an organic toothbrush. Some of the great benefits of using bamboo include:
It's fast-growing, meaning it's a sustainable resource
It captures a lot of carbon as it grows; around 30% more than most other wood
There's no need to chop down swathes of rainforest to grow it
It has antimicrobial properties, meaning that bacteria are less likely to grow on it
Using a bamboo biodegradable toothbrush means that once you're finished with it, it will decompose quickly. A bamboo toothbrush can decompose in as little as four months. Compare that to the thousands of years your plastic toothbrush takes to break down and you can see the benefit to the environment by using an all-natural toothbrush.
This short United Nations video talks about how bamboo is a more environmentally-friendly alternative to many common materials:
The best bamboo toothbrush in the US
There are lots of choices when looking for a wooden or bamboo toothbrush available on Amazon in the US. We'll show you our top picks for the best natural toothbrush and explain why you might consider using them.
Colorful bamboo toothbrushes
What could make brushing your teeth more fun than a rainbow bamboo toothbrush? To add some flair to your brushing routine, our top pick for a natural bamboo toothbrush is the Sustainable Tomorrow Brush for Good brush.
These feature soft nylon bristles and are sourced from sustainable bamboo local to the factory where they are made. The packaging is 100% recycled and biodegradable. And if you are buying for your family, and some members prefer a subtler brush, you can opt for white, black, or brown bristles too.
One satisfied customer says:
"Great toothbrush and good to know they are good for the environment. Won't go back to plastic toothbrushes ever!"

Christine S.
Another option in the realm of colorful bamboo toothbrushes is GoWoo. They sell four packs of brushes with different color schemes, like black and white, blue, pink, or a variety pack.
Their color palette is a bit more muted than a full-on rainbow, and all the options mean you can find the best one to pair with your bathroom décor.
GoWoo's bristles are made with super soft nylon, perfect for sensitive teeth. The company also makes a bamboo toothbrush for kids, which comes with a smaller brush head. These were unavailable at the time this article was written, but you can check here to see if they are back on the market.
Best biodegradable bamboo toothbrush
The idea of a bamboo toothbrush is that it helps reduce environmental impact, yet many companies who make them still haven't managed to eliminate plastic completely from their products. As we mentioned before, almost all bamboo toothbrushes have nylon bristles.
If you want to commit to a fully biodegradable toothbrush, you should check out Brush with Bamboo. According to their website, they are the first company in the world to introduce toothbrush bristles made completely from non-fossil fuel carbon.
Brush with Bamboo is a zero-waste toothbrush with natural bristles made from castor bean oil, and an organic bamboo handle. There's another environmental bonus here: Brush with Bamboo's products are made in the USA, not flown here on a carbon dioxide-spewing airliner.
People are also very happy with this product. One person says in their Brush with Bamboo toothbrush review:
"These are great! I'm still going to change it after 3 months for bacteria reasons, but honestly the bristles stay strong way longer than other toothbrushes. I don't like my bristles too soft and I think the hardness in these are perfect…"
If you're as dedicated to using biodegradable products as you are to buying local, then this is a really great toothbrush for you.
Best kids' bamboo toothbrush
When they are starting to take over their own oral hygiene routine, kids often need a different sized toothbrush. This is both because their mouths and teeth are smaller, and because it's easier to handle. Eco bamboo toothbrush makers have thought of this and make their toothbrushes in kids sizes too.
For a good value kids' toothbrush, the EcoFrenzy kids toothbrush is a great choice. Their brushes come in a four pack of different colors so your kids can tell them apart. The packaging is made of fully recycled material.
Most importantly, it's small enough for a child's mouth and the bristles are super soft so it won't irritate their young gums.
Other types of eco-friendly toothbrush in the US
After reading bamboo toothbrush reviews, if you decide they're not for you, there are some other options, whether you're still looking for a wood toothbrush or you'd like another material.
You may want to try the Yunli wheat toothbrush. This natural bristle toothbrush features a handle made from natural wheat straw, and bristles made from bamboo. It also comes in compostable packaging, so you can't go wrong!
Another option is to use a toothbrush with silicone bristles. Although not cheap, the silicone used for the head means it lasts a lot longer than a normal toothbrush and only needs to be changed once a year.
More eco-friendly dental products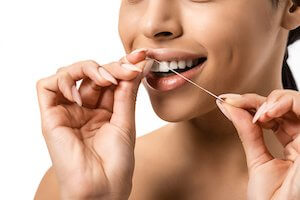 In addition to a plastic-free toothbrush, you can also get environmentally-friendly products like dental floss. Normal floss is made from nylon, but you can get plant-based, plastic-free dental floss, such as this pure silk eco floss.
Speaking of floss, can you imagine how many plastic flossers end up in the trash? If you prefer to use flossers to brush your teeth, you don't have to stop in order to care for the environment. Instead, you can also get biodegradable flossers. Don't forget to pull the nylon out before you throw the handle in the compost.
Natural toothpaste and natural mouth wash may also be of interest because they don't rely on the types of chemicals found in traditional dental hygiene products.
Conclusion
As people are becoming more environmentally conscious, making small changes to everyday habits is becoming more common. Many are making small changes, like switching to plastic free straws, or an eco toothbrush, and other little things that you can do to help reduce plastics in landfills and the ocean.
Using a bamboo toothbrush no longer means compromising on how well your teeth get brushed. Wooden brushes are just as good quality as plastic brushes; you just need to take a little more care when disposing of them.
And if you want a bamboo toothbrush that's electric, well they make those now too — just check out our review of bamboo electric toothbrushes.
FAQs
Is a bamboo toothbrush recyclable?
Though their focus is on biodegradability, most biodegradable toothbrushes will still use a little bit of plastic in the bristles. Pull out the bristles with pliers and recycle before disposing of the handle. The handle can then go into a compost heap or – to make it more fun for kids – be buried in your garden to break down over time!
How do I care for my biodegradable bamboo toothbrush?
A bamboo toothbrush is just like any other toothbrush when it comes to caring for it. These are the things to do to keep it (and any other toothbrush) clean and in good condition.
Rinse it thoroughly with water after you've finished using it
Store it in the open – putting it in a case or cupboard means bacteria is likely to grow
Stand it up with the head at the top so any excess water drains away
Don't let toothbrush heads touch so there's no exchange of bacteria
How long does a bamboo toothbrush last?
Since bamboo toothbrushes work the same as normal toothbrushes, you can expect them to last just as long. You should change your toothbrush every 3 months, or sooner if the bristles start to fray.
Are there any other considerations when buying a bamboo toothbrush?
Although most still use nylon bristles, there are some pig or boar bristle brushes which use the hair of these animals to make it a completely plastic-free natural bristle toothbrush. This isn't the best solution since the hair is hollow and bacteria can grow there, so they require more thorough cleaning. Animal lovers might also think twice since you probably can't know much about the conditions in which they were raised.
You might also want to check that your bristles are BPA-free. BPA is a chemical used in some plastics and can have adverse health effects. The manufacturer should be clear about whether their bristles are BPA-free.
Some biodegradable toothbrushes also claim to have environmentally friendly, decomposing bristles. This type of bristle will be made from Nylon-4, but this is still a petroleum-based plastic, which isn't great, and it has only been proven to decompose quickly under certain conditions.
Sign up to receive the latest news and offers from Dentaly.org