Speak to a dentist online now
Licensed US dentists available 24/7
Video call or live text chat
Assessment and diagnosis
Prescription medication
Starting from $14.99
Consult a dentist now
Teledentistry is the concept of dental appointments done remotely, usually either by live chat or video calls. Patients can talk to dentists online and get advice quickly.
Largely because of the convenience of online dental services and the lower cost, teledentistry has become more and more popular over recent years.
When the COVID-19 pandemic began and dentist offices were closing, the benefits of teledentistry became even more apparent, as online dentists guided patients through how to handle everything from toothaches to tooth infections, all from the comfort and safety of home.
In this article, we'll take a closer look at online dentistry, including its benefits and its limits, so you can find out for yourself if this is a service that could benefit you.
What is teledentistry?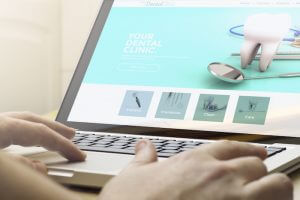 Teledentistry is a relatively new phenomenon that simply wouldn't be possible without the plethora of advanced technology that we have at our fingertips. This service for dentists online means that people can seek the care they need without leaving their home, and often for a lower price than a visit to the dentist would be.
Genuine teledentistry companies work with board-certified dentists, and dental consults are conducted through text chat or video chat. Because you're speaking to real dentists on these dental question hotlines, they can normally even prescribe you pain meds or dental antibiotics if it's necessary for your case.
What's more, the dentist you speak to online can refer you to a local dentist if it turns out you need in-person treatment.
These services, when conducted by licensed dentists, are even supported by the American Dental Association as a valid way to increase access to care.
The benefits of teledentistry
There are many benefits of teledentistry. Let's take a look at some of the most important.
Increased access to care
Many people have a difficult time accessing the dental care they need. It may be that they live in rural areas and the closest dentist is in the nearest city. Or perhaps a patient is a person with disabilities and has a difficult time getting around. Teledentistry brings the dentist to patients' homes, breaking down previous barriers to access and making them a thing of the past.
Convenience
Before teledentistry, going to the dentist could sometimes be a bit of a process. You had to search for a dentist in your area, call a dentist to make an appointment, and drive to their location (usually having to take time off work or school).
While all of this is more than worth it to have a healthy smile, teledentistry takes all of the trouble out of going to the dentist by bringing the dentist to you. No more waiting rooms and no more missing work.
Lower cost
There are a lot of costs associated with running a brick and mortar clinic—administrative, staff salaries, utilities, supplies, and more. But when dentists see patients remotely, they don't have to spend as much money on these things, and that ultimately keeps the cost lower for patients.
Access to specialists
When you meet with a dentist through a teledentistry platform, you also have access to any specialist you may need, such as an endodontist, periodontist, or orthodontist. This is an important factor because many specialists tend to only practice in large cities, leaving rural populations with limited options for specialized care.
Less anxiety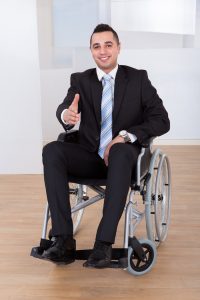 Teledentistry is an extremely useful tool for those who suffer from dental anxiety. Now patients who may have been too anxious to step foot in a dentist's office can get the care they need from the comfort of their home.
And if it turns out that they do need to be seen face-to-face, the remote appointment can serve as a gentle way to ease them into the idea of going to the dentist in person.
Access for people with disabilities
Not all dentists offices are fully equipped for people with disabilities. Arranging appointments to a physical dentist office can be challenging, requiring proper transportation and the need for a caregiver to come along.
Now people with disabilities can meet with a dentist from the convenience of their homes and only go to the office in person if it's necessary.
Good for dentists too
Dentists also benefit from doing some of their appointments via teledentistry. Many patients often go to the dentist with minor dental issues that don't actually require an in-person appointment. Alternatively, they may go to the dentist with a problem that may be more appropriate for a general medical doctor to handle.
With teledentistry, because patients can ask a dentist online for advice, dentists save time diagnosing patients and directing them to the care they need while reserving more time to treat patients who need face-to-face care.
Denteractive online dentist appointments
The Denteractive dental hotline is a new, easy way to access professional, board-certified dentists in your area with dentist appointments online. Through their user-friendly website, you can get live online care 24/7 through text messaging or video calls.
If necessary, your dentist can prescribe pain meds or antibiotics during a video call. If they decide you should see a dentist in person, they will also be able to refer you to a dentist in your area.
It's effortless to use. All you need to do is go to denteractive.com, and you'll have the choice of calling a dentist directly or setting up an immediate, virtual appointment with a dentist.
While you're there, you'll also have access to other resources like finding dental discount plans and tips for addressing certain dental problems.
They also offer two ways to pay for your services, one-day unlimited access for text messaging where you can exchange photos with your dentist, or a video call where you'll chat in real-time and even get the prescriptions you need.
Denteractive virtual dentist services
The two primary services offered by Denteractive are one-day unlimited text messaging and video calling. They also have an app so you can access it from your phone. Let's take a closer look at how each of these works.
Unlimited text messaging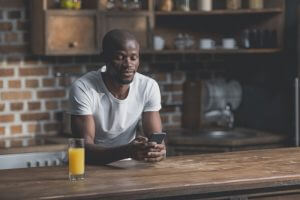 With one-day unlimited text messaging, you can:
Text at any time with your dentist, exchanging photos and other information about your dental issues.
This option is best for those who need urgent advice or second opinions about a dental health problem.
It costs just $14.99 for unlimited access for 24 hours.
Video call
With the video call option, you can:
Speak with your dentist virtually, face-to-face, and in real time over a secure video call.
This option is perfect for those who need advice about their oral health, want a consultation but don't want to go to the dentist in person, need non-narcotic prescriptions, or need emergency guidance until they can get in to see a dentist in person.
It costs $59.99 for your live video appointment.
How do dentist appointments online work?
It's easy to register for online dentist consultations. All you have to do is indicate what your dental issue is and whether you have a broken tooth, swelling, braces issues, toothache, etc. Then you'll need to sign up.
Signing up is fast and simple—just enter your name, email, create a password, and select your time zone.
You'll then be asked to enter some basic information about your dental history—your last dental visit, medical conditions, allergies and any medications you're taking.
Then you select whether you want video or text messaging access and you'll be taken to the page where you can select the plan you want.
For the texting option, there are four plans available:
1-day access: This is 24 hours of access to live text messaging.
Monthly access: This gives you an entire month of 24-hour access via live text messaging.
3-month access: You get three full months of 24-hour messaging access.
1-year access: A full year of live text messaging access, 24/7.
You can see the prices for these plans in the table below:
For the live video session there is just one plan available, for $59.99.
Once you've registered and paid for your plan, you'll be connected with a licensed dentist in your state.
How to prepare for an online dental appointment
Just as you need to prepare for an in-person dental appointment, there are some things you'll want to have ready for your dentist appointment online as well:
Medical history: You'll want to know when your last dental visit was, your medical and dental history, any medications you take, and any allergies you have.
Good lighting: Try to have your video appointment in a space where you have good lighting in case you need to show your dentist the inside of your mouth.
Questions: Prepare a list of questions to ask a dentist online beforehand to make sure you get all of the information you need.
How to take a photo of your mouth
Your dentist may need you to take a photo of the inside of your mouth in the case of bleeding, swelling, or pain. To take good photos for your virtual dentist, keep the following in mind:
Turn your flash on
Try to only take a picture of your mouth and teeth
Keep your lips relaxed
Pull back your lips or cheeks to expose the problem area
The following video gives some instructions on how to take intraoral photos for virtual orthodontist appointments, but you can apply the same tips to take a good shot of your dental issue.
When remote care isn't an option
In some cases, you should skip the virtual dentist appointment and head straight to medical care. If you experience any of the following, you should go to the emergency room immediately:
Heavy bleeding that won't stop
Severe pain that painkillers won't help
Trauma to your teeth, mouth, or face caused by an accident
Large amounts of swelling around your face or neck
Learn more in our full article about how to know if you need to see an emergency dentist.
Conclusion
Teledentistry is essentially dentistry online and has many benefits. With teledentistry, patients can consult dentists about problems they are having, or be referred to a specialist if they need further treatment. Dentists can even prescribe painkillers or antibiotics over video calls if necessary.
While this type of dentistry isn't for every situation—emergencies will still need to be dealt with in person, and you should never try pulling your own tooth at home—it is helping to increase access to care, save time for dentists and patients and keep costs down.
If you do find yourself in need of an online dentist, make sure that you go with a trusted company like Denteractive. Your online dentists should always be licensed, board-certified professionals. To make your online dental appointment with a board-certified dentist now, click the button below!
FAQs
Is teledentistry safe?
Yes. Teledentistry is perfectly safe as long as you're speaking to a licensed, board-certified dentist. You also must make sure to follow your online dentist's advice. If they refer you to a specialist or tell you that you have a dental emergency, make sure you do what they recommend so that your situation doesn't complicate further.
What does teledentistry mean?
Teledentistry is a kind of remote dentistry where patients have video chats, online or live-chat appointments with dentists. It's great for solving urgent dental questions online that patients may have. It's also useful in referring patients to specialists.
If you need immediate dental advice but can't get in to see a dentist, this is a great option.
Get dental advice 24/7 with an online dentist
How much does teledentistry cost?
Costs for teledentistry will vary by provider and by the services you contract. Video calls generally start at around $50, while unlimited live chat options are lower, at around $15.
Sign up to receive the latest news and offers from Dentaly.org