If you need to replace some missing teeth, you have quite a few restorative dentistry options, some great and some…questionable at best. Flexible dentures are one option that help many people regain confidence in their smile, and indeed they are often preferred over regular dentures.
In this article, we'll have a look at flexible dentures to see what they're all about, and if they're a good option for you.
What are flexible dentures?
Most dentures feature a metal plate with acrylic gums and porcelain or resin crowns. But in the past years, a new option has emerged that bends and fits your mouth better.
First of all, you should know going in, that flexible dentures are a type of partial denture, like flipper teeth. So if you need all of your teeth replaced, you won't be able to get flexible full dentures. Or at least until new innovations come about. They are softer and, hence the name, more flexible than standard dentures, and were made to serve as a solution to many of the problems caused by traditional dentures.
Flexible denture applications
Flexible dentures are a better option for some patients, including:
In cases where rigid dentures are challenging to be inserted due to tilted teeth
People allergic to acrylic
In cases where irregular bone ridges cannot be fixed — flexible dentures exhibit good retention
People that suffer limited mouth opening
Let's take a look at some of the most defining aspect of flexible dentures:
Flexible partial dentures vs metal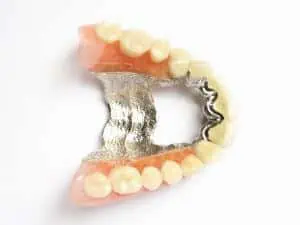 Until recently, most dentures were made from acrylic resin with a metal base. Although this is a sturdy option, they also can be uncomfortable and cause soreness and irritation during the early days of wear. Another problem with them is they can break easily when dropped. Flexible dentures differ from their metal and acrylic counterparts primarily (and most obviously) in the material that they are made of. Flexible partials are made from a thin thermoplastic like nylon, that bends and flexes to fit your mouth.
Another difference besides material is that standard dentures can be used to replace a full arch of missing teeth, while flexibles are always partial.
Because metal dentures are made from more durable materials, they also tend to be longer-lasting, and the heavier weight of the materials actually gives them a more natural feel.
And perhaps most importantly, normal dentures can be adjusted as needed in case you need to have more teeth extracted and replaced. Flexible dentures do not allow for this 'flexibility'.
Popular brands
The most popular brands of flexibles include Valplast, Flexilytes, Flexites and Sunflex.
All of these brands offer a very similar product, as all of them are:
Heat-injected for a perfect fit
Are made from a thin, lightweight material
Biocompatible
Flexible
Valplast dentures use biocompatible nylon thermoplastic and their makers claim that these soft dentures have unique aesthetic properties and also adapt effortlessly to constant movement in the mouth. However, this study found that these dentures might show discoloration with time.
Sunflex partials have a virtually invisible base which is also difficult to break and free of metal. Sunflex dentures are said to be more stain-resistant than other flexibles and can be relined and repaired.
Flexites differ because they use a vinyl composite instead of nylon. Dental labs are beginning to consider that vinyl composite may be a better material than nylon, because it is easier to adjust.
How much do flexible partial dentures cost?
Flexible dentures cost between $700 and $3,000, making them a more expensive option than normal dentures. The price depends on the dentist you go to, the brand, and how many teeth need to be replaced.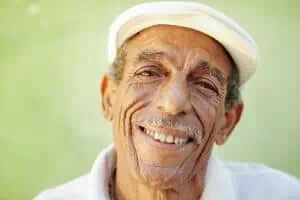 While this is not the most expensive teeth replacement option around, $700 can still take a big chunk out of the average American's wallet, so it's understandable if you need some help paying for your flexible dentures.
One way to help fund your new teeth is with a dental insurance policy. Some policies cover up to 50% on major restoratives services like dentures.
While you're browsing insurance plans, you'll get an idea of how much you could save. Then, to get a precise quotation you'll need to visit a dentist near you for a consultation.
Find a dentist offering flexible dentures near you now
Pros and cons
Like any restorative dental technique, flexibles have both advantages and disadvantages. Let's have a look at the main ones below: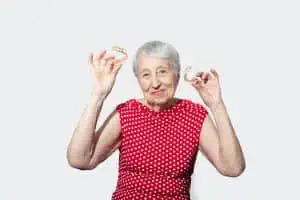 | | |
| --- | --- |
| | |
| More comfortable than metal | Can be more expensive than metal |
| Flexible for a better fit | Are more difficult to adjust and repair |
| | Don't last as long as normal dentures |
| Good for people with allergies or with limited mouth opening | |
| | Color might degrade with time |
While looking at the pros and cons and trying to decide between a normal or flexible denture, it's important that you keep in mind that no type of denture is the best way to replace your natural teeth.
The best way to replace missing teeth is with dental implants. Dental implants are a better option for many reasons; they are stronger, they are permanent and they also help to slow the bone loss that inevitably results from having missing teeth. However, it's important to replace your teeth in the best way that you can, so dentures are certainly much better than no replacement at all, or poor replacements like snap-in dentures. And indeed, for financial reasons, they are the only option for many patients.
Your dentist will be able to talk with you more about the best way to replace your teeth according to your oral health and your financial situation. If you do need help funding your dental treatment, have a look at our financing article.
Have a look at the following video where Dr. Tamisha Denis explains the pros and cons of flexibles and normal partials. Her main concern is that flexibles can't be adjusted later on if you need more teeth replaced. But her flexible partial dentures reviews are overall positive.
Conclusion
Flexible dentures are made from a soft and, of course, flexible thermoplastic material. They are touted for their various benefits, like being more comfortable than normal dentures, being harder to break, for being biocompatible and because they can be used by people who have allergies to traditional dentures materials.
As with any restorative dentistry solution, they have their disadvantages as well, chief among them their higher price and that they aren't as good of a replacement for missing teeth as implants. Ultimately, your dentist will be able to advise you if this is the best option for your oral health.
3 Ways To Finance Dental Work That Aren't Insurance
Sign up to receive the latest news and offers from Dentaly.org