This is a review of the best teeth whitening strips for convenient and affordable teeth whitening at home. We checked through the top brands on the market, looking at active ingredients, cost, results, and customer opinions to come to our conclusion.
In this article, we'll go over:
Best overall: Snow Magic Strips
Best for sensitive teeth and gums: HiSmile
Best for fresh breath: Smile Avenue
Best big brand: Crest Professional Effects
We'll also give some tips for a better whitening process for at-home whitening with strips and the pros and cons of strips for teeth whitening, compared to other products like kits and teeth whitening pens.
| | | | | | |
| --- | --- | --- | --- | --- | --- |
| | | | | | |
| | | | | | |
| | | | | First results in 2-3 days | |
| | | | | | |
| | | | | Removes 14 years of stains | |
Best whitening strips 2023
Best teeth whitening product overall: Snow whitening strips
Officially called The Magic Strips, Snow whitening strips can whiten in just 15 minutes per day and dissolve right on your teeth.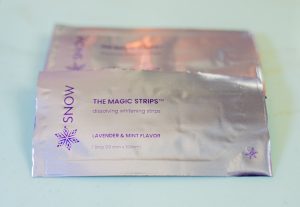 Normally with white strips, you have to peel them off of your teeth after you've finished whitening, and more often than not, there is plenty of gooey stuff left behind.
But with The Magic Strips, there's no gooey mess, and teeth are left whiter and brighter than before. Plus, they've got a lavender mint flavor that customers are loving.
Each pack comes with 28 strips and you can purchase one pack at a time or subscribe for automatic delivery every, 1, 2, 3 or 6 months.
Our Dentaly.org product tester tried these strips and says:
"Because they dissolve on your teeth, these strips were convenient to use, and I actually put them on right before going to sleep. By the end of treatment, I did notice that my teeth were a couple of shades whiter than before. If you're looking for a whitening boost that's easy to use, these are a good option."

Dentaly.org product tester
Other customers agree that these strips whiten teeth:
"This product does a good job whitening teeth. It is a bit sticky as it dissolves, and you're not supposed to swallow the excess saliva. A little tricky if you use it on the go."

Jill E.
"This product is the first teeth whitening product I have ever used, and I honestly liked it a lot! I really liked the mint/lavender flavor; they taste very natural and don't leave a bad aftertaste. I noticed my teeth were whiter after about a week of consistently using them every night. The only negative thing I would say is that they can be a little difficult to put on because they become sticky so easily, so they would sometimes stick to my fingers when trying to put them on."

NChadwick
The reviewer in the video below talks about what it's like to use Snow white strips, including what it's like to swallow, how they taste, and how well they dissolve:
Best sensitive whitening treatment: Hismile PAP+ whitening strips
Hismile is a teeth whitening brand known for its PAP+ formula, which whitens teeth without hydrogen or carbamide peroxide, making them especially good for sensitive teeth, and now they've added PAP+ to whitening strips too.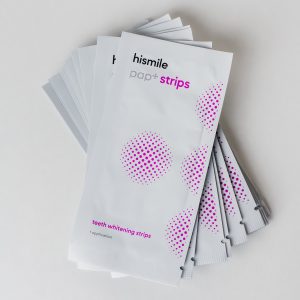 The key ingredients in these strips are:
Phthalimidoperoxycaproic Acid (PAP): This is a whitening ingredient that has been proven to be a safe and effective alternative to peroxides, without any of the negative side effects like pain or sensitivity.
Hydroxyapatite (HAp): This is the + in PAP+ and its role is to help remineralize and strengthen tooth enamel.
Potassium Citrate: This ingredient works to alleviate any pre-existing sensitivity by adding an extra layer of lasting protection to the tooth nerves.
Each strip packet comes with two strips for your top and bottom teeth. All you need to do is apply the strips, let them sit for 30 minutes, and then remove them to reveal a whiter, pain-free smile.
"So I used it twice so far and honestly I thought I wouldn't like it, but I did see some difference between the before and after. Of course it's not gonna make your teeth soo white and bright instantly, but it actually helps if you have like a yellow layer on your teeth!"

Angela S.
You can get started whitening your teeth with Hismile PAP+ strips and check out their entire selection of sensitivity-free whitening products. You can also read more about Hismile in our complete review.
Best fresh breath whitening solution: Smile Avenue whitening strips
Smile Avenue whitening strips come with 28 whitening strips per pack, with a strip for your top teeth and your bottom teeth, so 14 treatments in total. They also come with a velvet pouch for tidy storage.
The key whitening ingredient is hydrogen peroxide, and the full list of ingredients are:
K30, Glycerin, Hydroxypropylcellulose, K90, Aqua, Hydrogen Peroxide, Coconut Oil, Menthol.
You apply these strips for 25 to 30 minutes. They won't cause sensitivity or irritation to your gums, and they include antibacterial ingredients like coconut oil and menthol for fresher breath.
The strips dissolve on their own directly on your teeth, so there's no sticky mess to deal with afterwards. Here's what reviewers are saying:
"Not gonna make your teeth white overnight, it takes a bit more time but it's good for sensitive teeth. I like it."

Gloria
When you order your whitening strips, use code DENTALY15 to get 15% off your order. And check out our full Smile Avenue review to find out more about the complete whitening kit.
Best big brand: Crest Professional Effects teeth whitening strips
Crest whitening strips have the official ADA Seal of Acceptance. They have a seemingly infinite collection of strips to choose from, so we're going to focus on what are possibly the best white strips: Crest 3D Whitestrips Professional Effects.
The active ingredient of these whitening strips in hydrogen peroxide, and they employ a new patented P3 technology that means they whiten more effectively than other dissolving strips.
These strips have a whitening formula with 10% hydrogen peroxide that promises to remove 14 years of stains when used for 30 minutes per day, for 20 days. Not only will these whiten, they will give you the same professional-level results as you would get at the dentist (their words, not ours). Some other features of these strips:
No-slip grip: The strips stay put so you don't have to fidget with them while they're on. You can even drink water while wearing them
Results in just 3 days: You'll already notice a whiter smile after three days.
Enamel-safe: The ingredients used in these strips won't hurt your enamel.
1-hour express: You also get 1-hour express whitening that gives you results after just one treatment.
"I used these for a couple of days and noticed a difference, not as much as with products I got from the dentist but for an over-the-counter product it works very well. I am completely satisfied and would buy these again. I had a little sensitivity but not so much that I would stop using them."

Cinthia
If these positive Crest teeth whitening strips reviews have piqued your interest, find out if these are the best Crest whitening strips for you by clicking the button below. You can also try out their popular charcoal whitening strips. For a more in-depth look at all these products, read our review 'Do Crest Whitestrips work?'
What are teeth whitening strips?
Teeth whitening strips are thin translucent strips that are coated on one side with a tooth-whitening gel. Most tooth whitening strips contain carbamide or hydrogen peroxide for teeth whitening. However, they may vary in the following ways:
Length of treatment time
Number of strips
Additional ingredients
Strip shape
How to use whitening strips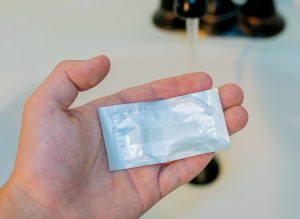 Every set of teeth whitener strips will have its own set of instructions that you should follow. However, in general, to use a whitening strip:
Brush first: This removes plaque and allows the hydrogen peroxide in the whitener to better penetrate your enamel.
Identify top and bottom strips: Some strips have a top strip and a bottom strip with different shapes and lengths; make sure you sort out which is which.
Apply the strips: You'll need to peel the strip off of its backing. The side that was attached to the backing is the side with the gel, and this is the side that needs to come in contact with your teeth. Press the strips to your teeth, making sure your teeth are completely covered, and smooth the strips down. Avoid getting the product on soft tissue as it can cause irritation.
Keep the strips on for the time indicated in the instructions (usually around 30 minutes.)
Remove the strips, brush and rinse well with water. Avoid eating or drinking for around an hour after treatment.
Please note that using your strips for longer than the time indicated won't make your teeth whiter, but the hydrogen peroxide could cause damage to your enamel or gums. Check out our article on non-peroxide whitening options.
If you have tooth decay or cavities, consult your dental professional before using. Hydrogen peroxide can be damaging to the pulp and sensitivity or pain may be experienced if using these products with active decay.
Also keep in mind that results may be different than expected if you have a prosthesis or composite fillings.
Best white strips alternatives
There are a zillion ways to whiten—strips, gels, oils, whitening toothpaste, trays, pens, lights… But our favorite option is brought to you by Snow. It would not be an exaggeration to say that the Snow whitening system is revolutionary, and to sum up why in a few bullet points is nearly impossible, but let's try anyway.
Snow whitening: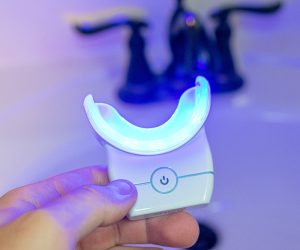 Gives you affordable, professional results.
Uses advanced technology like LED red and blue light to accelerate whitening and kill bad bacteria.
Has a hands-free, wireless, and waterproof option.
Uses a special combination of carbamide peroxide and hydrogen peroxide for optimum results.
Delivers a whole year's worth of results in one kit.
Lets you purchase gel refills instead of having to buy the whole kit again.
To find out more about what makes Snow our favorite whitening system, you can head to their website or read our full Snow teeth whitening review. We have a separate guide to the best teeth whitening kits which may also be of interest.
Conclusion
Teeth whitening strips can be an effective way to whiten, and there are certainly plenty of options to choose from. Our favorite overall pick are Snow whitening strips. We also like HiSmile, Smile Avenue, and Crest.
Whichever product you try, remember that perfectly white teeth don't mean that you have a healthy smile and vice versa. Your first priority should be to take care of your oral health and get in to see the dentist regularly.
FAQs
How often should you use white strips?
You should always follow the instructions that came with your kit. Most strips are meant to be used once a day, every day, for a period of anywhere from two weeks to a month. Using your strips more often than instructed probably won't help whiten your teeth more, and might up causing tooth sensitivity, or damage to your enamel or gums.
Do teeth whitening strips really work?
White strips can work and some whitening strips that work for some people might not work for others, so you need to find the kind that works for your personal case. A good place to start, however, is with strips that have positive reviews, and prioritize enamel safety, like Snow strips, since you can get the Snow desensitizing serum if you feel any discomfort.
What is the best brand of teeth whitening strips?
Our top pick for the best whitening strip is Snow, as they are some of the best whitening strips for sensitive teeth. They are also extremely effective and they even taste good! That being said, there are many brands out there with whom you can probably get the results you want, it's a matter of looking at reviews and taking into consideration your personal needs.
Should you brush your teeth before or after using whitening strips?
You should brush your teeth before using strips or after using strips depending on what the brand you use specifies. Some recommend brushing before, and then rinsing your mouth afterward.
Sign up to receive the latest news and offers from Dentaly.org