Auraglow makes it easy and fast to whiten your teeth at home, all for an affordable price. This at-home teeth whitening kit uses a teeth whitening gel with 35% carbamide peroxide (dentist-strength) for noticeable whitening, and an LED mouthpiece to accelerate your results.
For a complete treatment, you will whiten your teeth for just 10 minutes per day for two weeks.
In this article, we review the three main components of the AuraGlow teeth whitening system — the kit, the pen, and the strips.
So let's dive into our Auraglow review so you can decide if this is the whitening kit for you!
35% carbamide peroxide makes teeth 10 shades whiter

No risk with 60-day money-back guarantee

Whiten teeth quickly with 35% carbamide peroxide

No risk with 60-day money-back guarantee

Get instantly whiter teeth with 9% hydrogen peroxide

No risk with 60-day money-back guarantee
What is the Auraglow teeth whitening kit?
AuraGlow is a brand of at-home teeth whitening, just one of the many on the market today. And for good reason, last year, over 38 million Americans used tooth whiteners! It's a good time to be in the cosmetic dentistry business.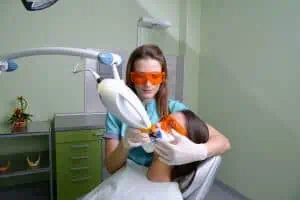 AuraGlow does try to differentiate itself from some of the other brands out there, by offering an affordable way to whiten teeth with dental-grade ingredients in their proprietary Auraglow teeth whitening gel. According to its website, AuraGlow is different for the following reasons:
Results: With AuraGlow you will achieve noticeable whitening results
Made in the US: All Auraglow whitening gels are made in the US with dental-grade ingredients.
Customer service: 'Smile Experts' are available 24/7 to answer your questions and concerns about the teeth whitening process.
'Smile Guarantee': This is what they call their promise to give you a full refund within 30 days of purchase if you're unsatisfied with the product.
Auraglow teeth whitening Kit
AuraGlow is dedicated to making teeth whitening convenient for everyone, which is one of the reasons why they actually offer three different whitening products that you can choose from. The kits come with enough gel for 20 treatments and 20 days, and according to their site, results last from one to three months. When you run out of whitening gel, you can purchase refills without having to purchase the whole kit again.
"This was so easy to use and the results are fantastic! Highly recommend this product!"
This whitening kit is the main offering from AuraGlow. In the box you'll get an LED light mouthpiece, two 5ml teeth whitening gel syringes, the comfort fit mouth tray, and a tray storage case. Let's have a look at the three main components:
LED mouthpiece
The LED mouthpiece features LED light that accelerates your whitening results by activating the molecules in the whitening gel. This mouthpiece also features:
The ability to whiten 3x faster
5 built-in LED bulbs
10-minute timer
Easy connection to mouth tray for hands-free whitening
Batteries included for 24 to 48 hours
Whitening gel
The whitening gel contains 35% carbamide peroxide, which is the equivalent to what your dentist would use in-office. Remineralizing ingredients and peroxide work together to whiten the surface of your teeth without side effects. The whitening gel also:
Is kosher
Is vegan
Is non-GMO
Is cruelty-free
Is gluten-free
Has organic ingredients
Has no artificial colors
Comfort fit tray
This is the tray that actually goes into your mouth and holds the whitening gel. It's made from soft and safe silicone and doesn't require any molding. The LED mouthpiece can attach to the tray for hands-free whitening. This tray features:
One-piece design for both top and bottom teeth
LED light attachment
High-grade BPA-free silicone
No molding required
Kit highlights
LED whitening
Safe for enamel and sensitive teeth
20 treatments for 20 days
Removes tooth surface stains
Use ounces per day for 30 minutes
Treatment time is 7 to 14 days
How to use the Auraglow Teeth Whitening Kit
Wondering how to use AuraGlow? Check out these AuraGlow instructions for the whitening kit according to the brand website:
Charge your whitening kit
Brush and dry your teeth
Insert the Auraglow gel into the teeth whitening tray, with a thin line on the top and bottom
Place the tray in your mouth, and turn on the Auraglow light by tapping the logo
Wear the tray for 30 minutes
The light will turn off on its own after 30 minutes. At this point you can rinse your mouth and the tray
Continue using for 7–14 days
Check out the video below that shows how this kit works.
Auraglow teeth whitening pen
If you're wondering how you're going to find 30 minutes every day to whiten your teeth, you may want to consider the AuraGlow teeth whitening pen. The pen offers true on-the-go whitening; it fits anywhere and be applied at any time, and it has 9% hydrogen peroxide for fast and noticeable results.
To use you just twist until the gel appears and brush it onto your teeth. This pen is also perfect for whitening just one tooth, getting hard-to-reach areas, getting into crevices, and for touching up after a full whitening treatment. And it's the same whitening gel used in the whitening kit.
"Works really well so far. Easy to use and seeing the results I was hoping for without sensitivity."
Have a look at some of the highlights of the AuraGlow teeth whitening pen:
Whitens in 60 seconds per day with 9% hydrogen peroxide
Reaches hard to reach areas
15 to 20 treatments
Removes surface stains
Compact
How to use the AuraGlow teeth whitening pen
If you're wondering exactly how to use the AuraGlow teeth whitening pen, follow these AuraGlow instructions:
Click the pen bottom until the AuraGlow gel appears on the brush tip
Open your lips as if you were smiling and brush the gel onto each of your teeth; hold this position with your teeth exposed for 60 seconds
Use 1–2 times per day
Auraglow Teeth Whitening Strips
The AuraGlow Whitening Strips are an effective way to whiten your teeth quickly and without any fuss. They use hydrogen peroxide to whiten your teeth. And as an added design bonus they stretch and are rectangular on the bottom for easy placement.
"These worked well and are easy to apply. They stick much better than other strips I have used. "
Here's how you will benefit from AuraGlow Whitening Strips:
A whopping 10 shades whiter in just 7 days with the hydrogen peroxide formula
A discreet way to whiten your teeth as you go about your day
Your money back if in 60 days you aren't satisfied
Conclusion
AuraGlow promises an effective and fast way to whiten your teeth, and from what we've seen, it does seem to be a pretty good kit. We especially like that it's made in the US, vegan and not tested on animals. It's also much more affordable than professional teeth whitening at the dentist, and you can purchase whitening refills when you need them.
Click the button below to get 10 shades whiter teeth in just two weeks!
FAQs
Is AuraGlow FDA approved?
AuraGlow itself isn't FDA approved, but the whitening ingredient it uses, carbamide peroxide, is. For safe use, you should make sure to follow the instructions and stop use if you feel pain.
Does AuraGlow teeth whitening work?
If used following the instructions, AuraGlow can whiten your teeth, but the results only last from one to three months, so you'll have to keep ordering more whitening gel.
Question: How long does it take for AuraGlow to work?
According to AuraGlow, you can see results after one treatment of 30 minutes. Every mouth is different, so this may not be your experience. Don't whiten longer than instructed.
Sign up to receive the latest news and offers from Dentaly.org