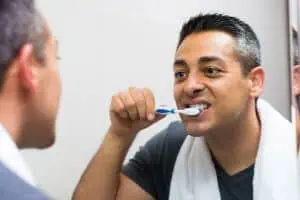 Read Smile Sciences Reviews to find out if Smile Sciences teeth whitening kit is the option for you.
At-home teeth whitening kits are one of the most popular ways to whiten teeth and cost a fraction of professional dentistry procedures.
We'll introduce you to the Smile Sciences brand, and we'll also go over the following information:
How the Smile Sciences teeth whitening kit works
Its active ingredients
Best Smile Sciences alternatives
We hope this review gives you the information you need to safely and effectively whiten your teeth.
Snow gives you professional results at home
You're here because you're searching for the best at-home whitening kits. Our personal favorite is Snow. Snow is a bit more expensive than Smile Sciences, but you get way more in return, including whitening that lasts a year.
Visit Snow's website to view full details and see their current offers, or read some Snow teeth whitening reviews to see if it's right for you.
What is the Smile Sciences teeth whitening kit?
Smile Sciences is a company that makes a teeth whitening kit for at-home use to get whiter teeth. Teeth whitening kits are gaining in popularity because of the visible results they can produce. They offer these results at a much lower price than in-office professional whitening from a cosmetic dentist, and the fact that you can do it without leaving your house.
Smile Sciences is a teeth whitening company that does things a little bit differently than most companies. They follow a smaller business model, female-owned and family-run. They also offer a 100% cruelty-free and vegan formula which promises to be gentle on teeth, and on the environment. The Smile Sciences formula is also kosher, FDA-registered and made in the US.
How does Smile Sciences work?
The Smile Science teeth whitening system features a whitening gel and a mouthpiece with LED light to speed up results and make them last longer. There are currently three Smile Sciences kit options. Let's have a look at the different options, their advantages, and disadvantages.
Original Smile Sciences mint teeth whitening kit
The original Smile Sciences teeth whitening kit includes:
Upper and lower trays that you can customize to your mouth
1 5ml whitening gel syringe (enough for 6 treatments)
2 vitamin E sticks
1 LED light
1 on-the-go maintenance Smile Sciences whitening pen
Shade guide
Instruction manual
The whitening gel is made with a mix of carbamide peroxide and hydrogen peroxide that actually penetrates the enamel of your teeth, targeting molecules that have been stained. It contains oxygen molecules that interact with the stained molecules in your teeth, and breaks the bonds that hold those molecules together. And voila! The result is a whiter smile.
The standard flavor is peppermint and it comes in a blue box, but you can also get it in bubblegum flavor too, in which case it comes in a pretty pink box!
Smile Sciences Ultra kit
The Smile Sciences Ultra kit is the more evolved version of the Original kit. It still uses LED light to activate and accelerate the whitening process, but in addition to the standard blue LED, it combines with a red light that kills bacteria, resulting in a cleaner mouth and fresher breath.
The LED light is rechargeable and has a 15-minute timer for the blue light and a 10-minute timer for the red light, so you don't have to worry about overexposure.
Here's what's included in the Ultra kit:
Rechargeable LED light
Upper and lower trays
3 Smile Sciences teeth whitening pens (14 treatments each)
Power cord for charging the light
Stronger gel with 35% blend of Carbamide
Instruction manual
Shade guide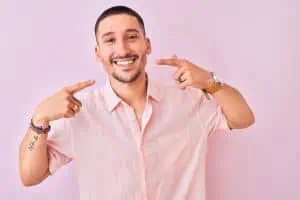 Smile Sciences teeth whitening kit bundle
With Smile Sciences, you also have the option of the teeth whitening bundle which includes:
Everything that the Original kit includes
2 additional Smile Sciences teeth whitening pens
A case for your trays
How to use Smile Sciences teeth whitening kit
Mold the trays
The Smile Sciences trays can actually be molded for a customized fit to your mouth for additional comfort while whitening. To mold your trays:
Bring 4 inches of water to a boil, then remove from heat and let cool for 6 to 7 minutes.
Submerge the first mouth tray in the hot water for 10-12 seconds, until the tray softens.
Place the tray in your mouth to cover your upper teeth.
Close your mouth, and use your tongue to suction out any excess air or water from between the tray and your teeth.
Use your fingers to gently push on your upper lip, to help mold the tray to your teeth.
Hold the tray in position for 12 to 15 seconds.
Remove from your mouth and place into a cup of cold water for 12 seconds so the form can take hold.
Repeat these steps for the lower tray.
Trim the trays
Once you've molded both the upper and lower trays, there may be some excess material to trim off along the gumline. You can simply use scissors to cut off the extra material; this will ensure that your gums don't become irritated while you whiten.
Whiten your teeth!
To whiten your teeth:
Use the whitening gel pens to place a small drop of gel into each tooth spot in both your lower and upper trays.
Place both trays in your mouth and gently push on your upper and lower lip with your fingers to ensure a tight fit.
Wear the trays for 20 to 30 minutes
Trays can be used with or without LED light, but use the LED in front of your trays for faster results.
After 20 to 30 minutes, remove the trays and rinse out your mouth.
Rinse the trays in lukewarm water and store in a dry place.
Use daily until you are happy with your results.
Please note: Make sure not to apply too much gel to the trays, as when you put them in your mouth, the gel could overflow and end up irritating or even burning your gums. One way to avoid this is by going with a kit like Snow which we mentioned at the beginning of the article, where you apply the exact amount of whitening gel that you need directly to your teeth, instead of inside the trays.
Smile Sciences teeth whitening ingredients
The ingredients used in the Original Smile Sciences mint teeth whitening kit are:
Propylene Glycol USP ethanol
Carbamide Peroxide USP
Kosher glycerine
Carbomer
Peppermint essential oil
Triethanolamine
All of the ingredients used are 100% cruelty-free and vegan.
Additional optional purchases
You can purchase a bunch of teeth whitening extras along with your teeth whitening kit, although you will have to pay the separate fees. The extras include:
Gel-infused charcoal whitening strips
Eco-friendly toothbrush
Coconut charcoal whitening powder
Refill syringes
Refill pens
LED blue light
LED red and blue light
The fact that you can purchase refills is one of the major benefits of Smile Sciences. You can also purchase the lights without having to pay for the entire kit again. Some kits don't have refills, so when you want a touch-up you have to pay the total cost all over again. This is something that Snow and Smile Sciences have in common—convenient and affordable refills.
How much is the teeth whitening kit by Smile Sciences?
The Original Smile Sciences teeth whitening kit costs $120, making it a mid-range option. That's literally thousands less than in-office professional teeth whitening. Here's a breakdown of the costs:
Original kit: $120
Ultra kit: $180
Bundle kit: $205
Refill syringe: $25
Smile Sciences Reviews
Now let's have a look at some Smile Sciences teeth whitening kit reviews, to see what real people think.
Jess's Smile Sciences Review
Skip ahead to 1 minute into the video if you want to jump right to the Smile Sciences teeth whitening review. The reviewer, Jess, also goes over how to use the kit so you might find that helpful. She appreciates that it's a female-owned company, which was a factor in her opting to try this kit. After going over the instructions, she says that she doesn't feel any sensitivity from using the kit, and that she will continue to use it to whiten her teeth. You can watch the full review below.
Ponsachic's Smile Sciences review
In this Smile Sciences review, the blogger begins by showing us how to use the kit. You can see from her video that the process of getting your trays to fit does take a bit of time, and at one point she accidentally puts too much whitening gel into the tray.
It was also a little difficult to figure out how the LED light was supposed to work, but she got it at the end.
She does notice a difference between the whiteness of her teeth before and after one use, and you can see the before and after photo for yourself in the video below. She already had a beautiful white smile to begin with, so for us, at least, it was a bit difficult to see a difference, maybe you can spot it though!
The Real Daytime Review
If you're a fan of the Real Daytime Talk Show, then you may have seen Smile Sciences promoted by them during a Christmas special of the best gifts to buy. Have a look in case you didn't see it!
Best alternatives to Science Smiles
There are many teeth whitening kits to choose from, from expensive to cheap, and low-tech to high-tech. If you're not convinced by Smile Sciences, what else might you want to consider?
You can have a look at the table below for a quick comparison between Science Smiles and the other top brands on the market, like Snow and Auraglow.
| | | | | | | | |
| --- | --- | --- | --- | --- | --- | --- | --- |
| | Apply gel to teeth (safer for gums) or into trays? | | | | | | |
| | | | | | 6 treatments (Original kit) | | Visit Smile Sciences website |
| | | | Hydrogen and carbamide peroxide, Sodium bicarbonat | | 75 applications, results last a year | | |
| | | | | | | | |
| | | | | | | | |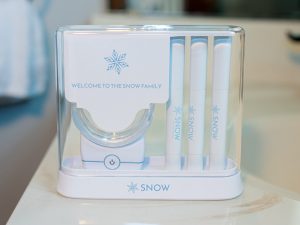 As you can see from the table, one of our favorite whitening kits in 2023 is Snow Teeth Whitening. Yes, Snow costs a bit more than Science Smiles, but not that much more, especially considering you get a whole year's worth of treatments.
Snow, like Smile Science, is an LED whitening kit that you only have to use for nine minutes per day to see results. There's also an app that you can use to control the speed and intensity of whitening. And they too have the red light and blue like option and refills available.
See for yourself why we like Snow, and why it's being called the "Apple of teeth whitening" in our Snow teeth whitening review.
The whitening system celebs love
When it comes to home whitening kits, Snow isn't just one of our top picks—celebrities love it too. It offers results comparable to those you would get from the dentist, noticeable, fast and long-lasting, but it's much more affordable and can be done from the comfort of your home.
Discover Snow for yourself, and see why everyone, including your favorite stars consider it to be one of the best whitening kits around.
Conclusion
We hope these Smile Sciences teeth whitening kit reviews help you decide the best option for you. As you now know, Smile Sciences is a type of at-home teeth whitening kit, that uses a combination of whitening gel with carbamide peroxide and LED light to speed up the whitening process. They also aim to make their system gentle enough so that people with sensitive teeth and gums can use them. There are definitely people who say that this system works for them, so it may work for you as well.
And we love that Smile Sciences is owned by women and that their formula is vegan and cruelty-free. That in itself may make it worth a try. But, as we mentioned before, if you're looking or another option with faster results and more bang for your buck, you may want to consider Snow.
FAQs
Is Smile Sciences teeth whitening safe?
Smiles Sciences promise that their whitening system is safe and good for people who have sensitive teeth. They also say that the products are trusted by hygienists and tested by dentists. Their whitening gel is FDA-registered, however, that classification doesn't meet the same standards as products that are FDA-approved.
Is Smile Sciences teeth whitening vegan?
Yes! All of the ingredients used are vegan and 100% cruelty-free. They aren't tested on animals and they contain absolutely no animal products — perfect for the socially conscientious.
What is the best teeth-whitening product?
We recommend Snow teeth whitening for at-home kits. You get a whole year's worth of treatment in the price, and you can purchase gel refills whenever you want to touch up your teeth. Their technology is really high-tech, and the mouthpiece even works with an app so you can set the rate at which you want to whiten. We also love that Snow is suitable for people with sensitive teeth.
Sign up to receive the latest news and offers from Dentaly.org