Let's talk about Mobile White teeth whitening. If you want to whiten your smile without breaking the bank, then you're probably doing some research into the best at-home teeth whitening kits.
Home whitening kits are quickly gaining in popularity due to their convenience and affordability, and with LED technology, they are getting to be on par with professional in-office whitening dentistry procedures.
During your search, one of the brands you may have come across is Mobile White Advanced teeth whitening.
The Mobile White advanced teeth whitening kit is an at-home teeth whitening kit developed by Doctor Bill Dorfman, a celebrity dentist perhaps most well-known for conducting drastic smile makeovers.
But does Mobile White teeth whitening work? And is it the best whitening kit out there?
In this article, we'll take a deep dive into the brand and answer the following questions:
How does Mobile White work?
What are the ingredients of Mobile White?
Is Mobile White safe?
What's the best whitening system?
So keep reading to find out the best way to get that perfect smile you've always wanted, and if the Mobile White Advanced Teeth Whitening system is for you.
Our top pick for professional results
If you don't have time to read this full article, here's what we think—Mobile White is an effective way to whiten teeth, but Snow whitening is our top choice. Why? From the results we've seen, Snow is even more effective and:
You get a year's worth of results in one kit
You can purchase refills whenever you want a touchup
You apply the whitening gel directly to your teeth, saving your gums
What is Mobile White?
Have you heard about the whitening kits that use LED light to whiten your teeth? Mobile Whitening is just one brand offering at-home whitening kits that achieve more dramatic results by using LED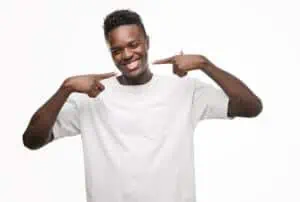 Mobile White was founded by Doctor Bill Dorfman, who set out to find a teeth whitening method that met the following criteria:
Affordable
Effective
Low-maintenance
Doesn't cause sensitivity
Despite a rather cheesy ad campaign, Mobile White has been endorsed on numerous TV platforms including ABC Extreme Makeover, CBS the Doctors, Larry King Live, and Oprah (according to the Mobile White website). If Oprah says it's good then it must be true, right?
So let's take a look at just how this whitening system works.
How does Mobile White work?
Mobile whitening is designed to be an easy-to-use, portable whitening system that uses LED. How does it do that? It actually connects to your mobile phone (any brand). Then, the advanced teeth whitening gel, it whitens your teeth in just 20 minutes through 6 applications.
So far, so good, so let's dive a little deeper into the specifics.
How to use the Mobile White whitening kit
The directions for using the Mobile White advanced teeth whitening kit are as follows:
Connect: Connect your Mobile White LED light tray to your mobile device.
Whiten: Put the Mobile White whitening gel into the LED light tray, and put the light tray into your mouth for 20 minutes.
Disconnect: Disconnect the LED light tray from your mobile device, and rinse your mouth or brush your teeth to remove any remaining gel.
In the video below, you can see the doctor behind the kit describe how to use it. We apologize in advance for the gratuitous shirtless shots at the gym.
What comes in the Mobile White teeth whitening kit?
The Mobile teeth whitening kit comes with everything you need to get a white smile, including the mobile teeth whitening LED light. Have a look at everything that comes with the kit:
1 x Mobile White LED light tray
USB cord with timer button
4 x 3ml syringes filled with Mobile White whitening gel (12 applications)
iOS Lightening, Micro-USB, Type-C, USB 3.0
1 x cheek retractor for easy placement of LED light tray
Mobile teeth whitening ingredients
Mobile White promises that the ingredients they use in their whitening gel won't cause any sensitivity. The active whitening ingredient in the Mobile White gel is 25% carbamide peroxide, which is often used in whitening kits that are advertised as OK to use for people with sensitivity. The full ingredient list is:
Glycerine
Carbopol
Menthol
Carbamide Peroxide (25%)
EDTA
Is Mobile White Advanced teeth whitening safe?
Mobile White ensures the safety of its product. Their LED light tray is waterproof and BPA free, and their whitening gel is FDA approved. Mobile White also promises that these products are safe. Neither the gel nor the LED will damage your teeth or cause sensitivity.
How much does Mobile White Advanced teeth whitening cost?
The Mobile White Advanced teeth whitening kit is $69.99 if you buy it from their website, with various and periodic discounts, and you can check the current price on Amazon. Once you've finished your first round of tooth whitening treatments you can join the Mobile White 'Refill Club' so when it's time for a touchup you can order refill gel and syringes.
In theory, with Mobile White teeth whitening, you can get free refills for the rest of your life. The bad news is, you have to pay for shipping.
Mobile White reviews
Have a look at these Mobile White reviews from Amazon to see what people are saying about Mobile White Advanced teeth whitening. You'll see that it's a mixed bag with both negative and positive reviews, however, the negative reviews don't have so much to do with whitening, but rather with price and ease of use. The overall rating is around 3.5 stars.
"I found this kit to be easy to use and it really does whiten your teeth. Also, it only takes a few minutes to use and then your on your way vs. the teeth whitening film that takes awhile to work. I would definitely use this product again."
"Love this whitening kit. The only complaint I could make, is that the mouthpiece does not fit in my mouth well. I have short teeth so it rest on my gums and is uncomfortable during the treatments."
"I like the ease of the product and did not find too much foaming, like other whiteners. However the free refills for life is false advertising! That really sucks cause it was one of the selling features I strongly considered before buying."
"Returned product. Looked too complicated."
Is Mobile White Advanced the best teeth whitening system?
The table below compares the Mobile White advanced teeth whitening kit with one of the most popular at-home whitening kits that use LED light — Snow.
| | | | | | | |
| --- | --- | --- | --- | --- | --- | --- |
| | | | | | | |
| | | | | 6 applications (12 applications total in kit) | | |
| | | Hydrogen and carbamide peroxide, sodium bicarbonate | | 21 days (90 applications, results last a year) | | |
We like that with Snow, you apply the whitening gel directly to your teeth, because that way you avoid unnecessary contact with gums.
Otherwise, we can get on board with a lot of aspects of the Mobile White tooth whitening system.
We love that there are free refills (although we're not too hot on the paying for shipping part, because it's not really free then is it?) We also appreciate that the gel is FDA-approved and that the trays are BPA-free. It's also pretty handy that it's portable, and can be used with any mobile device. And it has a light and sound reminder that lets you know when you're done whitening, so you won't risk overdoing it.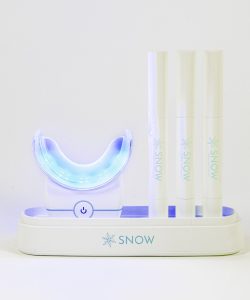 But you know what we love even more?
The Snow whitening system may cost a bit more than Mobile White, but that's because you're paying for a year's worth of whitening. Also, Snow cuts down on whitening time—in fact, you only have to use it for 9 minutes per day to see results.
Not to mention you can use Snow with an app on your phone so you can control how much tooth whitening you want, and how fast you want it. It's no wonder Snow is beloved by celebrities including Floyd Mayweather and Rob Gronkowski. Read more about why we like Snow here, or get started with Snow.
Conclusion
Cosmetic dentistry at home means keeping your teeth white. Mobile White is a popular brand of at-home tooth whitening kit that uses LED technology to enhance and accelerate the whitening process.
After reviewing this brand we like most that the gel is FDA-approved and the mouthpiece is BPA-free, because safety should always be your number one concern. We also like that the price is much more affordable than professional whitening at the dentist.
We don't love that the kit doesn't come with very many treatments given the price, and although there are technically "free" refills, you stand to pay a hefty charge for shipping.
Our favorite option for at-home teeth whitening is Snow, but whichever option you choose, we hope you find the right whitening system for you to achieve a beautiful smile that you can feel confident about.
FAQs
Do LED teeth whiteners really work?
LED has been shown to be an effective way to enhance the teeth whitening process. It's important to use your LED kit and gel according to instructions and not for more than the recommended time.
When deciding on the right LED kit for you, it's best to choose one with many reviewers and success stories.
Is Mobile White safe?
If used according to the instructions Mobile White is safe to use. The gel is FDA-approved and the mouthpiece is BPA-free. Take care when putting the gel into the trays.
If you put too much in, they could overflow when you put them in your mouth, causing harm or irritation to your gums. The best way to avoid this is by choosing a whitening system like Snow, where you apply the exact amount of gel that you need directly to your teeth.
Sign up to receive the latest news and offers from Dentaly.org