Smile Brilliant is an at-home teeth whitening kit that combines dentist-directed care and at-home autonomy. That's because with Smile Brilliant, your teeth whitening trays are customized in a dental lab, and you whiten your teeth with the same whitening gel they use in-office.
The difference is, you can do it all without leaving your home. In this article, we'll explore all aspects of this teeth whitening kit including:
Smile Brilliant reviews
The cost of Smile Brilliant
How to use it
…and more!
Let's find out if Smile Brilliant is your best option for professional whitening results from the comfort of your home.
In short: Why choose Smile Brilliant?
If you want the fast version of why Smile Brilliant is the best way to get real dentist results at home:
Whitening trays are custom-made in a dental lab in the US
The whitening gel is the same that dentists use, and sealed in light-proof foil
The Smile Brilliant labs also supply to dentists
Desensitizing gel will reduce and in some cases prevent tooth sensitivity altogether
Save hundreds of dollars by buying directly from the source
You'll be hard-pressed to find another whitening system quite like this. It's the exact same treatment you'd get at the dentist, but you get to use it at home, and for a much lower price. Click below to get your kit now.
What is the Smile Brilliant teeth whitening kit?
The Smile Brilliant teeth whitening kit comes with a set of custom teeth whitening trays, and up to 27 whitening applications with carbamide peroxide for both top and bottom trays. The gel is made with dentist-strength 22% carbamide peroxide in 3 mL syringes.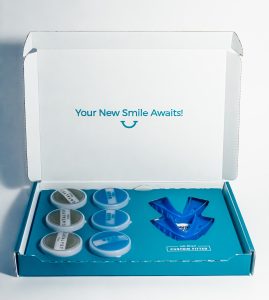 There are two main systems available: their sensitive kit and their non-sensitive kit. The sensitive kit comes with up to 27 desensitizing applications for both top and bottom trays.
Then, once you choose whether you need the sensitive kit or the non-sensitive kit, you can choose the level of whitening that you want. There are three levels:
Heavy stains: Darkly stained teeth. For regular coffee or wine drinkers, smokers, or those who have stains from taking certain antibiotics as a child.
Average stains: Average stained teeth. Ideal patients may drink coffee or wine or tea with some regularity.
Light stains: This is for those who may have already whitened their teeth in the past. Ideal patients are not regularly coffee or wine drinkers and are non-smokers.
Smile Brilliant is an oral healthcare brand that offers a variety of products including whitening kits, night guards, and toothbrushes (including the CariPRO ultrasonic toothbrush that can help whiten teeth).
We're most interested in their whitening kit because it's a way to get professional results without leaving your home. But you can head to their website to find out more about the products they offer, and we'll briefly talk about them more below.
Smile Brilliant instructions
Smile Brilliant is different from other at-home whitening systems because your teeth whitening trays are hand-crafted in a dental lab in the United States, tailored to your teeth and your teeth only. This is the same process that a dentist uses for in-office whitening. Here's how the process works: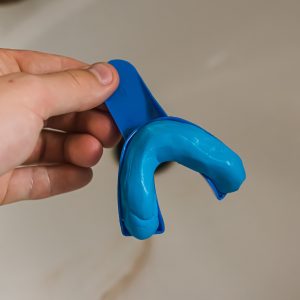 Make your impressions: Once you purchase your Smile Brilliant kit, the company will mail you everything you need to make your impressions, including plastic trays and putty. You then mail your impressions back in the included envelope.
Making the trays: Once the dental lab receives your impressions, they will make your custom trays and mail them back to you within 3-5 business days.
Time to whiten: You'll receive your Smile Brilliant custom teeth whitening trays along with your whitening gel, and desensitizing gel if you ordered it, and you can start whitening your teeth.
What does Smile Brilliant cost?
Smile Brilliant costs way less than in-office professional whitening procedures while still offering dentist-level results. Have a look at the table below to see the different pricing options.
| | | |
| --- | --- | --- |
| | | |
| | $169 or $43/month (3 months) | $189 or $48/month (3 months) |
| | | |
| | | |
Professional bleaching at the dentist can cost anywhere from $300 to $900. With Smile Brilliant, you're using the same dentist-strength gel and the same custom-made trays as you would in-office, but for much less money and much more convenience.
Also, Smile Brilliant covers all shipping costs between you and the lab where your trays are made.
Does Smile Brilliant really work?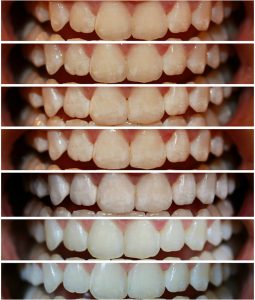 Smile Brilliant does really work. That's because what they offer is exactly what you'd get with in-office professional whitening. The trays are custom-made for you in a dental lab. And the gel is the same strength your dentist would use.
Plus, studies show that carbamide peroxide at 16% concentration with custom home whitening trays is an effective way to whiten teeth. Given that Smile Brilliant comes with 22% carbamide peroxide gel, you know you're going to see results.
In fact, Smile Brilliant provides teeth whitening services to many dentists who don't have their own lab. The difference is you're purchasing directly from the manufacturer, for a faster, more convenient, and more affordable process.
Another thing that sets Smile Brilliant apart is the way they seal their gel. Have you ever noticed that when you buy hydrogen peroxide, it always comes in an opaque brown bottle? That's because when light comes into contact with peroxide, the peroxide breaks down into water.
So to prevent that from happening, Smile Brilliant seal their whitening gel in special foil bags — for a longer shelf life and greater potency.
Smile Brilliant reviews
This is one of the most beloved teeth whitening kits on the market today with an overwhelming number of positive Smile Brilliant testimonials. But you don't have to take our word for it—have a look at some of these Smile Brilliant teeth whitening reviews.
Octavia's Smile Brilliant review
"I definitely 100% recommend this system."
Octavia has been using this system for a few days at the time of her review. She's already started seeing Smile Brilliant results, even after just three treatments.
Octavia also has sensitive teeth, and she says she is very pleased with this system. She ordered the sensitive kit and hasn't noticed any sensitivity.
She also shows how to make your impressions and how easy it is to whiten your teeth. You can easily do other tasks around the house while you have your trays in.
At the end of her video she shows us her results and her Smile Brilliant before and after photos from four weeks later. She says she saw the results very quickly, and she is very pleased with her new whitened smile!
Tabitha's Smile Brilliant review
"If you guys want to invest in your teeth, I do recommend it!"
In this Smile Brilliant teeth whitening review, Tabitha compares the kit with Crest whitening strips. She tried Crest a while ago, and more recently tried Smile Brilliant.
Crest is obviously a cheaper option that you can buy on Amazon, but she didn't like that with Crest you only whiten the fronts of your front teeth. She wanted full coverage whitening, which is what she loves about Smile Brilliant.
Tabitha leads viewers through how Smile Brilliant works, including how to make your impressions and how to use the gel and the trays to whiten your teeth.
She then ends her video with a summary of the pros and cons between Smile Brilliant and Crest. The pros of Crest were that:
It's cheaper
You can get started right away
There's no taste
The cons of Crest were that:
It only whitens some teeth
There are only 12 hours of treatment
There are no desensitizers
The pros of Smile Brilliant were that:
It whitens all of your teeth, on every surface
The kit includes 36 hours of treatment
It comes with desensitizer
And the cons of Smile Brilliant were that:
It can be a bit slow to start since your trays are made in the lab to custom fit your teeth.
The taste of the whitening gel isn't great
All in all she recommends this home teeth whitening solution. It has helped her feel more confident and beautiful.
Smile Brilliant alternatives
There are countless teeth whitening kits on the market today, but not all of them are worth trying.
We have reviews of some of the most popular kits, including Snow teeth whitening and Glo Science, both of which use blue LED light to speed up results, are more affordable than in-office whitening, and yield excellent results. You can read about these and some other options on our detailed teeth whitening kit reviews page.
However, if you want to use the same scientifically-backed method that dentists themselves use with proven results, the Smile Brilliant system is the one to go for.
Where can you purchase Smile Brilliant?
If you're ready to whiten your teeth with professional results from home, you can purchase your Smile Brilliant home teeth whitening system directly from their website. Just follow the link below!
Other Smile Brilliant products
As we mentioned above, this company doesn't just offer whitening treatments. They also offer a toothbrush and night guards: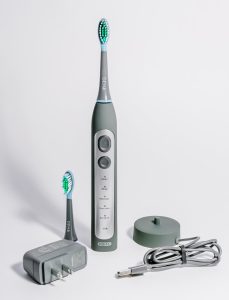 CariPRO Electric Toothbrush
The CariPRO Ultrasonic Electric Toothbrush features:
40,000 vibrations per minute
5 brush modes—clean, white, massage, gum care, and sensitive
30-day battery life with one charge
Ergonomic design
Waterproof design
Interval timer
Wireless charging dock
It also comes with two brush heads with tongue scrapers on the back, and you can always purchase more brush heads separately from their website when it's time to replace yours.
Night guards
The night guards will protect your teeth at night from grinding or jaw-clenching that you do while you sleep. You can choose from three packages—Deluxe, Moderate, and Intro. These work similarly to the whitening kit in that you create molds of your teeth and a dental lab customizes your night guards just for you.
Conclusion
Smile Brilliant teeth whitening is increasing access to professional-level whitening all across the country.
Their kits are much more affordable than in-office professional teeth whitening, but they use the exact same process that dentists use—from customized trays to the professional-strength whitening gel.
If you want to whiten your teeth from the comfort of your home and for an affordable price, without sacrificing professional-level results, give this product a try.
FAQs
Can you use Smile Brilliant if you have braces?
It's generally not a good idea to use whitening kits when you have braces. You're likely to end up with dark squares on all of your teeth! Just wait until you get your braces off and then go for it.
Can you get Smile Brilliant on Amazon?
You can get Smile Brilliant by heading directly to their website and purchasing it from them. Amazon doesn't currently sell this kit, so make sure to buy it from the company to ensure your safety.
How much is Smile Brilliant?
Smile Brilliant costs $169 for their non-sensitive whitening kit for dark heavily stained teeth, and $189 for their special sensitive whitening kit that comes with desensitizing gel. They also offer cheaper kit options for teeth with average stains and light stains.
Sign up to receive the latest news and offers from Dentaly.org