Looking for GLO Teeth Whitening reviews?
GLO Science™ teeth whitening is a patented, award-winning, and FDA-approved brand. They are the first at-home teeth whitening kit that uses both heat and blue LED light to provide quicker results without causing sensitivity.
They offer a range of teeth-whitening products, including
According to the company, the GLO Brilliant teeth whitening device has been scientifically shown to whiten teeth up to five shades lighter in five days.
However, everyone's outcomes vary depending on their starting shade and lifestyle choices. If you consume a lot of coffee or soda, or you smoke, it may take much longer for your teeth to whiten to the desired shade.
We hope this GLO whitening review will help you to determine if this is the right teeth whitening kit for your needs.
What is included with the GLO teeth whitening kit?
The Glo Brilliant whitening kit includes the LED mouthpiece with heat, a travel and storage case, a blue light remote control, GLO Vial whitening gel, lip balm, a power adapter, and a USB cable.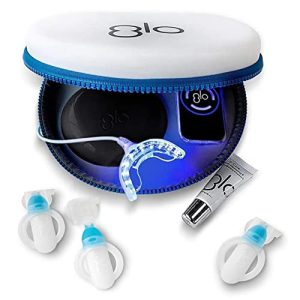 All-in-all:
LED mouthpiece with heat (medical grade)
Travel and storage case
Blue light remote control
Pre-application lip balm treatment
Teeth whitening G-Vials
User manual with detailed instructions
Shade guide
Power adapter and USB cable
How does the GLO Science teeth whitening system work?
The GLO Brilliant teeth whitening kit has a simple process that includes the use of lip balm, the application of GLO Vial whitening serum, and the use of a mouthpiece with the blue LED light.
GLO whitening gel: Pre-apply the GLO teeth whitening gel to avoid dryness and irritation on the lips and gums.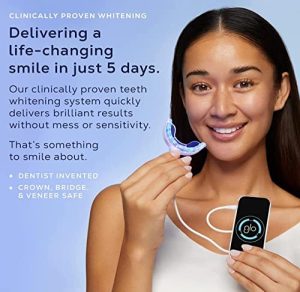 GLO Vial whitening serum: This is a technology developed by GLO Science that contains the whitening serum and a brush applicator.
GLO mouthpiece with blue light LED, heat, and an automatic 8-minute timer.
Simply twist off the vial cover and paint a tiny amount of gel on each tooth to apply the gel. The vials include a tiny brush tip that makes application simpler and reduces the risk of gum irritation. Also, before starting the procedure, apply the lip balm.
Place the mouthpiece in your mouth and push the GLO button to turn it on. The mouthpiece will become a bright blue color. Relax your jaws; there's no need to clench your teeth. Swallow naturally. The mouthpiece will illuminate and switch off automatically after eight minutes.
Rinse your mouth and the mouthpiece when the treatment period has passed. For at least 30 minutes, don't eat or drink anything. Repeat every day until your teeth are the color you want them to be.
5 Reasons to use the GLO teeth whitening kit
GLO Science has a couple of outstanding qualities that set them apart from the competition in the LED teeth whitening market.
1. The GLO teeth whitening kit is easy to use
The whitening gel is applied using GLO Vial technology, which is simple to apply. There are no runny gels, trays, or strips required for the whitening procedure.
The G-Vials include a precision brush that makes it simple to target each tooth (even your back teeth). It's also easy to stay away from your gums and sensitive tissues when using the brushes.
2. They've been approved by the FDA
GLO Science is FDA-approved, unlike many other teeth whitening solutions on the market. This indicates that the "benefits of the product outweigh the known risks for the intended use," as judged by the FDA.
3. GLO Science has patented products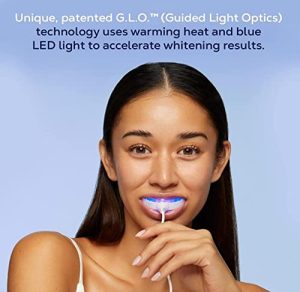 The GLO mouthpiece incorporates patented G.L.O (Guided Light Optics) Technology. The mouthpiece uses this technology to gradually reheat the whitening gel that has been applied to your teeth. This accelerates the whitening process and safely brightens your teeth.
4. They were nominated for Edison Awards
The GLO Brilliant Teeth Whitening Device has won Edison Awards in the "Beauty" category of "Consumer Packaged Goods." The Edison Awards are a yearly award that recognizes innovation in new product creation.
5. The whitening serum doesn't cause sensitivity
GLO's special gel composition is free of peroxide and alcohol, two frequent causes of tooth sensitivity. The gel is also designed to remain on your teeth while staying away from your gums and sensitive tissues. This further minimizes the possibility of sensitivity.
How to use the GLO teeth whitening kit
Follow these instructions to get a good result with the GLO teeth whitening kit:
Apply GLO Lip Care to your top and bottom lips in a thin coating. If you have very sensitive teeth, apply it on the insides of your lips and gums too.
Now, apply a thin coating of the gel to the top and bottom of your teeth (fronts only).
Insert the mouthpiece and push the GLO remote control's power button. This causes the gadget to light up blue, indicating that it is operational.
Your jaw should be relaxed. You don't have to bite down firmly or fight the urge to swallow. You won't swallow any of the gel because it will adhere to your teeth.
The mouthpiece will flash and then switch off on its own after eight minutes.
Reapply the whitening gel to your teeth after removing the mouthpiece. Then, for another eight minutes, put it back in your mouth.
Repeat this process four times every day (up to 10 days).
If you get the white smile you want, do it every week or every month to keep it that way.
This video from GLO Science illustrates the whitening process with the GLO teeth whitening kit.
GLO Science teeth whitening reviews
It all sounds great in theory, especially since it was nominated for an Edison Award. But before you purchase a product, you should always look at what customers are saying. Let's have a look at some GLO teeth whitening reviews.
User-friendliness – ★★★★☆ (4/5 stars)
When looking through the GLO teeth whitening reviews, you'll find that the majority of customers are happy with the user-friendliness of the product. The GLO teeth whitening kit has straightforward instructions that are easy to follow.
Here's one of the GLO teeth whitening reviews you can find online:
This is a pretty decent whitening kit. It's easy to use and doesn't irritate my mouth during and after use.

Review by Ash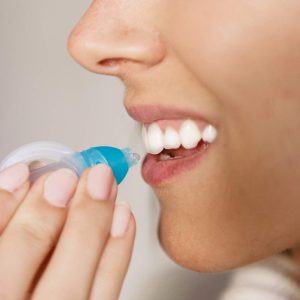 Sensitivity – ★★★★☆ (4/5 stars)
Many other teeth whitening products on the market provide quick results too. However, many of them can cause damage to your teeth and lead to more tooth sensitivity. When searching through GLO teeth whitening reviews, on the other hand, you can find that the majority of customers say they didn't have any issues with sensitivity after using it.
I love how it whitened my teeth and how I could see results even after my first treatment! Most importantly, it did not cause any sensitivity, which is a huge plus as other products gave me so much pain I had to stop after the first treatment.

Review by Anna N.
The product works well, and there is no sensitivity. My teeth are sensitive to cold air, and with this product, I was finally able to not worry! After the third day, I realized I was placing too much gel on my gums. After that, I had zero sensitivity!!! The reason the product is getting three stars is that it stopped charging and working after day 7.

Review by Explorergeek
Battery lifetime and quality – ★★☆☆☆ (2/5 stars)
When shopping for a whitening kit, the most important factors to consider are the effectiveness and safety of the product. This is an area where the GLO whitening system excels. You'll use it intensively for the first 7-10 days, but you'll continue to use it on a regular basis after that. So the lifetime and quality of a product are also things to look into.
When looking through GLO whitening reviews, however, you'll find many customers complaining about the battery life.
Easy to use, but won't hold a charge. I love this product. It's a comfortable fit and it warms up a bit. I am returning this because it doesn't hold a charge long enough.

Review by Kristy
Only used a few times and now it won't hold a charge or light up the mouthpiece.

Anonymous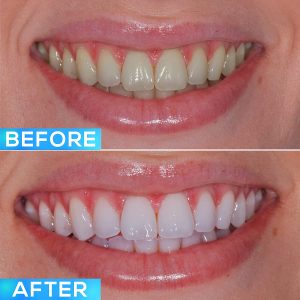 As you can see, several consumers have complained about the short battery life, with some reporting that the product suddenly stopped working after 1-2 months.
Whitening result – ★★★★☆ (4/5 stars)
The question that may spark your attention the most is:
How effective is the GLO whitening kit in terms of whitening teeth?
GLO Science says that it may provide results in as little as five days. Is the company able to back up this claim?
When looking through the GLO teeth whitening reviews online, we didn't find any reviews reporting that they got shiny white teeth within five days. However, many customers say that they get good results rather quickly.
Easy to use, nice results. I love this device, and the results are pretty great! My teeth weren't overly yellow, to begin with, but I definitely see a difference.

Courtney
The GLO whitening device seems to be very effective. However, it's important to say that everyone's teeth are unique and in a different condition. As a consequence, the outcome may not be the same for everyone. Some people may achieve their ideal whiteness in as little as five days, while others may need more time.
GLO teeth whitening system pros and cons
Quick and effective results

Sensitivity risks are minimal

The serum won't slide off your teeth

Gel application can be a hassle
Conclusion
The GLO Science teeth whitening kit makes a good overall impression. It delivers quick results and is easy to use. It's also a very safe product, and there is minimal risk of damage and sensitivity.
However, there is one drawback with this product, which is the battery life. Many customers report in their GLO whitening system reviews that the device stopped working after one or two months.
Teeth whitening kits from other brands also offer a custom-fitted tray. That's why we recommend other teeth whitening kits instead. The ones we suggest buying are the Smile Brilliant Whitening Kit or the Snow Whitening Kit.
The custom-made trays from Smile Brilliant are the same you would get from the dentist, as is the professional-strength whitening gel.
FAQ
Does GLO Science teeth whitening work?
Yes, many customers report that they are happy with the GLO Science teeth whitening system. It delivers pretty quick results and has only a minimal risk of causing sensitivity.
Is GLO teeth whitening safe?
Yes, the GLO Science teeth whitening system is safe to use. The GLO teeth whitening kit is tested to not cause any sensitivity if used correctly.
Is GLO teeth whitening worth it?
Yes, the GLO Science teeth whitening kit is a decent product. It delivers fast results for most people. It's also safe to use. However, customers are reporting that the battery life is very short.
Sign up to receive the latest news and offers from Dentaly.org